Crazy Group of Scarsdale Residents to Swim the Long Island Sound to Fight Cancer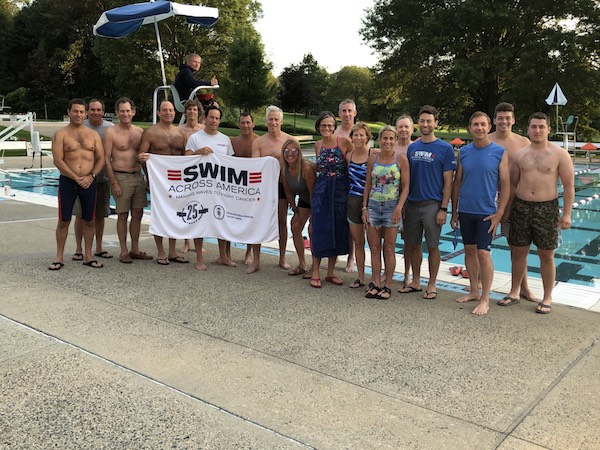 Eldad Blaustein, John Needham,, Miles Rubin, Joe Kaufman, Chip Rich, Doug Rachlin, Joel Talish, Josh Glantz, Cheryl Blenk, Carol Wolfe, Peter Doyle, Trisanne Berger, Diane, Calderon, Michael Zeller, Patrick Bates, Kevin Hebner, Noah Glantz, Max Bunzel. Saturday July 27 marks the 27th annual Long Island Sound Swim. More than 20 Scarsdale residents will be swimming 1.2, 3, or 6 mile distances or serving as support kayakers as part of Team Bruce. Bruce Dunbar, a lifelong Westchester County resident, lives in New Rochelle but swims year-round with many of these Scarsdale Swimmers. Bruce was diagnosed with lung cancer in 2017 but, through an innovative immunotherapy treatment, he is swimming on Saturday and is a living testament to the critical importance of cancer research funding.
The Long Island Sound Swim has raised more than $15 million since it was founded in 1992. The goal for this year's event is to raise more than $1,000,000. Team Bruce has already raised more than $225,000!!! That is an incredible sum after this group of swimmers raised $140,000 last year swimming as Team Valerie for Scarsdale Resident Valerie Malsch who continues to live with Multiple Myeloma. If you are interested in supporting Team Bruce or any of it's swimmers, please click here.