Maroon and White Honors Senior Athletes at June Barbeque
Details

Written by

Joanne Wallenstein

Category: The Goods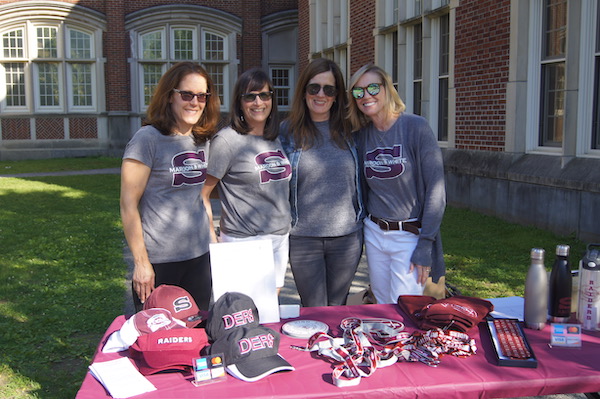 Every season, the Maroon and White parent's organization hosts a sports awards dinner to recognize athletes for accomplishments in their respective sports. The spring dinner, this year held on Tuesday June 4, honors seniors as the spring season is their last opportunity to compete as Raider athletes. A barbeque is followed by the general awards ceremony, which recognizes seniors for their dedication to Scarsdale athletics. Individual sports teams break into smaller rooms to present sport-specific awards after the ceremony.
The Iron Man award is the first of a series of senior awards. The Iron Man honors senior athletes who have completed 12 full seasons of athletic participation, meaning they have played a sport in every high school season. The 2019 Iron Mans were awarded to Alexander Eforo, Chessy Greenwald, Zachary Hoexter, Kazuki Katoh, Andrew Levy, Alexander Mayer, Aliza Mehlman, Nina Metviner, Michael Palermo and Bruno Tassari.
The first of three memorial awards, the Elizabeth Timberger Award, honors an outstanding member of the Scarsdale athletic community. Elizabeth was supportive and influential member of the board of Maroon and White prior to her untimely passing. The Timberger award is given to a senior who helps a team not as a player, but through some other form of participation. The 2019 award went to Mia Bezos, manager of the varsity football team.
The Nina Mooney award is presented to a senior female athlete who displays commitment, enthusiasm, spirit, concern for others and a positive work ethic. Nina Mooney, who passed away in 1991 at the age of 54 after a courageous fight against breast cancer, organized many Maroon and White events and was loved for her kindness and boisterous spirit. Emmeline Berridge, a captain and four-year varsity player for both girls basketball and lacrosse, was the 2019 recipient. Berridge will attend the University of North Carolina in the fall.
The Nonie Knopp Memorial Award honors Knopp, an outstanding member of the Scarsdale community and an avid sports fan who was devoted to Maroon and White as a vice-president and chairperson for the Holiday Basketball Tournament. The award recognizes a male senior varsity player who exemplifies dedication, commitment, spirit, enthusiasm, concern for others and positive work ethic. The 2019 winner of the award was Ben Schwartz, a captain of the varsity ice hockey team and boys golf team who will continue his golf career at Cornell.
The Peppers Award honors Sue Peppers, a former assistant principal of Scarsdale High School, as she remains closely tied to Scarsdale schools and athletics through her daughters, who were scholar athletes at Scarsdale High School. The award recognizes students who combine high standards for academics, sports, and team play. The female Peppers award was presented to Aliza Mehlman, who has distinguished herself in athletics and academics, emerging as a captain in lacrosse and field hockey, as well as maintaining a strong spirit and an impressive academic record. Mehlman will play lacrosse at Stanford. The male Peppers award was presented to Nick Bernard, who was a standout on the boys track and field team. He will continue his track and field career at McGill University.
The Scholar Athlete Honor Society Award is presented to a top male and female student who has excelled in dedication to and performance in his or her sport, and displayed leadership on and off the field of play and high performance in the classroom, with a GPA of 3.5 or higher and accomplished SAT or ACT scores. This year there were two female winners and one male winner. Andrew Bernstein, a 2019 high school All American who broke the school record for career goals won for lacrosse; Sam Felder won for field hockey and lacrosse; and Allison Stafford won for soccer. Bernstein will attend Northwestern in the fall, Felder will attend the University of Virginia and Stafford, who is believed to be the only two-time All New York State girls soccer player in Scarsdale High School history, will continue her soccer career at Amherst.
The Scarsdale Raider Award recognizes the intangible characteristics that represent the spirit of a Scarsdale Raider--- the attitude, work ethic, and leadership qualities that the sports community hopes to instill in all Raider athletes. The winners of the Scarsdale Raider Award were Jack Brosgol for lacrosse; Chessy Greenwald for lacrosse, track and field and field hockey; and Kaitlyn Lee for golf. Brosgol will continue his lacrosse career at Swarthmore; Greenwald will play lacrosse at Wesleyan; and Lee will play golf at Yale.
The ceremony also recognized the 27 SHS athletes who are expected to continue their athletic careers in college:
Brooke Bensche – Track & Field - MIT
Nicolas Bernard – Track & Field - McGill University
Elise Boucher - Cross Country/Track & Field - Smith College
Jack Brosgol – Lacrosse- Swarthmore College
Garrett Campbell - Football - Denison College
Jack Charland – Football - Dickinson College
Aidan Donovan – Cross Country - Fairfield University
Sierra Donovan – Track & Field– Amherst College
Kaitlyn Du – Diving – Massachusetts Institute of Technology (MIT)
Elizabeth Elcik – Cross country and Track & Field - Santa Clara University
Andy Fan - Golf - University of Pennsylvania
Mao Fukada – Swimming – Soka University
Chessy Greenwald – Lacrosse-- Wesleyan University
Samantha Ho – Diving- Yale University
Eric Jacobson - Track & Field - Fordham University
Cole Kattan – Basketball- SUNY Geneseo
Kaitlyn Lee - Golf - Yale University
Danielle Lemisch- Swimming – Lafayette College
Andrew Levy - Cross Country/Track & Field - Emory University
Brian Lilly - Crew - Univ of California at San Diego (UCSD)
John Lloyd - Ski Racing - Hobart and William Smith
Aliza Mehlman- Lacrosse – Stanford University
Josh Porter – Football - Colby College
Renata Pratt - Cheerleading - Elon University
Ben Schwartz - Golf - Cornell University
Allison Stafford – Soccer - Amherst College
Dylan Pflaum-Football-Ohio Wesleyan University
Here are representatives from each team and a brief recap of the season's highlights: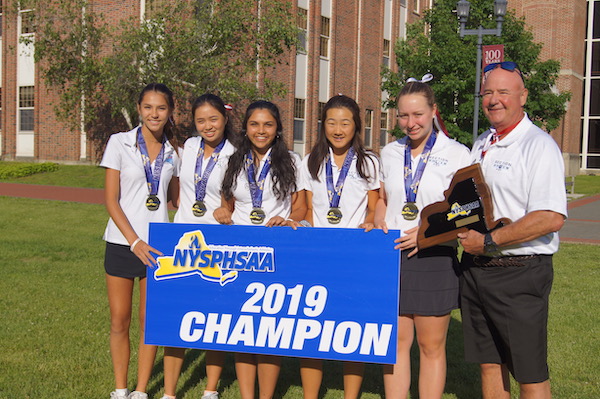 Girls Golf
States team pictured: Skye Braun, Jackie Lu, Madhavi Shashank, Kaitlyn Lee, Rebecca Maude, Coach Barney Foltman
Girls golf had an "amazing season" according to senior Sarah Abbe. Three girls on the team went to states, Kaitlyn Lee, Jacqueline Lu, and Rebecca Maude. Many girls on the team also went to sectionals. The team won both states and sectionals.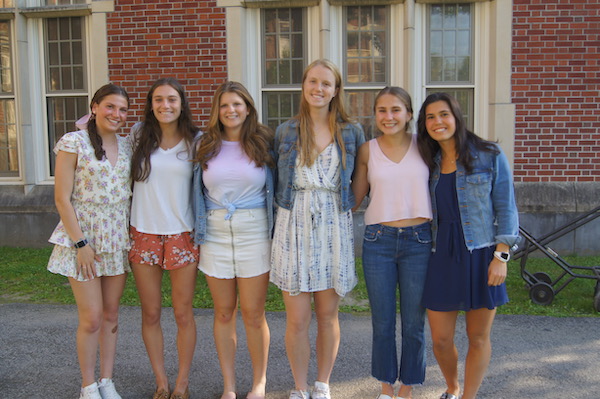 Girls Lacrosse
Seniors pictured: Aliza Mehlman, Mia Dell'Orto, Lena Glickman, Emmeline Berridge, Samantha Felder, Chessy Greenwald
This season, the girls lacrosse team made it to playoffs. Senior Chessy Greenwald got 100 goals. Chessy also named all-section.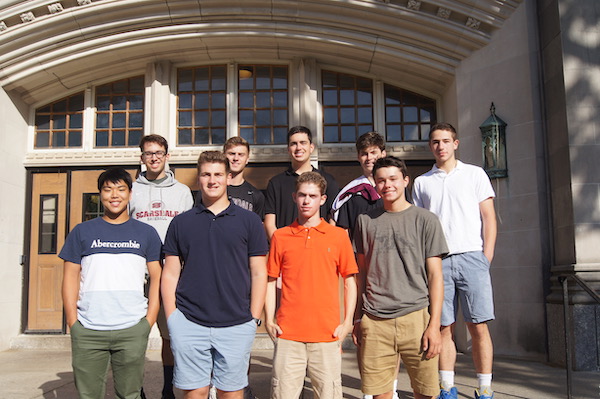 Baseball
Seniors pictured: Cole Thaler, Avery Tzamarot, Sam Bernstein, Trevor Lambert, Cole Kattan, Kody Morikuni, Michael DiSanto, Jonah Schneider, Matt Watiker
The boys baseball team did not have their best season this year. Their record at the end of the season was 4 and 12. However, they did score a win against the Suffern Varsity Boys Baseball team, which is the number two team in the entire state.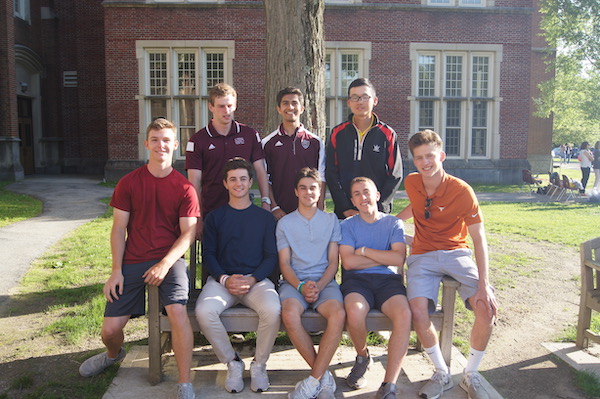 Boys Golf
Seniors pictured: Henry Kronenberg, Ishwar Mukherjee, Andy Fan, Ben Schwartz, Aidan Londa, Dan Silk, Andrew Kass
The boys golf team had a phenomenal season and was undefeated with a 19 and 0 record. 10 members of the team qualified for for sectionals, which is a record. The team also sent 4 boys to states, at Cornell, and they were the only team to qualify more than one person. 3 boys also went to all-states.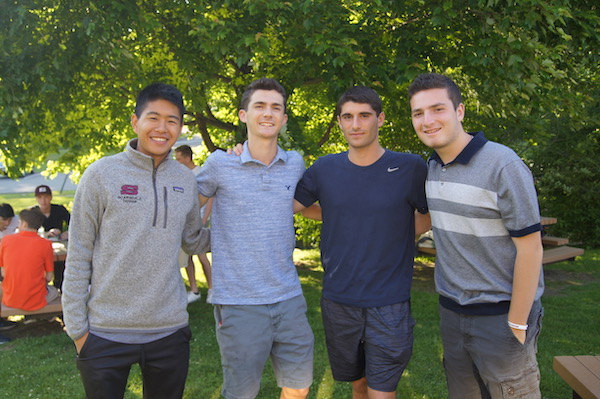 Boys Tennis
Seniors pictured: Jose Maronilla, Jordan Ziffer, Dylan Cohn, Jake Singer
The boys tennis team had a stellar 11 and 1 record during the regular season. The team made it to playoffs, but unfortunately lost to Horace Greeley. Two boys went to states, freshman Jason Shuler and junior Nikolai Sahakyan and won the state doubles title. 7 boys also qualified for the all-section tournament.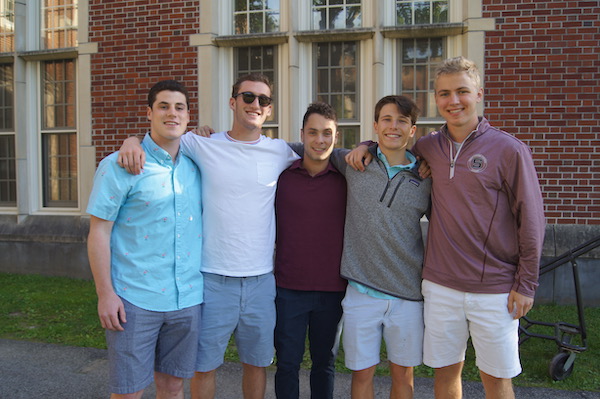 Boys Lacrosse
Seniors pictured: Will Maybaum, Ben Klein, Zach Reyman, Jackson Bornstein, Jackson Brosgol
Boys lacrosse had a great regular season, with their record being 13 and 3. Although they lost in the playoffs, the boys had a fun time and "rode with the dogs" according to senior Ben Klein. Also, senior Andrew Bernstein made all-American.


Softball
The girls softball team's record this season was 16 and 5, and the team made it to the sectionals. Some highlights of the season were that the team beat their rival, Mamaroneck, who we haven't beaten in years. They also beat White Plains, which has the number 1 team in the section and number 4 team in the state. The girls also won their first sectionals game in 11 years.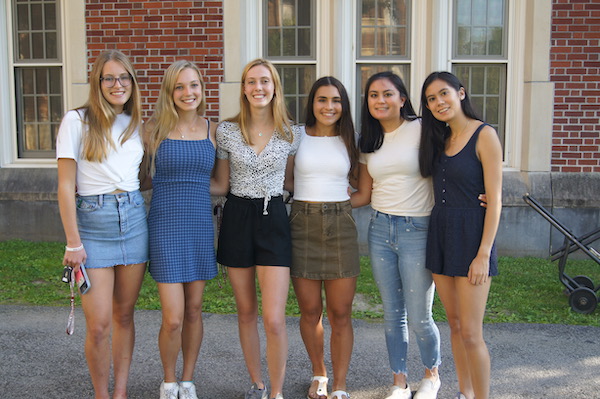 Girls Track & Field
Seniors pictured: Alexandra Wilson, Sierra Donovan, Brooke Bensche, Elizabeth Elcik, Isabelle Boucher, Elise Boucher
The girls SMR(sprint medley relay) qualified for nationals- the relay consists of Annabel Jacobs, Samantha Jahrmarkt, Yurami Van eer, and Sierra Donovan. Sierra Donovan ran a 2:18.71 in the 800m.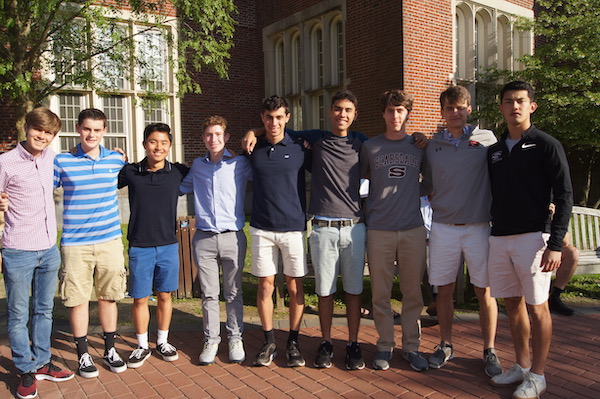 Boys Track & Field
Seniors pictured: Bruno Tassari, Alex Mayer, Kazuki Katoh, Zach Hoexter, Andrew Levy, Omar Van Eer, Michael Palermo, Eric Jacobson, Nicolas Bernard
Alex Friedman ran a 56 second PR(personal record) in the 3200. Daniel Asher ran 4:26.94 in the 1600m(mile). Jake Coleman ran 9:49.45 in the 3200m(2 mile)— just roughly a second and a half off of winning and event and going to states as a sophomore and after being injured at the beginning of the season. Boys 4x800m relay broke the school record set in 2008.
Lange's Deli to Close After 47 Years in Scarsdale
Details

Written by

Joanne Wallenstein

Category: The Goods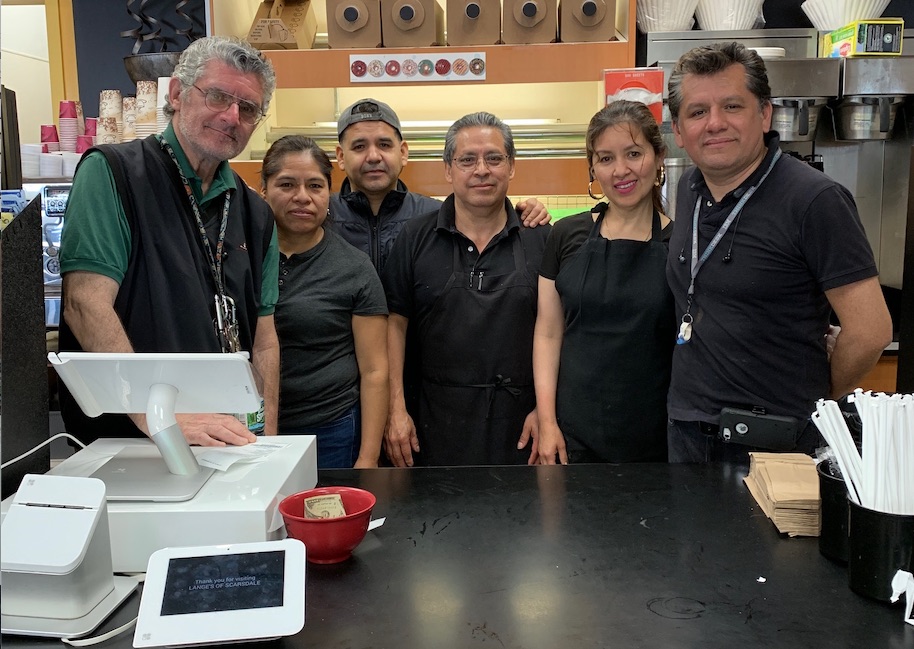 Customers had tears in their eyes when they learned that Lange's of Scarsdale, a village landmark, would close its doors on Friday May 31. Opened in 1972, the deli looms large in the history of the 'Dale and has been the favored destination for people of all ages for almost 50 years.
The restaurant has embedded itself in the life of the village, serving hot chocolate and marshmallows at the Christmas tree lighting, grilling burgers and hotdogs at the Sidewalk Sale and serving donuts at Breakfast with Santa.
Their sandwiches are famous among high school alumni who savor the "Grand Canyon" -- chicken cutlet with American cheese, bacon, lettuce, tomato and mayo on a roll and the "Buffalo Bill," chicken cutlet, lettuce tomato, hot sauce and blue cheese dressing on a roll.
Two sandwiches on the menu were even named after high school alumni – the Mr. Joe – chicken cutlet, bacon, lettuce, tomato, honey mustard and melted mozzarella -- is named after Joe Zakierski and the JCAS with eggplant, fresh mozzarella, tomato, and pesto is named for Jared Casden.
Why the decision to close? Owner Tony Domini shook his head as he listed several reasons for his financial woes. He said that overall business had fallen 50% from Lange's best years and that their catering business had dried up. For several years, Lange's was supplying school lunches to the elementary schools, but with the decision to retain Chartwells to provide school lunches, that business was also lost. The opening of the learning commons with a salad bar at Scarsdale High School also contributed to the loss of students coming in for salad at lunchtime.
Though Tony didn't discuss it, the decision seven years ago to expand into the neighboring site and open a pizzaria may also have contributed to his losses. The new restaurant had to be built out, and the rent had to be paid for both locations. Customers enjoyed the expanded site but did not seem to be consuming much pizza.
One fan noted that people's dietary habits have evolved as well. Rather than having a Reuben sandwich for lunch they may be opting for healthier choices like an acai bowl. Undoubtedly Lange's also faced competition from the plethora of online food apps such as Uber eats and Door Dash.
Lange's was a good neighbor to the Village and served as an informal meeting spot for locals who sat for hours with a cup of coffee and a newspaper. Their outdoor seating area was also a popular hangout and they generated good foot traffic for other stores in the Village. The restaurant employed a tight group of 21 cooks and servers, who will be missed, and will all be looking for new jobs.
Scarsdale Village has been struggling to maintain retail tenants, and the loss of Lange's, on the busy intersection of Chase Road and Spencer Place, hits hard.
The sad news inspired Deborah Skolnik, poetess and author of Gentle Scarsdale Satire to write a new verse which she graciously shared with us --- and with you:
AULD LANGE'S SYNE
I'm beginning to feel all kind of pangs
to hear they'll soon be closing Lange's.
It's been around since I was a kid--
did you ever go in there? Betcha did!
Their sandwiches are very nice,
and you can always grab a slice,
and there are specials of the day,
and they've always supported the PTA.
We're in a collective state of shock;
this little deli is our rock!
It's sad, and must we worry more
about having another empty store?
Don't close up, Lange's, and leave a zero--
We're holding out for a (turkey) hero!
Copyright Deborah Skolnik, 2019
Feeling sad about Lange's? Share your comments below.
Varsity Lacrosse Captain Andrew Bernstein Reaches 305 Career Points
Details

Written by

Jordy Love

Category: The Goods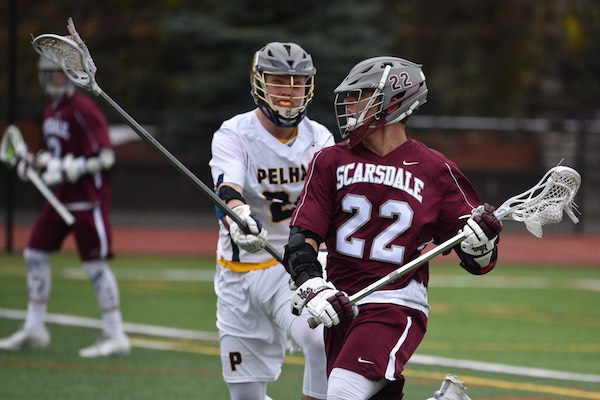 Scarsdale Varsity Lacrosse Captain Andrew Bernstein reached 305 career points during the Raider's 14-4 victory over White Plains on May 2. Bernstein had 4 goals and had 4 assists against the Tigers. He received a standing ovation from the home crowd after reaching his 300th point.

As of Friday May 3, Bernstein has 64 goals and 22 assists for a total of 86 points this season. Bernstein, a Senior, is the team's only captain this season. This is his second year as a team captain, a true testament to his leadership abilities. Bernstein has been a 4 year starter as an attack player on the Varsity squad. The Raiders' record is currently 11-2 with 3 games left in the regular season. Bernstein is also a finalist for Lohud's player of the week.

Scarsdale plays at Mamaroneck on May 7th, at home against New Rochelle on May 9th and at Gaelic Field versus Nyack on May 11th. The pre-game Senior celebration will take place before the New Rochelle game.
SHS Students Raise Money To Fight Cancer and Lend a Hand At Hitchcock
Details

Written by

Joanne Wallenstein

Category: The Goods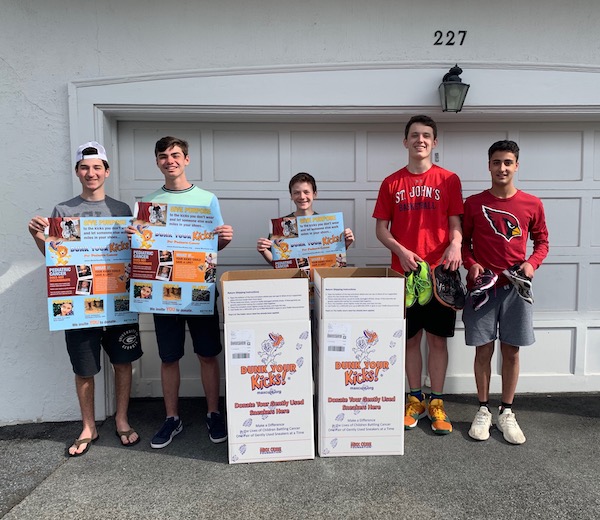 From left to right: Dean Glucksman, Jack McEvoy, Max McEvoy, Aidan Mansfield, Marc Ifrah (not in picture: Ford Lenchner, Rahim & Rhomy Mohamed)This spring marked the Fifth Annual Dunk Your Kicks sneaker collection, led by Dean Glucksman and his friends Jack and Max McEvoy, Aidan Mansfield, Marc Ifrah, Ford Lenchner and Rahim and Rhomy Mohamed. The DYK's campaign and initiative is intended to bring awareness to those families fighting pediatric cancer and to help the environment by keeping old "kicks" out of landfills. The money raised through the resale of this affordable footwear helps low-income and military families living in the U.S. with a child battling cancer.

With the support of local businesses and institutions including Barry's Bootcamp, Flywheel Sports, Pushlab Fitness, Club Pilates in Scarsdale and Ardsley, UFC of Mamaroneck, Westchester Reform Temple, Congregation Kol Ami and Temple Beth-El Synagogue Center of New Rochelle, these boys collected over 250 pairs of gently used sneakers. In addition, Dean held his third consecutive Max Cure Foundation March Madness NCAA basketball bracket and raised over $3,500 for the foundation.
SCOUTS LEND A HAND AT HITCHCOCK
The Scarsdale Boy Scouts Troop 4 helped out its charter organization, Hitchcock Church. The boys assisted with spring planting on Monday, May 6th. Their work can be seen by anyone driving past the church in Greenacres.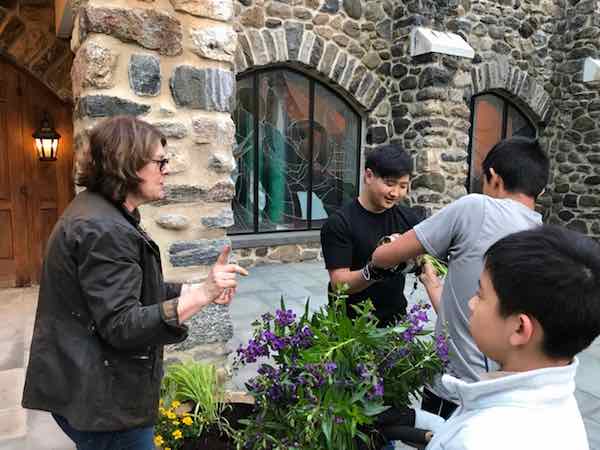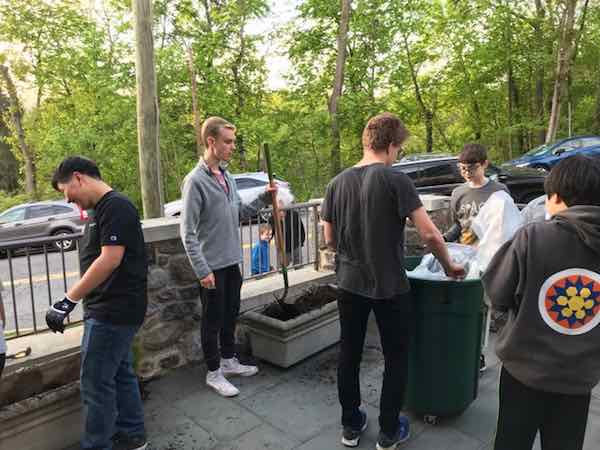 Arthur Manor Tag Sale - A Neighborhood Success
Details

Written by

Matthew Martin

Category: The Goods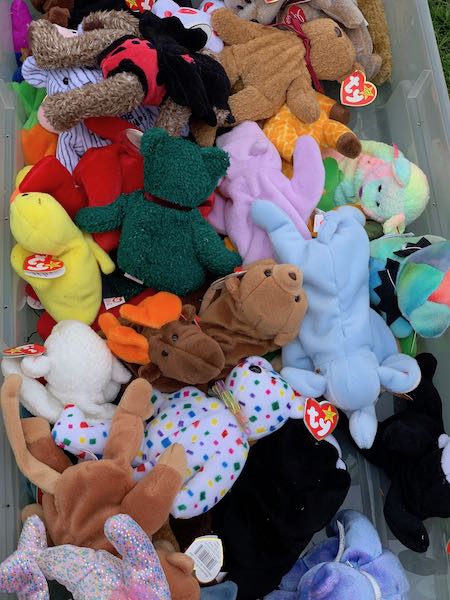 The Arthur Manor Neighborhood Association held its spring Tag Sale in Davis Park on Saturday, April 27th from 10:00 am to 3:00 pm. The 2019 tag sale drew out many buyers from Scarsdale and beyond with 20 families participating in the event as sellers in Davis Park. Several new families who recently moved into Arthur Manor also volunteered their time and effort to help with this year's tag sale. Neighbors and friends in Arthur Manor had the chance to catch up with many familiar faces not seen in months because of the cold weather. Refreshments including hot dogs, lemonade and brownies were enjoyed by those in attendance.

Many new friends and old connections were also made on Saturday in Davis Park and all of the cherry trees were actively showing off their leafy blossoms! This year's tag sale was sponsored by Heather Harrison of Compass Realty in Scarsdale.
Music was provided by DJ Matty, who has been a Best of The Knot DJ for the past five years.

The Arthur Manor Neighborhood Association was formed in 1928. Davis Park, located at Boulevard and Lyons Road, was named in 1930 for Albert C. Davis, Chairman of the Scarsdale Village Board of Assessors, who lived near the park. Davis Park is the "Town Square" of the Arthur Manor Neighborhood Association. Today the Arthur Manor Neighborhood Association includes approximately 550 homes within the association's borders.

The Arthur Manor Neighborhood Association also holds an annual holiday / Santa Claus tree lighting event and 4th of July parade and picnic at Davis Park with marchers, decorated floats, and relay races.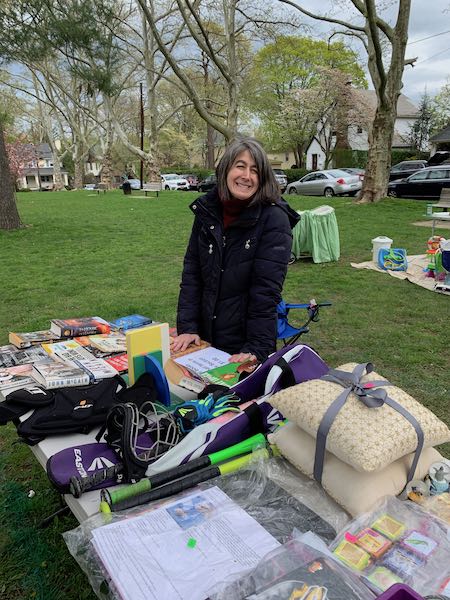 The Arthur Manor Neighborhood Association is now actively planning for its 4th of July parade and picnic at Davis Park which includes marchers, decorated floats, and relay races. This year will mark the 91st year the Association will hold its annual 4th of July event at Davis Park.
If you would like to volunteer to help for the Arthur Manor Association's 4th of July parade and picnic, please email the Arthur Manor Association's President, Matt Martin (matthew.martin@pattoneakins.com) with any offers of assistance. Arthur Manor is always looking for new members! No experience necessary!