Continuing the Dialogue with Our Community: By Seth Ross, Candidate for Village Trustee
Details

Written by

Seth Ross

Category: The Goods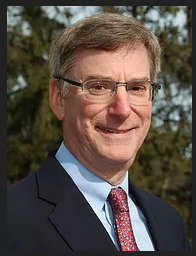 This letter was sent to Scarsdale10583 by Seth Ross, Candidate for Village Trustee:
For most of my 23 years in Scarsdale I've been an active volunteer and privileged to serve in a number of capacities, from volunteer firefighter to chair of the village Planning Board. Each role in which I've served has required relevant substantive knowledge as well as the ability to communicate, to understand the issues and concerns that a situation presented, and to work with and sometimes lead other volunteers in decision making. My experiences and skills as a civic volunteer have served me well in my first term as a trustee on the Village Board.
As a member and then chair, first of the village Zoning Board and then of the Planning Board, I needed an understanding of land use issues, a working knowledge of the legal constraints and requirements that govern a municipal land use board, a familiarity with the Scarsdale community, and an ability to engage with my fellow board members to arrive at appropriate decisions. As chairman, I had to run meetings that were orderly, civilized and on-track and that gave everyone with something to say an opportunity to be heard.
As a long-time board member of the Scarsdale Forum, I had to get a handle on a broad range of issues affecting the community and to organize and supervise the committees I chaired. Just as importantly, I came to understand that Scarsdale is a place where public service and volunteerism truly matter. My experience as a trustee of the Scarsdale Foundation, as chair of the Scarsdale Bowl Committee, and as an active participant in our nonpartisan system as chair of the Procedure Committee and an elected member of the Citizens Nominating Committee all reinforced that understanding.
At times, it feels like my volunteer work is my career, but I have a paying job as well!
As an attorney for over 30 years, I've had to advocate, persuade, compromise, draft and review complex documents, oversee the work of others, and generally do whatever is necessary to achieve my clients' objectives. I've developed the ability to analyze issues and to get a handle on complex situations. I've learned to develop an approach to a problem and then implement the solution. I've had to master the power of persuasion coupled with the ability to compromise, and the discipline to set priorities and to get things done, often within a tight time frame. Most importantly, I've been able to work effectively with other people.
This background prepared me well for my responsibilities on the Village Board. All of the outreach, the dialogue, the planning, and the decisions boil down to a single job description: the trustees are here to serve the community. And on our Village Board, unlike many other governing bodies, each trustee represents the interests of all residents across all neighborhoods. That's why I am so proud to have contributed to the accomplishments of the Village Board over the past two years.
As a trustee, I'm in constant dialogue with local residents – other volunteers, friends and neighbors, people with complaints about things that are happening (or not happening) in the village, people with ideas for improving our local services and facilities and for using our resources more effectively, and people who simply want to have a better understanding of how our village government works. Input from village residents informs everything the board does, and I relish the interactions with the public. In these challenging times, it's become increasingly important not just to govern well, but to act and communicate in a way that instills confidence in residents.
The next two years will present not only challenges but also tremendous potential and opportunities for progress. The Village Board has begun work on a project that I expect will bring dramatic change to Scarsdale: the redevelopment of the Freightway site. We have a great deal of work to do before this undertaking becomes a reality. I think the thoughtful and creative development of this currently unattractive and under-utilized site in the middle of our downtown will be one of the biggest changes Scarsdale will see in our lifetime.
I've enjoyed my service as a trustee, and I believe I still have contributions to make to our village. I hope I have earned your vote for a second term on Tuesday, March 19.
Seth Ross: On the Ballot for a Second Term as Scarsdale Village Trustee
Details

Written by

Joanne Wallenstein

Category: The Goods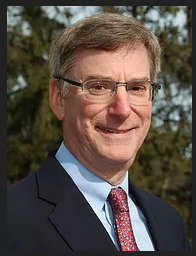 Seth Ross is completing his first term as Scarsdale Village Trustee and has been re-nominated by the Scarsdale Citizens Non-Partisan Party to serve a second two year term. Below he responded to some questions about himself and his activities on the Board. Take a look and remember to vote on Tuesday, March 19, 2019 at Village Hall, 1001 Post Road, from 6:00 am to 9:00 pm.
For those who don't know you, tell us a bit about yourself – including your background, experiences in Scarsdale and your professional career?
I grew up in a family in which volunteer community service was a way of life, so when my wife and I moved to Scarsdale in 1995 to start our family, it seemed natural to join the Scarsdale Forum and the Scarsdale Volunteer Fire Department. I was active in both of those groups for many years, stepping down from the board of the Scarsdale Forum only when I was elected to the Village Board. I am no longer an active firefighter but am a sustaining member of Scarsdale Volunteer Fire Company 3.
I soon branched out into other activities, including the Citizens Nominating Committee and the Procedure Committee (which I chaired ), the Zoning Board, Planning Board, and Scarsdale Bowl Committee (all of which I also chaired), and the Board of the Scarsdale Foundation. Service as a Village Trustee seemed like part of a natural progression once I was sufficiently knowledgeable about the community and my family and work obligations allowed for the requisite time commitment.
My wife, Susan (also an active community volunteer), and I have two children, both of whom were raised in Scarsdale from birth and attended public school here. Our daughter is now a biomedical engineer living in California, and our son is a freshman in college.
My training and work as an attorney have provided me with a solid background for community service, and although juggling the demands of two concurrent careers can be challenging, it helps make for an interesting and satisfying life.
Looking back on the last two years, what stands out about the activities of the Scarsdale Village Board?
What stands out about the activities of the Village Board over the last two years is both the positive impact the Board's actions have had on the experience of living in Scarsdale and the constant and ever-intensifying struggle to minimize our residents' real estate taxes by controlling the growth of the Village budget.
Over the past two years, the Village Board has taken a number of actions that I believe benefit our residents, including the adoption of a curbside food scrap recycling program, restrictions on the potential locations of businesses selling vaping supplies and firearms, and the revamping of our tree protection ordinance to meet the challenges of indiscriminate clear cutting. We have also taken concrete steps toward the redevelopment of the Freightway site, which I believe will have a significant positive impact on life in Scarsdale.
What have you enjoyed about your service and why do you want to continue for another two-year term on the board?
I enjoy the give-and-take with other Scarsdale residents that service as a Village Trustee entails. My fellow trustees are an outstanding group of residents, devoted to the community and committed to working together in an atmosphere of civil and constructive dialogue. I am constantly challenged by them to think about issues both more broadly and more deeply than I might on my own, and together with them I do my best to reach the best decisions for the community.
Interactions with Scarsdale residents who are not on the Village Board are also a major part of the job. I communicate regularly with a wide range of community volunteers, as well as with residents who may not be generally engaged in civic affairs but have concerns that they want the Village Board to address.
I hope to continue as a Village Trustee because I believe that in this way I can help to improve the quality of life for all village residents and because my service on the Board has been a very positive experience so far. I look forward to continuing work on the Freightway redevelopment because the success of this project is particularly important for the betterment of the community.
What were your committee assignments and what if any resolutions were passed from those committees?
Last year, I chaired the Personnel Committee and served on the Land Use Committee. This year I chair the Finance Committee, have continued on the Personnel Committee, and also serve on the Law Committee.
The Personnel Committee fills openings on Village boards and councils as diverse as the Planning Board and the Advisory Council on Senior Citizens. As Chair, I led the effort to place dozens of residents on those boards and counsels, providing the village with a range of vital services.
The recent revision of the tree protection ordinance and the restriction on potential sales of firearms and vaping supplies were deliberated on by the Law Committee before their adoption by the full Village Board.
It is important to understand that, although a resolution originates in a committee, the entire Board participates in each committee's meetings. All of the Board's resolutions, therefore, reflect the collective wisdom of the entire Board rather than just one committee.
What are your views on the development of the Freightway site?
The Freightway site, consisting of approximately 2 ½ acres of Village owned property in downtown Scarsdale, is not only unattractive but substantially under-utilized. The site detracts from the character of our downtown as a whole, essentially leaving a void near the center of what should be a unified mixed-use district. The garage located on the site requires either replacement or a significant expenditure of funds in order to put it into proper condition.

We need to do something about the site, and our Village government is taking a thoughtful approach to the situation. The Freightway Site Redevelopment Study completed last year was the product of an intensive effort by numerous volunteers to help think through what the community wants on the site and what would most benefit the community for decades to come. The responses received from several developers to the Village's Request for Expressions of Interest have given us a preliminary indication of what might be built. The Village is now working on a Request for Proposals, which will lead to a better developed picture of the possibilities. There is still a great deal of work (and many opportunities for discussion and community input) ahead of us, but we know enough now to have high hopes for the site to be developed into a major community asset. Although the potential benefits to the community are significant, the planning must take into account issues including the inevitable increase in traffic and the amount of parking that will be available to those who require it.
The Freightway project is likely to be the biggest change Scarsdale has seen in a very long time. I am confident that it can be an extremely positive one.
What do you believe are the biggest challenges facing the Village now?
Probably the greatest challenge facing the village is, as always, the need to maintain the facilities and services on which our residents depend, and in some cases improve on those facilities and services and adapt them to meet changing needs, in a fiscally responsible manner. Keeping taxes as low as possible while addressing our community's various needs and priorities has always been a challenge. The statewide cap on local tax levies that came into effect in 2012 made the challenge even greater. The limit on the deductibility of state and local taxes imposed by the federal government created yet another cause for concern.
By way of perspective, Village taxes comprise only about 18% of our residents' total real estate tax burden, and much of the Village budget is beyond the discretion of the Board. Employee benefits comprise a very large share of Village expenses, and these and other costs are largely dictated by collective bargaining. On the whole, significantly cutting expenses in the areas where we are able to do so would lead to relatively small tax savings, and substantial declines in the level of services and the quality of the facilities our residents enjoy. The Board has been, however, constantly vigilant about balancing these issues to minimize the Village portion of the tax burden on residents.
The work that needs to be done in order to develop the Freightway site so as to maximize its value to the community is another significant challenge. It is, however, a challenge coupled with a wonderful opportunity.
What had you hoped to accomplish that remains to be addressed?
I think we can do more to protect the character of our residential neighborhoods. One way to do this is to take further steps to ensure that new construction and renovations are in harmony with what already exists. This is a difficult task, though, as it not only involves potential limitations on private property rights but, if we are not careful, can actually make Scarsdale less desirable by impeding the updating of our housing stock to address the changing needs and desires of current and prospective Scarsdale residents.
It has been proposed that historic properties in Scarsdale be pre-designated for preservation. I believe that such a measure might not only facilitate the protection of structures of historic value but make the process of historic preservation more predictable. Should I be fortunate enough to be elected to a second term, I look forward to having further conversations on this and other proposals to help preserve our village character.
Scarsdale Woman's Club to Receive $125,000 Grant to Improve Accessibility
Details

Written by

Joanne Wallenstein

Category: The Goods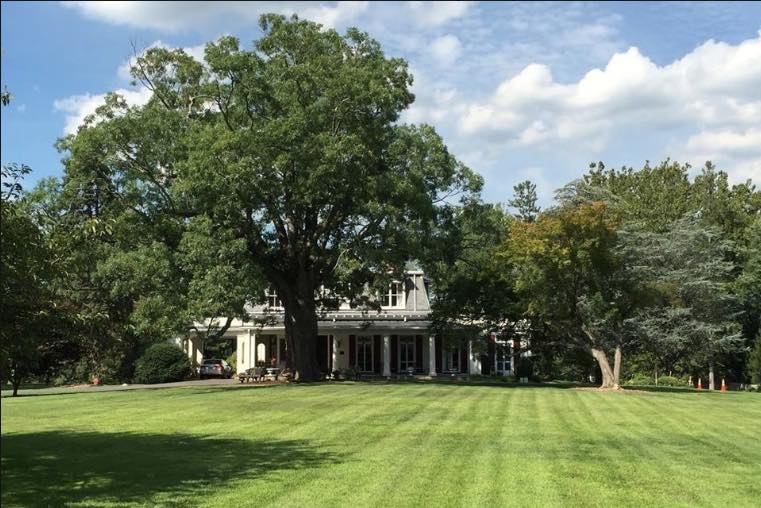 Assemblymember Amy Paulin is pleased to announce that the Scarsdale Woman's Club will receive a capital funding grant of $125,000 from the Community Capital Assistance Program (CCAP). The project will enable the National Historic site to increase its accessibility to members of the disabled community through upgrades to the restrooms and reconstructing the exterior wheelchair ramp.

"I am thrilled that the state is investing in such a landmark institution as the Scarsdale Woman's Club," said Assemblymember Paulin. "These improvements will make it easier for those living with disabilities to access and enjoy the highly-respected cultural and civic programs held at the Club, and confirm the Club's reputation as supporting all village residents."

"We are delighted to begin the improvements to the Club's home, thanks to this CCAP grant," said Evelyn Kahlow, President of the Scarsdale Woman's Club. "Our building is used not only by members, but also for meetings, events, concerts, recitals, and gatherings of civic-minded organizations like the League of Women Voters of Scarsdale and the Scarsdale Forum."

The CCAP Program is administered by the Dormitory Authority of the State of New York ("DASNY"). All projects funded through the CCAP Program are subject to a three-way review and approval process among the Executive, Senate, and Assembly to ensure that the project meets the basic statutory requirements of the Program as well as capital funding guidelines.

The Scarsdale Woman's Club will use the funding to build an addition to their building with an ADA-compliant restroom. The existing first-floor restroom and second-floor bathroom will be modified to include fixtures which will be accommodating for those with limited physical flexibility. The existing wheelchair ramp will be entirely reconstructed, subject to the design's local approval.

"We are grateful to Assemblymember Paulin and her office for their support and guidance throughout the application process," said Carol Sarcinella, Director of Development the Scarsdale Woman's Club. "For over 100 years, we've aimed to make our Club a welcoming centerpiece of village life; this renovation directly helps further our mission."
Pay By Phone Parking App to Be Available in Scarsdale
Details

Written by

Joanne Wallenstein

Category: The Goods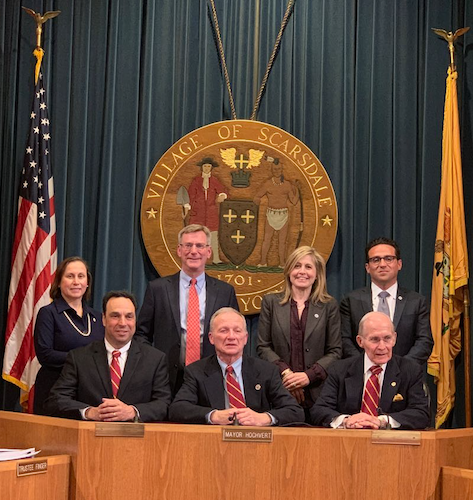 Village Trustees posed for a photo before the March 19 election. Pictured from left to right: Lena Crandall, Carl Finger, Seth Ross, Dan Hochvert, Jane Veron, Matt Callaghan and Justin Arest.Good news for those frustrated with feeding parking meters in the Village. At the meeting of the Scarsdale Board of Trustees on Tuesday February 26, the trustees passed a resolution for a professional services agreement with PANGO to provide pay by phone apps to park in Scarsdale.
In order to use the service, users simply download the PANGO app, complete a user profile and provide credit card information. The parking app uses GPS to identify the users zone. The user can select their desired time and authorize payment. The app can also prevent users from adding time to the app once the maximum time limit has been reached for a particular meter.
PANGO will collect fees and then remit the fees, less a convenience fee, back to the Village. The fee retained by PANGO for Scarsdale will be 16% of the parking rate paid – meaning Scarsdale will receive 84% of the parking revenue.
Drivers will also be able to pay for parking tickets via the app, and for those fees PANGO will retain 12%.
Parkers will still be able to use a regular meter if they wish and the pay-by-phone will be an additional option.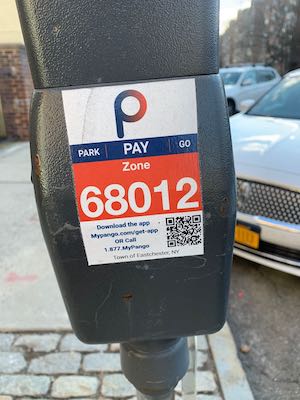 Introducing the resolution at the meeting, Trustee Veron explained that the Village has been studying how to make parking easier in the Village. In 2017 they conducted a test of single and multi-space meters and learned that residents found the smart meters confusing. From the study they determined that residents preferred to pay for parking via a phone app and therefore the Village investigated several mobile app providers.
Unlike the smart meters, working with PANGO required no upfront investment in new parking meters or equipment by the Village.
She gave kudos to assistant Village Manager Ingrid Richards for her work in negotiating a favorable contract for the Village.
Valentines Day Musings at Scarsdale10583
Details

Written by

Joanne Wallenstein

Category: The Goods
Bouquet from Rosehip and Linnea on Garth RoadIt was one of the busiest weeks on record here. Even though snow and sleet closed schools and caused town to virtually shut down on Tuesday, a frenzy of activity this week kept our inbox in high gear.
On Monday night the Board of Education held a budget study session and board meeting where the estimated tax levy increase was decreased to 2.27% and facilities plans were discussed. Stuart Mattey reported that plans for the Greenacres School were reviewed by a third party architectural firm and have now been returned to the state education department. District architects BBS are ready to answer any questions on the plans.
What was not discussed is the potential impact of the Con Edison gas moratorium on the project. School officials say they filed early and will not be affected. However, gas prices are sure to go up and Con Edison is poised to introduce incentives to use alternative energy sources. Would it be beneficial for the district to consider using geothermal or another system to heat and cool the school?
At the same meeting, it was decided that the district would not include $600,000 to repair the high school auditorium. New seats and flooring are needed, along with new rigging for the stage. These items have been proposed and cut from the budget since 2013 – and who knows when this will be addressed.
However the Board did pass on $125,000 for new furniture and improvements in the Board of Education room and considered a privately funded $800,000 project to add lights to Butler Field.
In other news, the deadline to file petitions to run for Village Mayor and Trustees was Wednesday February 13. Last week we reported that Citizen's Nominating Committee Party candidates had filed --- with Marc Samwick for Mayor and Jonathan Lewis, Seth Ross and Rochelle Waldman running for Village Trustee. Speculation was rife about whether or not they would have any challengers on the ballot. But when the 5 pm deadline passed, it appeared that only the names of the CNC's candidates will appear on the ballot.
At the Village Board meeting on Wednesday night we learned that Village Assessor Nanette Albanese would retire in just a few weeks, on March 1, 2019. This date corresponded with her retirement benefits from New York State. Albanese had a tough few years in Scarsdale when she came under attack after two controversial tax revaluations. First she was criticized by those at the top end of the scale, and later by those with more modest homes. Either way, she couldn't win. Since she is set to retire before the tax role is filed in June, she may stay on as a freelance employee until the Village can fill the vacancy.
Also at the Village Board meeting, trustees made news by voting to sign onto a lawsuit to fight the new SALT tax laws that are hurting our real estate and local economy. See details about this test case here.
And after years of discussion, Scarsdale has new laws to protect our tree canopy. Find out what changed here.
Last, we stopped by a new elegant design store and florist shop called Rosehip and Linnea on Garth Road where the Sweedish owner Krister Alte Sahlen shared this beautiful Valentines bouquet. Check them out for unusual gifts and flowers.
Happy happy Valentines Day to all.
This is the opinion of site founder Joanne Wallenstein.