Attention Youth Basketball Players
Details

Category: The Goods
Published on

19 October 2010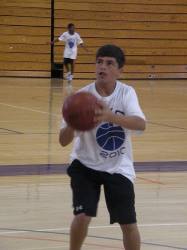 Backyard Sports will be hosting their first annual Basketball Blowout on Saturday, November 20th at SUNY Purchase.
The Basketball Blowout will provide free training clinics and skill contests open to coed players (K-3rd grade). It will also feature instruction from the Backyard Sports coaches. For older players, there will be a 3 on 3 basketball tournament for 4th-12th grade.
Backyard Sports provides weekend and after school sports instruction and game play for boys and girls ages 4-16 years old. Since 2005, Backyard Sports has been the leading provider of community team sports programs in Westchester County.
The programs are designed for every child that desires a positive and healthy sports experience by using a unique approach that combines the highest level of instruction with equal emphasis on human development skills.
Enjoy a great day of basketball along with exhibits from local merchants.
For more information on Backyard Sports and also to register for the 3 on 3 tournaments, visit http://www.byardsports.com/bball-blowout/
Unchartered Waters for the Scarsdale Football Team
Details

Category: The Goods
Published on

07 October 2010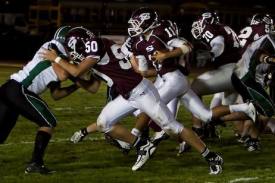 It took time, energy and a conference change to demonstrate what the Scarsdale Football program was capable of. Yet after beginning the 2010 campaign 3-0, the hard work put in by head coach Andy Verboys and his players is finally paying off. The strong start by this year's Raiders team began with an impressive opening victory against Roy C. Ketcham, a team that walloped the Raiders 42-0 just two seasons ago. It also includes a victory over Ossining and Lincoln, while falling to a strong Yorktown program by just a touchdown.
In the last four seasons, the Raiders have begun either 1-3 or 0-4 while facing much larger high-school programs. The slow beginnings resulted in a combined 11-15 record during that stretch coming into 2010. But what has transpired through the first month of the season illustrates a complete understanding of the systematic Raiders approach to winning football games.
When Verboys was put in charge of the Varsity program, he implemented the triple option offense giving the Raiders an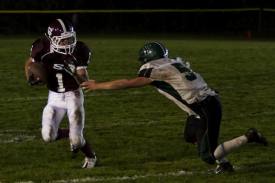 entirely different look than the more traditional offensive approach they had taken in years past. This run-heavy package requires an athletic quarterback who understands how to read the reactions of the opposing defense every single play. What makes the option offense successful is a signal caller with the understanding of when to run the ball himself, and when to hand (or pitch) the ball off to a running back.
This year the Raiders have that player in Brian Bauersfeld. The Senior quarterback has mastered the offensive style brought to Scarsdale by Verboys, and through four games the statistics tell the story. The Raiders have attempted twice as many running plays as they have passes, and are averaging a remarkable seven yards per carry on the ground. Yet in addition to the improved ground game, Bauersfeld has thrown for nine touchdowns with just one interception while completing over 70% of his passes. The two-pronged attack has created a potent Raider offense averaging over 28 points per game.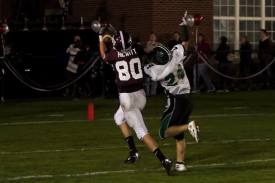 And it isn't just strong play from the quarterback position. Wide Receivers Matt Wheeler and Will Hewitt provide Scarsdale with a lethal receiving core as Wheeler returns after a strong junior season while Hewitt is the tallest member of the Raiders at 6' 4. In the backfield is a trio of running backs as captain Lewis Leone is flanked by fellow senior Johan Drakes and big play threat Anthony Cugini. The dynamic offense has given Verboys the ability to utilize a number of different plays from the typical spread formation with the quarterback under center.
With two games remaining in the regular season, the Raiders are trying to make the playoffs, a rarity in the program's recent history, and have an opportunity to improve upon its record this Saturday when it faces a winless Mamaroneck team on the road. Scarsdale finishes the year against conference powerhouse Fox Lane on the turf on October 16th. Whether the Raiders are poised to finish the year as strong as they have started it remains to be seen, yet if the numbers indicate anything, be prepared for an offensive barrage from this improved Scarsdale program.
Photo captions: Top: Brian Bauersfeld, Middle: Anthony Cugini, Bottom: Will Hewitt.  All photos courtesy of Al Berman
Scarsdale Youth Hockey Scores a Big Win
Details

Category: The Goods
Published on

05 October 2010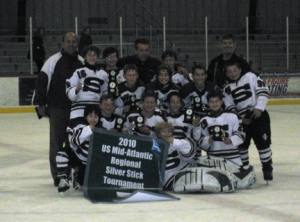 The Scarsdale Youth Hockey Organization took home their first championship victory, winning The International Silversticks Regional PeeWee B Tournament on October 3rd in Ashton, Pa.
The team travelled south to the tournament that started on Friday, October 1, 2010 and got off to a great start, winning 3-1 over the Virginia Wild Green team. Determination and hard work gave these players another two winning games on Saturday, with a 10-0 win over the Virginia Wild Red team and an 8-3 win over the Jersey Penguins.
They entered the semi-finals as the #1 seed out of 16 teams. Another well skated and focused game led to a 5-0 win over the Brewster Blackhawks and a 2-0 win over the North Jersey Avalanche Blue team. Scarsdale was onto the championship game!
In game three of the day, and six for the weekend there was no sign weakness. Team work and dedication lead the team of 10 and 11 year old boys to a championship win of 3-1 over the North Jersey Avalanche White team.
The Raiders are coached by Dr. Steven Nicholas, Andrew Brotmann and Tim Bock and the player line-up is as follows: Matthew Bock, Will Bock, Sep Boeschl, Eric Brotman, Jonny Emmerman, Drew Leffler, Stephen Nicholas, Jonathan Schwartz, Sam Seltzer, Justin Staropoli, Sam Stemrman, Corey Walman and Henry Zurkow.
Antique Car Show Today
Details

Category: The Goods
Published on

05 October 2010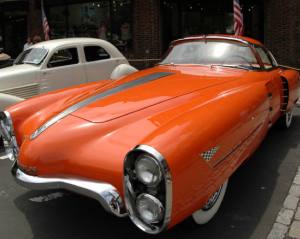 Antique show cars from Westchester County and the Tri-State area are coming to the Village of Scarsdale on Sunday, October 17 from 10:30 am to 4:00 pm. Expected to be on display at Scarsdale Concours 2010 that day for viewing by the general public are Ferraris, Lamborghinis, Ashton Martins, Packard's, Mercedes-Benz's, Porsches and a host of other exceptional cars that span decades of automotive design.
One of the show stoppers for this year's event will be a 1959 Mercedes 300 SL Roadster that was honored at the recent Fairfield, CT, auto show with a "Best in Class" award.
Last year's event drew about 100 participants, many hundreds of spectators and dozens of sponsors. Overall, the event has raised significant dollars for charities across Westchester County.
This year's beneficiaries of the Scarsdale Concours event will be the Scarsdale Historical Society, The Scarsdale Teen Center and the Scarsdale Volunteer Fire Department.
Co-chairs of this year's event are Lucas Meyer, Ralph Della Cava and Bill Doescher, members of the Board of Trustees of the Scarsdale Historical Society. Members of the 2010 committee also include Evan Cygler, who started the Scarsdale Car Concurs event six years ago with Denis O'Leary III, when both were Scarsdale High School students, and Gordan Rafajac.
To learn more visit their website at http://scarsdaleconcours.org/
Raiders Pride Events Rescheduled
Details

Category: The Goods
Published on

04 October 2010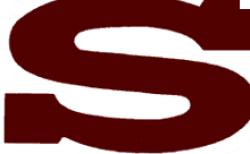 Due to some of the worst weather in recent memory, most of the Scarsdale High School games scheduled for Raider's Pride Week on September 30 and October 1st were washed out. The good news is that many of the games have been rescheduled and there will be much to watch on the fields on Monday October 4 and Tuesday October 5th. There is also a rescheduled girls Varsity Soccer game scheduled for Mnday, October 25th.
Here are the details of the rescheduled Raider Pride Week events :
Monday, October 4
Girls' Varsity B Tennis vs. Pelham H.S. 4:15 p.m. SHS
Girls' Varsity B Soccer vs. Eastchester H.S. 4:30 p.m. Upper Boulder
Girls' JV Soccer vs. New Rochelle H.S. 4:30 p.m. Crossways
Boys' Varsity Soccer vs. New Rochelle H.S. 4:15 p.m. Turf
Tuesday, October 5
Girls' Varsity Tennis vs. Solomon Schector H.S. 4:15 p.m. SHS
Boys' Varsity B Soccer vs. Tuckahoe H.S. 4:30 p.m. Quaker Ridge Back
Boys' JV Soccer vs. Mount Vernon H.S. 4:30 p.m. Upper Boulder
Monday, October 25
Girls' Varsity Soccer vs. Mount Vernon H.S. 4:15 p.m. Turf
Go Raiders!