Lulu's to the Rescue
Details

Category: The Goods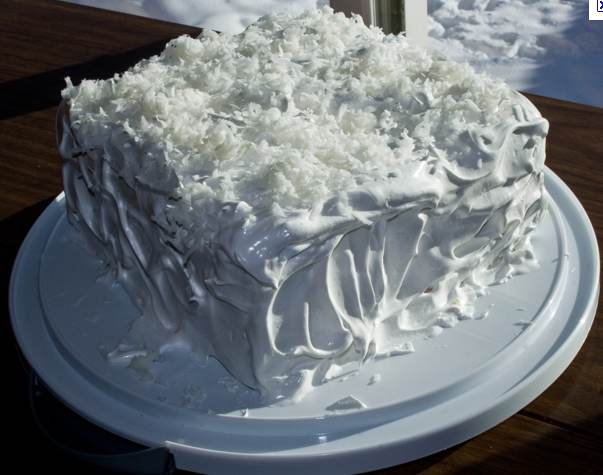 I wanted to share this story about a local vendor: I was hosting a dinner for 40 people and had ordered a 10 inch square coconut cake from Lulu's. I picked up the cake at 1pm which Victor had kindly carried to my car, (He must have a sense I couldn't be trusted). I left the cake in the car and around 5.30pm went out to get the cake - the guests were coming at 7pm. As I was entering my home, my keys caught on the door handle and I missed my step and horror of horrors, the gorgeous 10 inch square cake flipped and landed upside down on my kitchen floor!
I was mortified and sat down on the floor next to the cake to gather my thoughts - not the cake. I decided the only thing to do was call Lulu's and explain my disaster. They couldn't have been nicer. They told me not to worry Though they didn't have a 10 inch cake as those are special orders, they did have an 8 inch round cake. They would write the message on the cake and I should go right over. I gratefully drove over...picked up the 8 inch round, beautiful coconut cake and.....they never charged me. How fortunate we are to still have such service from a great bakery.
Thank you Lulu's for saving the day!
Diane Levy
Fox Meadow

Can I Take Down a Tree Without a Permit?
Details

Category: The Goods

The storm damaged many local trees and was a bonanza for tree removal services. If you are thinking about taking down trees on your own property, you may need a permit from the Village to do so. If you don't follow Village Code and remove trees unlawfully, you could be fined.
Here are instances where you DO need a permit from Village Hall to remove a tree:
If you wish to remove three or more trees with trunks exceeding 6 inches in diameter during a 12 month period.

For removal of trees of the following species: American Elm, American Beech Tree or Heritage Trees (a tree designated by the Board of Architectural Review to be unique and of importance of the community)

Any tree in a wetland or wetland buffer area

Trees that have been protected by the Land Use Board or were planted as a result of a Land Use Board determination.

Trees determined to be preserved by a Land Use Board for at least two growing seasons after the issuance of a Certificate of Occupancy or Land Use Board approval.
In the following instances you CAN remove a tree without a permit:
Trees with a trunk diameter of less than six inches.

Up to two trees with trunks exceeding six inches in a twelve month period. However, if you taken down a tree with a trunk diameter greater than 36 inches, you are required to plant a tree to replace it.

A tree may be removed under an actual or ongoing emergency for the protection of life or property. If a tree is determined by a Tree Expert to be dead, dying, hazardous or diseased, a report from the Tree Expert must be submitted to the Village Engineer. A tree may also be removed if considered an invasive species (a non-native species that adversely affects the habitats they invade economically, environmentally or ecologically and are listed in the Invasive Plant Atlas of New England.

And what happens if you violate these provisions? Here is the Village code on that score, "Any person violating any of the provisions of this article shall be guilty of a violation and shall be fined not less than $250 or more than $1,000 for the first two trees. Thereafter, not less than $500 or more than $2,500 for each additional tree."
Westchester Girls Soccer Team Triumphs in Denmark
Details

Category: The Goods
The Rye Celtics, an under-15 Girls team with players from Westchester and Rockland counties and from New York City, swept through an international field of 56 teams to victory at the 30th Anniversary Dana Cup in Hjorring, Denmark. Scarsdale High School's Ali Lonner (goalie) and Stefanie Katsoff (defender) along with Edgemont's Gaby Susz (midfield) were joined by 18 other girls from Rye and surrounding communities under sunny skies in the five day tournament, billed as the largest sporting event in Denmark and one of the world's largest youth soccer tournaments with over 850 boys and girls teams representing over 40 countries.
In the first two days, the Celtics, coached by Bill Whiston of the Rye Youth Soccer Club, played three qualifier games, winning 4-0, 4-0 and 3-0 to move into the A-bracket round of 32. After a night at the discothèque and carnival that was constructed by tournament organizers, on day three the Celtics won their first elimination match by a score of 3-0 and prepared to face the toughest competition yet in the round of 16 later that day. Against Varegg-Sandviken IL of Norway, the undersized American squad played a very physical match that wasn't very pretty to watch. After a scoreless first half, and with less than ten minutes remaining in the second, and with the Celtics facing the possibility of going to penalty kicks to decide the match, Susz put the ball in the back of the net to provide the margin of victory and send the girls on to the quarterfinals.
On day four the Celtics dominated their quarterfinal and semifinal matches 4-0 and 2-0. They were cheered on by a number of girls from other teams who had been eliminated in earlier competition and came out to watch the skillful Americans. With the final on the agenda for 11:45 the next day at the Hjorring Stadium, Coach Whiston nonetheless agreed to allow the girls one more night at the disco (with a strict curfew) as reward for their hard work and dedication. His confidence paid off as the girls came out hard against Arna-Bjørnar Allianse IL, a select team from Bergen, Norway. Playing in front of a crowd of several thousand, they played a scoreless first half despite one of the Celtic captains going to the bench with an upper leg injury. After some halftime adjustments, the eventual champions scored early in the second half and the added one more in the last ten minutes to seal the victory.
In all, the girls scored 23 goals and the spectacular defense surrendered none. This was the best showing of any team in the tournament and the best performance by any foreign team in the 30-year history of the event.
The sightseeing in Copenhagen, the camaraderie with girls from around the world speaking the common language of sport, and the success on the pitch, made this trip one that these girls will never forget.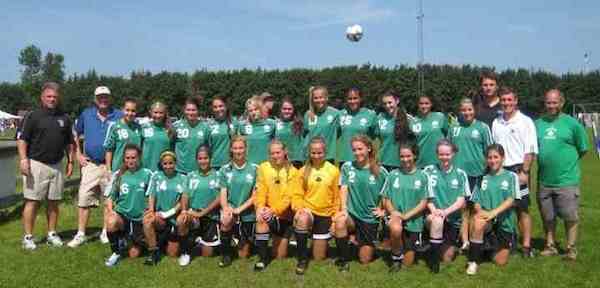 Picture: Ali Lonner (first row, sixth from left), Stefanie Katsoff (second row, third girl from left), Gaby Susz (second row, sixth girl from left)
Reported by Chris Lonner
Dealing with a Bully
Details

Category: The Goods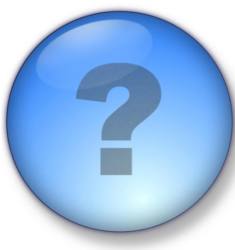 We received this letter from a distressed mom this week -- and rather than offer up our own advice, we thought we'd ask our readers to answer. Now it's your turn to give a little free advice. Please post your response in the comments section below. Here's the issue:
Dear Scarsdale10583: I'm hoping someone can help. I sent my daughter to camp this summer and in her group there was a girl who can best be described as a miniature bully. Some days, she made my daughter and some of the other girls in her group miserable. I spoke to the counselors and even the assistant director of the camp to make sure my daughter wasn't instigating anything. They assured me it was this one girl and the other girls were not to blame. I can't say my daughter's summer was ruined, but it was less than ideal. I understand these things happen and we're moving on.
I didn't realize until nearly the end of the summer that the mean girl is the daughter of someone I'm friendly with in town. I ran into her once after realizing her daughter was causing mine trouble. I asked her how she thought the summer was going and she said she thought the kids in the group were terrible and my daughter was the only girl her daughter wanted to play with. She added that she'd love to set up a play date since our girls will be in school together this year. I was able to put it off a bit since we're heading on vacation.
She's already emailed me to set something up when we come back. The little girl may not be so bad one-on-one but when I brought up the idea to my daughter she was very upset and refused a play date. I can't say I blame her and I don't want to force her to play with someone who makes her upset. I can't avoid the mom all year and I don't want to confront her since I don't really feel like it's my place. Help!
Scarsdale Mom
Comments, please?

Scarsdale Athletic Director Retires
Details

Category: The Goods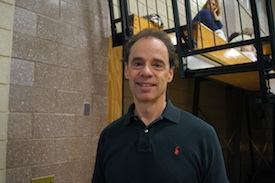 After many successful years in the Scarsdale School District, Scarsdale High School's athletic director, Michael Menna is retiring. As a member of the SHS graduating class of '73, Menna developed an early love for SHS. He returned to the district in 1986, working as a physical education teacher at Greenacres elementary school. Menna began working with their athletic department during his early years in the district. He coached the junior varsity baseball team, assisted the varsity football team and was the head coach of the varsity ski team, all while working in the district.
Menna was approached 11 years ago and offered the position as SHS athletic director. Menna gladly accepted the challenge. He viewed this opportunity as a chance to "make the students' participation the best possible experience". Menna had many goals in mind to improve Scarsdale's athletic department, such as "grow the facilities, increase student participation and develop the respect student's athletes have for each other and their opponents".
Menna's hard work and determination allowed him to fulfill his intentions. Under Menna's tenure, significant changes were enacted to improve SHS athletic program. The bowling team, crew team, varsity B tennis, modified hockey and the girls' golf team were all added during his tenure. Menna's participation with Maroon & White and Scarsdale residents led to some new great traditions at SHS, such as the cheerleading tournament, pep rallies and the wonderful raider pride weekend. "Raider pride weekend is a time where students, fans and athletes can express their pride for their school and their sports team", said Sam Bromer '12.
Menna says he cannot take all the credit for the improvements to SHS athletic department. He strongly credits and thanks "the coaches' hard work and effort, the Scarsdale Board of Education for support, Maroon & White and the residents of Scarsdale for supporting the student athletes". Menna especially "thanked the students for their ability to balance their responsibilities and for showing respect on and off the field".
Despite the fact that Menna says he is "going to miss the coaches, student athletes and games", next year he plans to continue to work in business as a project manager.
Although, Menna is retiring, his love for SHS athletics is not. He plans to return to SHS to visit. As for who is going to be the next athletic director at SHS, Menna can only guess. He has no say and a committee has been named to elect the next athletic director. Whoever is elected will hopefully continue to improve and grow SHS athletics just as Michael Menna has.
Author Jake Bank is a rising senior at Scarsdale High School. He is a member of the varsity Ice Hockey Team and varsity Lacrosse team. He is also a member of the Scarsdale A School.