Three Sisters Dominate Raiders Tennis
Details

Written by

Joanne Wallenstein

Category: The Goods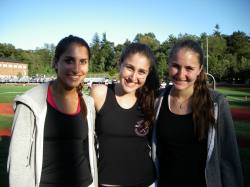 It's a year of firsts for the Scarsdale Girls Varsity A Tennis Team. This is the first time that Coach Jennifer Roane has had three sisters on the team at once and the first time in recent memory that eight of the thirteen girls on the squad were new to the team.
With so many graduating seniors playing in the top spots last year and the loss of junior Chloe Kaufman this year, Coach Roane was left with many openings on the team. Kaufman, a junior who has played first singles for the past two years opted not to play on the team this season in order to play more USTA tournaments and work on her ranking. Fortunately, junior Michelle Furnari, who is ranked 56 in the Eastern
16-and-under category is still playing for Scarsdale and is a strong first singles player. Furnari, who has played on the team since she was a freshman won her first match against Horace Mann in three sets, defeated her Pelham opponent 6-0, 6-4 and scored an easy win against Hastings on Tuesday September 21. She feels confident this year and is comfortable in the number one spot due to all of her tournament experience.
The three Rokito sisters are all playing key roles on the team. Senior Ariel Rokito is one of the team captains and is playing second singles. At the Hastings match, she
breezed by her opponent, winning 6-0, 6-1. Her twin sister Shelby Rokito and co-captain Cali Kurlan are in the first doubles position and won their match against Hastings when their opponents forfeited for medical reasons early in the match. The youngest and tallest Rokito, Lindsay, is the only freshman on the team and is playing second doubles with sophomore Stephanie Henkoff who has moved up to the team from Varsity B.
Parents Andy and Susan Rokito were on hand to watch the three girls play and Andy said, "As a parent it's a great feeling to have the three girls all play on the same varsity team. I have watched them play tennis since they were four years old and fed them balls until they got too good for me and moved onto professional coaches. It is good to see that all of their hard work paid off."
In third singles the team welcomes Junior Ciara (pronounced Sierra) Williams who did not play tennis for Scarsdale last year but played junior varsity as a freshman. So far she is ahead this season, winning her matches against Pelham and Hastings but falling to Horace Mann.
Moving up from Varsity B are sophomores Jessie Somekh and Shelby Zucker. At 5'6" and 5'9" the athletic duo bring some height to the team where they play doubles together. Though they feel more pressure playing on Varsity A, both enjoy the challenge and are finding it fun to be part of the team. The won both of their matches against Pelham and Hastings.
Seniors Alex Travis and Meagan Hom are returning members of the team and play doubles, alternating positions with juniors Jenna Karp and Julia Morris who have moved up from Varsity B. Karp and Morris played in the fourth position against Hastings on Tuesday, while Travis and Hom playing an extra doubles match. Both teams won and the overall score for the match against Hastings was 7-0.
The team did score two early losses in matches against Horace Mann and Edgemont, losing 2-5 against Horace Mann, who is not in the league and falling 2-5 to Edgemont who is in the league. Edgemont's team includes eighth graders and the team is young and tough.
This Thursday, September 23, the team crosses the bridge to play Suffern, and next week they will play Solomon Schechter at home on Monday, away at New Rochelle on Wednesday and home against Mamaroneck on Thursday September 30. Both Mamaroneck and Bronxville are said to have strong teams this year so it may be difficult to maintain the number one position in the league that Scarsdale has held for years. We'll be watching.
Cautious Optimism for Raiders Boys Soccer Team
Details

Category: The Goods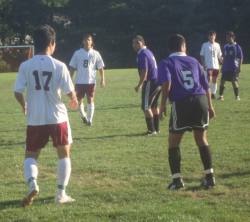 Through the first three games of the season, the Scarsdale boys varsity soccer team had outscored its opponents 13-0 en route to an undefeated beginning this year. Dominating lesser teams like Edgemont, Dobbs Ferry and Lincoln, the Raiders' success illustrated their fluid style of attack while dominating all facets of the game. Yet with the Class-AA portion of the schedule looming, coach Joe Cipriano recognizes that a tougher test lies ahead.
"We got a ways to go," said Cip (as he is lovingly referred to by his players). "We are still a work in progress for our league which will be much tougher."
Facing White Plains, New Rochelle and Mamaroneck will prove to be stiffer competition for the Raiders this season. Yet after a competitive defeat to a one-loss Arlington team in the sectional semi-finals last year, the expectations are greater for a team returning marquee seniors Andres Penfold and Hiroki Kobayashi.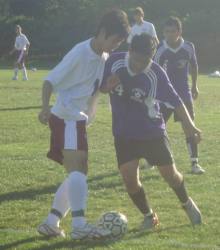 Penfold was named to the ESPN Rise's Starting-11 roster last month while securing a commitment to play at college soccer powerhouse Monmouth University currently ranked 5th in the country. Penfold cited the chance to play for the local club team as the reason he was recruited before his senior season even began. "Playing for FC Westchester, it put me in front of a lot of college coaches who saw what I can do," said Penfold. "I was flattered, 3 years ago I would have never thought I'd be in this position, and I hope that work comes together for the team." Kobayashi was also selected to the prestigious FC Westchester U18 club this past season, and while he has not decided on where he will be attending school next year, Penfold is certain that "a lot of guys on this team want to go play college ball. "Both players, along with co-captains Jonathan Geremia and Michael Abraham serve as the backbone for this senior-laden team that could be the cream of the Class-AA soccer crop this season.

But to reach the top, the Raiders will have to go through an impressive White Plains team that returns 19 players to their program from a year ago.Winning the section is the ultimate goal for this talented bunch, but Penfold recognizes the necessity of taking things one-step at a time to ultimately reach the team's desired end result. "We've all come in wanting to win it all, but we have to take things one game at a time."That next game comes Tuesday September 21st against Mamaroneck at 4:30 PM here on the Raiders home turf field.
Varsity Roundup:
Varsity Football: The Raiders began their season 1-0 after impressively defeating Class-AA foe R.C. Ketcham 29-22 last Saturday afternoon. Senior Quarterback Brian Bauersfield threw for 3 Touchdowns, two of them to senior wide receiver Matt Wheeler, while Anthony Cugini rushed 79 yards for the game winning score in the final quarter. Scarsdale will square off at Ossining Thursday afternoon before traveling to Lincoln a week from Saturday.
Girls Varsity Soccer: It was an impressive beginning for the defending league champion Raiders who walloped Yonkers 8-0 this past Tuesday. Erika Smith netted a hat-trick while Charlotte Miller added two tallies. The Raiders host Eastchester this Thursday at 4:30 PM.
Girls Field Hockey: After opening the season with a victory over Suffern, the Raiders finished in a 1-1 tie with Pleasantville on Monday afternoon. They now are 1-0-1 with a game Thursday at Irvington.
Girls Volleyball – The Raiders began the year defeating Clarkstown South 3-1 last Tuesday. Talia Plummer had 10 kills for the Raiders while Emma Fox had 8 kills and 10 assists. The squad hosted Yonkers earlier today and will travel to Eastchester next Tuesday afternoon.
Your Guide to College Shopping
Details

Category: The Goods
As summer winds down and you start getting ready to head off to your freshman year of college (or your kid is at least), it's time to start thinking about shopping for your dorm room! Several stores around town have very good deals for college shopping. Bed Bath and Beyond allows you to go around the store with a scanner, choosing the items you want. Once you are at school, you can pick up your purchases at the store closest to your college. You pay when you pick up the items, so if you decide something is not necessary or you want another item, it is a painless fix. That option certainly allows for easier packing. I bought everything from pillows to towels to a standing lamp at Bed Bath and Beyond last year, and simply went to the store five minutes from my school and picked up my items the day I moved in. Bed Bath and Beyond has a special section on its website for college shopping. To simplify the process, it organizes the items they sell for dorms into categories: Sleep, Eat, Wash, Study, Organize, Breathe, and Chill, which makes it a little bit harder to forget important (or even totally useless!) items. It also provides a checklist and Bed Bath and Beyond's "Top 5 Must-Haves."

The Container Store in White Plains had a College Night earlier this summer with 20% off the entire store, but the two New York City stores, located on Sixth Avenue and on 58th and Lex, have their College
Nights coming up next week on August 3rd and 4th respectively. While those nights can get very busy, they are actually a lot of fun and can offer pretty good savings. I think The Container Store is the best place to get hangers, stacking drawers, bulletin boards, lap desks, closet organizers, and basically anything you could think of to squeeze into your small dorm room. The Container Store's website has a dorm organization section as well as a section called "Dorm Room Basic Six" for organizing a dorm room: Closet, Wall and Doors, Desk, Laundry, Bath, and Storage. The website also has tips and ideas for dorm rooms, such as how to maximize the small space of a dorm room and tips for moving in.

I struggled to find bedding that I liked. For girls, Urban Outfitters has some good options, but because of the lack of Urban Outfitters stores in this area, it is probably easiest to order online. Anthropologie is another great option for bedding, although it is a little expensive. Bed Bath and Beyond also has some nice and affordable bedding, as does Crate and Barrel. Be sure to get Twin Extra-Long bedding. I love the really soft sheets that feel like an old t-shirt, and Garnet Hill is having a sale on those sheets right now.

Ikea and Target are great places to look as well, and they also have nice things for upperclassmen moving into apartments. Target's website also has a college section where they offer some great lounge chairs, futons, desk chairs (if you want to bring your own), and some nice posters and decals for the walls.


I don't think having a TV in your room is all that important at school, especially given how many shows are now available online, but Costco does have well-priced TV's. In terms of a microwave and fridge, I would recommend seeing if your college has a MicroFridge rental service because if you rent one for the year, they deliver it right to your room when you move in, making the move-in process that much easier.

Other really great things to bring are extension cords (but make sure your college does not have restrictions on those first), iPod speakers, fans (older dorms get very hot), a printer, and perhaps most importantly, an alarm clock! As much as I love my cell phone, that alarm is way too easy to dismiss and then fall right back asleep. Having some posters for your walls is a good idea, and AllPosters.com has thousands of posters to choose from, including paintings, pictures, and posters from movies or TV Shows. Right now they are having a back to school poster sale online.

Here is packing list taken mostly from the Bed Bath and Beyond website with a few omissions. Enjoy!

Eat
Utensils
Plates and Bowls
Glasses
Coffee Cups
Water Bottle
Travel Mugs

Sleep
2 sheet sets
Pillow Protectors
Pillows
Mattress Pad
Comforter or Quilt
Duvet Cover
Blanket
Air Mattress (for guests)
Alarm Clock

Wash
(Lots of) towels and wash cloths
Toothbrush, Toothpaste
Shampoo, Conditioner
Body Wash
Face Wash
Hair Iron/Blowdryer
Makeup Mirror
Shower basket

Chill
Lounge chair
Rug
Picture frames
Collages
Wall art
iPod Speakers

Study
Desk Lamp
Waste Basket
Bulletin Board
Light Bulbs
Extension Cord
Floor Lamp
School Supplies (pens, pencils, notebooks, folders, highlighters, notecards - easiest to get at school bookstore)

Organize
Drawer organizers
Shoe storage
Sweater/Garment Storage
Hangers
Drying Rack
Pop-Up Hamper
Luggage
Hand Vacuum
Scarsdale Rockets Defeat Greenburgh
Details

Written by

Joanne Wallenstein

Category: The Goods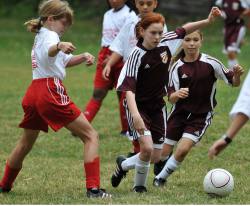 The fall soccer season has begun. On Sunday September 12, the fifth grade girls Scarsdale Youth Soccer League team met Greenburgh. Here are photos of the game, in which the Scarsdale Rockets defeated the Greenburgh United team by a score of 4-0.
If you have photos of games you wish to share, forward them to scarsdalecomments@gmail.com with the details of the game and we will post them.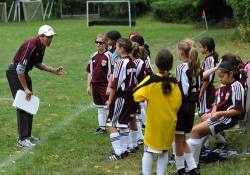 Photos courtesy of Jon Thaler. For more photos and to purchase prints go to: http://www.jonthaler.com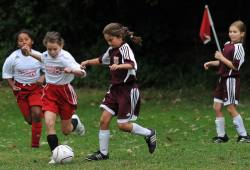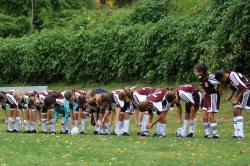 10 Tips for College Freshmen
Details

Category: The Goods
Now that the Scarsdale High School Class of 2010 has graduated, it's time to pass on some words of advice they should keep in mind before heading to college.

1. Don't leave all of your packing until the last minute. You've accumulated a lot more stuff over the last 18 years than you think you have.

2. You're not going to love school immediately. If your friends all say they do, there's a pretty good chance that a few of them are lying. Although it might seem like it at first, it's not a competition to see which one of your friends is the happiest.

3. It's only natural to try to make close friends as quickly as possible so you feel more comfortable. There's definitely nothing wrong with that but try not to close yourself off from new people. Some of my closest friends I didn't even meet until second semester.

4. If you love your roommate, that's great. But, if you are like many people, your roommate will not be your best friend, and that's fine (even better maybe!). It's completely okay to get along well with your roommate in the room and not hang out socially. Just as long as you are civil and compatible in your living space, you will have a good experience.

5. Take the time to talk to some upperclassmen and get advice on what classes to take. Try to figure out what professors are the best, what time you can realistically get out of bed in the morning, and how far your classes are from one another.

6. Bring way more pairs of socks and underwear than you could possibly think you need, for a couple of reasons. If you are like me, you will notice over the year that more and more of your socks go missing and coincidentally your roommate is wearing socks that look very familiar to you. Also, unless you run out of clean pairs of underwear, there is truthfully no reason to do laundry. So, if you bring many more pairs than you need, you will suddenly find you are spending much less time in the laundry room.

7. The "Freshman 15" is a very overblown fear. Dining hall selections have many more healthy choices than you would think. The greatest risk is late night desserts and snacks with your friends, but like in the rest of life, anything in moderation is fine.

8. Another overblown fear is being "sexiled." It's your room too. If you think your roommate is taking advantage of you, just say something.

9. Bring or buy a printer for your room. Otherwise, you'll find yourself spending a lot of time running to the library to print a paper 10 minutes before it's due.

10. If you're homesick, keep in mind almost every other person there is as well. Try to avoid going home often for weekends. Stick it out and suddenly you'll find that school is your home.
Nell Brodsky is a 2009 alum of Scarsdale High School who just completed her first year at Brown.