Positive Graffiti
Details

Category: The Goods
Published on

22 November 2016

Written by

Joanne Wallenstein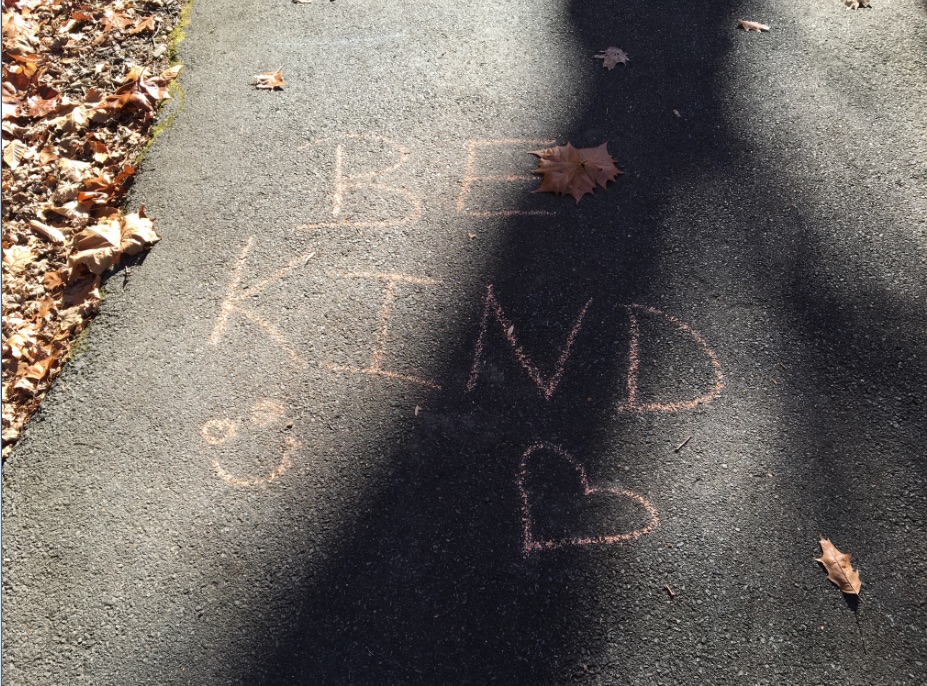 Turns out, not all graffiti is bad. Perhaps in response to the anti-Semitic graffiti that was found along the Bronx River Parkway path last week, some chalkers with a better message got to work. Tod Cooperman who was biking on Saturday on that same path, on the section that parallels Garth Road, came upon some happier messaging.
Cooperman said, "I came across what I'd consider very positive graffiti. It was written with colorful chalk, unlike the racist graffiti that had been spray painted elsewhere. The messages (as shown here) read "BE KIND," "NEVER GIVE UP," "Let your Light SHINE," "SPREAD LOVE," and "Compliment Others; Build eachother Up." On the wooden bridge behind the Scarsdale train station it read "Love one Another."
Perhaps this is a good augur for the future, at least in Scarsdale.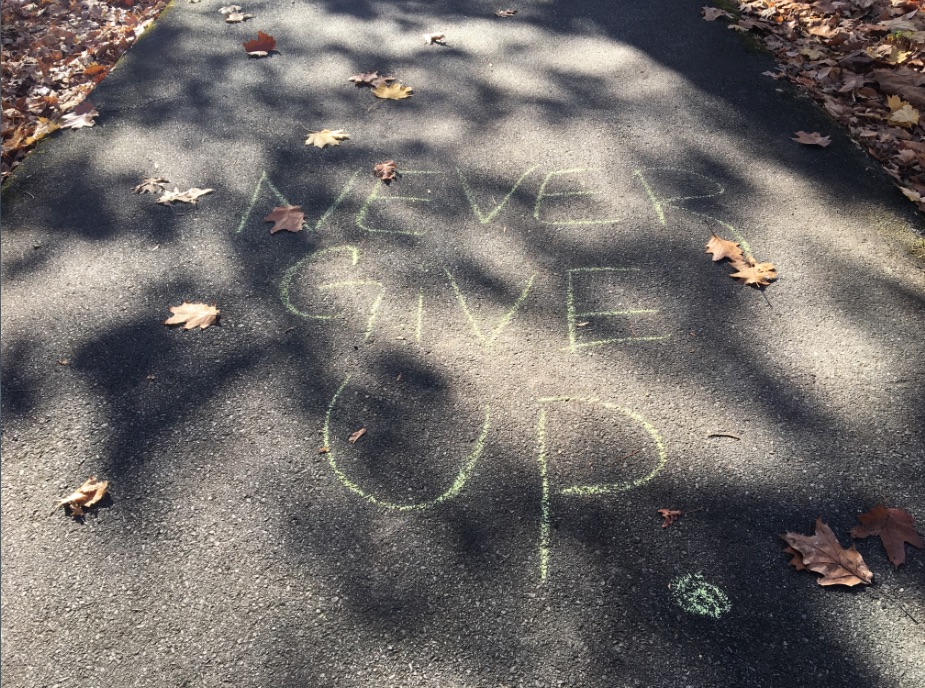 Anti-Semitic Graffiti Found on Bronx River Parkway Path
Details

Category: The Goods
Published on

15 November 2016

Written by

Joanne Wallenstein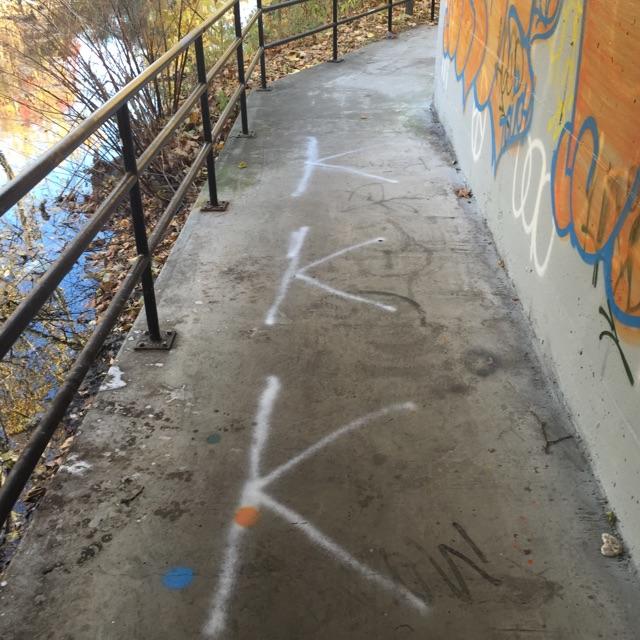 Westchester may already be experiencing the effects of the election of Donald Trump which has incited racial incidents all over the U.S. At 3 pm on Sunday 11/13, Westchester County Police received a report that the footpath and a bridge along the Bronx River Parkway bike path were defaced with spray-painted scrawling, which included a swastika, the initials, KKK, and various racial slurs. See photos here.
A crew from the county is currently removing all of the graffiti and a police investigation is underway. County Executive Rob Astorino has asked for additional resources and surveillance in all public areas owned by the county, including more inspections of county trail ways and bike paths.
Commenting on the incident, Astorino said, "Bigotry in any of its forms will not be tolerated in Westchester. I want everyone to know county government will remain vigilant in its efforts to ensure that the rights, dignity and safety of all our people are protected every day. This type of activity is criminal and will be prosecuted." He was joined by James Castro-Blanco, the executive director of the Westchester County Human Rights Commission, and George Longworth, commissioner of the Westchester County Police, at a press conference at the scene of the vandalism just south of the White Plains Metro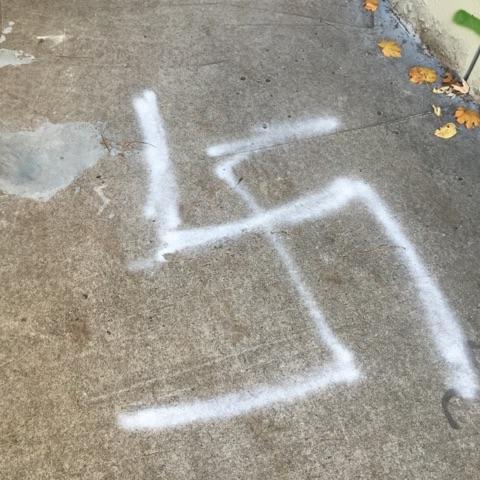 North train station.
Astorino encouraged anyone who feels they have been the victim of discrimination to contact the county's Human Rights Commission at (914) 995-7710 or visit the website here.
Scarsdale Forum Presents, "The Education of Today and Tomorrow"
Details

Category: The Goods
Published on

30 October 2016

Written by

Joanne Wallenstein

The community is invited to the Scarsdale Forum's meeting on Thursday November 3rd at 7:30pm in the Scott Room of the Scarsdale Public Library. The evening will feature a special program on "The Education of Today and Tomorrow" by Scarsdale Board of Education President Leila Shames Maude, Assistant Superintendent of Curriculum Lynne Shain, and Director for Instructional Technology and Innovation/Co-Director of The Center for Innovation Jerry Crisci.
In addition the Forum will continue its review of Scarsdale's Non-Partisan system through the presentation of special guest Max Grudin, Chair of the Procedure Committee who will provide an update on recommendations to the Citizen's Nominating Committee. A summary of Scarsdale's Non-Partisan System was previously given by Forum Director and Chair of the Non-Partisan Procedure Committee Tim Foley at the past October 6th Public Forum. Tim's complete remarks can be read HERE.
The evening's guest of honor will be retired Fire Chief Thomas M. Cain. We invite the community to join us in saying thanks to Chief Cain for his 32 years of service
The portion of the evening dedicated to Forum members will include votes on a previously released report: ""Educational Objectives to Consider Regarding Options for the Future of Greenacres Elementary School."" dated October 20th 2016 by the Education Committee. All reports are available on our website www.scarsdaleforum.com; or, you can contact our office for reprints at info@scarsdaleforum.com or (914)723-2829.
(Scarsdale Residents who wish to vote on reports may join Scarsdale Forum prior to the November 3rd meeting.)
Craft Sandwich Creations at Mason Sandwich Co.
Details

Category: The Goods
Published on

07 November 2016

Written by

Judie Dweck
According to Wikipedia," a sandwich is a food item consisting of one or more types of food such as vegetables, meat or cheese, placed between two slices of bread. "Sometimes, you crave a quick bite at lunch or dinner, other than a slice of pizza that is casual, quick, satisfying and of good quality. Enter Louis and George Brindley, the culinary team behind Mason Sandwich Co. In Eastchester, the sandwich has been elevated to a new level by brothers Louis and George Brindley and their father George Brindley Senior, with the opening of Mason Sandwich Co. where creativity rules. Louis has worked in the kitchens of The Metropolitan Opera House, Fortina in Armonk, and Savona in Scarsdale. According to him, "We serve comfort food with a unique twist. Our menu, which varies with seasonal availability, is constructed with the ingredients people love to eat. We offer, catering and take out in addition to eating in our 38 seat venue. Eventually, we expect to add breakfast as well as delivery to our services. In the future we hope to open more sandwich shops. Given the opportunity, Louis Brindley would enjoy serving Danny Meyer, the venerable restauranteur.

The atmosphere at this compact space is welcoming and very informal. Black and white tile floors, a large picnic table and benches, several tables along the side wall, stools at the counter and at the front window supply the seating. The Brindley brothers can be found preparing their delights at the open kitchen towards the back. Above the counter is the daily blackboard menu, announcing the soups, salads, beverages, and special of the day. The staff is friendly and efficient.

My recent visit was late in October and the festive
Halloween mood permeated the space. A youthful spirit was in the air and Halloween decorations added a fun element to Mason Sandwich Co. We started with a bowl of soup suited to the season, an unusual pumpkin soup. It was a thick puree flavored with sage and studded with spiced walnuts. A swirl of marshmallow fluff added a sweet touch to this savory soup. It seemed to say, marshmallows can appear in other forms rather than just on top of your sweet potato Thanksgiving dish.

There were about two dozen sandwich choices, one more interesting than the next. We loved the shrimp po' boy, a true taste of New Orleans. Served on a large baguette, the large shrimp were nicely seasoned and layered with lettuce and tomato. A delicious Old Bay remoulade sauce topped this sandwich. Crispy cod was our next treat. Served on a bun, the beer battered dipped fish perfectly cooked, nice and crisp on the outside and moist within. Red cabbage slaw was a fine accompaniment. On a future visit I probably would request the tartar sauce on the side, rather than on top of the sandwich to get the true flavor of the wonderful crisp cod. The beet city sandwich was a vegetarian delight. The paper thin slices of agrodolce fresh beets were layered with arugula, fried goat cheese and hazelnut gremolata. This was a beautiful and very tasty combination of textures and flavors. Potato rolls, sesame buns, baguettes, country white and multigrain breads are appropriately combined for each sandwich. Nothing is boring here. I can't wait to try the very popular chickwich with buttermilk fried chicken, spicy maple syrup and homemade dill and bread and butter pickles, as well as the 53 rd and fifth, New York City style cart chicken with yogurt sauce and harissa, and El Cubano for a taste of Cuba. Even BLT, grilled cheese and Mason Burgers have creative touches at Mason Sandwich Co.


The week after my initial visit, I stopped by to take out some other choices. The porchetta with roasted pork, broccoli rabe and melted provolone was rich and delicious and the smoked brisket with sweet pepper relish and slaw were both winning combinations and hit the spot. I was pleased to note that each was carefully packed, and by the way, the homemade potato chips that were in the take out bag were divine.
From the salad selections, I sampled a superb beet salad. An abundant serving of chunks of fresh agrodolce beets combined with arugula, goat cheese and hazelnuts and was most satisfying. Also offered are Caesar, arugula and quinoa salads. The blackboard menu offers several "plates". I felt very healthy with a bowl of ancient grains to offset my fried cod. The combination of quinoa, freekuh, roasted cauliflower, chick peas, spinach and pomegranate tossed with a curry vinaigrette was the perfect combination of grains and vegetables.

To complete your meal, try one of their creative milkshakes with interesting flavors such as Nutella, oreo, butterfinger, strawberry shortcake, fig or apple cider. Craft soda from Harmony Springs is available, as well and beers will probably have arrived by the time you are reading this article.

Enjoy the crafty creations at the fun filled friendly Mason Sandwich Co.

Mason Sandwich Co.
33 Mill Road
Eastchester NY
(914) 776 2766
http://masonsandwiches.com
Open Tuesday through Sunday from 11 AM to 8 PM

Recipe: Quinoa Salad with Lemon Vinaigrette (Serves 2-4)

For the salad
4 cups cooked quinoa (follow package directions for cooking this grain)
1 English cucumber, peeled and diced
1 cup garbanzo beans (chick peas)
1 cup cherry tomatoes
1 red onion, in julienne
1 cup feta cheese, crumbled or in small chunks

Place all ingredients in a non reactive bowl. Set aside and prepare the dressing.

For the dressing
1 cup olive oil
¼ cup freshly squeezed lemon juice
2 Tbsps. honey

Any extra dressing can be refrigerated.
Judie Dweck has been writing about restaurants and food for many publications. She teaches creative cooking to children at Scarsdale elementary schools. Through the years, her articles have appeared in Jack and Jill Magazine, Spotlight, The Pleasure of Cooking and The Scarsdale Inquirer. She balances her restaurant tastings with daily ballet classes.
Scarsdale Coalition Raises Awareness About Domestic Violence
Details

Category: The Goods
Published on

24 October 2016

Written by

Joanne Wallenstein

(The following was submitted to Scarsdale10583 by the Scarsdale Coalition on Family Violence) Readers may notice that the majority of public violence begins at home—from Sandy Hook to the recent shooting of two police officers in Boston. Making this connection to domestic violence, the FBI hosted its first Conference on Family Violence in 2003, and the then newly formed Scarsdale Coalition on Family Violence was on hand.

Family violence crosses all socioeconomic groups, religions, races, and cultures. One in four women is a victim, and statistics on men as victims are rising as more come forward. We see, as the FBI has concluded, that domestic violence is now very much an issue of public safety.

The Coalition, a community initiative including Scarsdale Police, Board of Education, Middle and High School, Scarsdale/Edgemont Family Counseling, community members, and the student group, SHS's STAR (Students Terminating Abusive Relationships), has focused on increasing public awareness about teen dating violence. For a decade, the Coalition has partnered with SHS Youth Outreach Worker Lauren Pomerantz, LCSW, to educate teens about healthy vs. abusive dating behaviors in an annual ninth-grade program and in other initiatives.
In the coming year, the Coalition is working on broadening awareness and education for high school upperclassmen and their families, and for adults in the community. In our next community event we will partner with Assemblywoman Amy Paulin to present a panel discussion following a screening of the powerful film Audrie & Daisy on November 30 at 7 pm in the Scarsdale High School Little Theater.

There's much more to be done. We want graduating seniors and parents to be especially aware of dating violence at college. This is critical, ground-breaking work. Help us send our young adults into the world prepared for rewarding intimate relationships. October is National Domestic Violence Awareness Month, a perfect time to join our effort—please contact Lauren Pomerantz (914-721-2468), as we are recruiting volunteers.

Scarsdale Coalition on Family Violence
Penny Bauersfeld, Ann Cefola, David Kroenlein, Lauren Pomerantz and Susie Rush