This Year's for the Birds
Details

Written by

Laura Halligan

Category: The Goods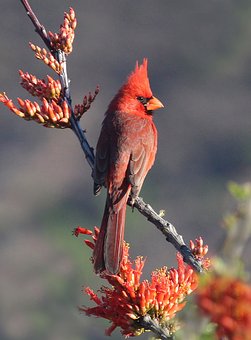 On Tuesday October 9, Village Trustee Lena Crandall presented a proclamation to representatives of the Bronx River Sound Shore Audubon Society, which marked the 100th anniversary of the Migratory Bird Treaty Act and declared that 2018 is the "Year of the Bird" in Scarsdale.
The migratory bird act, "the most powerful and important bird-protection law ever passed," was enacted to prevent the extinction of a variety of bird species that were being hunted for sport or their feathers. The village resolution states that over 200 bird species continue to frequent the New York City area, "including threatened or endangered species, such as the peregrine falcon, and more frequently observed neighborhood birds, such as robins." Since Scarsdale is located within the Atlantic Flyway bird migration route and serves as a nesting location for a number of species, it's fitting for the village to recognize this legislation and promote the importance of habit preservation and stewardship.
The Bronx River-Sound Shore Audubon Society will host a special celebration of the "Year of the Bird" on Saturday, October 20, from 10:00 am to 12:00 pm, at the Greenburg Nature Center. The event will feature educational and hands-on activities, a mini birdwalk and a presentation with birds of prey. The program is free, but the society asks you to email brssaudubon@gmail.com if planning to attend.
Laura Halligan is a local writer, editor and marketing consultant. She is principal of Pinch Hit Prose and provides communications services to entrepreneurs, small businesses and nonprofits.
Movie Review: A Star Is Bored
Details

Written by

Clara Enders

Category: The Goods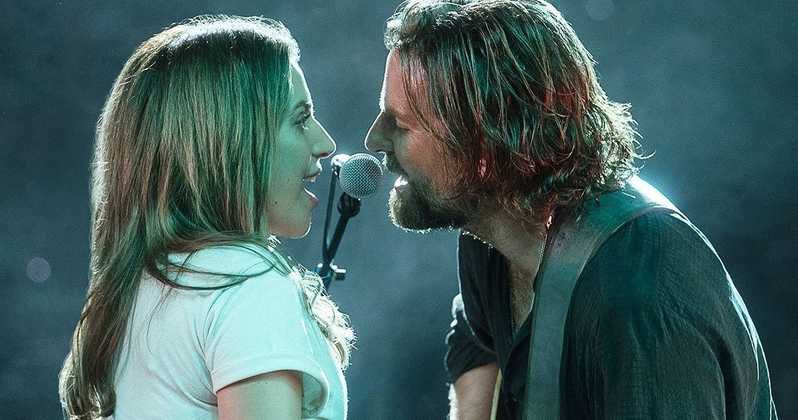 Four months away from the Oscars, it seems as though there hasn't been a buzzworthy hit since last winter's Black Panther. However, with A Star Is Born arriving in theaters this week, critics are already looking towards awards season. The film's fourth remake stars Lady Gaga in her film debut, and Bradley Cooper in his directorial debut. Respectively, the two portray rising songstress Ally and her already famous husband Jackson Maine as they navigate Ally's newfound fame. The two meet in a chance encounter in a drag bar, where Ally sings a phenomenal rendition of La Vie En Rose. After a night of adventures including a bar fight and a trip to the grocery store, Maine soon realizes that Ally's musical talent cannot go to waste, and he takes her on tour with him. As Ally becomes more famous, Maine encounters personal struggles, leading to great strains in their relationship.
The waitress-­to­-superstar plot is predictable, as is much of the dialogue throughout the film. This would not be an issue if the plot were coherent, but it simply is not. The first twenty to thirty minutes of the movie document the night Ally and Jackson spend together, and then their entire tour and romantic development is portrayed through a quick montage. From this, viewers understand the beginnings of the relationship, but not how the two grow closer together over the course of their tour. This makes it harder to sympathize with the two later as their relationship begins to unravel, due to the fact that viewers do not have a sense of the couple's romantic backstory.
Bradley Cooper is, of course, known for his acting skills, but A Star Is Born is a good first step in his career as a director. Many of the scenes seem to cut off in choppy parts, which does not help the natural flow of the story. In fact, it is usually distracting. However, this could play into the narrative that, for Jackson and Ally, fame is a blur. Overall, many scenes in A Star Is Born are beautiful. The beginning of the movie features a nearly perfectly symmetrical scene of Ally in a bathroom at the restaurant where she works, and the drag bar she later performs at is bathed in dreamy, foggy tones. Throughout the film, Cooper experiments with different usages of blue and red light in stunning ways. The meaning of these colors changes as Ally and Jackson's stars rise and fall, and the lights make scenes at concerts more interesting because viewers are not just watching a massive, anonymous crowd.
The film's dialogue is simple, but interlaced with humorous moments. However, in a screening full of college students, many of these moments and interactions generated chuckles from their sheer awkwardness. The juxtaposition of humor and serious societal issues in the script is hard to navigate, and requires frequent emotional checks from the audience. It is hard to know whether you should be laughing or crying, and it's not because scenes are so tailored as to elicit these emotions, but instead because viewers are often confused. A Star Is Born's two hour and seventeen minute runtime seems tedious when viewers are not engaged with the characters, and are unsure how to react to what is happening on screen.
What kept me engaged in the film were the musical performances, and you could feel everyone's genuine excitement when Lady Gaga was about to sing. The line between film and reality is blurred here: I didn't care about Ally's new singles, but I cared about how Lady Gaga belted them with energy and dedication. Cooper is serviceable as a singer, but he is certainly overshadowed. The music in the film is well written and arranged, and I know I'll be buying the soundtrack when it is released later this week. "Shallow," a duet between the two, is a particular standout, and even just Ally singing in a parking lot late at night is raw and emotional. However, I found myself clinging to each performance, zoning out during the confusing dialogue.
Overall, A Star Is Born is positioned to be a hit even before it is released on October 5th, and while this Star shines aesthetically, it is rather dull in regards to storyline. The runtime extends the boring plot, and the musical performances are the highlight. See it to see if it lives up to the Oscar hype, or save your time and just download the soundtrack.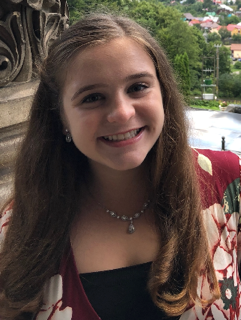 Clara Enders is a 2018 graduate of Scarsdale High School, now a freshman at Carnegie Mellon University studying cognitive and decision sciences. She is a lifetime fan of movie musicals-- just not this one.
Scarsdalians Steal the Show at the 2018 Emmy Awards
Details

Written by

Joanne Wallenstein

Category: The Goods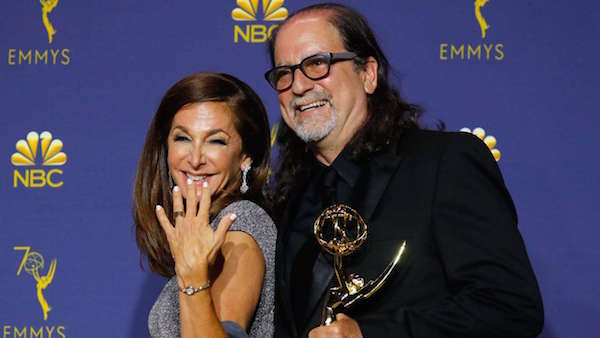 Phones all over Scarsdale lit up at 9:33 pm on Monday night 9-17, when a former resident became the surprise star of the Emmy Awards show.
Jan Svendsen, formerly of Greenacres, got a most unusual prize on stage and became an immediate international sensation. When her boyfriend Glenn Weiss came to the stage to accept his 11th Emmy-- this time for directing the 2018 Oscars-- he started out with the usual remarks, telling his daughters how much he loved them and lamenting the loss of his mother just two weeks ago. But suddenly his comments turned to Svendsen, who he called his "sunshine." The cameras zoomed in on Svendsen, who was sitting in the audience in a sparkling silver gown. He said, "You wonder why I don't like to call you my girlfriend? Because I want to call you my wife."
Signaling to the director that he was going to need extra time, he pulled his mother's wedding ring out of his pocket. Svendsen was summoned to the stage and he got down on one knee to propose in front of some of the most renowned people in Hollywood and an audience that spanned the U.S. and the world.
It was a stunning moment – and a big shock to all of the actors and actresses in the room -- many who dissolved into tears.
What if Weiss had not won the Emmy? Was there a Plan B for the proposal? That we'll never know.
Watch the proposal here and congrats to Jan and Glenn!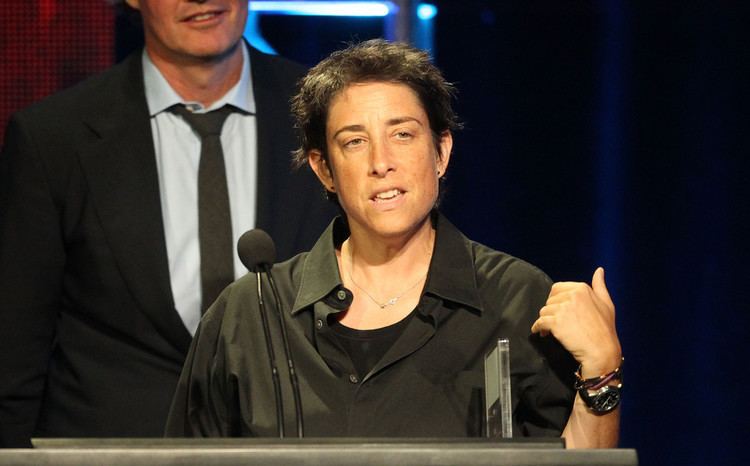 Svendsen was not the only person with Scarsdale roots on the show. Carolyn Strauss, another Greenacres native, is the Executive Producer of the HBO show Game of Thrones and took home her third Emmy on Monday night.
Torrential Rains Inundate Scarsdale
Details

Written by

Joanne Wallenstein

Category: The Goods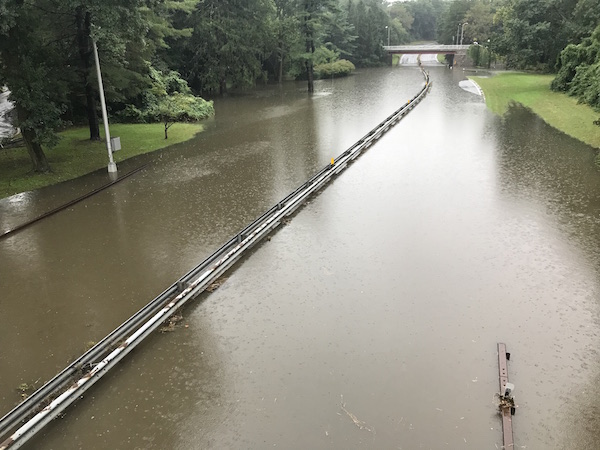 The Bronx River Parkway -- Underwater on Tuesday night September 25.Inundated with five inches of rain on Tuesday September 25, many roads and homes in Scarsdale were flooded, and police and emergency workers were out in full force to help.
At the Village Board meeting on Tuesday night, Director of Public Works Benny Salanitro said the substantial rainfall had caused rivers to breach and extensive flooding especially in Edgewood, around Cayuga Pond, in the South Fox Meadow Brook section and at Cambridge and Greendale Roads near George Field.
He also reported that the fire department had rescued two people who were trapped in their cars near the Hutch. A woman attempted to drive through a big puddle on Brookby Road, got stuck and the car had to be towed. Salanitro said the rain event was one of the top "5 or 10 events" since he has been working in Scarsdale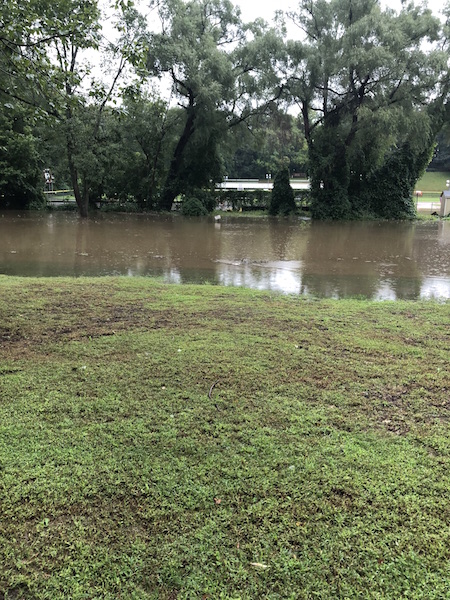 Scarsdale High School
The rain caused the school system to end classes a few minutes early and to cancel afternoon and evening activities. The parking lot at the high school flooded, submerging a few students cars.
The Bronx River Parkway was completely submerged and closed – with deep water causing it to look more like the Bronx River than a parkway.
The police log shows flooding and road closures at the following locations:
Brite Avenue, Fox Meadow Road, Paddington Road, Greendale Road, Sprague Road, Brookby Road, Saxon Woods Road, Church Lane South, Popham Road, Ogden Road, Sherbrooke Road, Oxford Road and Greendale Road.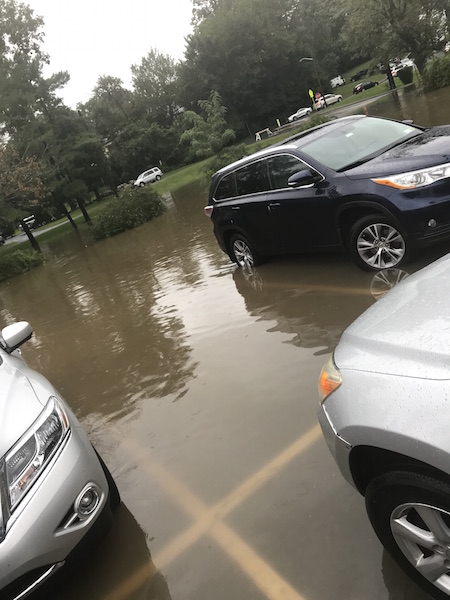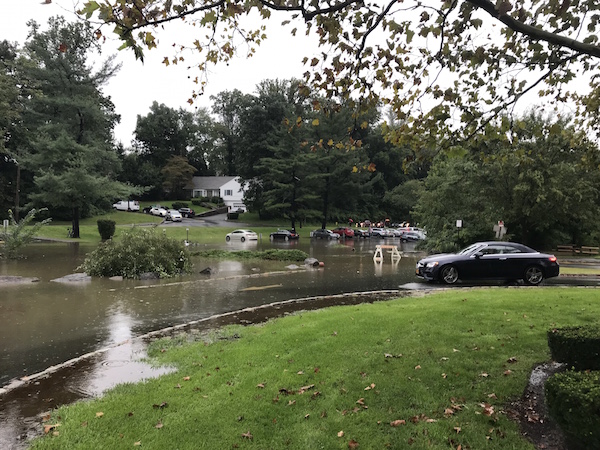 Crickets, Collagen and Cauliflower: Food Trends of the Year
Details

Written by

Stacie M. Waldman

Category: The Goods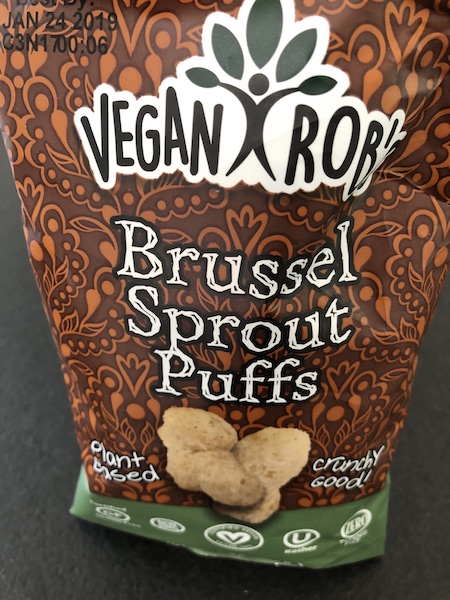 Early this summer I attended the 2018 Fancy Food Show in Manhattan to learn about current and upcoming food trends and sampled so much that I thought I would never want to eat again.
There are many exciting and interesting development food industry this year that consumers will begin to see on the shelves and on their menus. There's good news for carnivores, vegans, gluten-free'ers, aquaphilics, allergy kids, matcha-lovers, super-food aficionados and more. And the other news is that DeCiccos, Balduccis and Trader Joe's keep up with these trends and stock these new products. Here are just a few you'' soon see:
Cauliflower
Although not his most famous quote, Mark Twain did say, "Cauliflower is nothing but a cabbage with a college education." And boy is that proving to be true a century later. Plant-based food is becoming increasingly popular. Some are calling cauliflower the "next kale" and touting its success as a carbohydrate substitute that's packed with nutrients. Trader Joe's has cauliflower-based pizza crust, "rice" and "mashed potatoes" but you'll even start seeing cauliflower flour used in snacks like pretzels and cheese squares. I detected a cauliflower aftertaste in the pretzels but not so much in the cheese snacks. Apparently, some people are more bothered by this than others, like most foods. I skipped the cauliflower ice cream (in favor of the chocolate and cheese aisles). Other vegetables like brussel sprouts and broccoli are also being "hidden" in snacks, most often in powder form. Interestingly, many snacks have the hidden vegetable name and/or picture on the package. I'm not sure about your kids but if mine saw a package of potato chips with a giant broccoli on the packaging, they'd be like "hell no."
Superfoods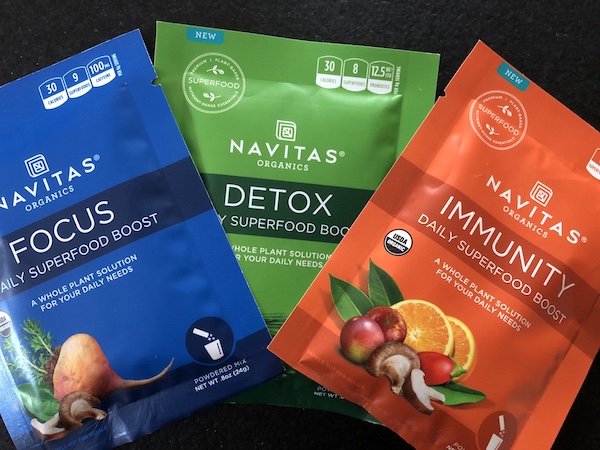 Superfoods are upping their game in a big way. Superfoods don't have an exact definition, but are essentially any food packed with nutrients, vitamins, minerals or collagen, or foods like broccoli and wild salmon that are nutritiously superior to other foods. It seems to be a marketing "bling word" these days. Newer to the food industry is giving consumers the ability to make their regular ol' plain foods into superfoods. For example, you can turn a simple cup of H20 into a superfood by dumping a packet of (purported) "superfood boost" into it. Forget the kale salad for lunch, just toss a packet of Navitas daily boost into your food or drink. There are options called "detox," "Focus" and "immunity." I need all three of these but don't know if they can be used concomitantly. I also saw "brain oil" and "collagen fuel" but there were no IQ tests being given nor dermatologists around to confirm their efficacy.
Upcycled Foods
Manufacturers have gotten waste savvy and are testing new products that were once seen as byproducts of manufacturing but are now being repurposed into a marketable food product. For example, RIND snacks uses the whole fruit, rind and all, hence the name. I found their fruit products to be remarkably palatable. Salmon skin is being turned into crackers and shells of hempseeds are being used in granola bars.

The Coconut
Coconut everything. It's not new, but the coconut is still trending in foods, drinks and of course beauty products. Coconut water is now available using king coconuts which are mainly harvested in Sri Lanka. As a natural beverage, coconut and particularly king coconut water provides the imbiber with a vitamin and mineral-heavy refresher of a drink. Also popular is carbonated coconut water like Jax Coco. Coconut continues to be a fashionable ingredient in food from granola to energy bars and everything in between.
Nuts. No Nuts. Nuts. No Nuts.
Nuts remain prominent in foods like chocolate and energy/nutrition bars. Nuts are being seasoned in unique ways and marketed as healthy snacks. Furthermore, they're being packaged creatively for on-the-go snacking.
Seemingly newer to the market is the response to the demand for allergen-free snacks. Between the increase in allergies in kids and school rules to accommodate these allergies, parents need to find snacks that are tree nut free, peanut free, egg-free, dairy-free and gluten-free, for example. Specialty food manufacturers are packaging numerous alternatives to popular children's snacks that are safe for schools and safe for kids with food allergies. Expect to see more of this on your grocery store shelves this year.
Also look for nut-based milk as well as nut-based cheese and butter.
Water and Other Drinks
It's interesting to see water take off since it is virtually free and ubiquitous. But we Americans love our fancy water! There's oxygen-enhanced water, pH balanced water, alkaline water, electrolyte water, mineral water, engineered sparkling water, natural sparkling water, enhanced sparkling water (pro-biotic, flavored, etc.), and plenty of Artesian water from places as far away as India. When I was in India, most of the people I went with got sick from drinking the water but that hasn't hindered the demand for Indian Artesian water. Artesian water is produced from an aquifer under layers of rock and clay. Water from a confined artesian aquifer is marketed as being "more pure" than other water. Though the EPA doesn't support this claim, those who have discovered a taste for artesian water swear by it.
There were quite a few kombucha exhibitors at the Fancy Food Show with many new, interesting flavors. Kombucha is a fermented tea made using SCOBY, or a symbiotic culture of bacteria and yeast. A kombucha maker will tell you that there are numerous health benefits from drinking kombucha (daily) but these claims have not been scientifically verified. Regardless, kombucha is now a $400+ million-dollar market.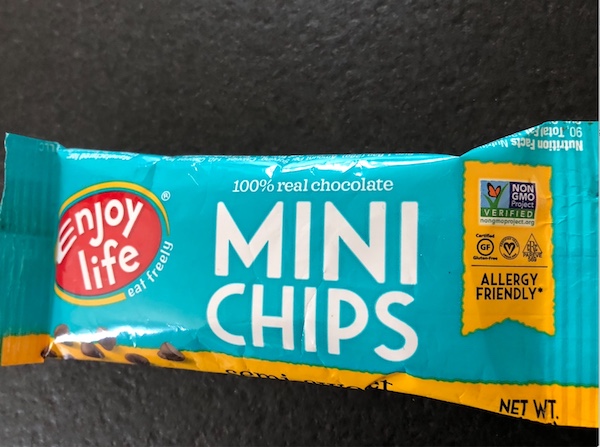 Matcha everything
Matcha has become so popular among its ever-increasing fan base that there are now companies that manufacture only matcha-based products. Matcha is a finely ground green tea powder and contains polyphenols which some studies show may boost metabolism. It also contains powerful antioxidants. Matcha is now being added to drinks like lemonade for better taste while still getting potential benefits from matcha powder.
The beverage industry is growing faster than the food industry and the sparkling beverage industry is the fastest growing within the drinks category.
A Bug's Life (or Lack Thereof)
My mom loves to tell the story of her most badass moment as a teenager- ordering chocolate covered ants and getting her brothers to eat them. As a self-proclaimed insectophobe, I knew it would be fun to lure her into eating a sample of green ant-covered goat cheese from Australia. (It was fun, after I got over the momentary guilt of watching her face turn pale after she learned she ate a green ant.) I ate it too and frankly, it was delicious.
Insects are packed with protein, iron, b12 and other vitamins; they're low in fat; they are better for the environment than animals raised for their meat. They eat less and they poop less than farm animals and their poop (called frass) makes an excellent organic fertilizer. There are over 1,700 of varieties of edible insects.
Americans have not taken well to the idea of eating insects though 80% of the world enjoys them. I've tried mealy worms and whole crickets (as ice cream toppings). I can't say I loved the whole cricket because it was dry and powdery. But companies such as Crickstart are using cricket powder in products like energy bars and crackers and there's no "insect taste." Like boogery kombucha, cricket powder may just be something that people need to get used to. In Cambodia I had the opportunity to try fried tarantula, a common Khmer dish, but that's where I drew the line.
Snackin' Meats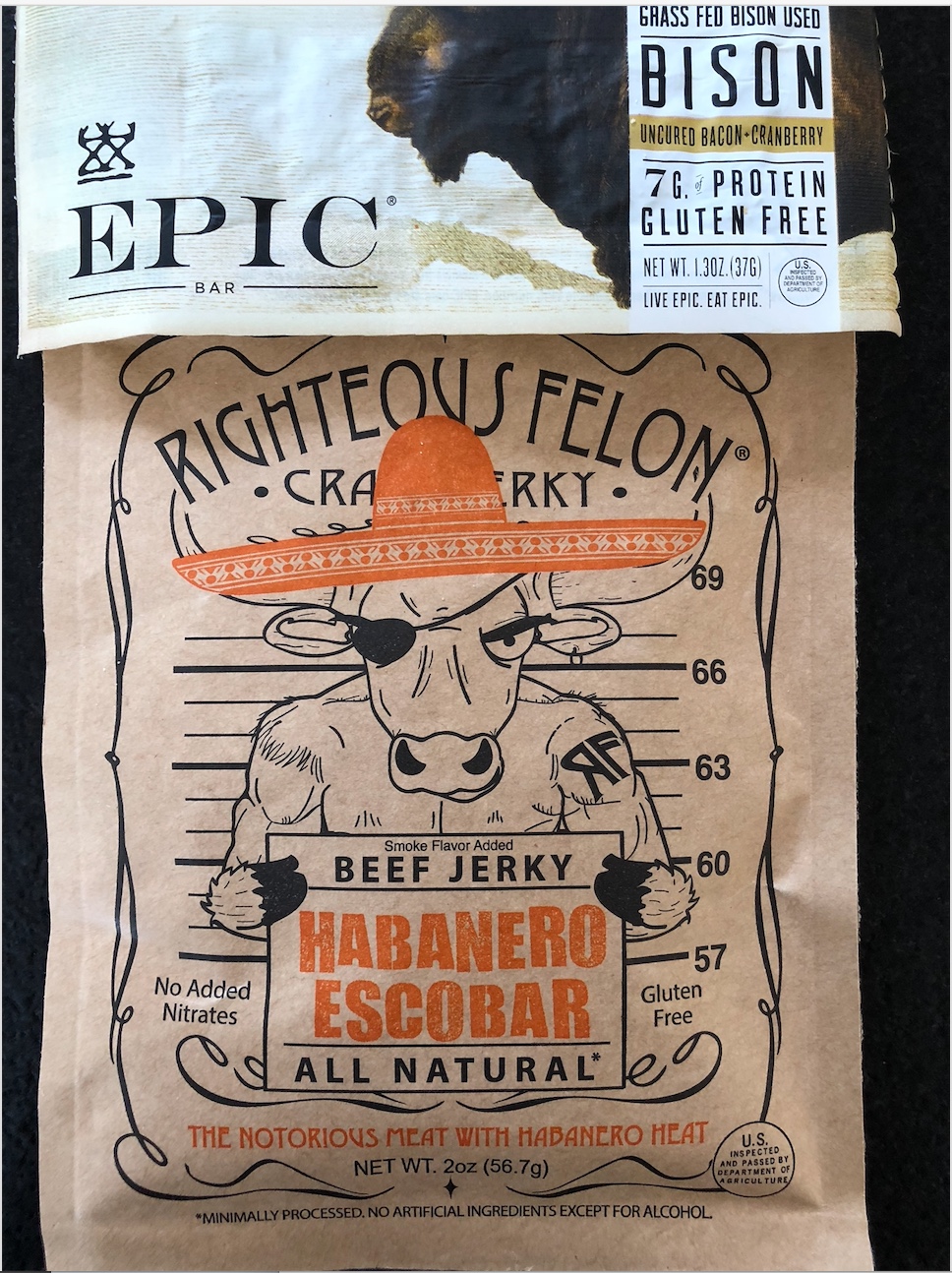 Jerky in all forms was all over the Fancy Food show. The most unique was Pan's Mushroom Jerky that was unbelievably delicious. Traditional beef jerky is still popular but is now available in "super premium" filet mignon or other fancier cuts of meat. Salmon, buffalo and pork are being used as jerky meats and chicken is being made into "meat bars" by Epic. South African style dried meats are gaining popularity in the U.S. such as biltong (air-dried, cured meat) and Droewors (a coriander-seed spiced dried sausage). I enjoyed the biltong as it is much less salty and moist than jerky.
Have you seen any of these new foods while grocery shopping this summer? Are there other new products we should try? Most importantly, would you eat crickets? Please share in the comments section below.