Road Resurfacing Underway in Scarsdale
Details

Category: The Goods
Published on

23 August 2016

Written by

Joanne Wallenstein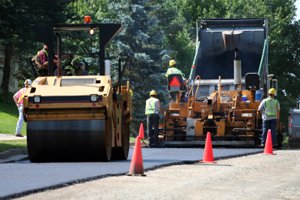 An ambitious road repaving program is now underway in Scarsdale. The resurfacing will temporarily close some of the Village's main thoroughfares to allow for smooth new roadways for residents. The total estimated cost for the fall paving work is $625,000 and the work will be done from now through mid-September. According to Scarsdale's Deputy Village Manager Robert Cole, scheduled dates are dependent on the weather, contractor progress, equipment and other factors.
Here is the current resurfacing plan:
Thursday – 8/25: mill Crane Road
Friday – 8/26: mill Garth Road and move to Freightway after 10 AM
Monday – 8/29 through Friday 9/2: pave Freightway, Garth, Stonehouse, Autenrieth, Oakwood, Woodland, Church, Crane, Ogden
Monday – 9/5: Labor Day – no work
Tuesday – 9/6 through Friday 9/10: pave Saxon Woods, Black Birch, Mamaroneck Road, Copper Beach, and Normandy.
If you see road closures and detours, remember that all this work will result in improved roads for Scarsdale.
Con Edison Repairs: Deputy Village Manager Robert Cole also shared the following information about two emergency repairs on Village streets.
On Fox Meadow Road Con Edison is making an emergency repair to a transmission line joint (which is very sensitive).
At the interection of Oakstwain and Brewster Road, two repairs are in process: A gas main/valve is being replaced on Brewster Road while on Oakstwain they are doing, "a direct-bury service that was also an emergency and had to cross the whole width of the road. Con Edison will have restoration responsibilities, as well."
Jordan Hall: An Italian Steakhouse and Piano Bar in Pelham
Details

Category: The Goods
Published on

09 August 2016

Written by

Judie Dweck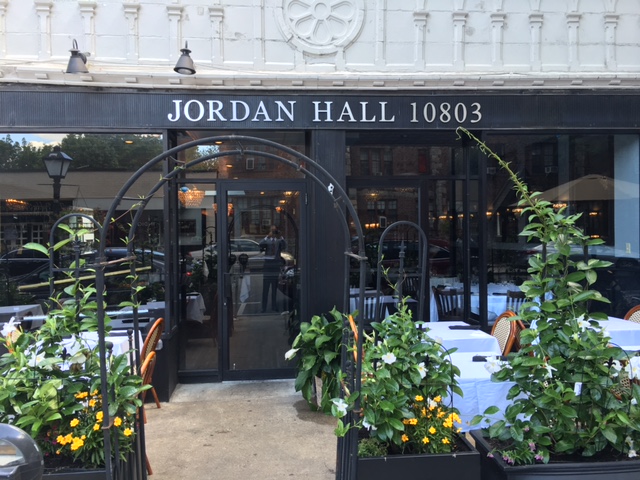 There's a new reason to visit Pelham, with the opening of Jordan Hall, an Italian steakhouse with a Mediterranean flair. It's easy to spot on busy Fifth Avenue with its colorful flower filled pots surrounding the outdoor dining area. These decorous arrangements are clearly nourished with care. Upon dining at Jordan Hall, you will be treated with care, as well, and nourished with food of the finest quality, creatively prepared.

Owned by Florio Rugova and partners Christopher Fink and Guy Sansone, Rugova attends to the dining room. He is a familiar face in Pelham and managed La Fontanella, for many years. He honed his skills at many Manhattan restaurants, as well. "Jordan Hall is not just another Italian restaurant. We are a high end establishment. During the process of working my way up in the culinary field, I became passionate about my work. Opening in Pelham is like coming home. I love talking to our guests and getting their feedback."
Jordan Hall is at the location that housed Bistro Rollin. Their talented chef Eric Mauro, is now leading the kitchen at Jordan Hall. Chef Mauro attended culinary school in his native Brazil." My family dined in restaurants often and I developed an interest in the culinary field. "He worked in corporate dining room, a 3 star Michelin restaurant in Spain and in Bistro Rollin for five years. The combination of his talent and creativity, along with the quality of his ingredients, brings a fine new addition to the dining scene in Pelham.

A grand piano in the renovated bar area is the focal point of the sophisticated dining room. Mellow live music adds to the pleasure of your dining experience on several evenings. The restaurant seats 85 guests indoors and another 20 outside, with 10 seats at the lovely bar. A welcoming elegance permeates the dining room. Crystal chandeliers, dark wood floors, many framed mirrors, French multi paned doors and large windows overlooking Fifth Avenue set the mood. The botanical theme continues at each table set with white linens and modern glass containers filled with hydrangeas and white roses.

Chef Mauro created a tasting menu for me of several small plates, each beautifully designed, enabling me to enjoy a variety of their many offerings. Warm bread and olive rolls graced our table in napkin lined baskets with crocks of. olive oil and butter. Our parade of dishes appeared. The Italian proverb, "Our eyes must have their share" certainly applied to the presentations. From the appetizers we loved our New Orleans style crab cake garnished with mixed greens. A ceramic spoon was filled with a fresh ginger emulsion provided a lively sauce. Panko crumbs added a crisp crust to these crab filled delights. Jordan Hall meatballs combined several meats for a flavorful result. They were light, rather than dense. Simmered in a delicate marinara sauce, they were each pierced with a toothpick and seasoned with freshly grated parmesan and micro basil. Grilled diver sea scallops, saffron and parmesan arrancini, zucchini carpaccio and grilled Raisin River bacon au poivre are yet to be tried... Of the several salads offered, we chose the roasted beet salad. The fresh beets were topped with mixed greens,
goat cheese, pecans and cranberries, and lightly dressed for a refreshing taste. The beefsteak tomato and burrata salad is highly recommended, as well. The addition of a raw bar includes shrimp and lobster cocktails, tuna tartare and a variety of oysters. We enjoyed a single Goose Island Oyster, succulent and delicious. Served in a cocktail glass, filled with ice and some mignonette sauce I was reminded of the words of Frank Lloyd Wright," Dining is and always was a great artistic opportunity." From the pasta selections, would it be spaghetti carbonara, lobster ravioli, or pasta caprese? We chose pappardelle with a beautifully seasoned lamb Bolognese. The al dente pasta was bathed in an incredible sauce seasoned with a hint of cinnamon stick and shaved parmesan: very unique indeed, in fact divine.

Among the entrees, we opted for pan roasted wild caught salmon. Chef Mauro indicated that he loves preparing fish. "Timing is most important for perfectly cooked fish." Our delicate salmon was an indication of Mauro's expertise in cooking fish. A bit of butter and thyme added a crisp crust to our medium rare fish, accompanied by a light caper sauce. Roasted carrots, broccoli rabe and mashed potatoes topped with fragrant popcorn shoots completed this simply wonderful dish. Since this is a steakhouse, it offers, New York strip, t bone, filet mignon, bone in rib eye, porterhouse and rack of lamb, all of prime quality. We savored a tender New York strip steak with classic creamed spinach and ratatouille. The accompanied truffle looked good, but for me the steak stood on its own. Return visits, and I do hope there will be many, may include risotto with sweet sausage, veal scallopine with saffron cream, or shrimp scampi with creamy polenta.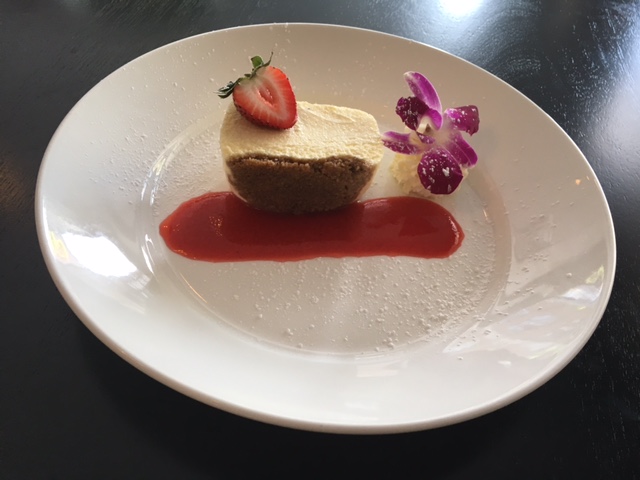 Desserts include lemon ricotta cheesecake, orange zested vanilla crème brulee and flourless chocolate cake. We completed our feast with simply delicious house made espresso ice cream. It was intensely flavored and pure tasting with a dollop of freshly whipped cream on top. A fresh orchid decorated the plate for a very nice touch.

Lunch offers many salads, appetizers, sandwiches, pastas, and entrée selection from the dinner menu. Sunday brunch includes appetizers, salads, a variety of eggs Benedict, omelettes and entrees of waffles, pancakes, French toast, slider platters and lobster rolls, each with Chef Mauro's special touch.

A visit to Jordan Hall will bring pleasure to your day, with a fine meal in a warm and lovely atmosphere. Welcome to Westchester.

Jordan Hall
142 Fifth Avenue
Pelham
(914) 222 5494

Recipe: Roasted Beet and Goat cheese Salad (Serves 1 or 2)

Ingredients:
2 red beets
A handful of mixed greens
2 Tbsps. crumbled goat cheese
1 Tbsp. walnuts or pecans
1 Tbsp. dried cranberries

Directions:
Wrap whole beets in foil and roast in a 350 degree oven for about 45 minutes or until fork tender. Cool them and peel them Slice them and set aside.

For the dressing:
2 Tbsps. red wine vinegar
½ tsp. Dijon mustard
½ tsp. honey
Salt, to taste
Blend together all of the dressing ingredients.

Assembly:
Arrange sliced beets at the bottom of one or two plates in a circle to act as a base of the greens. Place greens in a bowl and toss with the dressing. Arrange greens on top of the beets. Sprinkle with cheese, nuts and berries and serve.


Judie Dweck has been writing about restaurants and food for many publications. She teaches creative cooking to children at Scarsdale elementary schools. Through the years, her articles have appeared in Jack and Jill Magazine, Spotlight, The Pleasure of Cooking and The Scarsdale Inquirer. She balances her restaurant tastings with daily ballet classes.

Trek is Slightly Off-Track
Details

Category: The Goods
Published on

25 July 2016

Written by

Deborah Skolnik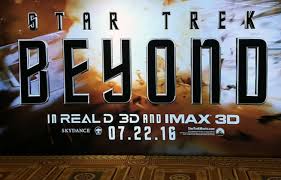 Catching up with Captain Kirk is like checking in with your craziest high school classmate: You expect to learn he's either a huge success or living in his parents' basement.

In Star Trek Beyond, we actually find Kirk at the dreary midpoint of these extremes. His days aboard the Enterprise have become routine, dulling the maverick glint in his eye. Disheartened, he sidles up to a bar with the perpetually gloomy Dr. McCoy. They cynically debate the worthiness of space exploration, while simultaneously pounding hooch stolen from poor Officer Chekov's locker. Perhaps there's no Human Resources department aboard starships.

Spock, Kirk's second in command, is mired in self-doubt too. Should he stop seeking out new worlds and revive Vulcan civilization instead? Conflicted, he dumps his girlfriend, the smart, sexy Lieutenant Uhura. Dude, what are you thinking?

Clearly, everyone needs some R&R. But shortly after the Enterprise docks at a space station, there's a distress call from a non-Federation creature. Before you can say "tribbles," Kirk and Co. rush out again on a rescue mission. (Why send an entire ship to aid a non-Federation stranger? How 'bout just sending a sympathy note and a Bed, Bath & Beyond gift card to help with the rebuilding effort?)

The remainder of the film largely unfolds on a primitive, dim planet, which makes for squinty viewing. This austere world is ruled by a despot named Krall, who covets an ancient artifact in Kirk's possession. The Enterprise's crew becomes separated and besieged, calling into question their loyalty and unity.

Plot-wise, the film yields a few chuckles and a fun new character, Jaylah, another of Krall's victims. Tall and blonde, with black stripes running down her face, she's like a cross between supermodel Heidi Klum and a really cool skateboarder. Yet Star Trek Beyond largely lets us down, even as its action sequences rev up our heart rate. Eye-popping explosions abound, but there's a dearth of witty dialogue and few insights into Kirk and Spock's overarching personal problems.

And even if you've passed on popcorn, expect to be force-fed plenty of cheese. We're talking a battle set to a Beastie Boys song, plus derring-do involving a motorcycle, both of which come at the expense of the story arc. Star Trek's legendary appeal lies is its ability to go not only into deep space, but also deep into its characters; sadly, this film fails to check that second box. A last-minute plot twist is so hastily fleshed out that you'll struggle to understand it, even as its implications unfold.

"Ghostbusters was better," declared my viewing companion as we left the theater, and I had to agree. That's sad, considering that Busters is a retread, while Beyond is all-new. Yet it's true. While the Enterprise has once again gone where no one has gone before, its latest adventure doesn't truly transport its viewers.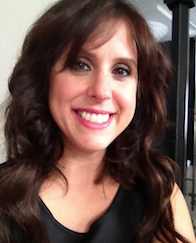 This review was written by Scarsdale's own Deborah Skolnik. Check out her Facebook Page, Gentle Scarsdale Satire for an amusing view of goings on in the 'dale.
Love in the Age of Alzheimer's: Wedding Bells at The Ambassador
Details

Category: The Goods
Published on

03 August 2016

Written by

Joanne Wallenstein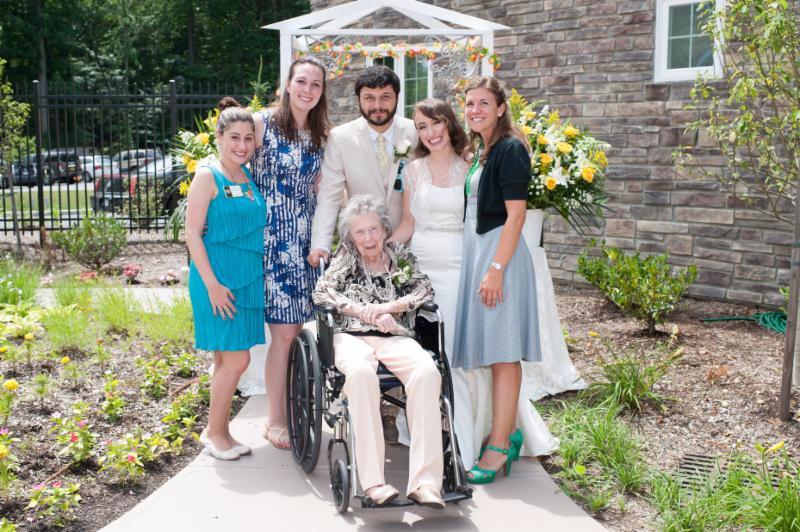 Jessie Appel always thought she would get married at her grandmother's house on Shelter Island. But when her grandmother moved to the Ambassador of Scarsdale, it appeared that Jessie would have to shelve her plans. However, when the staff at the newly opened community heard about the wedding dilemma, they stepped in and proposed a plan that would allow Jessie to marry her fiancé Mack Kronberg at her grandmother's home .... her new home that is.
"Jessie had pretty much given up on her dream to marry at her grandmother's home," recalls Mack. "But then, shortly after we got engaged, we went to visit The Ambassador, and as we passed the courtyard, this powerful image took hold of us standing there saying our vows amid the flowers and greenery and this strong community that has accepted Mrs. Reilly and us with open arms."
Marianne Reilly, Jessie's mother and Mrs. Reilly's daughter, agrees. "I find this ceremony and this place to be sacred because they celebrate life as it is now," she says. "We're all in this together."
In attendance at the July 10th ceremony were the couple's immediate family and close friends, as well as residents of The Ambassador's Memory Care Community, and their loved ones, who have become an extension of Jessie's family. Reveling in her roles as gracious host and proud grandmother, Mrs. Reilly delivered a brief yet poignant toast. "Today is the day that my granddaughter is getting married to the one she loves," she enthused. "I wish her happiness with love. It is an honor to be here on Jessica and Mack's wedding day!"
"It was a wonderful feeling to help Mrs. Reilly be at her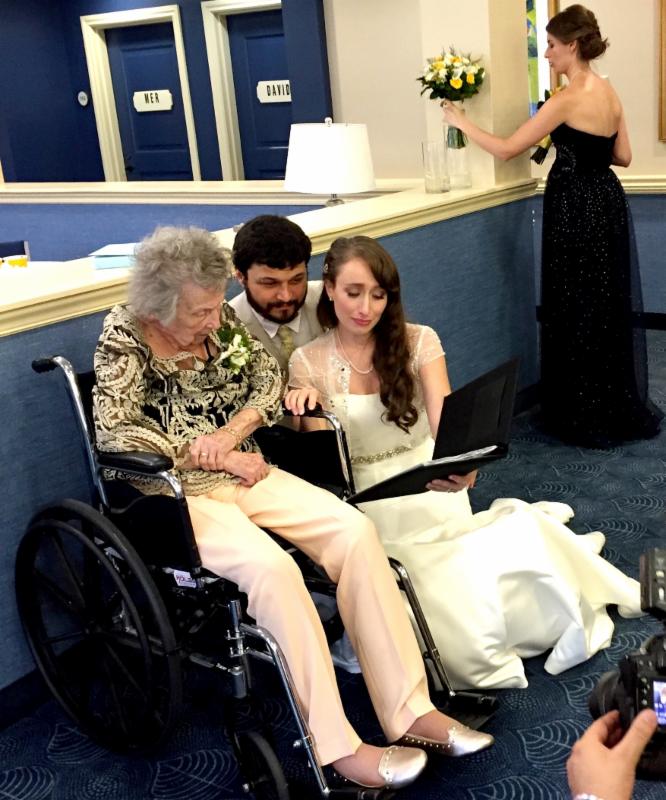 granddaughter's wedding," says Sarah Rouke, the Memory Care Community Director. Given Mrs. Reilly's flagging health and memory -- the dementia-related drivers of her move to The Ambassador -- her attendance wouldn't have been possible had the ceremony occurred elsewhere, she adds.
Mrs. Reilly presented the newlyweds with a homemade book of marital advice from residents of the Ambassador.
Kerry Mills, founder of Engaging Alzheimer's, and a dementia coach for The Ambassador's Memory Care Community said, "Jessie and Mack's desire to have Mrs. Reilly present emphasizes that the deep connection people share surpasses memory and verbal communication."
After the main event, The Ambassador hosted an intimate reception, where the in-house chef rolled out a surprise wedding cake. The bride said, "This has been so much better than the fairy tale wedding I imagined as a little girl," says Jessie. "This is our reality, and we're incredibly happy."
Truck Hits Mamaroneck Road Bridge, Closing Hutch for Eight Hours
Details

Category: The Goods
Published on

19 July 2016

Written by

Joanne Wallenstein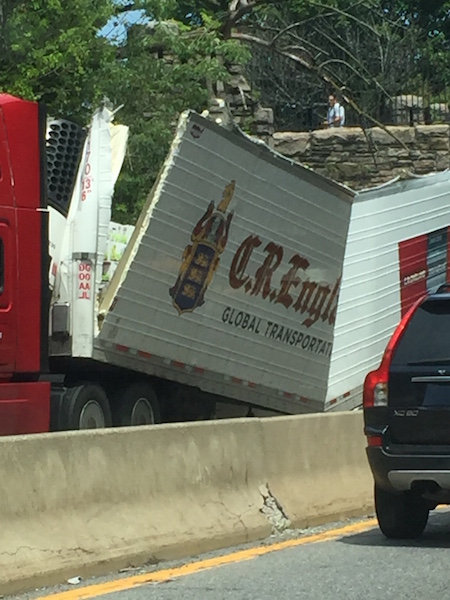 A tractor trailer heading south on the Hutchinson River Parkway on Monday afternoon July 18 hit the bridge at Mamaroneck Road and broke apart, snarling traffic for eight hours. Local resident Jonathan Lerner spotted the problem and shared these photos of the accident which scattered potatoes over the two lane road.
According to Lerner, accidents like this happen all too frequently. He said, "There is an ongoing problem with trucks being "sliced" open like can openers I have lived near exit 22 Mamaroneck Road for years and this occurs each month and has happened for the past 25 years. This one shut down the Hutch this afternoon at around 1 o'clock. There are two dangers. The first: cars behind the truck could be hit by debris. The larger danger is that if the truck is carrying fuel or chemicals and explodes, such as what happened on 287, it endangers nearby homes and residents."
He continued, "I have expressed my concerns over the years, and due to my actions they have raised fines and installed electronic devices, but we still see this happening. My suggestion is to attach a chain to pole at the height of the bridge before the bridge, so that a truck driver would be aware of the height of the bridge by hearing the chain scrape, well before hitting the bridge. This is low tech and inexpensive and would allow the driver to exit the parkway before hitting the bridge."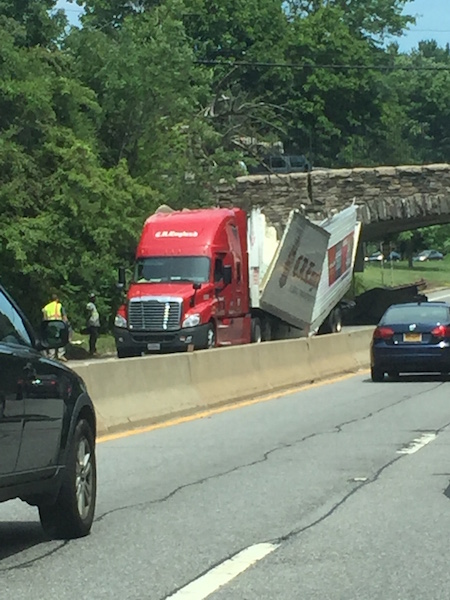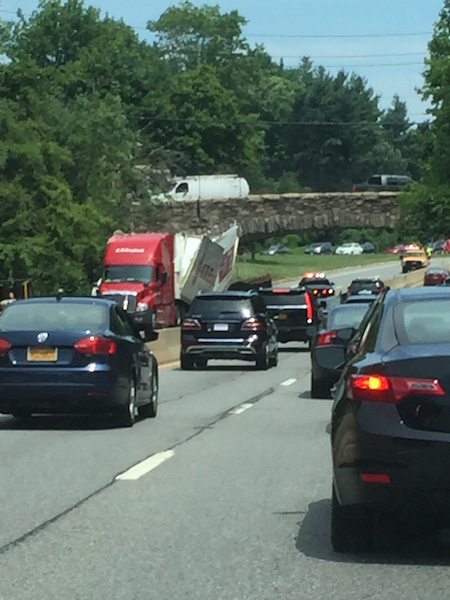 Photos by Jonather Lerner