Prom 2018: Photos from the Wet Carpet
Details

Written by

Joanne Wallenstein

Category: The Goods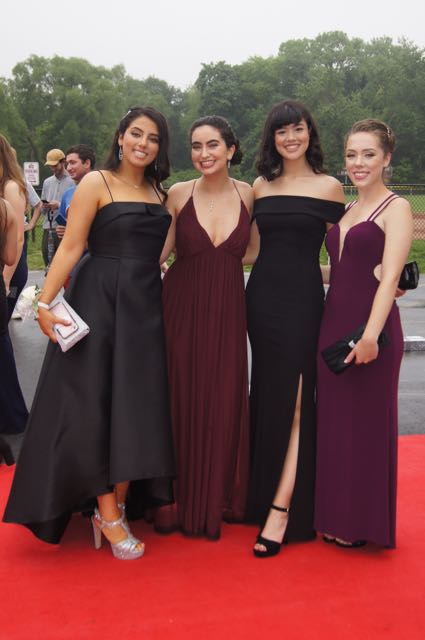 Would the pre-prom celebration be held inside or outside? Outside or inside? That was the question on Thursday May 31 when questionable skies and an unreliable weather report made it difficult to know whether the rain would hold off for the hour long red carpet celebration before the Scarsdale High School prom.

Early in the afternoon, when weather.com showed no chance of rain at 4 pm, school officials decided to keep the kids outside; but lo and behold, just as the first students arrived in their prom attire, the skies opened up. Many posed with umbrellas or huddled underneath the covered walkway. They remained good natured and gave us sunny smiles despite the gray skies.
When the rain began in earnest again, the class walked briskly down the red carpet to the buses, which whisked them off to the VIP Country Club on the waterfront in New Rochelle for a festive evening ..... indoors!
Once at the VIP Country Club, the venue was equipped with a DJ and dance floor, food, and photo booths. The class spent the night singing and dancing together to their favorite songs and taking fun pictures at the photo booth with friends. The earlier rain was no longer a worry for the seniors as they danced the night away. It is safe to say everyone had a great time.

If you don't see your photo in the gallery below, please email it to scarsdalecomments@gmail.com and we will add it.

Congrats to the class of 2018!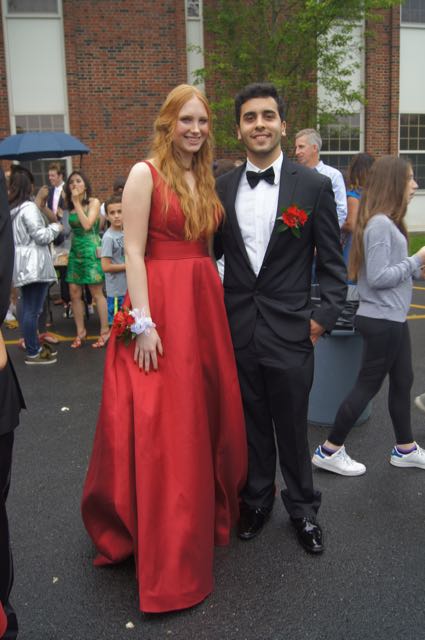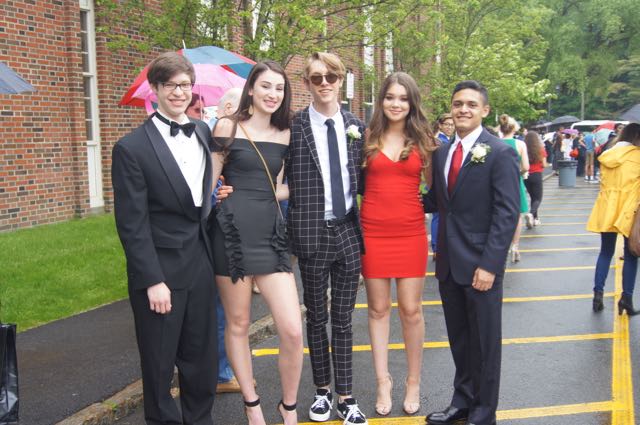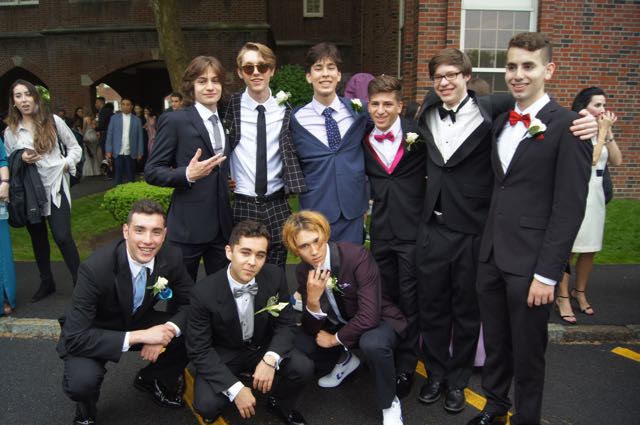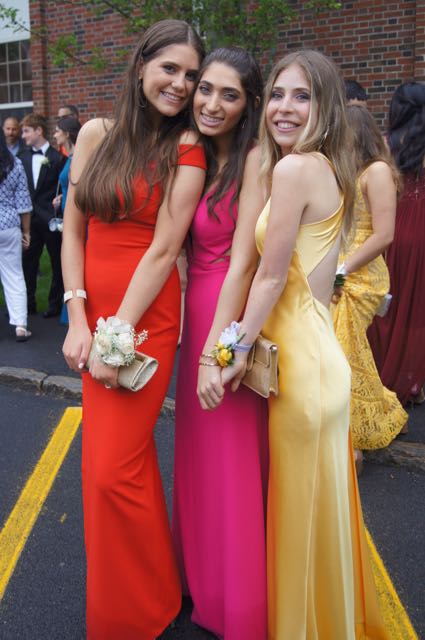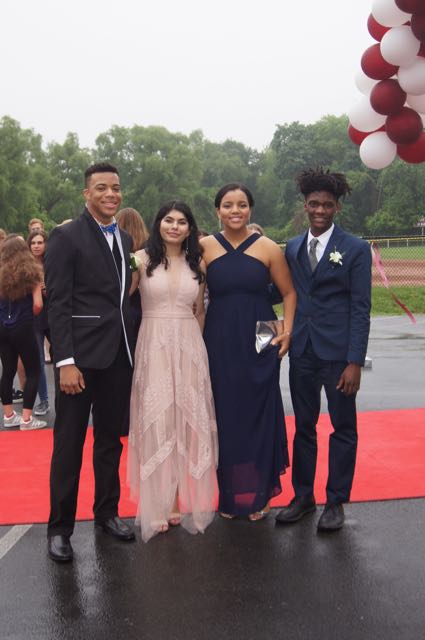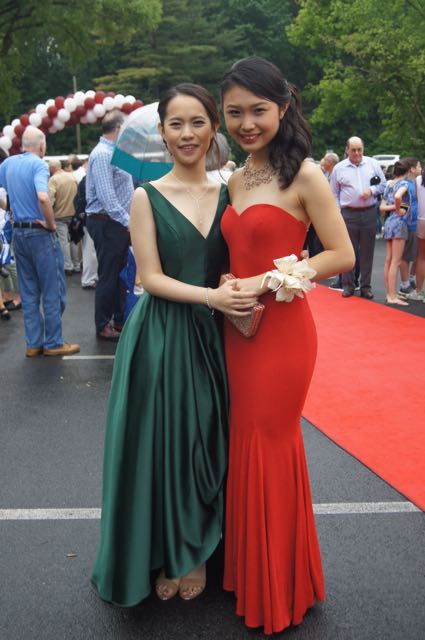 Letter to the Editor: We Support the Non-Partisan System
Details

Written by

Joanne Wallenstein

Category: The Goods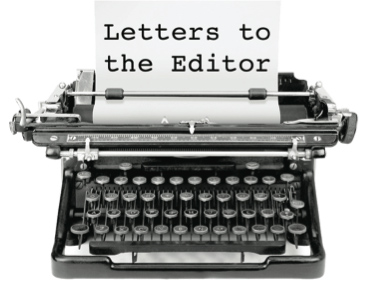 This letter was sent to Scarsdale10583 by Rita Golden and Barbara Jaffe:
We would like to correct any misunderstanding that may have arisen as a result of our support for the re-election of Pam Fuehrer. By advocating on behalf of Ms. Fuehrer, we were, by no means, suggesting that we do not fully support the retention of our non-partisan system of selecting Scarsdale Board of Education members.

We, along with many other former school board trustees, supported Fuehrer in the recent election because of our concern that there is a steep learning curve involved in becoming an effective board member, and felt strongly that Pam's experience and knowledge was essential at this time.

We fully support a non-partisan SBNC that is committed to selecting board members who are not single-issue candidates, do not vote as a bloc, and consider the merits of each decision on an individual basis. As with any democratic public or political institution, the SBNC may not always function perfectly, but it is, in our opinion, the best system to select the most qualified candidates to lead our school district.

In the future, we hope that more people will be willing to run for a seat on the SBNC and that those elected will understand that experience and first-hand knowledge are very important criteria in determining their final selection. We want to encourage volunteerism in our community and not let the fear of being rejected for a second term discourage those willing to run for a School or Village Board seat.
Barbara Jaffe - Kingston Road
Rita Golden - Ridgedale Road
Inviting Cafe Opens at White Plains Library
Details

Written by

Joanne Wallenstein

Category: The Goods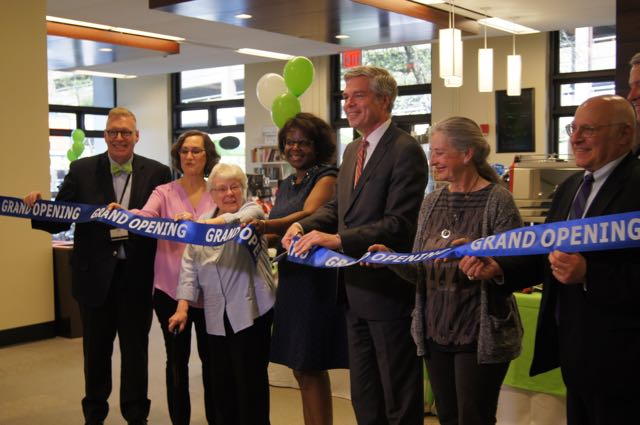 With the Scarsdale Library set to close for a multi-year renovation, the opening of a large café at the nearby White Plains library should be welcome news to Scarsdale Library users. The spacious new café, dubbed, The Hub has large windows looking out onto Martine Avenue and offers a pleasant venue to meet a friend or enjoy a snack or lunch while using the newly renovated White Plains Library. Outdoor seating on the patio will also be available, weather permitting.
The Everyday Health Café is operated by The New York Hospitality group who also owns Sams of Gedney Way of White Plains, and is stocked with sandwiches, soups, salads, smoothies, juices, coffee, and teas. Library Director Brian Kenny says, "The café is committed to everyday healthy food choices, served in a convenient manner, with the best of ingredients."
Mayor Tom Roach and local officials and friends of the library celebrated the opening of The Hub with a ribbon cutting ceremony on Wednesday March 9. Roach said the café was a "signal of life" in White Plains and called the newly designed library a "beautiful space to display books." Diane Tabakman, President of the Board of the White Plains Foundation thanked supporters who donated gifts ranging from $3.00 to $1 million to make the renovation possible. She said we "should be proud to be White Plains people." She thanked Board and foundation members who brought the campaign to a conclusion.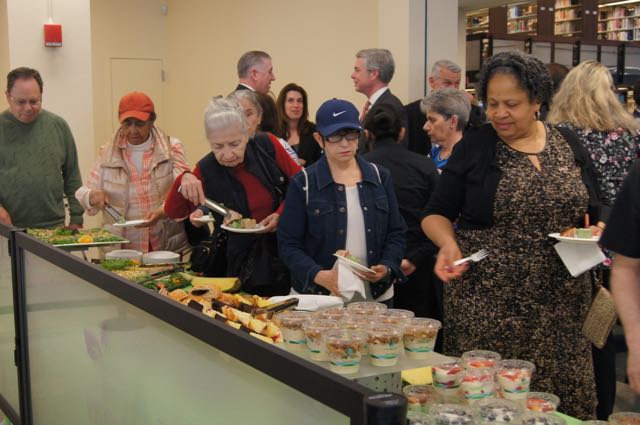 Scarsdale residents can use their cards to take out books and media from the White Plains library, while Scarsdale's facility is closed for renovations. And when you're there, be sure to check out The Hub and enjoy a cup of organic coffee.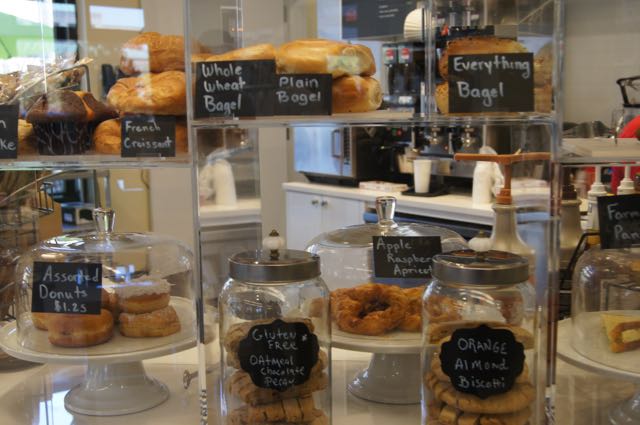 SHS Alum Andrew Weber Speaks on Countering Weapons of Mass Destruction
Details

Written by

Sarah Kazan and Derek Moritz

Category: The Goods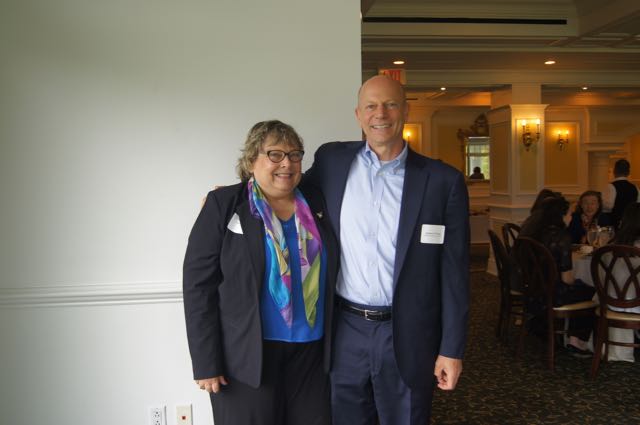 Associate Village Justice Cindy Dunne and Andrew Weber The League of Women Voters annual spring luncheon on Friday May 18 featured Scarsdale alumni Andrew C. Weber who gave a captivating presentation about "Countering Weapons of Mass Destruction." He gave a revealing explanation about the wide range of nuclear, biological and chemical weapons that are currently being produced and stored around the world.
Weber explained his career trajectory to foreign service. After graduating from Scarsdale High School in 1978, he attended Cornell University and now holds a Master of Science in Foreign Service (MSFS) degree from Georgetown University, where he also taught a course on Force and Diplomacy for eight years. Weber dedicated thirty years of his life to working with the US government, including five and a half years as President Obama's Assistant Secretary of Defense for Nuclear, Chemical, and Biological Defense programs. In addition, he was an essential part of the Nunn-Lugar Cooperative Threat Reduction efforts to remove weapons-grade uranium from Kazakhstan and Georgia and nuclear-capable aircrafts from Moldova, reduce biological weapons threats, and destroy Libyan and Syrian chemical weapons stockpiles. He was also on the US leadership of the international Ebola response for the State Department. He is now an independent consultant and a strategic advisor for IP3 International and Ginkgo BioWorks. Weber serves on the Board of the Arms Control Association and the James Martin Center for Nonproliferation studies International Advisory Council and is a member of the Council on Foreign Relations.
League President Janice Starr opened the event by describing the League's importance to the community and recognizing elected officials present including Benjamin Boykin, Amy Paulin, Dan Hochvert, Arlene Katz, Jane Veron and candidate for Congress Jonathan Lewis. Cindy Dunn then introduced Weber.
Weber's stories sounded like the scripts of films, and indeed, his work removing uranium form Kazakhstan is now being detailed in a movie script.
Weber explained, that while serving his thirty years in the US government, he worked on the Nunn-Lugar Project to dismantle weapons of mass destruction (WMD) lying dormant throughout the Soviet union. While returning from assignment in Germany in 1992 he saw an ad in a newspaper that stated: "Looking for diplomats who find Paris a bore".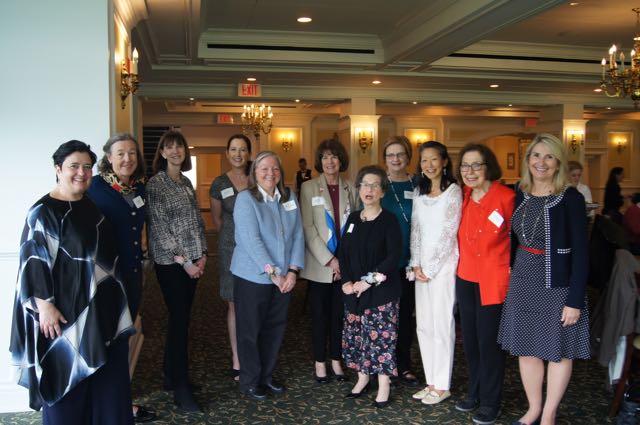 Former and Current Presidents of the League of Women Voters
He answered the ad, and in 1993, he traveled to Kazakhstan, which was the fourth largest supplier of WMD's at the time. He collected samples of water, soil, and plants to check radiation levels from former nuclear testing. But while in Kazakhstan, he was also approached by a car salesman, who asked if he wanted to buy any uranium. Intrigued, he met the factory director of the plant holding the uranium, who took him on a hunting trip to gain his trust. Weber learned that the factory held 600 kg of weapons grade uranium left over from former Soviet projects. With the cooperation of the Kazakhstan government, Project Sapphire was organized to safely transport these nuclear materials away, as they were poorly secured and at risk of being sold to construct nuclear weapons. Weber explained that transporting these materials was extremely dangerous, as the roads were covered in black ice. The materials were eventually taken to a C5 galaxy aircraft which flew nonstop to Oak Ridge, CA, where they material was converted to energy to be used at a power plant. Thanks to Project Sapphire and similar denuclearization efforts, the world went from having 50 countries with enriched uranium/plutonium to only 20 countries with enriched uranium/plutonium.
Similar to nuclear weapons, Weber oversaw the elimination of biological weapons. He visited another factory in Kazakhstan which had ten four story high fermenters of anthrax, with 300 tons in total. Thanks to the Nunn-Lugar program, he worked with the Kazakhstan government to dismantle the factory, which is now a field of grass. He also traveled to Renaissance Island, a former territory of the Soviet Union used to test biological weapons on monkeys to determine their effectiveness. They found 100 tons of buried anthrax, and worked with the government of Uzbekistan to eliminate the cultures. While the Nunn-Lugar program has helped significantly reduce the worldwide number of biological weapons, Weber's fear moving forward is the role technology will play in creating advanced biological weapons that could be drug resistant.
Weber also warned of the necessity to eliminate chemical weapons. In 1997, all but four countries (Israel, Egypt, South Sudan, and North Korea) ratified a convention to eliminate the use of chemical weapons. In 2014, he oversaw the destruction of the last of Gaddafi's chemical weapons in Libya, mainly mustard gas. The UN also oversaw the destruction of 1,300 tons of Sarin and VX Nerve gas in Syria. Weber noted that Assad has been mostly using chlorine gas on civilians in Syria, and still has a small amount of Sarin. He also mentioned that Fentanyl, a synthetic opioid painkiller, is also a chemical weapon, and was used in 2002 by Russian forces to clear a theater occupied by Chechen terrorists, but inadvertently killed innocent theater-goers. He cautioned that despite the convention, chemical weapons are still a significant threat, as North Korea contains over 5,000 tons of chemical weaponry and leaders such as Assad have shown zero hesitation in using these weapons on civilians.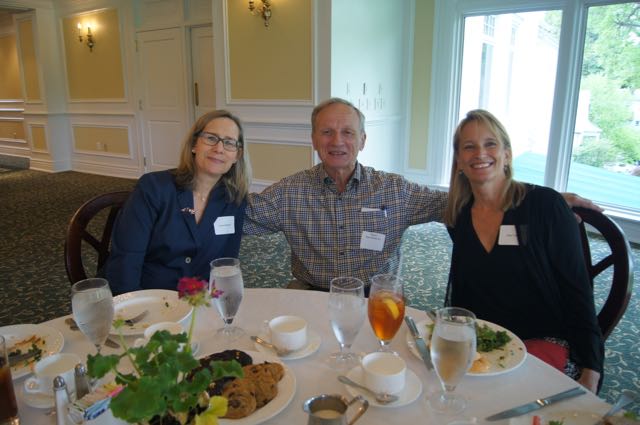 Scarsdale Mayor Dan Hochvert With Two FriendsBesides chemical weapons, Weber advocated to stop the production of new nuclear weapons. The world currently has 15,000 nuclear weapons, and creating more could lead to another arms race that would further destabilize the world. President Trump departed from forty plus years of foreign policy to reduce nuclear capabilities, and instead has decided to spend trillions on the production of more nuclear weapons moving forward. He has taken on a policy similar to Putin, which is to create smaller nukes that are "more usable".
Policies such as these have lead for the doomsday clock, a measure of global stability, to only be two minutes to midnight, or doomsday. Factors included when calculating how many minutes the world is to midnight include nuclear threats, climate change, biosecurity, bioterrorism, and miscellaneous threats. Weber specifically noted that Trump's funding for two new nuclear cruise missiles, which are guided to their targets via a computer, are especially unnecessary. Weber has been working for an arms control agreement throughout the world to eliminate this dangerous class of cruise missiles. Locally, Weber said that Representative Nita Lowey and Senator Gillibrand have specifically supported the defunding of new nuclear weapons, and hopes that young people will take a similar stand. He ended by encouraging young people to pursue a career of public service, and quoted President Carter "We must not let these weapons of the 20th century darken the skies of the 21st century."
Weber began to take questions from the audience, and addressed the recent outbreak of Ebola in the Congo, and how the Soviets had developed Ebola as a chemical weapon. Luckily, he mentioned that this outbreak can be contained more gracefully than recent cases. Weber was the former Deputy Coordinator for the Ebola Response at the U.S. Department of State. In this position Weber was responsible for leading diplomatic outreach efforts to ensure a speedy, effective, and global response to the crisis. He was part of an effort with 70 countries to control the outbreak. A vaccine has been developed and licensed, something that they did not have access to at the beginning of the last crisis. He noted that this vaccine is now available and very effective; if deployed quickly enough they can stop the outbreak before it becomes a major epidemic.
In his time in the US government, they set up a new office devoted to combating global disease. However, since President Trump has taken office, National Security Advisor John Bolton has eliminated this office. Even though the Centers for Disease Control and Prevention (CDC) is still dedicated to eradication global diseases, Weber remarked "We need leadership but its not there… this was a really unfortunate mistake." One lesson he has learned in his thirty years in US government is that the US cannot do anything on its own and relies heavily on its partners, for example the Ebola crisis and eliminating uranium from Kazakhstan and Syria were all team efforts with other nations. Unfortunately, he said, "there is a leadership vacuum, there is no one inline behind the US to lead on these important issues."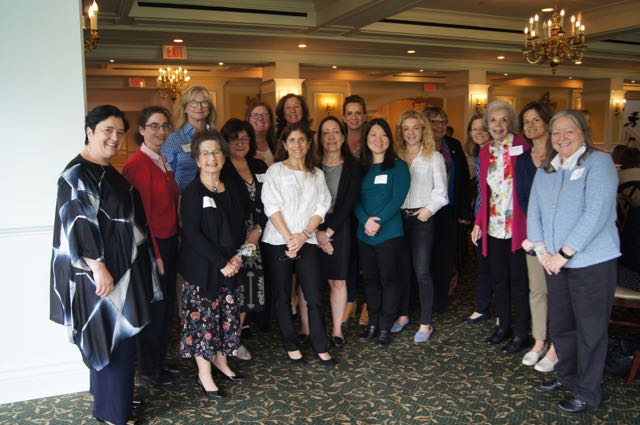 The Current Board of the League of Women Voters
On the advancements of new technologies, Weber spoke on what precautions nations must take. "Technology is a blessing and a curse," he warned. His biggest concern of new technology is that nations must understand the dangers of technology and globally there has to be an established norm, how nations use and control it. He is mainly concerned about the norm against WMDs which are now being used in Syria and North Korea; a norm against use of these weapons which used to be very strong now seems to be breaking down, which in Weber's view is a "very scary prospect." When a member of the audience asked if there is good will on both sides to establish a norm, Weber responded optimistically. He pointed out that there used to be five rouge states the US had to worry about, and now there are only two. With North Korea, his theory of dictators is they can move and change direction easily, there is no congress or legislation they have to worry about, however, the best way to get through to these leaders is talking to them directly. Already, world leaders have met with Kim Jong Un, including an upcoming meeting between Kim and President Trump. Kim has already agreed to close his testing sites for nuclear weapons and will stop missile launchings. Weber pointed out that Kim has seen economic prosperity in other nations, to Weber this means that Kim will potentially realize he is in a strong position to negotiate peace and even opening up trade. Weber acknowledged that this will be a very long road but the US has experienced this type of negotiation before in Russia and Kazakhstan. These first steps have shown promise to Weber.
Another way to reduce risk of nuclear war pointed out by Weber is to increase decision times. In his opinion, decision times are too short and anything that can be done to increase this time would lessen the risk of nuclear war. He also noted that both Putin and the US are using smaller nuclear weapons in regional exercises which increase the probability of a misunderstanding. A suggestion to curb this risk, Weber mentioned, is for Trump to sit down and talk to Putin; this is the only practical way to walk ourselves back from this arms race. Trump's nuclear weapons plan would cost $1.7 trillion over the next three years; Weber believes the government must evaluate spending and focus on other priorities rather than spend and exorbitant amount on nuclear weapons.
On Iran, Weber hopes that Europe, Russia, and China can keep the Iran agreement on life support without the United States. The agreement allowed for 98% of uranium to be removed from the country, the nuclear reactor to be filled with concrete, a majority of centrifuges to be taken offline, and underground facilities to close. Many of these terms, including the removal of Uranium, could never have been done militarily. The agreement also allowed for intrusive inspections that would never allow Iran to pursue a nuclear weapon. By pulling out, the US risks losing access and knowledge to Iran's nuclear capabilities.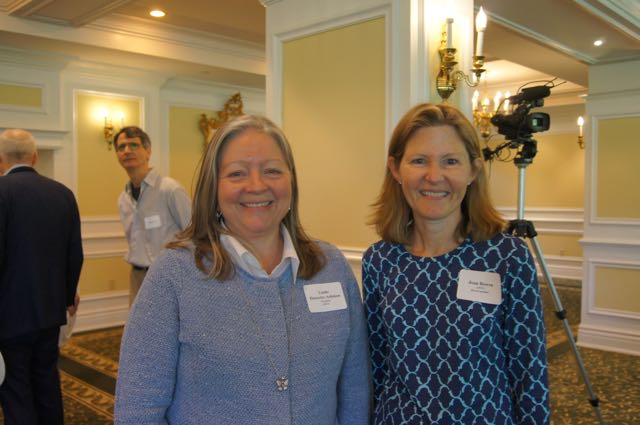 Linda Doucette-Ashman and Joan BowenWeber knew he wanted to work overseas, and pursued International Affairs at Cornell because he knew a foreign language. He pursued his education about foreign service at Georgetown and went overseas after a year of training, where there are many more opportunities available. Weber is passionate about getting young people excited about and involved with global service. He stated "It's an incredible thing to be part of something that can be such a force of good in the world."
The next project Weber will embark on is working on a movie about his experience in Kazakhstan. He was approached by two co producers who were passionate about telling his story. The screenplay should be finished within the month, then the team will be able to move forward to find a director and be able to tell Weber's story through his eyes.
Besides working on the movie, Weber will continue to work to remove armed missiles throughout the world. He plans to work in consulting in the Biotech sector to ensure new capabilities are not misused, and may re-enter teaching.
SFCS Hosts a Magical Night at Scarsdale Golf Club
Details

Written by

Joanne Wallenstein

Category: The Goods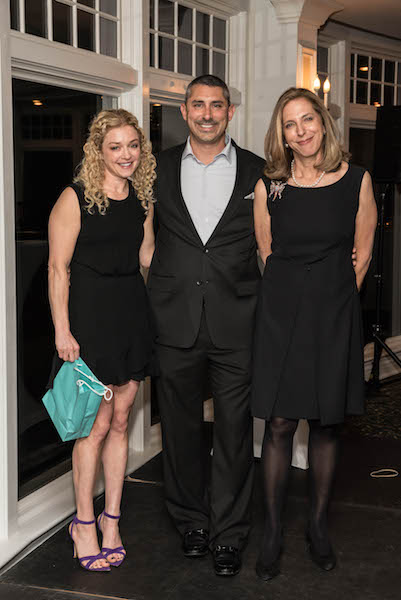 A respected community volunteer, and enthusiastic benefit committee and the promise of magic and mystery brought out a large cross section of the community for the Scarsdale Edgemont Family Counseling Service (SFCS) Gala at Scarsdale Golf Club on Thursday May 10.
For the first time, SFCS decided to honor a younger community volunteer with the Rising Star Award and selected Dara Gruenberg to be the first recipient. Her many ties to various volunteer activities brought out a large crowd. SFCS is invigorated as well, with Director Jay Genova reporting that they have "been busy" and added 45 more hours of counseling per week. Referring to SFCS's role in Scarsdale, Genova said, "It's been a difficult year …. Scarsdalians are resilient and we are proud to be part of the fabric of the community."
He noted the presence of some local leaders in the room including State Assemblywoman Amy Paulin, Mayor Dan Hochvert, Village Trustees Justin Arest, Carl Finger, Seth Ross and Jane Veron, and former Trustee Deb Pekarek and thanked the Scarsdale Rotary for their generous support.
He introduced honoree Dara Gruenberg calling her "loved, honored and revered, and listed her many volunteer activities including President of the friends of the Scarsdale Library and co-chair of the Capital Campaign, member of the Ad Hoc Communications Committee and Board of Ethics for Scarsdale Village, member of the Foundation Board for White Plains Hospital, Trustee on the Board of Westchester Reform Temple, Board of Directors of the Scarsdale Forum, Co-chair of the Forum's membership committee and member of the nominating committee. She was elected to the Scarsdale Citizen's Nominating Committee and served as the campaign co-chair for the Non-Partisan Party.
Dara Gruenberg thanked SFCS, her family, friends and in-laws for giving back to the community. She said, "I am simply overwhelmed and humbled to be selected as your recipient. So many in this room do so much for our community, and I am grateful to be a part of the team."
To her children she said, "Thank you to Cornelia and Jake, for sharing your mom with Scarsdale and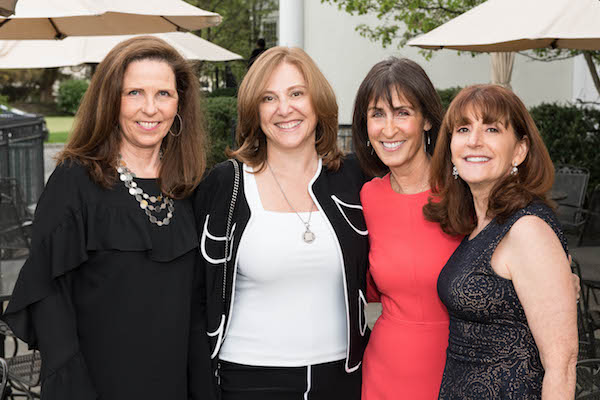 for thinking it is totally normal to have 20 strangers sitting around the dining room table having a meeting on a Sunday night during bedtime. One of the reasons I volunteer is not just to try to make the world a better place for you but it is to show you how important it is to roll up your sleeves, work hard and try to make a positive difference." She called her mother a pillar of strength and thanked her for "showing me how love, compassion, and giving help us to overcome and transcend the most trying of circumstances."
Referring to the death of Rabbi Aaron Panken she said, "I know the profound loss of a beloved community member this past week is weighing heavily on many people's hearts, including my own. Scarsdale has been faced with so many unimaginable tragedies within the past several months. What I have been struck by, time and time again, is the magnanimity and resilience of this community. The outpouring of love, generosity and care have been tremendous and fill me with hope. At every turn, this community rises to the occasion and steps up. We are a caring group of volunteers and neighbors -- and that is evident not only in how we face adversity but also with the institutions we choose to support."


About SFCS she said, "Whether you are a long-time friend to Scarsdale Family Counseling or just learning about its offerings, you may be interested to know that it has been here for almost 100 years, like an invisible thread connecting us and tethering us to a larger network of support. This organization provides critical support, counseling and help to every segment of the population of Scarsdale from our youngest to our most senior — aiding us as we face the every day struggles of life and helping us cope when we are at our most raw and vulnerable."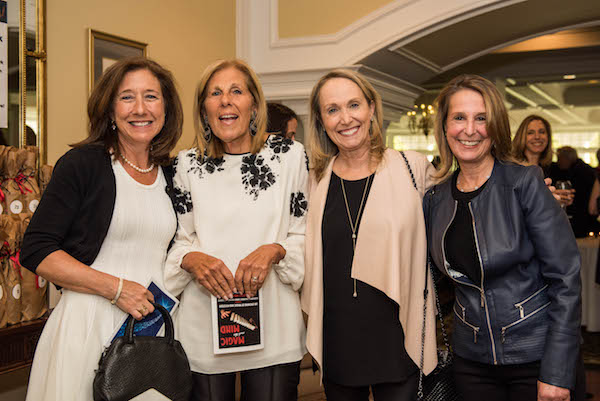 Dara closed her remarks by reflecting the light on community, saying "While I know this was billed as an honor for my work as a young volunteer, I would like to take this opportunity to honor you all for your open heartedness, willingness to give back and for your commitment to our wonderful Village and to each other. That is what inspires me every single day."
After enjoying a buffet style dinner, guests were treated to an amazing performance by mentalist Oz Pearlman, who gave a mind-blowing demonstration of how he was able to read people's minds. The entire room watched as he was able to select random audience members and relay out loud what they were thinking. It is confounding how he knew for instance that when asked for the name of a famous person they would like to dine with, one person thought of Winston Churchill and another JFK. Somehow Pearlman knew without any discernible signals.
Wonders never cease!
Kudos to the Benefits Committee, lead by co-chairs Elise Flagg and Denise Koslowsky as well as SFCS President Susan Greenberg and the entire leadership of the organization. Photo Credit: Mark Jessamy