Acai and Poke are all the Rage in Scarsdale Village
Details

Written by

Joanne Wallenstein

Category: The Goods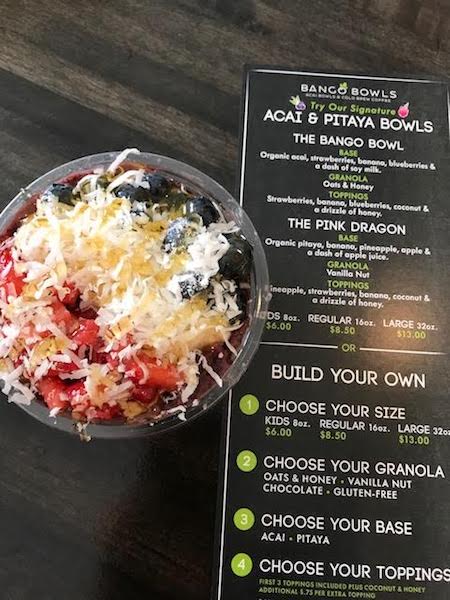 Though the streets of Scarsdale are bit quieter than usual, Harwood Court is hopping thanks to the new hot spot Bango Bowls, which opened in June and has instantly won a flock of loyal customers who are raving about the oatmeal, acai and poke bowls.

I have to admit I was slow to the party. I had no idea what acai was and even more embarrassing, I did not know how to pronounce it. But after my pilates class this morning, before the crowd descended on Bango Bowls, I decided to venture in. And now that I've tasted this new sensation, I am sure it will become a habit. It's no wonder why so many people are hanging out on the sidewalk.

First the acai. At Bango Bowls, they take frozen acai berries and combine them with several fruits to make their proprietary blend, which is something like a sorbet. Pronounced ah-sigh-EE, these berries are found on palm trees in the Brazilian rainforest and are said to be packed with vitamins and nutrients including antioxidants, fiber, calcium and omega fatty acids. I feel healthier just writing about them!

The signature Bango Bowl is a few scoops of acai, topped with strawberries, blueberries, bananas and granola, sprinkled with coconut flakes and drizzled with honey. I bought the small eight-ounce for $6.00, which my server said was 280 calories, but it tasted like 1,000.

While customers can choose between the signature Bango Bowl or The Pink Dragon bowl, a bowl with a base of pitaya, banana and apple then topped with vanilla nut granola, pineapple, strawberries, banana, coconut and drizzled with honey, there are also an abundance of granolas and toppings to customize their own bowls. A pitaya bowl is prepared the same way as acai except it uses frozen, diced dragon fruit instead of acai berries.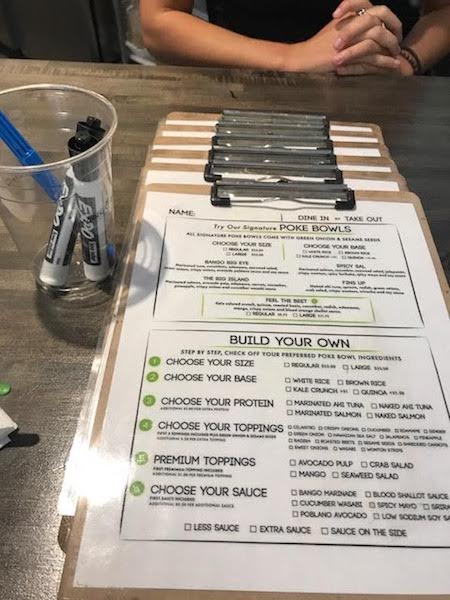 Another big hit at Bango Bowls is the selection of Poke Bowls. Poke (pronounce po-kay) is traditionally a raw fish salad served as an appetizer in Hawaiian cuisine but has recently become a popular dish for lunch or dinner here - and Bango Bowls has certainly gotten on board. They offer a selection of signature poke bowls which can also be customized to your taste.

Bango Bowls makes it even easier to order Poke Bowls by supplying laminated menus and expo markers. For the base of the bowl you can choose from brown rice, white rice, kale crunch, or quinoa. Then, for protein, select from marinated ahi tuna, marinated salmon, naked (not marinated) ahi tuna or naked salmon. The first protein is included and each extra is $3.00. For the toppings, pick three from from along list, and add extras for just $0.50 more. You can also select a premium topping which includes avocado pulp, seaweed salad, mango, or crab salad, any additional premium topping is $1.00. Finally, you can choose from a selection of sauces to either get on the side or mixed in.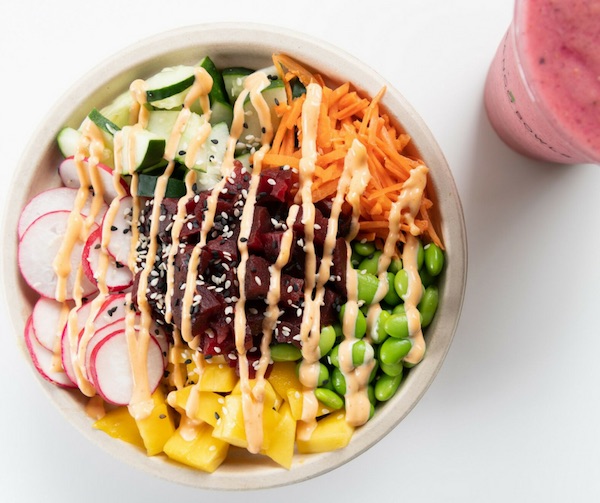 I like the Bango Big Eye bowl with brown rice which includes marinated ahi tuna, cucumbers, edamame, seaweek salad, sweet onions, crispy onions, avocado poblano sauce and soy sauce and it usually runs about $12.50 for a regular size.

For breakfast, the oatmeal is delicious. They recommend the Holy Hamptons, which is steelcut oatmeal topped with peanut butter, bananas, coconut, and chocolate chips.

You can top the steelcut oatmeal with healthy options like fruits and seeds. If you've got a sweet tooth, go for the nutella, cookie butter, marshmallows, or chocolate chips and breakfast will taste more like dessert.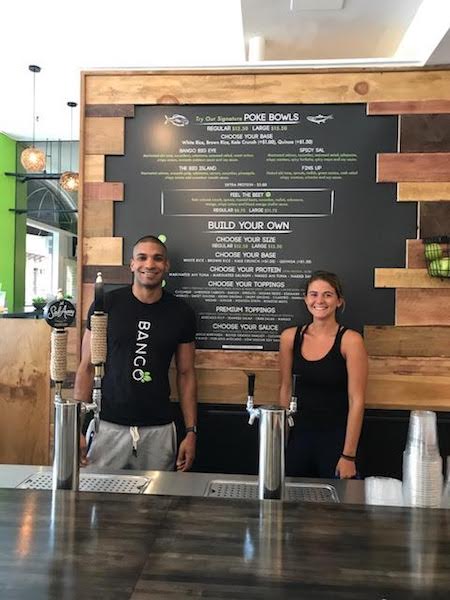 Not that hungry? Bango Bowls also offers several signature smoothies and coffee. Whether you're looking for a full meal or just a small snack, each bowl comes in a variety of sizes and can satisfy any cravings.

Bango Bowls
16 Harwood Court
Scarsdale, NY
(914) 725-0555
7am - 8pm daily
Lulu's Cake Boutique Creates Life-Sized Replica of Marilyn Monroe
Details

Written by

Sarah Kazan

Category: The Goods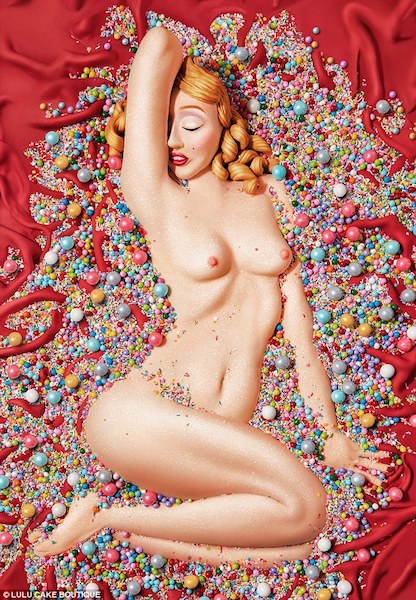 Lulu¹s of Scarsdale was recently called on to create the centerfold for this year¹s Edible Hudson Valley #Foodporn themed edition. Never short on creativity, they created a human-sized, nude, Marilyn Monroe cake.
The bakers pulled out all the stops to create this masterpiece to be featured in the magazine's centerfold. The life-sized cake is a life size 5'5" tall and weighs in at roughly 150 pounds.
To make the cake look realistic, the vanilla cake with mascarpone filling is decked out with white chocolate and marzipan. Just like the iconic photo of Marilyn Monroe, the cake features a luscious red curtain, made entirely out of fondant. For the finishing touch, the cake is covered in confetti sprinkles, adding a hint of fun to the already glamorous desert. It took 14 hours for cake designers Lily Pare and Jay Muse to bring Marilyn alive in cake form. The best part is that the cake was completely edible and it was served at the Fancy Food Show in New York.

See more about this creation featured in the Daily Mail here.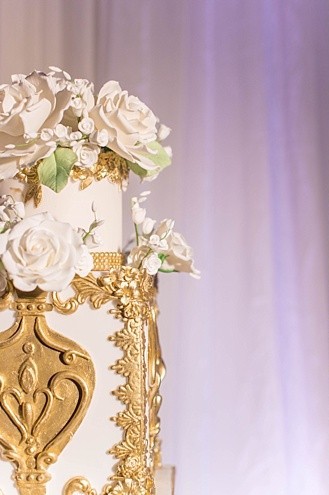 Earlier this year, tennis star Serena Williams retained Lulu's to create her wedding cake which was only partially unveiled in an edition of British Vogue. Since the wedding was in New Orleans, Lulu's had to hire someone to drive the cake down to the wedding site to ensure the cake arrived with no damage. And when, like many newlyweds, Williams and her husband Alexis Ohanian found that they forgot to taste it, they asked Lulu¹s to create a replica that the couple shared five months after the wedding.

Register Now for Summer Youth Tennis
Details

Written by

Joanne Wallenstein

Category: The Goods

The Scarsdale Summer Youth Tennis League is now registering players for their 34th season. The league is organized by the New York Junior Tennis and Learning Scarsdale Chapter and the Scarsdale Recreation Department for boys and girls between the ages 6 and 18.
The program begins on Tuesday, July 10 at the Scarsdale Middle School Tennis Courts on weekday evenings from 6 to 8 PM for four weeks and the fee is just $50.
This program offers up to 32 hours of tennis in round robin matches for all skill levels :beginner, novice, intermediate and advanced. Every player receives a participation trophy and a Scarsdale NYJTL tee-shirt . The program concludes with a tennis tournament and pizza and ice cream party. Players can pick their evenings and play for one or two hours.
Contact Bob Harrison, League Director at 914 646-4054 (cell) or by email at proscars@aol.com. Applications can be picked up at the Recreation Department at Village Hall or printed at the Village website at www.scarsdale.com/recreation or from Mr. Harrison's email.
Sign up your kids today to enjoy the Scarsdale Summer Youth Tennis League this summer.
Fireworks Light Up Scarsdale
Details

Written by

Sarah Kazan

Category: The Goods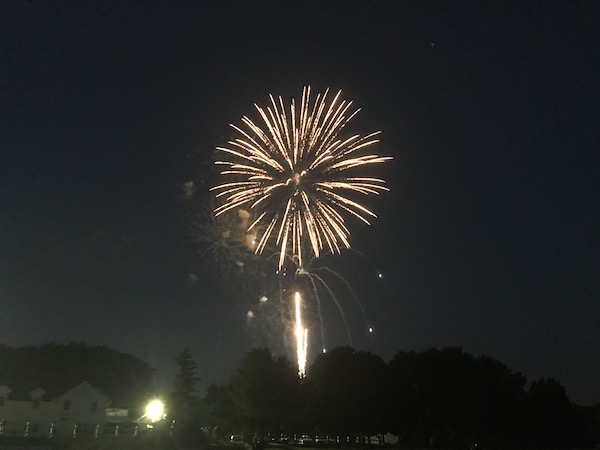 Independence Day festivities started early for Scarsdale residents this year. On Monday, July 2nd, thousands of community members of all ages gathered with friends and family at the Scarsdale Pool to watch the annual, beloved fireworks show. While the fireworks started at 9:15 pm, many residents arrived earlier to listen to the Westchester Band perform. When the fireworks began, some chose to get up close and view the show from the pool and others brought lawn chairs and blankets to watch the fireworks from Crossway and Boulder Brook fields. The sky was illuminated and the sound thunderous as people celebrated 242 years of independence.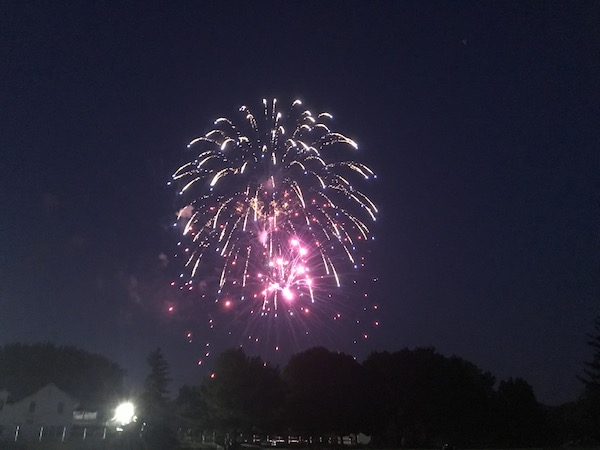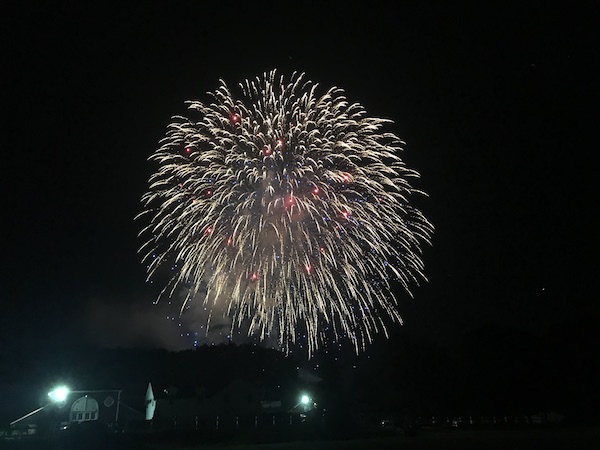 Seniors Explore the World of Work During Senior Options
Details

Written by

Natalie Isak

Category: The Goods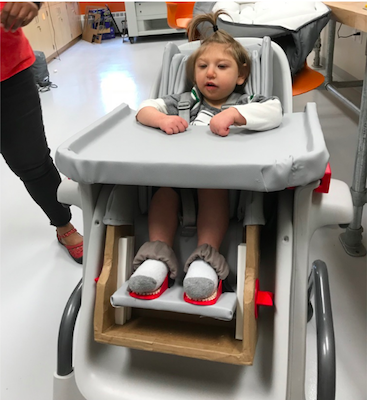 Yehuda sits happily in his new high chair designed and built by Friedman. As the school year drew to a close, the senior class was immersed in a mixture of emotions: relief, anticipation, apprehension, and excitement. Yet before Scarsdale seniors could cross the finish line of graduation, they faced their last obstacle: senior options.
For the months of May and June, Scarsdale seniors spent seven weeks, 30 hours a week, in the workforce completing internships or independent projects of their choosing.
Beginning in the winter, seniors were tasked with finding a "mentor" for their internship, any teacher at the high school who they have a close relationship with, to help guide them through the process. Students were then randomly assigned a "case manager" who is in charge of approving their proposals and passing their final projects.
Students then spent the ensuing couple of months finding, researching, and securing an internship. To do so, students found a "sponsor," or an employee/volunteer at their chosen internship to oversee their work. It is also possible for students to complete independent studies: projects in which approximately 10 hours are spent as structured time related to their study and the other 20 hours are spent alone working on a private project.
This year, Scarsdale seniors' senior options ran the gamut of interests. Here are some of a few exciting internships and projects:
Anthony D'Ambrosio completed his senior options with Dr. Matusz, an orthopedist. At his internship, he observed and helped Dr. Matusz complete MRIs and X-Rays for his patients.
During his time in the office, D'Ambrosio encountered a number of different spinal injuries and conditions, such as Spinal Stenosis, Spinal Spondylosis, Spinal Slippage, and Herniated Discs.
Although D'Ambrosio spent the majority of his time interacting with patients and aiding Dr. Matusz, he did have the opportunity to watch certain procedures.
D'Ambrosio observed two laminectomies, one rotator cuff repair, and two meniscus repairs.
"Overall I really enjoyed shadowing Dr. Matusz and getting to see the whole process of an injury from diagnosis to recovery," said D'Ambrosio.
Noah Glantz spent the past seven weeks at Pro Sports Physical Therapy. An athlete himself, Glantz has visited their physical therapy office a shocking 89 times for a variety of different injuries. He had always enjoyed the positive and welcoming environment and felt as if he "owed it to them to work there." Glantz is also interested in sports, medicine, and interacting with people, so this senior options project was the perfect fit.
At Pro Sports Physical Therapy, Glantz prepared bottles for ultrasounds, met with patients, did laundry and cleaned tables, made ice packs, and shadowed therapists. Over the course of his internship, he learned a variety of different physical therapy techniques, including heat, ice, manual therapy, strength therapy, ultrasounds, and laser.
Not only did Glantz learn technical, hands-on skills, but also how to support patients emotionally. Glantz helped many patients make short-term goals and focus on how far they have come rather than how far they have left.
For Ryan Guo's senior options, he spent 30% of his time interning as an IT assistant in Scarsdale High School and the remainder of his time on a personal project. Guo expressed interest in creative applications of technology, and this combination of responsibilities exposed him to a number of different skill sets in this field.
At the high school, Guo obtained real world experience working with hardware and software. He spent time reorganizing chromebooks, testing computer programs, installing new software, and researching database effectiveness for the foreign language department. Guo also had the opportunity of redesigning Scarsdale High School's floor plans to help improve legibility.
For the remainder of his senior options, Guo designed a visual novel. He used python and other coding languages to create special effects, wrote content, created artistic designs for the background, and incorporated audio. Guo said he "enjoyed the autonomy and free time" of his independent project to pursue his passion.
Guo has yet to finish his visual novel and looks forward to completing it this summer.
Jack Lazarus spent his senior options interning for a plumber. This unconventional internship was spurred by his interest in engineering and desire to gain hands-on, applicable experience in the workforce.
During Lazarus' final presentation, he joked that his friends and family all believed that he spent seven weeks unclogging toilets. Lazarus explained, however, that plumbing encompasses a much broader scope than toilets, but showers, sinks, gas generators, hot water tanks, radiators, and boilers as well.
Lazarus learned how to change flappers and flush valves; unclog drains; fix leaks, snake sinks and sewage pipes; and install sump pumps, new boilers, and new hot water tanks.
"Senior options gave me a look into a profession I had never considered before. The experiences I had gave me a new appreciation for plumbing and showed me just how many professions I take for granted and that many have larger impacts on the world than I thought," said Lazarus.
Charlotte Moser spent her senior options at Baked In Color. Local resident Julie Waxman,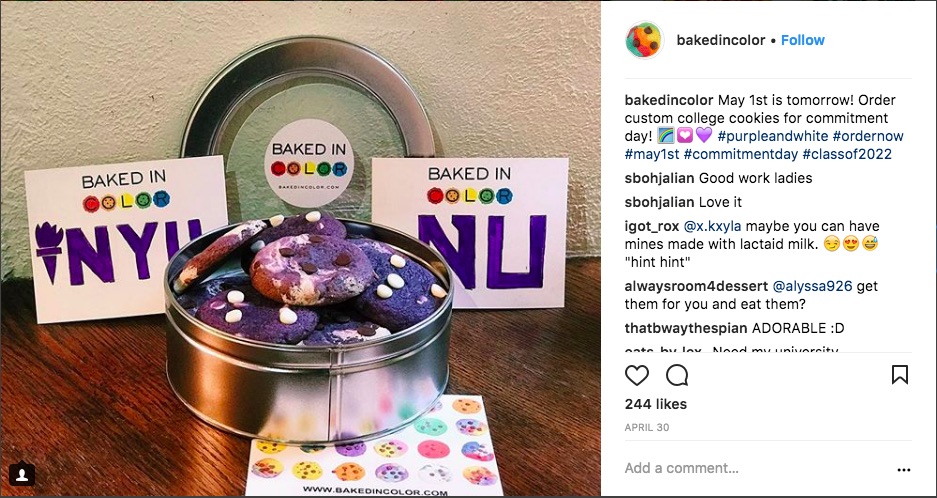 who began the operation business in May 2016, runs this company. Moser is interested in pursuing a career in medicine, but has always held an interest for baking and business as well.
At Baked In Color, Moser was charged with a variety of responsibilities. She had the opportunity to bake some of Baked In Color's staple rainbow chocolate chip cookies, those of which the business produces approximately 2,000 cookies per day. Moser also bought and managed baking supplies and helped prepare cookie packaging.

For the majority of her time, Moser helped run Baked In Color's social media accounts. During her time at the company, she learned the importance of social media exposure for new businesses. Moser helped design aesthetically pleasing cookie promotions to post on the company's Instagram account.
Caroline Stemerman interned at NM Designs, a budding interior design company. NM Designs incorporates traditional and contemporary elements to create unique designs.
Stemerman had a lot of independence at her internship. She sourced materials, coordinated and attended meetings with clients, created invoices, estimated project costs, and pitched ideas to her boss and clients.
Some of her projects included houses in the Hamptons, Long Island, and New Rochelle. Just as each house was unique, so were the needs of its clients. For instance, Stemerman recalled working with a religious family that could not have the color black in their house. "The most important thing that I learned was that each client has different wants and needs… and I had to learn how to work with that"
Zach Friedman designed and built a high chair for 15-month-old Yehuda. Friedman is interested in adaptive design association and creative engineering, and wanted to spend his senior options creating a physical product.
Yehuda has microcephaly, which causes abnormal brain development. He is smaller than most babies and struggled to sit upright in his previous highchair. Friedman's solution was to build inserts for Yehuda's head, neck, hips, and feet.
Friedman developed his prototypes and final product in the design lab at Scarsdale High School. "One of the best parts of this project was being able to work in the new design lab – having all that technology right in front of you makes a huge difference, it really makes the whole experience nicer," said Friedman.
After designing and building three prototypes, Friedman was finally ready to create his final product. It included Velcro ankle fasteners, a height adjustable footrest, 3D printed footholds, and side inserts. To build the final high chair, Friedman used a number of different technology and tools: everything from a 3D printer to a sewing machine.
Yehuda loved the final product. "He [Yehuda] wasn't in the best mood, and then he sat in the chair and we put all the inserts in, and you can see his face light up. Without it, he's really just falling over in his chair and you can tell he's not really comfortable, but with all the inserts in there, it's almost like he's being hugged the entire time and he finally feels comfortable in a chair that fits him," said Friedman.
To learn more about Friedman's project, click here.