Love in the Age of Alzheimer's: Wedding Bells at The Ambassador
Details

Category: The Goods
Published on

03 August 2016

Written by

Joanne Wallenstein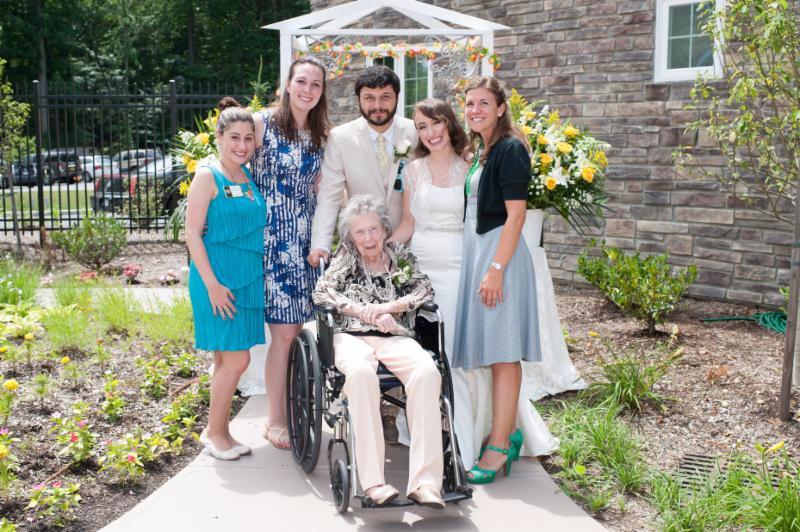 Jessie Appel always thought she would get married at her grandmother's house on Shelter Island. But when her grandmother moved to the Ambassador of Scarsdale, it appeared that Jessie would have to shelve her plans. However, when the staff at the newly opened community heard about the wedding dilemma, they stepped in and proposed a plan that would allow Jessie to marry her fiancé Mack Kronberg at her grandmother's home .... her new home that is.
"Jessie had pretty much given up on her dream to marry at her grandmother's home," recalls Mack. "But then, shortly after we got engaged, we went to visit The Ambassador, and as we passed the courtyard, this powerful image took hold of us standing there saying our vows amid the flowers and greenery and this strong community that has accepted Mrs. Reilly and us with open arms."
Marianne Reilly, Jessie's mother and Mrs. Reilly's daughter, agrees. "I find this ceremony and this place to be sacred because they celebrate life as it is now," she says. "We're all in this together."
In attendance at the July 10th ceremony were the couple's immediate family and close friends, as well as residents of The Ambassador's Memory Care Community, and their loved ones, who have become an extension of Jessie's family. Reveling in her roles as gracious host and proud grandmother, Mrs. Reilly delivered a brief yet poignant toast. "Today is the day that my granddaughter is getting married to the one she loves," she enthused. "I wish her happiness with love. It is an honor to be here on Jessica and Mack's wedding day!"
"It was a wonderful feeling to help Mrs. Reilly be at her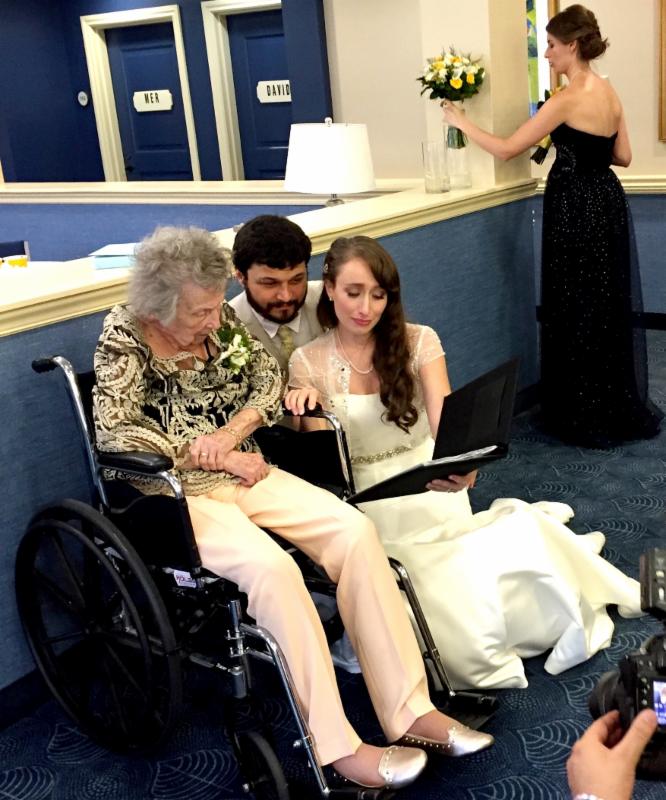 granddaughter's wedding," says Sarah Rouke, the Memory Care Community Director. Given Mrs. Reilly's flagging health and memory -- the dementia-related drivers of her move to The Ambassador -- her attendance wouldn't have been possible had the ceremony occurred elsewhere, she adds.
Mrs. Reilly presented the newlyweds with a homemade book of marital advice from residents of the Ambassador.
Kerry Mills, founder of Engaging Alzheimer's, and a dementia coach for The Ambassador's Memory Care Community said, "Jessie and Mack's desire to have Mrs. Reilly present emphasizes that the deep connection people share surpasses memory and verbal communication."
After the main event, The Ambassador hosted an intimate reception, where the in-house chef rolled out a surprise wedding cake. The bride said, "This has been so much better than the fairy tale wedding I imagined as a little girl," says Jessie. "This is our reality, and we're incredibly happy."
Trek is Slightly Off-Track
Details

Category: The Goods
Published on

25 July 2016

Written by

Deborah Skolnik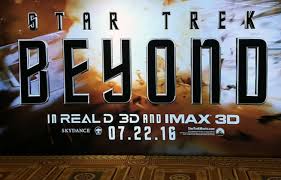 Catching up with Captain Kirk is like checking in with your craziest high school classmate: You expect to learn he's either a huge success or living in his parents' basement.

In Star Trek Beyond, we actually find Kirk at the dreary midpoint of these extremes. His days aboard the Enterprise have become routine, dulling the maverick glint in his eye. Disheartened, he sidles up to a bar with the perpetually gloomy Dr. McCoy. They cynically debate the worthiness of space exploration, while simultaneously pounding hooch stolen from poor Officer Chekov's locker. Perhaps there's no Human Resources department aboard starships.

Spock, Kirk's second in command, is mired in self-doubt too. Should he stop seeking out new worlds and revive Vulcan civilization instead? Conflicted, he dumps his girlfriend, the smart, sexy Lieutenant Uhura. Dude, what are you thinking?

Clearly, everyone needs some R&R. But shortly after the Enterprise docks at a space station, there's a distress call from a non-Federation creature. Before you can say "tribbles," Kirk and Co. rush out again on a rescue mission. (Why send an entire ship to aid a non-Federation stranger? How 'bout just sending a sympathy note and a Bed, Bath & Beyond gift card to help with the rebuilding effort?)

The remainder of the film largely unfolds on a primitive, dim planet, which makes for squinty viewing. This austere world is ruled by a despot named Krall, who covets an ancient artifact in Kirk's possession. The Enterprise's crew becomes separated and besieged, calling into question their loyalty and unity.

Plot-wise, the film yields a few chuckles and a fun new character, Jaylah, another of Krall's victims. Tall and blonde, with black stripes running down her face, she's like a cross between supermodel Heidi Klum and a really cool skateboarder. Yet Star Trek Beyond largely lets us down, even as its action sequences rev up our heart rate. Eye-popping explosions abound, but there's a dearth of witty dialogue and few insights into Kirk and Spock's overarching personal problems.

And even if you've passed on popcorn, expect to be force-fed plenty of cheese. We're talking a battle set to a Beastie Boys song, plus derring-do involving a motorcycle, both of which come at the expense of the story arc. Star Trek's legendary appeal lies is its ability to go not only into deep space, but also deep into its characters; sadly, this film fails to check that second box. A last-minute plot twist is so hastily fleshed out that you'll struggle to understand it, even as its implications unfold.

"Ghostbusters was better," declared my viewing companion as we left the theater, and I had to agree. That's sad, considering that Busters is a retread, while Beyond is all-new. Yet it's true. While the Enterprise has once again gone where no one has gone before, its latest adventure doesn't truly transport its viewers.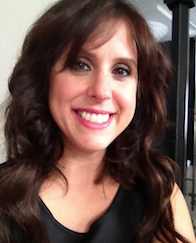 This review was written by Scarsdale's own Deborah Skolnik. Check out her Facebook Page, Gentle Scarsdale Satire for an amusing view of goings on in the 'dale.
Village Publishes List of Unclaimed Funds - Is Your Name on It?
Details

Category: The Goods
Published on

06 July 2016

Written by

Joanne Wallenstein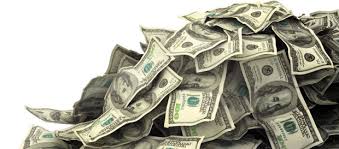 The Village of Scarsdale recently published a list of people and businesses that have unclaimed funds held by the Village. Many of the funds consist of deposits for building permits or engineering department requirements. The funds date from 1979 to 2007 and have been declared abandoned. If your name is in the list you should contact the Village Treasurer at treasurer@scarsdale.com or call 914-722-1170 to claim them.
Village Treasurer Mary Lou McClure says the unclaimed funds amounts range from a few hundred to thousands of dollars.

Check out the list here to see if you are owed money from Scarsdale.
http://scarsdale10583.com/images/pdf/UnclaimedFunds2016.pdf
Truck Hits Mamaroneck Road Bridge, Closing Hutch for Eight Hours
Details

Category: The Goods
Published on

19 July 2016

Written by

Joanne Wallenstein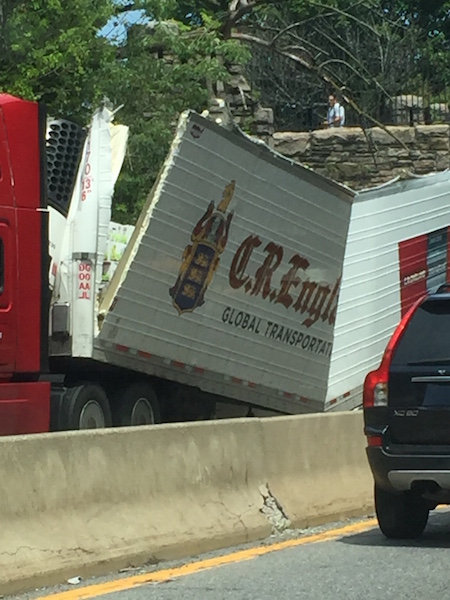 A tractor trailer heading south on the Hutchinson River Parkway on Monday afternoon July 18 hit the bridge at Mamaroneck Road and broke apart, snarling traffic for eight hours. Local resident Jonathan Lerner spotted the problem and shared these photos of the accident which scattered potatoes over the two lane road.
According to Lerner, accidents like this happen all too frequently. He said, "There is an ongoing problem with trucks being "sliced" open like can openers I have lived near exit 22 Mamaroneck Road for years and this occurs each month and has happened for the past 25 years. This one shut down the Hutch this afternoon at around 1 o'clock. There are two dangers. The first: cars behind the truck could be hit by debris. The larger danger is that if the truck is carrying fuel or chemicals and explodes, such as what happened on 287, it endangers nearby homes and residents."
He continued, "I have expressed my concerns over the years, and due to my actions they have raised fines and installed electronic devices, but we still see this happening. My suggestion is to attach a chain to pole at the height of the bridge before the bridge, so that a truck driver would be aware of the height of the bridge by hearing the chain scrape, well before hitting the bridge. This is low tech and inexpensive and would allow the driver to exit the parkway before hitting the bridge."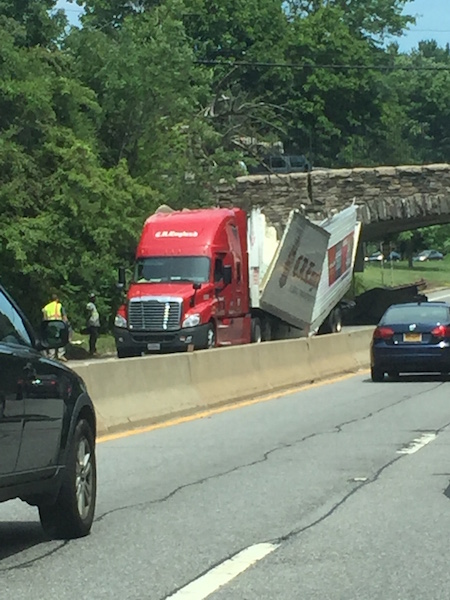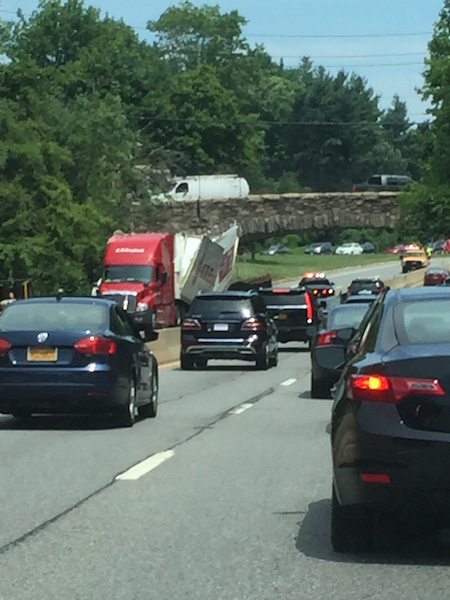 Photos by Jonather Lerner
The Class of 2016 Has Its Day in the Sun
Details

Category: The Goods
Published on

27 June 2016

Written by

Joanne Wallenstein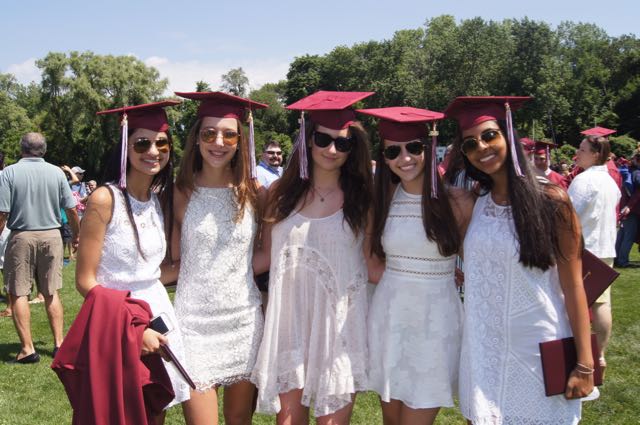 There could not have been a more perfect June day for a graduation –- cool, sunny, dry and comfortable for the hundreds of parents, grandparents, teachers, friends and supporters who came to cheer on the 356 graduates in the Scarsdale High School Class of 2016.
Before the processional, the spirited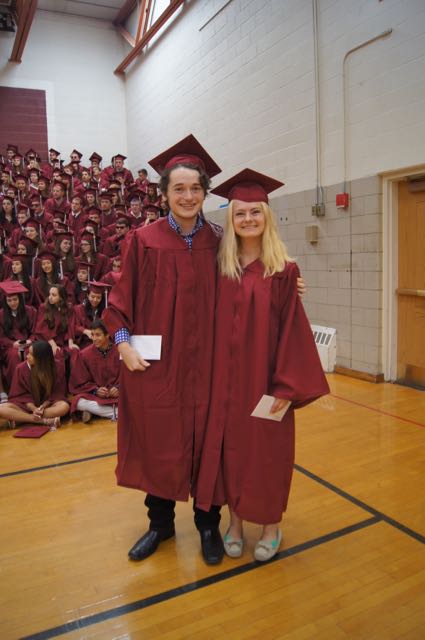 but well-behaved group gathered in the gym and honored two class members who were singled out for marching to their own drummers and being their own person. Ben Isaacs Stevens and Signe Louise Porsborg Forsingdal both looked surprised but pleased to be recognized. Assistant Principal Sue Peppers told the class that this was her last graduation after 28 years at SHS and advised the students to "stay close to their friends."
With that they lined up in alphabetical order and marched out to Dean Field to the sounds of Pomp and Circumstance played by the Symphonic Band under the baton of conductor Jason Noble.
School Board President Lee Maude advised the students to "try something new," do something you're not good at," and to "experience all life has to offer," before ceding her time to Board V.P. William Natbony who had a daughter in the graduating class.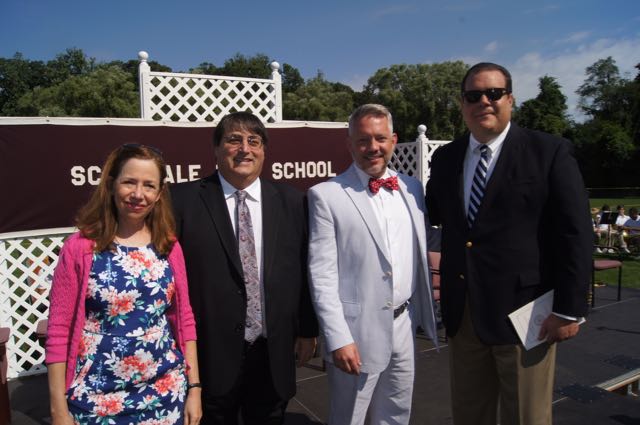 A child actor, Natbony drew an analogy between the high school experience and a theatrical play. He said, "There's something really special about High School -- I like to think of its as a four year long drama club production. As parents we can attest that there WAS a lot of drama in that production. There are many rehearsals -- some go really well, while others not so well. Over the four years of rehearsal, the actors, musicians and tech crew bask in their accomplishments and learn from their mistakes along the way. Teachers, counselors and parents provide notes along the way, giving the production structure and imparting valuable knowledge to those who participate. And then there are the friendships -- both the nurturing of old friendships and the making of new ones -- friendships that result in a collaborative and continuing performance in a show called "life."
He continued, "In As You Like It,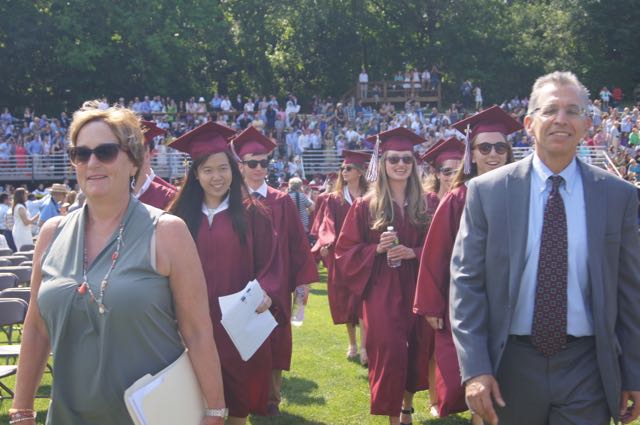 Shakespeare wrote that "all the world's a stage, and all the men and women merely players." I would suggest to the Class of 2016 that YOU are those "players" and you are about to set foot on that world stage. You will have a vast audience -- your family, your peers, your colleagues and the world at large. You will have the power to influence, the ability to create, the knowledge to innovate and the persuasiveness to move people. Do not be afraid to use your voice as you perform your various life roles.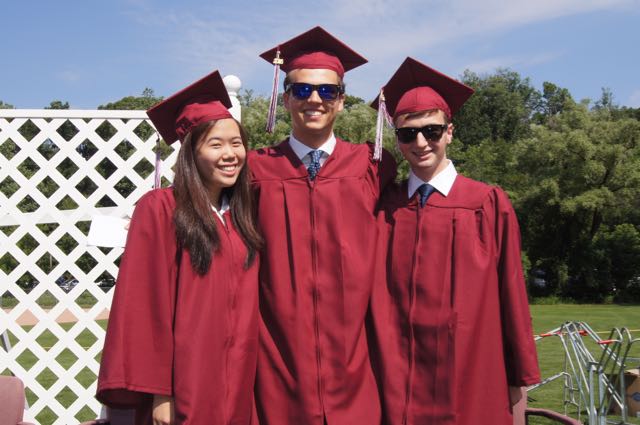 Be strong in your convictions and compassionate in your actions. Never lose sight of your own personal potential or your creative voice. Never underestimate your talent and your ability to spark change -- find your passion, perform a meaningful role using that passion, and your reviews will be great. I also urge you to perform well the role of representing Scarsdale in the global community and keeping true to our District's motto of "non sibi" -- not for one's self alone...... Today is the "opening night" of your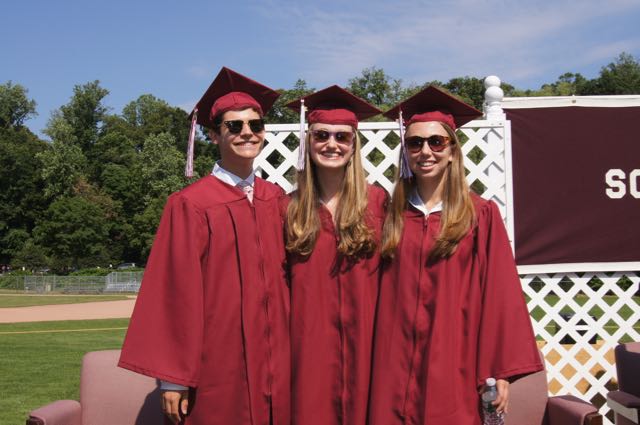 next show. The rehearsals are over. The audience has filed in. The stage manager has called "places". The overture is finished. The curtain is rising. The lights are coming up. The spotlight is on you. And you're on. Break a leg!"
It was a bittersweet day for class advisors Larry Brown and Ann Liptak who retired at the end of the school year. Charlie Musoff thanked Brown, saying he "encouraged us to be our most sarcastic selves!" He called Brown a "beloved teacher," who always helped the class do what they wanted to do and told Brown to "enjoy some more golf." Matthes Drescher thanked Ms. Liptak for "being there for everyone," and helping the class through everything from Junior Olympics to the Senior Class Play. He said, "To know Ms. Liptak is to know that you're not alone."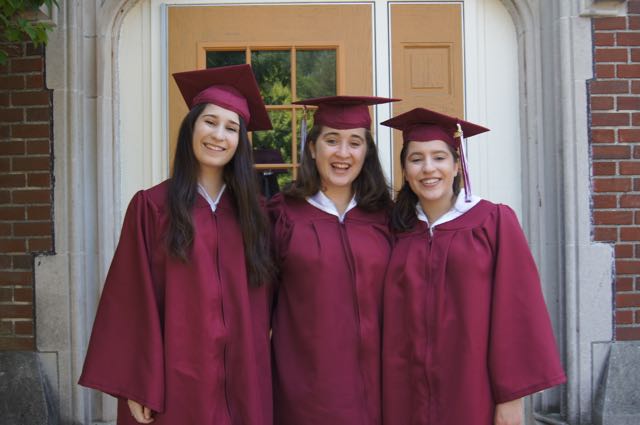 The two advisors took the stage and thanked the class for showing them a few things ... like "The Brian," the best sandwich at Nonni's, and the second meaning of words like "darty, dank (cool) and word (sounds good)." They reminisced about dancing the night away at the best senior prom ever and ending the year with a colored powder throw.
Brown remembered a favorite student who graduated in 2005 and passed away last week at the age of 29. In his year book, he quoted Derek Zoolander saying, "I'm pretty sure there's a lot more to life than being really, really, ridiculously good looking. And I plan on finding out what that is."
Brown offered the following advice on what we could learn from this young man's life:
Live large. The world is your oyster, and you should either go big or go home.

Don't sweat the small stuff. Life is simply too short to worry about meaningless things, particularly things that are out of your control.

Be forgiving. We are all human, prone to making mistakes. Forgive the acts of others as you would like to be forgiven.

Embrace the world around you. As Ann said earlier, we are all in this together, so whether it is your community, your nation or the entire world, give back to others.

And finally, never postpone joy. Our time together as friends and family is short and precious, so Carpe Diem!
Ann Liptak choked up as she quoted Walt Whitman saying,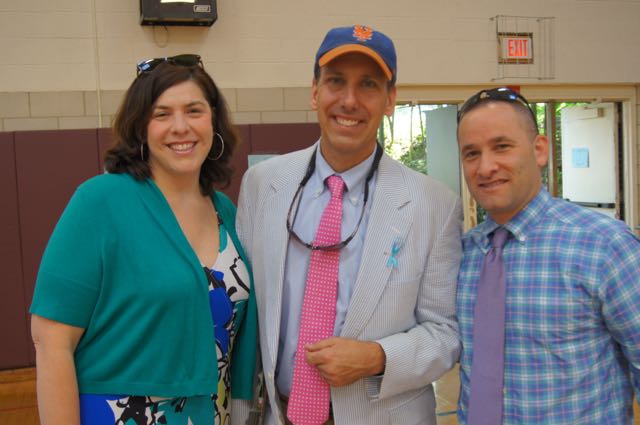 I tramp a perpetual journey,
But each man and each woman of you I lead upon a knoll,
My left hand hooking you round the waist,
My right hand pointing to landscapes of continents and the public road.
Not I, not any one else can travel that road for you,
You must travel it for yourself.
It is not far, it is within reach ..."
They ended by saying, "We say goodbye with beautiful memories in our heards and we say good to you with tears in our eyes." Many in the audience choked back tears themselves.
Class VP Owen Marsh thanked everyone at the school, from the principals to the custodian, the secretaries, nurses, library staff and aids for keeping the school running smoothly.
Class President Clare Chan said it was difficult to find words to name this feeling. She said she felt like an Emoji with eyes and no mouth and captured the moment with the word WOW. Putting on the gown, she said, gave her goosebumps.
She remembered her friend Michael Ludwig who passed away after fourth grade and would have been a member of the graduating class. She called him "determined and optimistic" and said he always smiled. She also remembered Paulie Jimenez, a student at Greenacres Elementary School who died this year and said that the Class of 2016 would donate the balance of their funds to the Ludwig Foundation and Paulie Strong. She encouraged her classmates to highlight the good times they had together, and to never apologize for who they are. She ended with a serenade from High School Musical, singing "We're all ready for the start of something new!"
Principal Ken Bonamo told the class that he also started his tenure at Scarsdale High School four years ago too. He reminded the students that it's easy to see tragedy and say "not my problem," but urged them to take on big challenges and to respond to hate with love. He told the students, "You are out best hope." He advised them to "study what you love and follow your heart," and wished the class a wonderful graduation.
With that, Superintendent Thomas Hagerman bid the class to "Go forth to grow in wisdom and to serve the common good, non sibi."
If you would like to add your grads picture to our photo gallery, please email it to scarsdalecomments@gmail.com.