What Became of the Hotels of the Borscht Belt??
Details

Written by

Joanne Wallenstein

Category: The Goods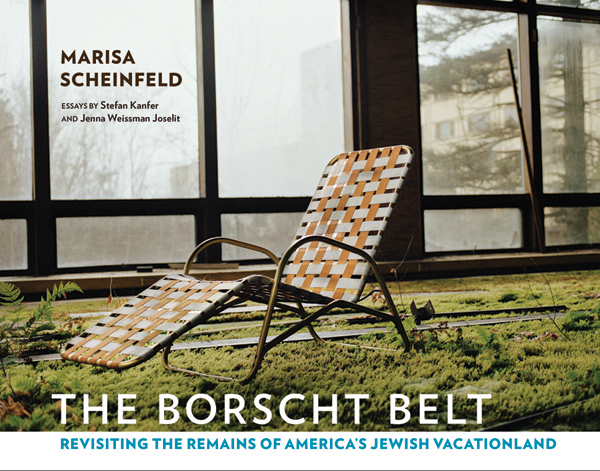 If you have fond memories of Grossingers, Kutshers and the Concord, you'll be intrigued by this upcoming talk in Scarsdale. Author Marisa Scheinfeld will discuss her book about the abandoned hotels and bungalow colonies of the Catskills Broscht Belt on Sunday April 23 at 2 pm at the Scarsdale Library. The book, titled, "The Borscht Belt: Revisiting the Remains of America's Jewish Vacationland," was published by Cornell University Press and the talk is being sponsored by the Archaeological Institute of America.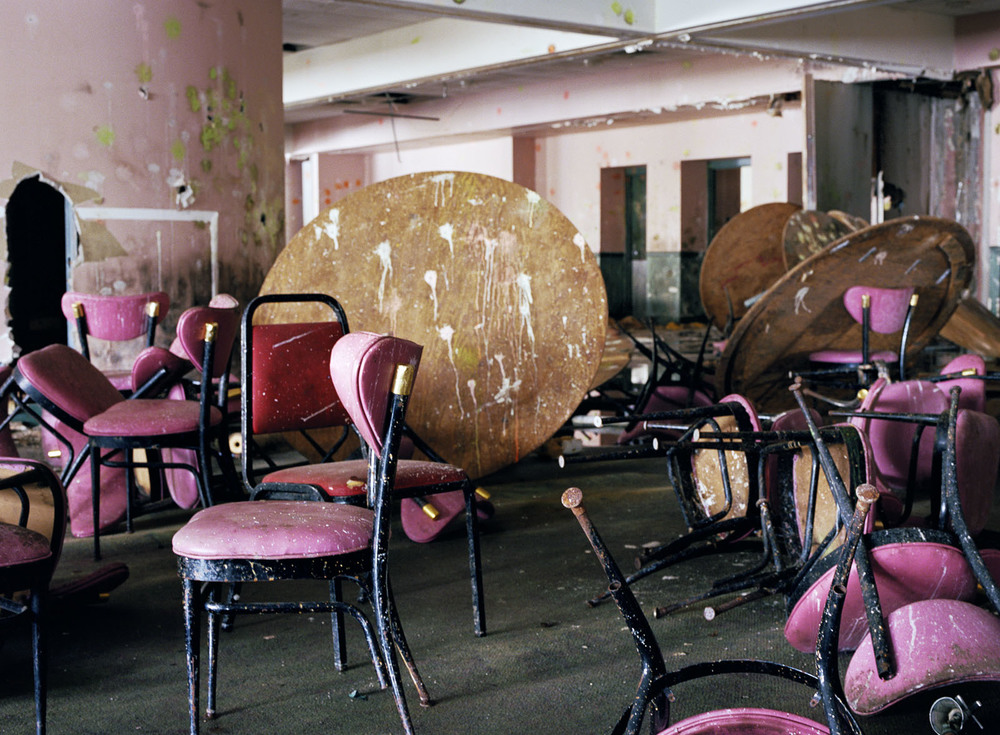 This photography and text based book presents a contemporary view of the many abandoned hotels and bungalow colonies of the Catskills Borscht Belt. Once an internationally known vacation destination, Borscht Belt hotels offered visitors leisure and entertainment at over 500 hotels and 50,000 bungalow colonies. The Borscht Belt was a place that brought together many people, and forged families, friendships, collective and personal memories and histories with many extending to the present day. The era had a tremendous impact on American history, American Jewish history, Catskill history and the history of NY State. The Borscht Belt has also been made known in popular culture with movies such as Dirty Dancing, A Walk on the Moon, and the era earned a place in history as being the birthplace of stand up comedy with names such as Mel Brooks, Woody Allen, Jerry Seinfeld and Joan Rivers getting their starts in the regions many theaters and showrooms.
Marisa Scheinfeld grew up in the Borscht Belt and has many connections to this project. She says, "It is a personal project - depicting the landscape of my childhood and the childhood of hundreds of thousands of people who vacationed, celebrated and worked at its resorts and bungalow colonies."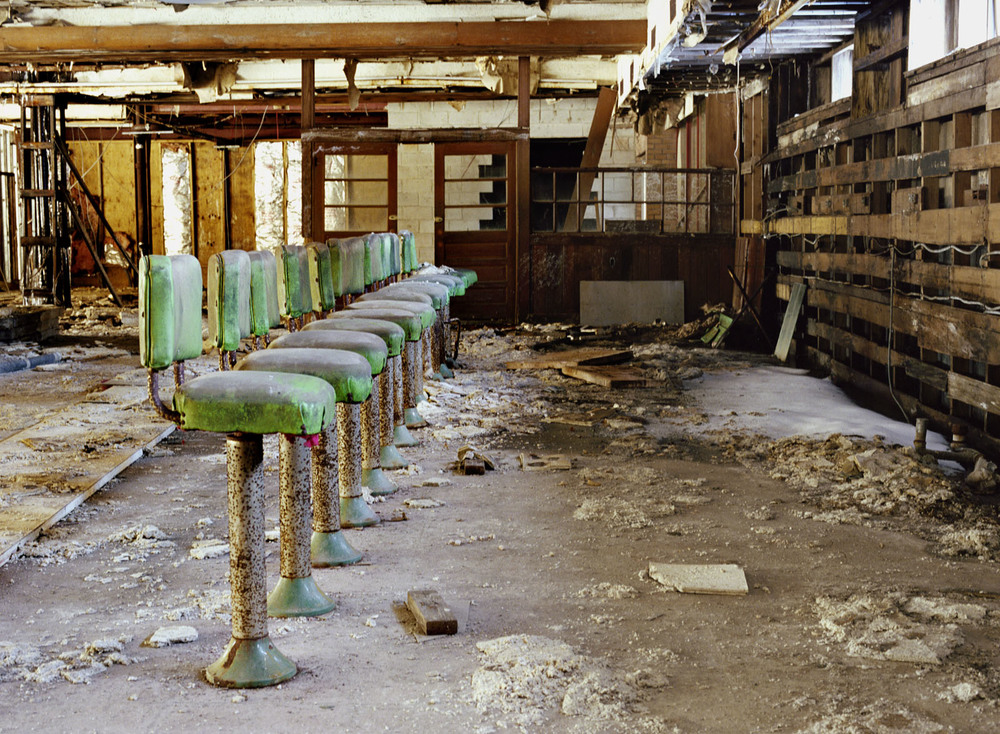 At its root, the book's topic is about the Borscht Belt and its place in history, however the photographic series examines history though a contemporary lens. Comprised of color photographs (made on film) the images capture the physical spaces of Borscht Belt architecture and locales such hotel and bungalow colony exteriors and interiors, including both public and private spaces - lobbies, pools, dining rooms, guest rooms, showrooms, stages, etc. In many ways, the work is an elegy to this once prominent and highly traversed place but is also celebration, albeit bittersweet, of its former glory — while evoking discussion about loss, memory, and the process of time and change on the built environment.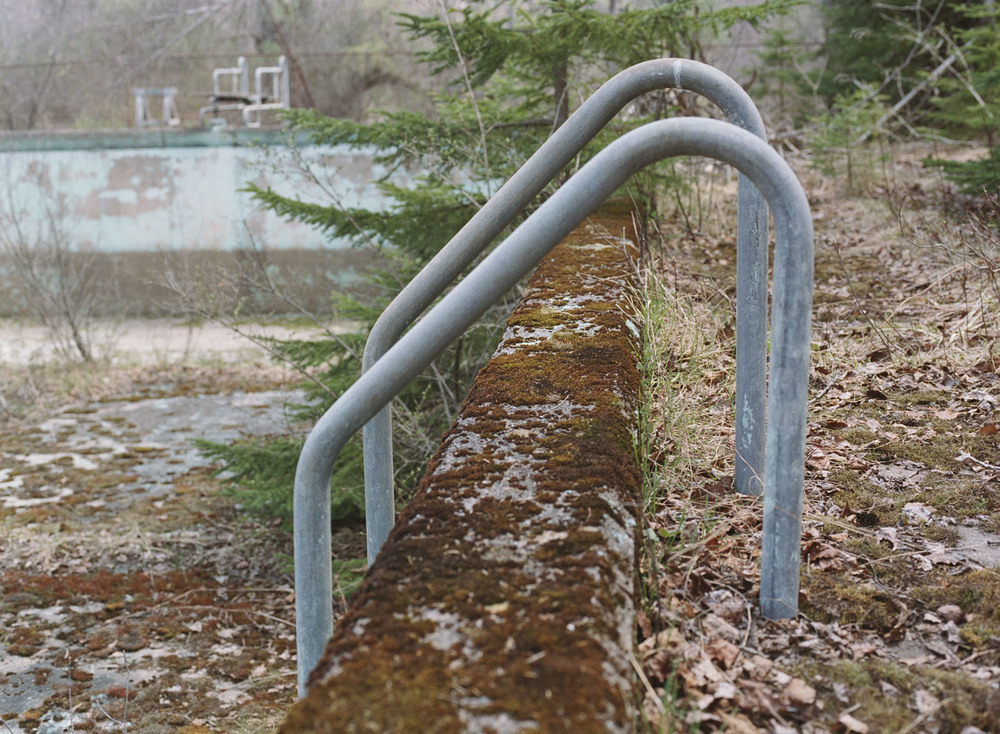 Besides 129 color photographs, the book contains essays by Scheinfeld, author Stephan Kanfer and Jewish American historian Jenna Weissman Joselit. In addition, it contains writings from Mel Brooks, Larry King, Maya Benton (Curator of the Roman Vishniac Collection/Exhibition) artist Laurie Simmons, photographer Mark Klett, and author Alan Weisman.
The book (and traveling exhibition) has garnered positive press in publications such as The New York Times, Wall Street Journal, The Jerusalem Post, Newsweek, Village Voice, Tablet Magazine, Jewish Daily Forward and photography publications like Photograph Magazine, Pop Photo and American Photography.

Details about the talk can be found at the link here:

Learn more at the Scarsdale Library, Sunday April 23rd at 2 pm.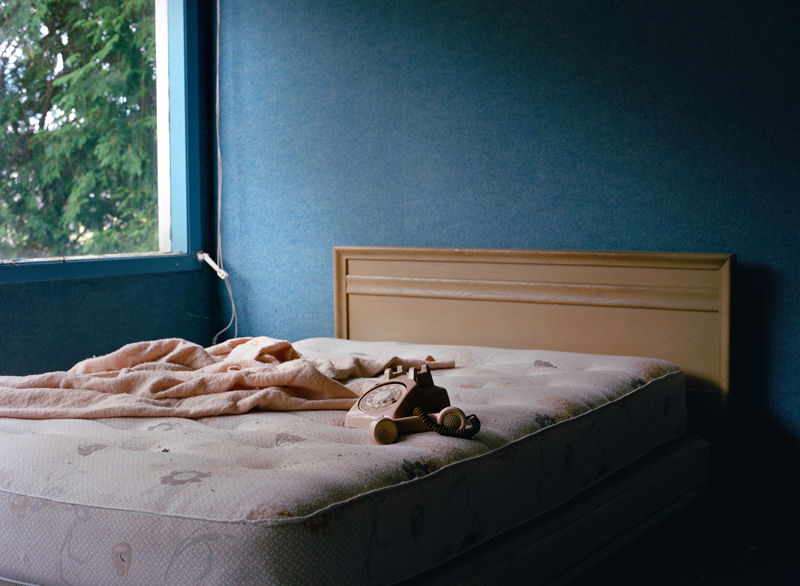 Add a comment
Feiner Weighs Edgemont Petition to Incorporate
Details

Written by

Joanne Wallenstein

Category: The Goods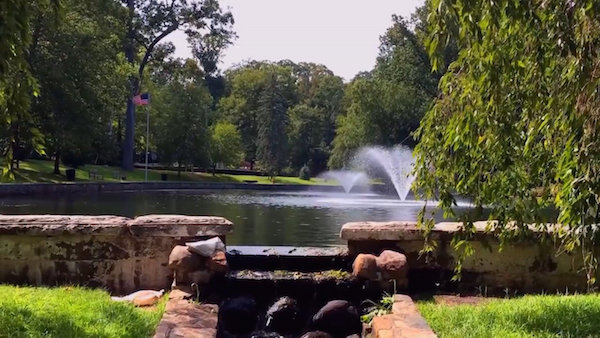 After years of debate, a group of 1,440 Edgemont residents submitted a petition to the Town of Greenburgh to incorporate Edgemont as a Village on February 27, 2017. If Greenburgh Town Supervisor Paul Feiner certifies the petition, a referendum on incorporation will be held sometime between Memorial Day and late July. Only Edgemont residents will have the right to vote on the move, and proponents estimate that there are 4,800-4,900 eligible registered voters.
The petitioners contend that an incorporated Village of Edgemont would do a better job of managing their finances and land use issues and that if they were incorporated Edgemont residents would have more influence and oversight of issues that affect them. Though their population of 7,565 residents represents 17.6% of the population, they pay 26% of the property taxes for the unincorporated area of Greenburgh. According to the feasibility study there are 2,784 households in Edgemont, including 1,893 single family homes and 891 multi-family units or condos. See a full financial plan for incorporation at Edgemont2017.org.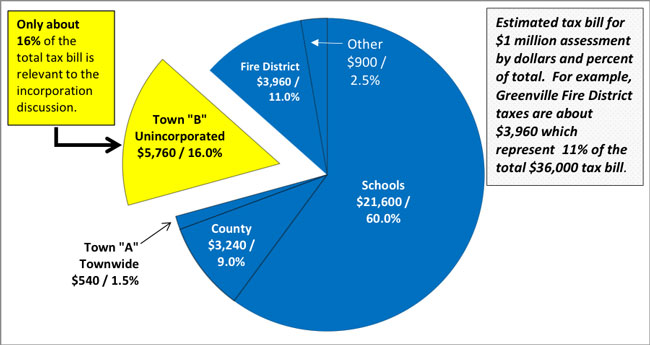 Leaders of the Edgemont Incorporation movement say that are not unhappy with their current services but object to the management of the Town of Greenburgh. If the referendum were passed, these leaders anticipate that they might even contract with the Town of Greenburgh for some of the services they would lose. If incorporated, Edgemont would need to arrange for their own police, public works, sanitation and library services. Edgemont residents could still use recreational facilities from the Town of Greenburgh with the exception of the Anthony F. Veteran Park. They would continue to be serviced by the Greenville Fire Department which would become a part of the new Village government. The Village would have the option of contracting with other municipalities or the county for some or all of these services.
The petition to sever ties with the Town of Greenburgh comes at a time when NYS Governor Andrew Cuomo has been pressuring local municipalities to do just the opposite; the state is advocating for local governments and school districts to consolidate to save on costs. The state imposed tax cap, state mandated increases in payments for health and retirement funds and cuts in grant funding to local governments have put extraordinary pressure on local budgets.

Before a referendum can be scheduled, Feiner would need to certify the petition and set a date for the vote. In the most recent development, Feiner hired private investigators to verify the names on the petition and residents complained that these investigators duped them into agreeing to invalidate their signatures.
Jeff Sherwin, speaking for the Edgemont Incorporation Committee, has urged Feiner to schedule the referendum before school goes out of session in June. In an open letter to Feiner he says, "holding the referendum when school is in session would maximize voter turnout, an outcome that represents democracy at its fundamental best and one for which you've advocated in other elections."
Below are letters from Greenburgh Town Supervisor Paul Feiner explaining his recent actions, and a response from Robert Bernstein who has been a long-time adversary of Feiner and a leader in the effort for to incorporate Edgemont.
A hearing is scheduled for April 24, 2017.
Letter to the Editor from Greenburgh Town Supervisor Paul Feiner: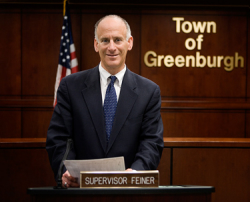 Last week there was some media coverage which quoted some residents of Edgemont as being critical of me for my handling of the review of the petitions that have been filed with the Town seeking a referendum on incorporation. I understand how stressed out people on both sides of the Edgemont incorporation effort are and hope that this response will clarify the process.
The NYS Legislature recognized when they adopted the statute dealing with incorporation referendums, that the incorporation process could have significant impacts on many residents of the Town. That is why the process is difficult and requires significant oversight. If incorporation of Edgemont as a village within the town takes place ALL residents of unincorporated Greenburgh and Edgemont will be impacted.
If the petition complies with New York State law, residents of Edgemont would be entitled to vote on whether or not to incorporate and become a village. That referendum would take place in early summer.
My job is to determine if the petition is in compliance with NYS law. To help me make a decision that is based on law, not on politics, the Town acquired the services of a law firm that specializes in municipal law. Former New York State Appellate Division Judge Robert Spolzino (appointed by both a Republican and Democratic Governor) was retained by the Town to provide the Town with legal advice about the Edgemont incorporation petition.
Hiring Judge Spolzino's law firm was done in the best interests of the Town. After reviewing the incorporation petition, Judge Spolzino believed it was prudent to engage investigative services to randomly interview individuals that signed the incorporation petition to determine if the signatures obtained were acquired pursuant to NYS law. While the investigators did act as agents of the Town, the Town had no control over the selection of the investigators or the questions they asked.
I encourage every resident of the Town to review the NYS village law section 2-206 which speaks to the legal requirements of the proceeding for hearing objections to the incorporation petition. Several attorneys reviewed the statute and concluded that the scope of the hearing was narrowly tailored to hearing objections to the petition. The statute does not state that the petitioners have an opportunity to speak about the merits of incorporation and says nothing about the right of residents to respond to objections raised. If the Legislature wanted the hearing to be typical of hearings - they would have expressly included it.
I have been in contact with Judge Spolzino and have asked him to come up with rules for the adjourned hearing which will be held on April 24, 2017 at Greenburgh Town Hall at 7:30 PM so that incorporation advocates can respond to the objection affidavits. I recognize that if those who disagree with the objections are allowed to testify they will only be able to focus their comments on the specific objections. I believe that hearing from both sides will help both Judge Spolzino and make a decision based on law whether the petition is in compliance. Rules for the April 24th meeting will be released early next week.
I am very committed to following the letter of the law during Edgemont's incorporation attempt. I have told Judge Spolzino to base his advice decision on the law - not on what he thinks I want to hear. I also recognize that this issue has divided our community in a very negative manner -and has pitted neighbor against neighbor. I am committed to working hard to be responsive to the concerns of every Edgemont resident -whether you support or oppose the incorporation. I hope that we will all work together to make Greenburgh a great place to live.
I recognize that there are two separate issues. One is process which is being outlined in this memo. The second is substance --Edgemont residents concerns about taxes, land use, quality of schools, property values, services. I will work hard to be responsive to the Edgemont community. And, am more than willing to reach out to the community and to residents of Edgemont to have a better appreciation of your concerns.
Letter from Robert Bernstein:
Dear Supervisor Feiner: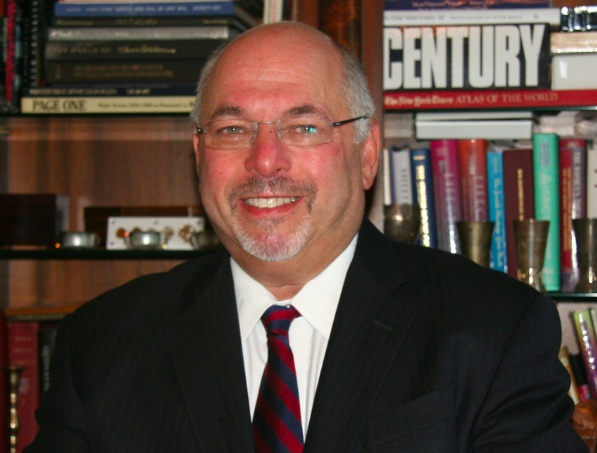 On behalf of the Edgemont Community Council, we take strong exception to the procedures being followed to determine whether the Edgemont Incorporation Committee's petition for incorporation is legally sufficient.
The petition was filed February 27, 2017. On its face, it satisfied all the statutory requirements. Thus, it stated that it included the signatures of at least 20% of the regular inhabitants in Edgemont who are qualified to vote for town officials, it included a list of such regular inhabitants, and it included a metes and bounds description of the Greenville Fire District that was reviewed and approved in 1923 by the Westchester County Board of Supervisors, thus satisfying the requirement that the boundaries of the proposed village be described with "common certainty."
Village incorporation law gave you up to 20 days to figure out whether the petition on its face satisfied the statutory requirements, at which time you were required to give legal notice that the petition had been filed, and that a public hearing would be held to consider its legal sufficiency.
Your giving legal notice of the public hearing meant that you had reviewed the petition during that 20-day period and determined that it was indeed legally sufficient. This is not just my opinion; this is what one New York court after another has said.
That's when the process went off the rails. You decided (either on your own or through counsel) to hire at taxpayer expense a Manhattan private investigative firm to enter the homes of Edgemont residents who signed the petition to try to obtain evidence by which the petition could be declared invalid. There is zero precedent in New York for doing that.
You next decided that the public hearing would allow testimony only from those objecting to the petition. You state that the statute "says nothing about the right of residents to respond to objections raised" – but the statute does say so.
It says that "[t]estimony as to objections may be taken at the hearing" and that "[t]he burden of proof shall be on the objectors."
The phrase "as to" in plain English means not that only those who object may testify, but that the subject matter of the testimony is limited to the objections. That means you can and should have heard from those who submitted the petition.
And the words "burden of proof" usually means one side has more evidence in its favor than the other. Not only does that imply both sides should have an equal opportunity to be heard, but in this case the village incorporation law favors petitioners' right to vote because the burden of proof to show otherwise is on the objectors.
But if you continue to believe that no one may speak at the public hearing to explain why the objections are not among those that may be raised, or if they may be raised, are not supported by the evidence, and you then refuse to certify on the basis of what you've heard only from one side, then you are manipulating the process to deprive Edgemont residents of their right to vote – in violation of the statute and, because of your conduct, the First Amendment too
Add a comment
Scarsdale Students Selected to Perform at Lincoln Center
Details

Written by

Joanne Wallenstein

Category: The Goods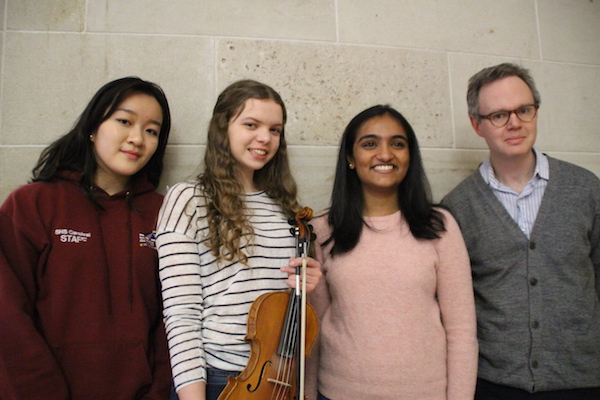 The Lincoln Center Chamber Music Society's Young Artist program is one of the most competitive programs in the area. Schools throughout the Tri- State compete to be selected and this year Scarsdale is the only school from Westchester County tthat will participate. Other schools that have groups attending this year include: LaGuardia, Special Music High School, Stuyvesant, Great Neck, Hunter, Tenafly, and the Dalton School.
The groups that are selected receive two coaching sessions with members of the Chamber Music Society and then perform a concert in Alice Tully Hall on April 27th.
The district is very proud to have two groups performing. The first is a duo for Soprano and Violin. Nivi Ravi, Soprano and Laura Clapp, Violin with perform - Four Songs for Voice and Violin by Holst. The Second group - also with Laura playing the violin is a Piano Trio with Annling Wang, piano, Laura Clapp Violin and Melinda Orengo, Cello. They will be performing Smetana's Piano Trio op 15.
Add a comment
Scarsdale Residents File Motion to Intervene in Article 78 Proceeding
Details

Written by

Joanne Wallenstein

Category: The Goods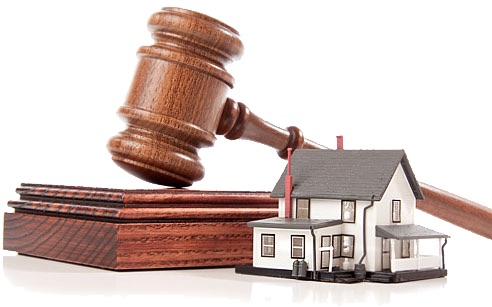 Though the Village election is over, and some members of the Village Board who came under attack for the 2016 Revaluation are no longer serving Scarsdale, the Article 78 proceeding, filed on January 13, 2017, which demands that the Village void the 2016 revaluation lives on.
In response to the Article 78, the Village of Scarsdale filed a motion to dismiss on February 15 on the basis of a number of procedural issues and that the petitioners failure to prove their claim that properties were overvalued or that the revaluation constituted a waste of or injury to public funds" or that it was illegal, imperiled the public interest or "calculated to work public injury." See more here.
In the intervening weeks, the Scarsdale Committee for Fair Assessments, who filed the Article 78, filed an opposition brief to the motion to dismiss on March 17, and then the Village parried with a reply on March 29.
Now another group of Scarsdale residents has filed their own motion to intervene in the case. Their objection stems from the Article 78 petitioners' claim that they filed their action "on behalf of all other taxpayers in the Town/Village of Scarsdale." This new motion to intervene was filed on April 3, to "correct the false record put forth by the Committee and make clear that "all other taxpayers in the Town/Village of Scarsdale" do not agree that the Committee represents their interests." In fact, the motion says that the intervenors "Object to the Village wasting its time and money defending the Article 78" and also "Object to the prospect of Scarsdale's tax assessment procedure being dictated by a judicial monitor rather than proceeding under the established municipal and state regulatory procedures and administrative remedies that govern residential property tax assessments."
The intervenors, listed below, are represented by Jennifer Barrett, Marc Greenwald and Kevin Reed, three attorneys from Quinn Emanuel Urquhart and Sullivan, who are also Scarsdale residents. They did the work on a pro-bono basis. They represent Andrew and Mary Louise Perlman, Richard K. Abbe, Susan Upton Douglass, Eli R. Mattioli, David M. Matusz, Carole Anne Parlato, Josh Silverman, Seth I. Silverstein, Jill F. Spielberg and Gabrielle Reiffel Wise.
Kevin Reed, one of the attorneys who filed the motion to intervene said, "Our clients filed their motion to intervene in the Article 78 proceeding to make clear to the Court that the self-appointed Scarsdale Committee for Fair Assessments does not represent all Scarsdale taxpayers. If the motion is granted, our clients will advocate to the Court that that the Article 78 proceeding is without merit, that a rollback of the 2016 assessment would cause the Village more harm than good, and that grievances with the results of the 2016 assessment should be pursued on an individual basis through the administrative and judicial mechanisms provided by New York State law."
The motion provides some history to support their claim. Was the Article 78 intended to benefit just the 151 petitioners who signed it or all Scarsdale residents? It quotes a 12/6/16 letter from Mayra Kirkendall-Rodriguez to Scarsdale Neighborhood Association Presidents that seems to indicate that only the signers would benefit. It says, "It is important that you understand the way the process works. Only those residents who join the group that is bringing the action, can receive refunds from the results of a successful Article 78 proceeding.... There is a risk of losing, but there is also upside to winning the Article 78 action."
The background information includes the results of the recent election in Scarsdale Village where the newly formed Scarsdale Voters' Choice Party focused on "the flawed Ryan revaluation" and vowed to pursue the Article 78. Two of their candidates were signers of the Article 78. Since the Scarsdale Voters' Choice Party was soundly defeated, the attorneys posit that the Article 78 does not represent the interests of all homeowners.
The motion to intervene states that New York law gives the local assessor authority to perform valuations and empowers homeowners to grieve any perceived inequities. Furthermore, if the tax valuations were rolled back to 2015 levels, the motion claims that others who saw their taxes go down between 2015 and 2016 would be "prejudiced."
Commenting on the motion to intervene, Attorney Robert Bernstein who represents the Scarsdale Committee for Fair Assessments said, "I don't think the interveners understand or appreciate what the legal proceedings here are about. The Article 78 petition is not a class action filed on behalf of all taxpayers. It is instead a legal proceeding brought by a committee of 152 (now154) individual property owners in the Village of Scarsdale who are seeking to enjoin the Village from levying taxes on all village taxpayers on the basis of a tax assessment roll which intentionally and systematically undervalued Scarsdale's larger homes by valuing them at substantially less than 100% of market value, while Scarsdale's smaller homes were valued at 100% of market value or more. The petition was supported by a statistical analysis which showed exactly that. Such intentional systematic undervaluation violates New York state law and the equal protection rights of Scarsdale taxpayers to property taxation based on a uniform percentage of value across the board. The remedy for a serious violation such as this is not to do nothing and leave things just the way they are, which is what the interveners suggest, but rather to require Scarsdale to use an untainted assessment roll going forward in which all Scarsdale taxpayers, those in large and small homes, pay only their fair share."
The case is in the hands of Judge Bruce E. Tolbert in White Plains.
Have a comment? Please include your first and last name.
Add a comment
Candlelight Vigil for Michelle Hirsh
Details

Written by

Joanne Wallenstein

Category: The Goods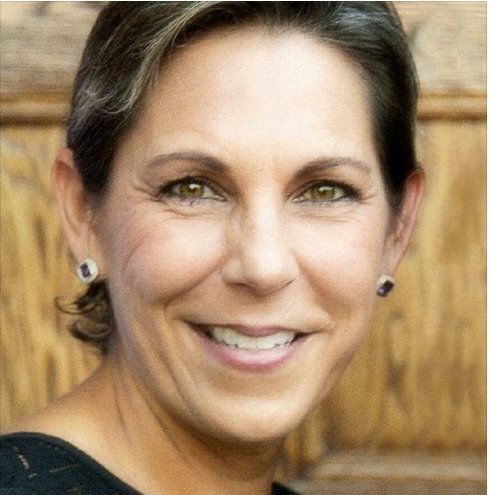 A candlelight vigil was held in Sherbrooke Park on Tuesday night March 21 to memorialize wife, mother, friend and community volunteer Michelle Hirsh. Friends gathered at her home on Pinecrest Road to share memories and offer condolences and respect to her family; husband Scott and children Madison and Jack.
Michelle fought a valiant battle against pancreatic cancer and survived 30 months before she passed away on Monday March 20 at the age of 50, just a month shy of her next birthday on April 22. She was diagnosed with stage 3 pancreatic cancer in September 23, 2014 and underwent many rounds of chemotherapy and ultimately had surgery in April 2016 to remove the tumor. She vowed to never give up and became an ardent support of the Lustgarten Foundation. Her goal was to raise $150,000 and a walk for her team will be held at Rye Playland Park on April 23. Watch a video of Michelle speaking here.
On Tuesday, hundreds gathered down the front path and along the driveway of her home which stands high on a hill above the neighborhood. The flickering candlelight created a beautiful tableau for a woman who requested that no funeral be held for her as she didn't want anyone to be sad.
Remembering her friend, Denise Koslowsky said: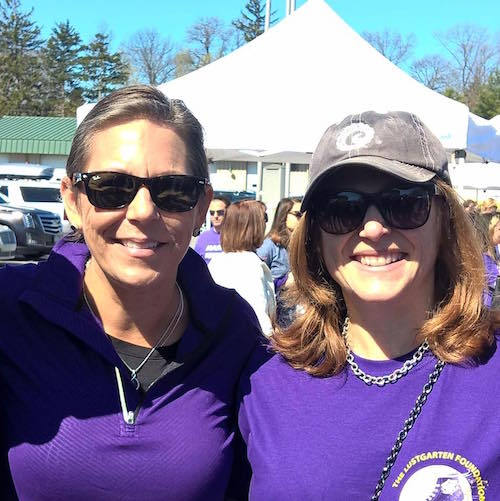 "Today the world is a little smaller and there is a little less light as we honor and remember a true Superstar Michelle Snayd Hirsh. Michelle did not want a funeral, because she did not want any of us to be sad. So I am going to try to not be sad while I say a few words about my friend, Michelle.
I adored Michelle from the minute I met her, and felt lucky that the Hirsh family blessed Scarsdale. Michelle quietly did for others and never ever asked for anything in return. She always had a big smile on her face, and whenever I was in her presence I felt special and valued. I suspect that everyone who knows Michelle felt exactly the same way. Michelle never wanted to be the center of attention. She flew under the radar and did not get caught up in the politics of Scarsdale. And, if you ask me she made the BEST jalepeno margaritas and guacamole on the East Coast!
Michelle loved her wine, and loved to break bread whenever possible. Nothing made me happier than walking by and seeing Scott Hirsh and Michelle in their Adirondack chairs in their driveway drinking a beer or a glass of wine, always with an invitation to share with a friend.
I learned from my friend - the importance of staying positive, the need to stay connected, and the meaning of commitment.
When that dreaded diagnosis of pancreatic cancer became a reality 2 1/2 years ago, Michelle stepped up to the plate and became a role model to us all. She reminded us of the importance of living life to its fullest and the power of positive thinking. Michelle reminded us that community matters, and why we need to rally around each other. I know her life was cut short, but I also know that it is a miracle that she lived with pancreatic cancer for 2 1/2 years. She never quit. While Michelle did not ask for much, she did ask for us all to support The Lustgarten Foundation and help to find a cure so that other lives are not cut short like hers.
To Madison Hirsh and Jack, the memory of your amazing, beautiful, strong, smart, organized, dedicated mother will live with you forever. To Scott Hirsh, you were the love of her life, and we all know she was the yin to your yang. You balanced each other perfectly.
In her memory, and to make her wishes come true, we light our candles and hold them high. I will miss our talks, and I will miss her smile, but I know you are smiling down on all of us."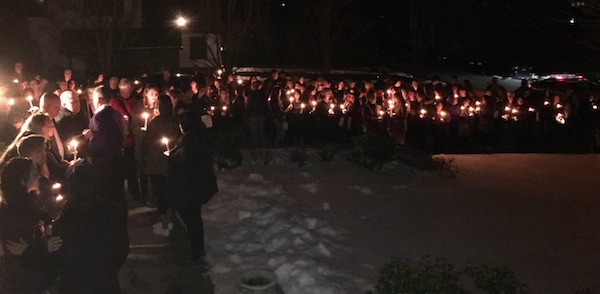 Neighbor and friend Anne Moretti added:
"Denise's comments were really beautiful and captured the essence of Michelle's passion for life and for her determination to help others, especially in their fight against pancreatic cancer. Michelle was one of the truly wonderful human beings who represented the best in all of us."
Meredith Alin also spoke at the vigil, saying: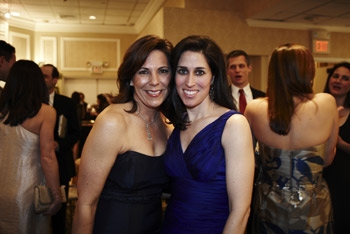 "I had a special relationship with Michelle Hirsh. But most of you did as well. She had a way of making every individual feel like she had a special connection with him or her. No matter her own struggles, even cancer, she always asked, listened and took an earnest interest in the issues that her friends were grappling with.
I met Michelle through the Junior League. My first years as an active member, I served on the JLCW Board with her. We became fast friends but friends based on substance. We would spend hours together at the cottage, talking about things that mattered while sharing many laughs. At the end of that year, a fellow board member and close friend of Michelle, Meggy Wagner, gave Michelle and I each a gift of a personalized notebook. My notebook proclaimed me the brains of the JLCW, a dubious honor. Michelle's proclaimed her the heart of the JLCW.
How accurate that was. Michelle really was the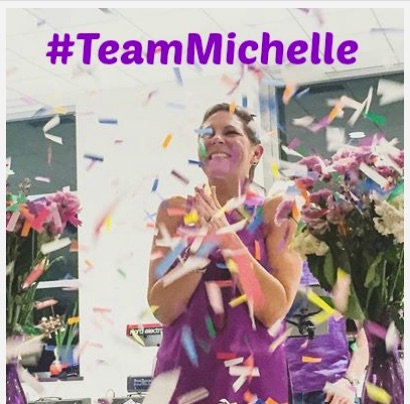 heart of her community. But in some ways she was the brains too. Michelle in reality was my advisor on matters concerning my kids, my marriage, my job and the JLCW. I am sure that she shared her wisdom with many of you. She always understood the human aspect of any situation. She stopped to consider what motivated people,, how decisions would impact other and how others would react to certain situations. She taught me stop and think about the ramifications of my decisions. She made me a better person and she made her community a better place.
I love her and will miss her."
A walk for pancreatic cancer research will be held on April 23rd at Rye Playland Park. Donations will go to the Lustgarten Foundation Sign up for Michelle's team and make your donation here.
Add a comment