Lights Won't Go Back On in Scarsdale Until Midnight on Wednesday
Published: Sunday, 30 October 2011 15:08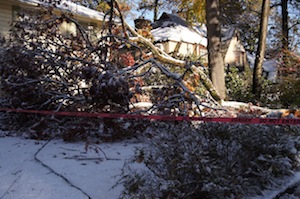 Here's the Sunday afternoon storm update:
As of Sunday afternoon at 3 pm, somewhere between 800-1,000 Scarsdale residents have been without power for almost 24 hours. Homes in Greenacres, Fox Meadow, Heathcote and Quaker Ridge are affected and as another cold night is approaching, everyone is asking when power will be restored. Scarsdale Mayor Miriam Flisser has just corroborated what the Con Edison website shows – Con Edison is not promising to restore power to Scarsdale until midnight on Wednesday, November 2nd!
Why? According to Mayor Miriam Flisser who had a 2 pm conference call with
Dan Lyons, public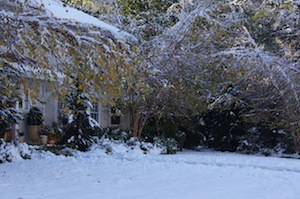 affairs manager of Con Ed, Con Ed is still assessing the damage in our area. In Westchester County about 70,000 customers are without power and Con Edison will establish public safety first and then prioritize repairs. Circuits with the largest damage areas will be restored first with individual outages assigned secondary priority.
Scarsdale, have been assigned local emergency liaison personnel to coordinate the restoration-- and crews have been called in from Pennsylvania, North Carolina, Virginia and Maryland to assist.
That doesn't explain why some customers in Edgemont already have their power back on or why Scarsdale does not have a single crew at work now. In an email from Greenburgh Police Chief Jospeh Decarlo at 4 pm on Sunday, he says, "Con Edison has restored power to several areas and will continue to work through the night." Similar to the March, 2010 storm, while power was restored in Greenburgh, Scarsdale waited for crews to begin repairing power lines.
No information is available yet about the status of the schools and whether or not they will be open tomorrow. We will continue to post any updates we receive.
If you have storm photos to share, please forward them to scarsdalecomments@gmail.com and we'll post them on Scarsdale10583.