Breaking News: Spencer Place Business Burglarized, Suspect in Stolen Car Caught after Foot Pursuit
Details

Category: Today's News
Published:

03 June 2020

Written by

Traci Dutton Ludwig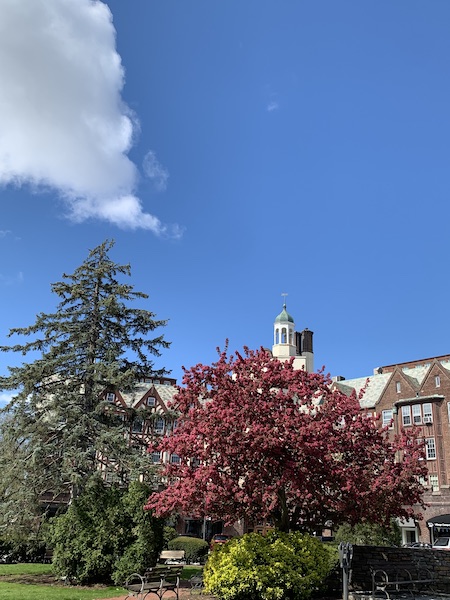 On June 3, at 12:15 a.m., police were informed of a burglar alarm activation from a Spencer Place business. Upon arrival, Scarsdale policed officers found that the business had been entered via a broken window in a door. It was determined that cash and a small amount of property were taken. There wa no other damage observed and the suspects were not longer at the scene. Police checked the surrounding area for suspects or any other signs of criminality, but the search yielded negative results. Scarsdale detectives are currently investigating this incident. Detectives ask for anyone with further information related to this incident to please contact the Scarsdale Police Investigations Section at 914-722-1200.
Suspect Caught After Car Chase
At approximately 3:15 p.m., May 27, police responded to the intersection of Mamaroneck and Post roads to assist White Plains police with the pursuit of a confirmed stolen car. Upon arrival, police from both departments attempted a coordinated felony stop. This resulted in the driver fleeing, by car, on Post Road to Rugby Lane, with patrol cars close behind. While pursuing the car, police noted that the driver had a "wanton disregard for his safety and the safety of others." As the car increased it speed on Cooper Road, the direct police pursuit was terminated due to safety risks far outweighing any possible benefits, according to police. Instead, other police cars continued, without lights and sirens, to the intersection of Cooper and Murray Hill roads. Police located the suspect's stolen car on Murray Hill Road and began searching for the suspect, who had apparently fled by foot. Murray Hill Road residents told police they had witnessed the suspect heading in the direction of Dolma Road. Helicopter and K-9 tracking dog units were brought in to assist with the search. An electronic bulletin was sent our to Village residents warning them to avoid the area where the police matter was unfolding. At 4:41 p.m., police apprehended the suspect and took him into custody. One minute later, White Plains police officers arrived and custody was transferred to them. White Plains police took possession of the stolen car and took the suspect to WPPD headquarters to process his arrest.
Stolen
On May 30, a caller reported her son left his iPhone unattended for approximately five minutes at a gazebo located at Brewster and Olmsted roads. During this time, someone stole the phone and powered it off.
ID theft
On May 28, a Lawrence Road resident reported he was a victim of identity theft. After receiving a text alert about activity with his bank accounts at an out-of-state bank, he discovered that an unknown person had made four fraudulent in-person withdrawals totaling almost $20,000. In addition, on May 28, when the resident attempted to use his cell phone, it was unable to make outgoing calls. Investigation revealed that a new SIM card had been fraudulently issued for his phone number, and the old SIM card had been deactivated. The resident notified his phone company and bank about the fraudulent activity and closed his accounts.
Hypodermic needles, vaping paraphernalia
On May 25, a resident reported a hypodermic needle on a Johnson Road driveway. Police collected the syringe and took it to Scarsdale Volunteer Ambulance Corps for safe disposal.
On May 28, a Boulevard resident discovered an unknown object in his yard. Police determined it was the battery compartment and liquid container from a broken vape pen. Police took the found components of the pen for disposal.
Car break-ins
On May 25, a Walworth Ave. man reported that his doorbell camera detected two masked individuals wearing hooded sweatshirts attempt to open the door of a parked car in his driveway at approximately 4 a.m., May 25.
Police called a tow for a motorist with a disabled car on Secor Road May 29.
Death
A 92-year-old Coralyn Road person died at home May 25.
Dispute
On May 31, police intervened in a tenant versus tenant dispute on Post Road. According to the report, the tenants engaged in a verbal argument and were having trouble getting along. Police advised them to stay away from each other, which they did.
Suspicious call
A Chase Road storeowner received a call that he felt was suspicious and asked police to stand by while he closed his store May 28. The suspicious call originated from the Bronx and involved a caller who inquired about merchandise not offered at the store, as well as store closing hours.
Suspicious behavior
On May 31, a Sherbrooke Road woman reported someone was taking pictures of her house from the street. Her kids were playing in the yard, so she was especially concerned. The person who took the pictures was described as a man wearing blue basketball shorts, a long-sleeved blue shirt and sneakers. He fled the scene on foot toward Heathcote Road.
Social media
A Wildwood Road man reported an old acquaintance was harassing him on Facebook May 31. The acquaintance apparently made a comment on one of the man's posts, and the man did not like what she wrote. He said he hadn't seen or spoken with the acquaintance for approximately 25 years. Police advised him to cease communication with the acquaintance.
Help
Police checked the welfare of a Johnson Road resident May 29. The resident was ok.
Bicyclist
On May 30, a driver reported that he got into a verbal altercation with a bicyclist at Popham Road and East Parkway. The bicyclist got angry, dismounted his bicycle and intentionally kicked the driver's car. Then, the bicyclist fled the scene. The driver wished to report the matter in case he decided to file a claim with his insurance company.
Cars and roadways
On May 25, the water department was notified about pooling water on Griffen Avenue.
Police notified Verizon about a fallen wire on Walworth Avenue and branches on wires on Butler Road May 26.
Police removed a fallen cable wire from a Post Road sidewalk May 27. The cable provider was notified.
Police removed a large tree limb from the roadway on Johnson Road and notified the highway department for pickup May 30.
No car accidents were reported in the Village this week.
Pandemic restrictions
On May 31, police dispersed a group of kids from playing basketball on Edgewood School grounds.
Village code
On May 27, police instructed youth to stop fishing in a pond located behind the Scarsdale library on Olmsted Road.
Neighbors complained about a generator running from 7 am to 8 am on White Road, in order to power work being performed inside a garage May 29. Police cautioned workers about permitted work times, and they turned off the generator.
Workers were using a jackhammer at an Aspen Road construction site prior to 10 a.m. on May 30, a weekend. This was in violation of Village code. Police informed the workers about Village code, and they stopped using the jackhammer and apologized.
Police advised a Tory Lane man he must first obtain a permit from Village Hall before cutting down a tree on is property May 30. The man claimed the tree was dead, but police determined the tree was not an immediate hazard.
After a neighbor complained about noise May 30, police advised a Secor Road resident to keep the noise level down at his house.
Dogs
A caller reported a dead dog on Heathcote Road May 25. Responding officers instead saw a dead opossum by the side of the road and alerted the highway department for removal.
A dog owner reported another woman got into a verbal argument with her while she was walking her dog on Garth Road May 25. The other woman accused the dog owner of walking her dog off-leash, which the dog owner said was not the case. The other woman was gone when police arrived.
Animals
A Bradford Road resident called a trapper about a baby deer that she saw on her property May 26. She also called police.
A man was trying to catch a possibly injured squirrel on Lee Road May 30. Police attempted to provide trappers' contact information, but the man declined. While police were still on scene, the squirrel ran away.
Lost and found
Police found a set of keys at Heathcote Road and Weaver Street May 31. They vouchered them for safekeeping at headquarters.
Firefighters
On May 25, firefighters investigating a Carthage Road carbon monoxide incident detected that a gas-powered pressure washer had been used in close proximity to the house.
On May 26, firefighters stood by for Con Edison at a Mamaroneck Road site where a contractor unearthed a gas line while digging up a root ball.
On May 29, firefighters assisted Greenville Fire Department with an incident involving smoke in the basement of an Ardsley Road house.
On May 30, firefighters assisted Hartsdale Fire Department with an incident involving smoke in the bathroom of a Clements Place structure.
On May 31, a car battery was producing excessive heat and scorch marks inside the engine compartment of a car that was stopped at Fenimore and Fox Meadow roads.
On May 31, a battery overheated in a car on Fox Meadow Road. When firefighters arrived, the hood was up with no visible smoke. Upon investigation, firefighters found a burnt wire and excessive heat in the engine compartment. Firefighters used water from a hose to cool the wire and engine compartment. They disconnected the battery, but soon determined that it, along with the starter motor, was holding excessive heat. They used approximately 50 gallons of water to attempt to cool the battery and starter motor. They determined that this was successful in cooling the starter motor but realized the battery was still retaining heat and producing visible scorch marks. Firefighters removed the battery, placed it on the ground, turned it on its side and flushed it with approximately 150 gallons of water. This succeeded in stopping the heat. The cooled battery was returned to the engine compartment, and the car was towed away.
This report covering police and fire department activity from May 25-31 has been compiled from official information.

This police report is sponsored by Scarsdale Security who does more than just security. Contact them about remote video for your home or business. Call 914-722-2200 or visit their website.
Think Before You Link: Let's Reconsider Our Social Media Responses to Racial Violence
Details

Category: Around Town
Published:

03 June 2020

Written by

Carly Glickenhaus We, the digital population, need to be careful about reducing the complexity of systemic racism into a 1080 x 566 pixel rectangle. We have to do a lot better.
"Blackout Tuesday" was intended as an expression of solidarity with the Black Lives Matter movement and an opportunity to go "silent" on social media to reflect on George Floyd's murder. However, it appears the deluded two-dimensional virality distracted from opportunities to prompt collective human reflection and invite a broader call to action. To assuage the guilt of generational passivity, thousands "checked the box" on activism posting their black box. If we are so desperate to prove our morality to our followers, we will likely forget to consider how we can play a more meaningful, lasting role to create peace, justice, and safety in any slice of our nation we can reach.
Like so many of our nation's wounds, the answer appears simple, but the solution is complicated. The answer: many Americans face fear, violence, and hate in a pervasive reality that other Americans do not want to see up close. The solution: is anywhere but Instagram.
Instagram can be an admirably powerful tool for organizing, educating, communicating, and growing awareness. The risk is if we fall short on execution and mindful intent. In the filter bubble of my predominantly white private institution, kind, caring souls post and repost lists and lists, lists of more lists of articles, quotes, pictures, poems, books, and Spotify playlists. While sincere, I can't help but question the longevity and impact of that mass quantity of content: in short, please only post that list if you really have read those books. If our primary reactions to racial violence come in the shape of cowardly craving for instant gratification, we are in danger of neglecting tangible steps toward social justice. Piecemeal, distant sharing seems to exonerate the digital citizen from having to feel and experience a hidden, ugly truth that only periodically resurfaces in unspeakable tragedy.
I appreciate that hearts are in the right place and intentions are pure, but that does not certify white allies to speak over leaders of color on social platforms. I urge my digital comrades to think before you link. Let's habitually ask ourselves, is my black box really me listening? How have I listened better as a result? The inescapable noise of largely unqualified white voices on social media may undermine the very goal of this social movement to empower voices of color. Social media is a hard place to listen and not speak, so we should consider migrating to face-to-face (or phone-to-phone) direct, intimate conversations on race. We need to look beyond the surface of Instagram to reflect on how we can each best use our voice and platform for enduring justice. In our hasty self-branding, we may have forgotten the pandemic disproportionately afflicting communities of color. Amongst a thousand actionable ideas, maybe become a contact tracer, register to vote, call your local elected officials, write your state representatives, have an uncomfortable conversation, take the implicit bias test, or think about how you can orient your studies or career towards a more equitable world. We owe communities of color a more permanent commitment in our own lives; we owe this world a more careful reflection on how we engage with it.
It is human nature that we are tempted to insert ourselves into the narrative unfolding around us, to make sense of it by tying up the questions and emotions in a neat bow, then to flash it to our followers to signal some degree of ethical enlightenment, respect, and intelligence. A signature and a donation may count toward some marginal illusion of change, but this comes at the risk of complacency. Once we click, repost, sign, like, comment, I fear we close our phones and move on. When "Blackout Tuesday" content is no longer trending, we feel like we have done our part already. We pick back up with whatever concerned us before, because many white observers' very public shock distinguished this week from normal life. Collapsing the history of American racial violence into our regular reflexive regurgitation of Instagram electrons impedes us from integrating this pain and suffering into normal life. Instead, let's try to find the part we can play in something so much bigger than ourselves.
Carly Glickenhaus is a 2020 Georgetown University graduate, student-athlete, and tour guide, with hopes for a generation of human reflection and conversation on race and justice that take us beyond our screens.
Vigil Called Off In Bronxville
Details

Category: On Our Radar
Published:

01 June 2020

Written by

Joanne Wallenstein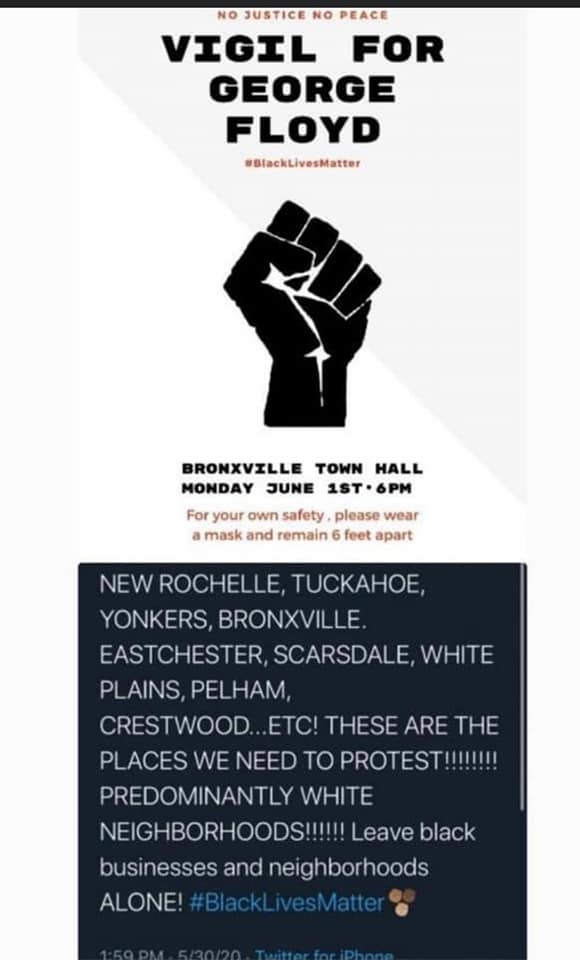 A call for a vigil in Bronxville for George Floyd sponsored by Black Lives Matter on June 1 set off fears of demonstrations and potential violence in Southern Westchester. The post at left appeared on Facebook during the afternoon and residents were worried that the trouble they see on television was coming their way.
The post showed a black fist and said, "Bronxville Town Hall, Monday June 1, 6 pm. For your own safety please wear a mask and remain 6 feet apart."
Underneath it read, "New Rochelle, Tuckahoe, Yonkers, Bronxville, Eastchester, Scarsdale, White Plains, Pelham, Crestwood etc! These are the places we need to protest!!!!! Predominantly white neighborhoods. Leave black businesses and neighborhoods ALONE."
A twitter post showed signs that read "A call to action" posted in Bronxville. The signs gave instructions on how to protest George Floyd's death. A subsequent Twitter post said that the vigil was cancelled, and photos of boarded up restaurants were posted.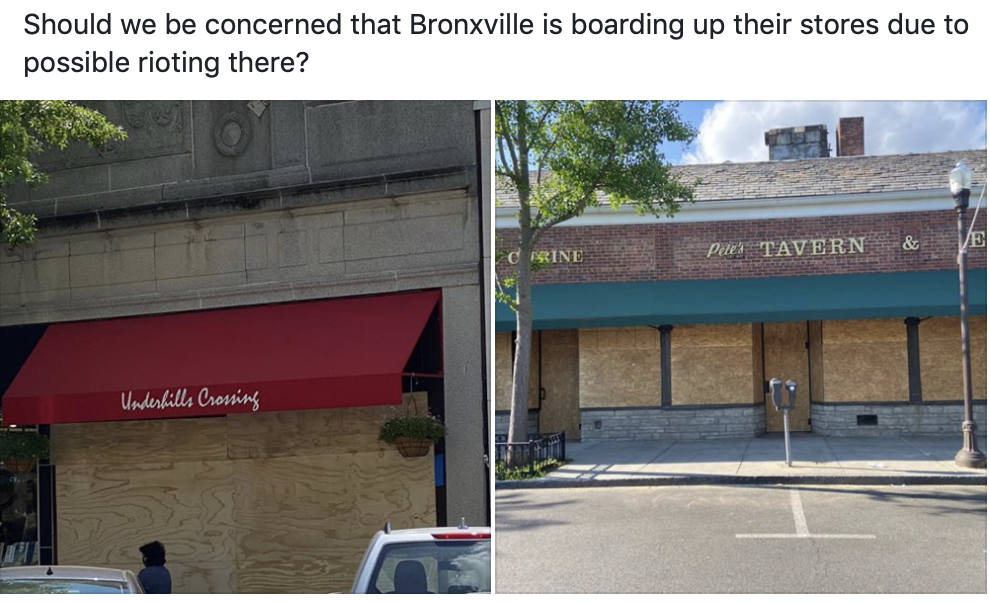 A Facebook post from Bronxville Police Chief Christopher Satriale said, "The Bronxville Police Department and our partners are committed to keeping the Village safe this evening.
At 8 pm, Scarsdale Village Trustee Justin Arest sought to put the matter to rest, and posted the following on Facebook: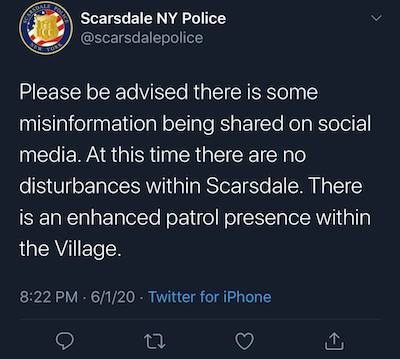 However, it's clear that police were concerned because they stepped up their patrol of the Village.
An email to Scarsdale Police Chief Andrew Matturro was not answered. If you know more about this, please email us at Scarsdalecomments@gmail.com, or comment below.
School Board Candidates Share Perspectives at LWVS Forum

(Top) Leah Dembitzer, Bob Klein, Sheila Miller Bernson, (Bottom) Mayra Kirkendall-Rodriguez, Amber YusufOn Sunday night May 31 the three candidates for Scarsdale School Board met for Scarsdale's first candidates' forum held on Zoom, as Scarsdale's first school board and budget vote by mail was in process in Scarsdale. The forum was sponsored by the League of Women Voters of Scarsdale who reported that 150 viewers logged on to watch the live event. The event was recorded and can be viewed here.

The three candidates, Mayra Kirkendall-Rodriguez, Bob Klein and Amber Yusuf are vying for two seats on the school board. Klein and Yusuf were nominated by the School Board Nominating Committee, a non-partisan group of 30 elected nominators who seek out, evaluate and vet candidates. Kirkendall-Rodriguez is running as an independent candidate. The two candidates with the most votes will win the seats of current Board of Education members Chris Morin and Scott Silberfein who will complete six years of service on the Board in June.
After an introduction from League President Leah Dembitzer, the candidates presented their qualifications and answered nine questions posed but the League and audience. In a very congenial event, the candidates appeared to agree on far more than they disagreed. They all support the proposed 2020-21 school budget that is also on the ballot, and all agreed that the current school board did a good job pivoting this spring, when the economic challenges posed by the COVID crisis caused them to revise and reduce the proposed 2020-21 budget.
In opening statements the three showcased their qualifications for the job. Kirkendall-Rodriguez stressed her financial acumen and academic resume, Yusuf highlighted her leadership qualifications and experience as a volunteer in the schools and Klein, a semi-retired architect discussed his ability to analyze and weigh information, and act in a fiscally prudent manner.
Each candidate was given the opportunity to respond to nine questions posed by the League and the public in rotating order. All three candidates demonstrated awareness of the current issues before the Board of Education.
The candidates were asked how they would approach a situation that may soon be faced by the actual board of education. The moderator posed the following scenario, "A sharply divided board and community is considering a bond to build cafeterias at Fox Meadow and Edgewood, to install air conditioning at the schools, and to complete the renovation work on the auditorium," and asked, "How should the board move forward?"
Calling on his professional experience, Klein said "as an architect that question is clearly within my comfort zone. He said that the board, "needs good consultants to get accurate numbers." He said he would, "Define the problem, gather data and make a decision… and have a transparent process and gain consensus." Once they had the relevant facts, he said the board should "weigh priorities and make a decision."
Kirkendall-Rodriguez related this question to the decision to the one about renovating or building a school at Greenacres and said, "Let's set up the metrics. Let's hold a meeting at Village Hall to get all the people in the room…. I don't think we should be afraid of disagreement…. diversity makes us stronger." She cautioned, "I would be very careful with consultants. There has to be a framework for vetting consultants to make sure they deliver in a timely and cost-efficient manner."
Yusuf took another approach. She said, "Why is the board divided? Are they divided on the prioritization of the projects? … Where do the differences lie?" "I would like to get feedback from the stakeholders in the community … We need to have inclusive discussions… and hopefully come to an agreement on what should be the priorities for a bond."
To a question about improving collaboration between the school and the village boards Yusuf cited recent collaboration between the two boards on the installation of lights at Butler Field. She said, "The High School parking lot often floods and that is owned by the Village. They are sharing the tennis courts at the middle school and the Greenacres playground. Regular communications would be helpful."
Klein said, "The key here is trust and communication. Attending Village meetings to show an interest is important. Payment of school taxes (in two installments) is an example of a successful collaboration."
Krikendall-Rodriguez emphasized her involvement. She said, "For six years I have regularly attended Board of Education and Board of Trustee meetings. One suggestion is for both boards to meet more frequently in Village Hall or at the high school so that everyone can attend. I would suggest more shared services…. Freightway is an example where the two board need to work together.… installment billing of taxes will be great for our residents. Traffic is another area for collaboration."
Responding to a question on building consensus regarding fiscal matters and budgeting Kirkendall-Rodriguez said, "We need to go out to reach the community in different ways… to
get everyone from newcomers to empty nesters. I would go to the train station from 5:30am- 10 am and also sit in front of DeCiccos. We need to get all these views and hear all of these voices. It is easier to build consensus. We need to go to where the people are – we can't wait for them to come to us."
Yusuf said, "Building consensus means listening to other viewpoints, being respectful and collaborating. When I was the PT Council President, safety was an issue. I listened to everyone's viewpoints and respected their views. We need to speak to everyone so that we can come up with the best plan."
Klein said "One of the core attributes we are looking for in a board member is the ability to build consensus and be part of a team. You do this by being thorough in your listening skills, not having an agenda and being open minded. The key here is for the board to demonstrate sincere interest and a process for data gathering. We want people to understand that we're being thorough."
One of the lighter moments in the forum were the answers to the question, "What are 3 adjectives your children would use to describe you and are they right?"
Klein quoted a letter of recommendation his son had written for him that called him "patient and curious," and said he could "be a lot of fun." He said, "These are all good attributes and I am open minded as well."
Kirkendall-Rodriguez said her kids would call her a "great cook" and said she has been very inventive during the crisis. They would also call her "a jaguar mom" as she is "emphatic about how they do their homework." In addition, she is "linguistic and talkative," as she speaks to the children in Spanish and has also has them enrolled in Chinese classes. Fourth, she said they would describe her as "loving."
Yusuf said her kids would call her "organized" as she likes to get things done and does not like procrastinating. She is also "chatty" and engages with people who she meets around town. She is "loving" and said she likes "to help people and to give advice" She added, "It gives me great joy."
A question was posed about the candidates' recommendations for developing a long-range facilities plan:
Klein said, "There is already a long-range plan underway. You need to hire the right consultants.
The first step is to know what you've got. He quoted Teddy Roosevelt who said, "The first thing is to know how many trees I have …. (he continued) The better your information, the more nimble you are…. as someone who did this for a living, you need a professional to create that timeline and provide information."
Kirkendall recommended getting more community involvement. She would "talk to the stakeholders who are in the schools." She recommended setting us a committee, including "empty nesters who can see why the money is being spent." She said, "Do an inventory of the facilities and the building conditions and marry the facilities plan with a long-term financial plan." She said, "We need master facilities plan along with financial plan and model."
Yusuf said, "The District does a building conditions survey every couple of years. I was on the building level committee for Heathcote for the last plan. There was a district level committee that rolled up this information. Get out to the community and explain the projects… and then work on the budget."
In closing statements the candidates said the following:
Bob Klein
"Here are four facts to know about Bob Klein….
-I offer a new perspective. The board needs to be diverse both professionally, culturally, intellectually… The more views you get the better the outcome is.
-I am an empty nester on a fixed income.
-I am an active volunteer and helped found "Neighbors for Refugees" to help refugees get re-settled in Westchester.
-I am semi-retired and have the time to do this. It is almost a part time job. "
Amber Yusuf
"I hope you can see now why I am so enthusiastic about having the opportunity to serve as trustee on the Board of Education. For the last 10 years my volunteer experience has been around education in the Scarsdale Schools. Most recently as PTC President I had the opportunity to work directly with the district cabinet, the board and Dr. Hagerman. After I finished my years as PTC President, I took a year off to evaluate what I should do next. I discovered that education was my passion and where I wanted to spend my time. I made a thoughtful and deliberate decision to apply to the SBNC to be a candidate for the Board of Education and I am honored to be nominated by the SBNC."
Mayra Kirkendall-Rodriguez
My whole life I have been a member of a team. I am one of 15 children…. having to work things out is in my genes. I have worked in over 30 countries in six different languages. I worked and participated in conflict resolution courses at Hebrew University because I am a Raoul Wallenberg Scholar. As an MBA from Wharton, it's all about working on teams. I worked with lots or different people in Scarsdale whether it's cleaning up for the cub scouts or generating newsletters at the Old Scarsdale Neighborhood Association. Right now, our children's challenges know no borders. We are going to have to reimagine what a global education should be in Scarsdale. Our students can be leaders can be leaders in global economic and health initiatives. I believe in teaching our children gratitude because there are millions around the world who couldn't even imagine, much less have, such a great school system."
If you missed it, you can watch the recorded candidate forum on the League website (www.lwvs.org) or at this link -
Your ballot must be received by mail by the district office by June 9th.
Rocah Calls for Meaningful Reform and Transparency to Combat Police Brutality
Details

Category: Neighborhood News
Published:

01 June 2020

Written by

Joanne Wallenstein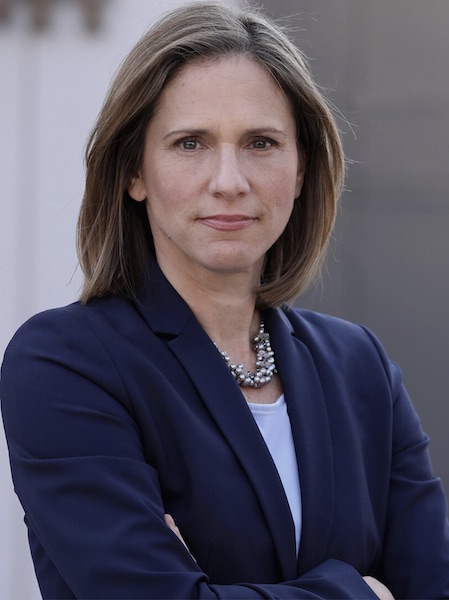 Scarsdale's Mimi Rocah is running in the Democratic primary in Westchester County for District Attorney against incumbent Anthony Scarpino. With Black Lives Matter protests sweeping the country, the issue of police brutality and accountability cannot be more relevant.
We asked Rocah for her views on the demonstrations and police misconduct and here is what she said:
"My basic view is that the murder of George Floyd was horrific and all four officers should be charged and held accountable more swiftly than we've seen. I am encouraged by law enforcement speaking out against this brutality and I will be a DA that will help lead change from within of this system that has tolerated police abuse for too long."
Rocah just released a plan today, "Right Side of Justice Agenda," which calls for meaningful reforms and transparency to address police brutality. Read about it below and see more here.
Here is the press release:
Meaningful change needs to come from within the criminal justice system. I call on all law enforcement partners — police and prosecutors — to start dealing with this problem head-on in an open, honest, and transparent way."
Mimi Rocah, the 16-year federal prosecutor running for Westchester District Attorney, today released a comprehensive plan to address police misconduct and proactively build stronger relations between the police and the communities they serve.
As the nation grapples with the horrific murder of George Floyd, the latest police killing of an unarmed person of color, Rocah said that real reform is needed to address the systemic problems exposed by the killings.
"As someone who served as a prosecutor for 16 years, I have had the privilege of working with many good officers who truly believe in the work they do to keep our communities safe," said Rocah. "But every time even one officer commits an act of unjustified violence, it tears at the moral fabric of our society, it makes communities of color feel threatened and unprotected, and it harms law enforcement by ratcheting up distrust and anger toward our criminal justice system. There needs to be meaningful change and the change needs to come from within the criminal justice system. I call on all law enforcement partners — police and prosecutors — to start dealing with this problem head-on in an open, honest, and transparent way. To me, the biggest sign of hope since Mr. Floyd's killing has been the unprecedented number of police and prosecutors around the country who are together speaking out, taking a knee, or marching peacefully with protesters in unity."
The delayed arrest of one of the officers who murdered George Floyd, no action taken against the other officers, and a charging document full of unnecessary prejudicial information about the victim, have made an already volatile situation worse, Rocah said. Acknowledging racial disparities within our criminal justice system and creating real systems to hold police accountable are important steps toward a longer mission of rebuilding community trust.
"African Americans make up just 14% of Westchester County, but 59% of those sentenced to prison. Is it any surprise that people of color feel targeted by our criminal justice system instead of protected by it?" said Rocah. "No one can be above the law, especially those entrusted and empowered to enforce the law with lethal force. We must have systems of oversight that work for everyone, from the police to the communities they serve."
Rocah's "Right Side of Justice" Agenda," which was developed after multiple conversations with community members, faith leaders, police officers, criminal justice reform advocates, and elected leaders, includes:
Independent investigations of all police-involved fatalities and injuries, and independent prosecutions when laws have been broken.
Zero tolerance for police brutality of any kind, with perpetrators being prosecuted to the full extent of the law.
Working with local police departments to develop comprehensive policies on the use of force that include training, investigations, prosecutions, data collection, and information sharing.
Support a county-wide independent oversight structure to identify and track officers with a history of misconduct allegations, to be applied across all local police agencies so that officers credibly accused of misconduct are not re-hired by another department.
Require all police officers to wear body cameras and promptly release body camera footage to the degree possible.
Work with police to include better training on de-escalation and alternatives to arrest when appropriate.
Partner with police departments to reinstate and prioritize community policing programs that involve partnerships with and working with community-based groups.
Refuse campaign donations from police unions.
Explore alternative first-responder programs in cases where individuals are experiencing mental health crises that can be better addressed by medical professionals.
Full transparency of policies, protocols, and agreements regarding officer-involved incidents available for public review, and public reporting on all investigations, prosecutions, and dispositions of misconduct allegations.
Routine release of list of officers found to have Adverse Credibility determinations.
Mandatory and regular implicit and explicit bias training for all police officers and ADAs.
Implementation of victim-driven restorative justice, which prioritizes the needs of victims and holds offenders accountable.
Establish the county's first Conviction Integrity Unit that will independently conduct internal audits of evidence and department procedures to reveal mistakes or misconduct that warrant a review of all cases affected.
Partner with police agencies across the County to establish higher training standards for police.
"Police officers are an essential part of our criminal justice system. But we need them to do their job as professionals, to be active partners in de-escalating violence and conflict, and to build trust with the communities they serve. We need law enforcement to be leaders in the solution to the crisis of confidence we currently have," said Rocah.
The election is this month. Registered voters can request an absentee ballot and vote by mail or in person on June 23, 2020.