Sixth Annual Galaxy Forum at SHS
Published: Tuesday, 27 September 2016 11:15
Heather Gilchriest Meili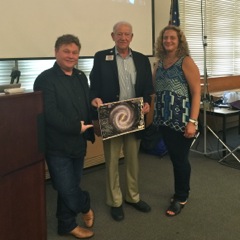 Under the supervision of SHS Science Department Chair Nicole Pisano, approximately 200 students from the Biology, Geology, Earth Sciences, and Physics classes attended the 6th Annual Galaxy Forum on Friday morning September 23rd in the Little Theater.
SHS Distinguished Alumnus Steve Durst, '61, of the International Lunar Observation Association (ILOA), was back in his hometown both to celebrate his 55th reunion and to introduce featured speaker Dr. Robert Richards.
Dr. Richards is co-founder of the International Space University in Strasbourg, France, and CEO of Moon Express Inc, a leading competitor to win the $30 million Google Lunar XPrize in 2017.
He began by asking the students to envision what they could imagine having accomplished 55 years after their own high school graduations and then, in his presentation titled "Creating Your Future: Peace Through Space," described for them an exciting view of the emerging era of democratized space exploration.
Pointing out that our moon contains vast reserves of the sought-after resources that create "the phones in your pockets," Dr. Richards introduced the idea of the moon as our eighth continent, complete with the essential element of water in ice form at its poles which gives it the potential to be our "gas station in the sky" for hydrogen peroxide rocket fuel. His current "Moon Express" project is intended as a step toward expanding earth's economic zone outward to the moon and beyond, unlocking its resources for the benefit of humanity.
One student asked Dr. Richards how his proposed landing site on the moon's south pole compares to the site of the previous U.S. moon landings. He explained that the moon's equator was an easier surface for landing while the pole is rocky and mountainous. A parachute landing won't work there; instead the craft will require a technically more difficult landing plan involving rockets to land it securely.
Dr. Richards urged students to get involved in space exploration initiatives such as SEDS USA (Students for the Exploration and Development of Space). Until recently, space exploration was the sole province of global superpowers, but today even high school student groups can build commercially available CubeSat projects with the opportunity to have them launched by NASA. He also invited the school to make a trip to Florida for a unique behind-the-scenes tour of Cape Canaveral and his work there with Moon Express. In conclusion, he challenged the student audience: "What is the best way to predict the future? Create it yourself."