Hot Cocoa for a Cause
Published: Wednesday, 29 January 2014 16:10
Joanne Wallenstein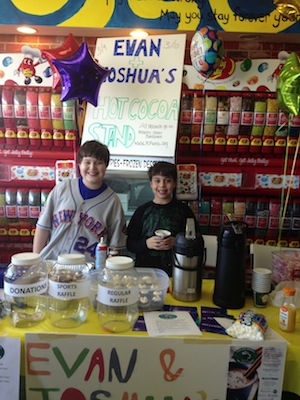 When Evan Greenberg was five years old, he wanted to have a Hot Cocoa Stand for people who were cold. While his parents just assumed he would forget the idea, Evan stuck with his plan and after building a stand out of a box from one of his holiday presents, addressing letters to his neighbors (as best as a 5 year old could do) and enlisting his fellow kindergarteners to help out, Evan and Joshua's (Evan's little brother) Hot Cocoa Stand launched like many good ideas do, out of his garage. Eight years later, Evan and Joshua's Hot Cocoa Stand is now a major production and has raised over $10,000 for charities, mainly the Pediatric Cancer Foundation. For the last three years it has been held out of All Good Things in the Golden Horseshoe in Scarsdale with the Mamaroneck and Scarsdale communities embracing the effort. Besides hot cocoa, donated by Chocolations in Mamaroneck and made by his Dad, the aptly nicknamed CCO (Chief Cocoa Officer), baked goods and ice cream are served and there are also raffles, with NY area sports teams, such as the Rangers, Giants, Jets and Mets donating items and raffles from Scarsdale stores including Cheryl's Closet, Infinity, All Good Things, Rothmans, Beginnings and more. This year, a number of stores are even getting more involved by donating a percentage of their weekend proceeds to the Hot Cocoa Stand. Cheryl's Closet, Infinity and All Good Things are all on board with this generous offer.
Now that Evan is almost 13 and Josh is 10 they really take this seriously. With Evan's Bar Mitzvah coming up in March, his parents suggested that he skip the Cocoa Stand thisyear, but Evan refused. The boys know that the money goes to a great cause and didn't want to stop.
This year's event will be held February 8thand 9th from 11-5 at All Good Things, in the Golden Horseshoe Shopping Center at 1074 Wilmot Road.
For those who can't make it but would still like to contribute, please visit the Pediatric Cancer Foundation website where a page has been set up to collect donations.