A-Schoolers Experience the World of Work
Published: Monday, 06 February 2017 07:58
Josie Blatt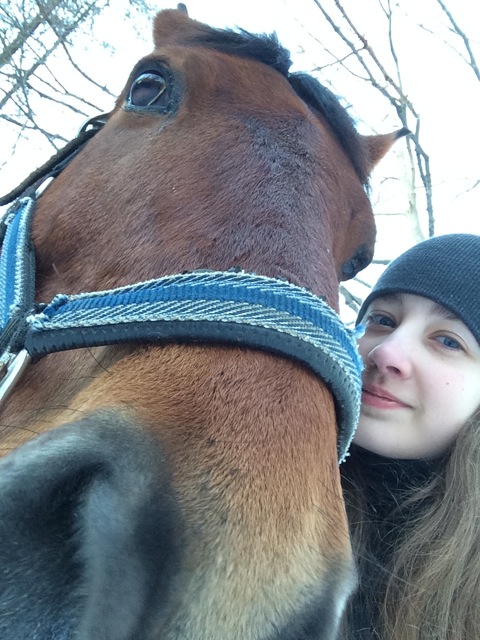 Scarsdale's A Schoolers got a taste of the working world in January when they left the classroom to pursue internships at businesses and non-profits. The Scarsdale Alternative School Internship Program was created in 1973 to give students hands on experience in the workforce and to increase student freedom and responsibility. A-School classes are suspended during the month of January to allow time for students to complete an internship. Thirty-five hours of work per week are required, but the more regular high school (non A-School) classes a student takes, the more hours they subtract from that required number. A-Schoolers participate in a wide variety of internships.
For her internship this year, Lindsay Donat '19 worked at Endeavor Therapeutic Horsemanship, a non-profit in Mount Kisco that uses horses to help people with special needs. Lindsay noted, "One cool thing I've learned from my internship is that after interacting with a horse just once, that horse will remember you for up to five years."
Hannah Spitzer '18 shadowed a surgeon for her internship. She loved her internship, and now knows that she would like to be a doctor: "I have always been interested in the medical field but now I definitely want to be a doctor. The doctor I have had the privilege of shadowing helps so many people and for all the right reasons. Everyone there is so genuine and they all truly care for their patients. They have demonstrated how important empathy is in the medical field and how much good a doctor can do. I leave internship everyday so happy and excited for the next day and hope that one day this could be my job."
Alex Wilson '19 worked with a charity in New York City called Girls Write Now that mentors underprivileged high school girls to help them go to college and become writers. Alex, like many A-Schoolers, commuted on the train to Manhattan every day. Alex said, "I definitely learned a lot about independence; it's the weirdest feeling to commute with adults and my friends' parents on the train, but I like the sense of freedom that comes with it."
For his internship, Evan Braun '18 worked at the JCC Mid-Westchester in Scarsdale, a nonprofit organization dedicated to enriching the community by providing cultural, social, educational and recreational/fitness programs, human services and Jewish identity-building opportunities to people of all ages, backgrounds, religions, or sexual orientation. This internship allowed Evan to work in a wide variety of fields: "What I love with my internship is that I have so many areas to work in which allows me to interact with different types of people, and learn many new things. At the JCC have interacted with people whose ages range from three to ninety."
Hannah Glickenhaus '18 worked at the popular Levain Bakery in Harlem. Many A-Schoolers, like Hannah, consider turning their internship into a job after the month of January is over. Hannah said, "I am considering getting a job at the bakery over the summer! I am very interested in fashion merchandising, and I have been trying to get an internship doing that, but being able to merchandise for a bakery has been a wonderful experience too!"
Camila Tardiff '18 worked at the Sandbox Theater in Mamaroneck. Camila loves working with kids, acting, and directing, and has learned several new skills in each of those fields. She noted, "I have learned a lot of new directing skills; for example, a director needs to be able to be extremely flexible with the number of cast members, size of the stage, the amount of set pieces being placed on stage during specific scenes, and the amount of time the director has to rehearse the show."
Chloe Gold '17 worked at the Doughnut Project, a doughnut shop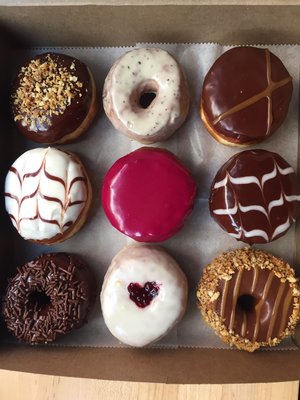 in Manhattan. Chloe discussed the cooperation between small businesses in NYC: "I learned about how the surrounding businesses in NYC really care for each other. My employer buys a majority of their ingredients from stores within a few blocks of them. Every Sunday my boss sends doughnuts to this olive oil shop a few stores down. All the local businesses really support each other and want the others to succeed."
Paige Barlow '19 worked at The Little School, a preschool in Scarsdale. Paige loved the kids she worked with, and was shocked about the maturity of the three-year-olds: "I am surprised at how well behaved and smart beyond their years they all are."
By the time they graduate, A-Schoolers will have completed three internships, or four if they opt to do an internship for their senior project. Thus, they enter the workforce with a great deal of preparation.