Scarsdale Teen Volunteers Recognized by Westchester County Youth Bureau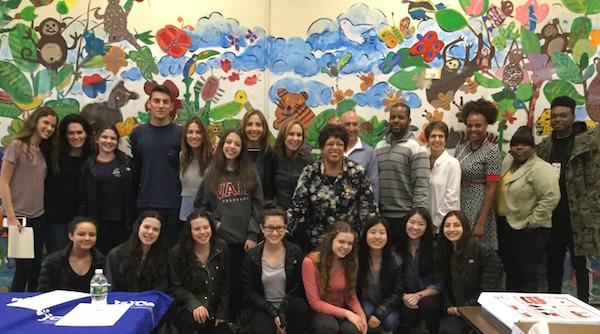 Teen volunteers from Scarsdale who dedicate their time and talents at WJCS After-School Academy programs in Mt. Vernon received special recognition and certificates of achievement from Dr. Iris Pagan, Executive Director of the Westchester County Youth Bureau on Friday, April 21st at the Edward Williams Elementary School in Mt. Vernon. Adding their congratulations were WJCS COO Bernie Kimberg who also thanked Dr. Pagan and the Youth Bureau for their support and Linda Plattus, WJCS board member and volunteer.
WJCS after-school programs provide elementary school children with academic, youth development and enrichment activities including homework help and skills development, learning games, computer skills, music, literacy, arts and crafts, sports, nutrition and conflict resolution support children's educational achievement, and healthy social and emotional development. Teens from Mt. Vernon serve as tutors and mentors to their younger peers and the program benefits from a dedicated group of teen volunteers from Scarsdale.
Academy programs include Amazing Afternoons at Edward Williams Elementary School in Mt. Vernon and Off the Street at Hamilton Elementary School in Mt. Vernon.
A partnership with the Mt. Vernon City School District and numerous volunteers and community members, these programs are funded by the New York State Office of Children Family Services' Advantage After-School initiative, the Westchester County Youth Bureau and greatly needed support from foundations and individuals.
Founded in 1943, WJCS is one of the largest nonsectarian, non-for-profit human services agencies in Westchester. They support 20,000 Westchester residents annually to meet challenges and achieve personal success. Services include mental health treatment, a network of child and youth development initiatives, programs for people with disabilities and autism, homecare, services for older adults, and privately funded programs for the Jewish community.