The Nicest Guy in Scarsdale
Apparently I am one of the only people who had never heard of the great Al Porpora of Scarsdale. A couple of people had thrown his name my way as a person who should be recognized as a valuable member of our community and many went so far as to say he should be the recipient of a community service award. So I placed a post on the Scarsdale Moms Facebook Page asking about this Al guy; 80 "likes" and 35 messages later, all applauding his character both professionally and personally, this article was born.
Al Popora is the Co-owner of the Heathcote Gulf Gas Station in the five corners area of Scarsdale and his family has a long history there. He was born and raised in Eastchester. His father and his father's brother opened the gas station in 1948. Al started working there in 1973 while attending Eastchester High School. He spent every free minute he had working there 7 days a week. In fact, he took over management of the gas station when he was only 19 years old. "I could never do what I do without my brother Frank who is my partner," Al said. But Al isn't just a guy who pumps gas and changes oil for a living. He's an integral part of the Scarsdale community living here, working here, raising children here, and now watching grandchildren being raised here.
In the mid 1980s, Al moved to Scarsdale from Eastchester when he met his wife, Jane, who works in the Scarsdale school district. They raised all five of their kids in Fox Meadow and their youngest will graduate from high school this year. "I've been on sports fields, ice rinks, basketball courts, and I even danced in my daughter's ballet." That's a memory that many Scarsdale residents have of Al. One person quirked, "How many dads would volunteer to be in their kid's ballet performance? My dad certainly didn't." Al's daughter, Liz DeRobertis, told me a bit more about his guest appearances as a dancer on stage at her sister Tori's performance. "They needed a dad to take part in the performance so he agreed to do so. He went to all of the rehearsals before going up on stage in front of a whole audience of people who knew him. It was very touching."
Known as "Ally" by his family and friends, he is very well respected in the community. Comments on the Facebook post included: "Such a great guy," "THE BEST!" "Nicest guy in town," "Most sincere gentleman you'll ever meet," "Always looking to help both individuals and the community," "He needs an award," "He's always happy and so nice to my kids," "Most honest guy," "Trustworthy and caring," "Always has a smile and an encouraging comment," "I love him, too," "Amazing," "the best," "really the best," "the absolute best." You get the idea.
Many people commented about Al's positive and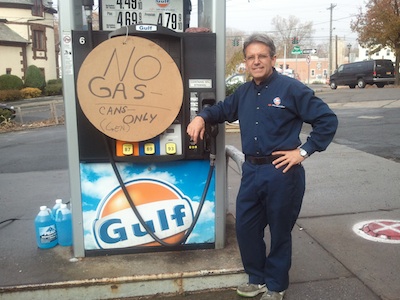 helpful attitude after Super Storm Sandy hit the area. Gas was in short supply but Al made sure everyone in the long line left happy. He tried his best to make thing fair and efficient, and many people noticed and appreciated this. Anne-Marie Kearns said, "During Sandy he managed to keep everyone ticking over with gas for their car and generator and kept a smile on his face even faced with irate customers. He is a legend and a true gentleman." Debbie Wolf agreed, saying, "During Sandy and the resulting power outages, he worked tirelessly to help everyone." Maria Cardillo echoed the sentiment saying, "After Sandy, when he got fuel, he was funning up and down Weaver Street to make sure that everyone in line would at least get some gas!"
When I read these to Al, he listened but then shrugged them off as just doing his job and being a person who appreciates his customers and his community. "It's difficult to refer to my customers as only that," he said, "because they are friends and neighbors as well. I am very lucky to have such a loyal customer base. I appreciate their loyalty and trust and because of that I will go above and beyond to show them that." As far as the community recognizing how hard he worked during and after Super Storm Sandy, he responded, "During trying times, like Sandy, my response to the community need was a natural one for me. I am here for my customers in good times and bad."
Al's daughter, Liz, isn't surprised to hear any of this. "My sister Kathryn and I always feel so lucky and grateful that our mom married Ally," she began. "He started dating our mom when we were in the early grades of elementary school, and has been there for us unwaveringly ever since. He has been part of our everyday lives and while we still call him Ally, not dad, just because we still have a very good relationship with our biological father, we should call him dad because Ally was the everyday dad for us from the time we were very young."
"Our family is a mix up full siblings" Liz continued. "I've got half siblings, adopted siblings, and a full sibling and nobody would every know because we are all so close. I attribute that to the way my mom and Ally raised us. He fit right in with our family. We spent weekends at our house in upstate NY and now that my sister and I both have houses up there, we still go there and spend time together. My sister and I both married men that are similar to Ally and he has a very close relationship with our husbands. My kids call him 'papa gas station' and we love that we can drive by and always find him there. We have Sunday family dinners together regularly and Ally is there for us 24/7. We are very lucky to have him in our lives."
Liz wasn't just born and raised in Scarsdale, she lives here with her family and works here as well as a nutritionist at Scarsdale Medical Group. "This happens to me at work all the time. People somehow realize I'm Ally's daughter and then I start hearing stories like 'he drove me to the bank during a snowstorm' or 'he came to the rescue when my child was locked in the car' or 'he helped me when my husband was sick' or 'he helped me when my teenage daughter had a car accident.' It's so nice to be the daughter of someone who is loved so much by the community." She added, "Ally goes out of his way to care for people in the community as if they were also part of his family. People admire and respect that. Every time I tell someone that Al from the gas station is my dad they know immediately who he is and they say something like 'he's such a great guy.' I am confident enough to know it's true to the point of actually being able to say 'I know!'"
Family and community are of supreme importance to Al. He loves being able to take part in the day to day lives of his children as well as his grandchildren who live in Scarsdale and in White Plains. "I am blessed to be able to interact with men and women that I have known as children, riding in car seats, in the back of their parents' cars, who years later have become parents themselves and moved back to Scarsdale," he said. "It has been a most enjoyable journey."
Do you have anything you want to share about Al? Please do so in the comments section below.