Marathon Tales 2017
Published: Tuesday, 07 November 2017 15:14
Joanne Wallenstein
Many from Scarsdale were among the 50,000 plus runners who completed the 2017 NYC Marathon on Sunday November 5. We asked a few residents to share their stories and pictures.
Did you run? Send your pictures and details about your experience to scarsdalecomments@gmail.com.
Former Scarsdale School Board member Lew Leone ran his first marathon on Sunday. Here's what he said: "My first marathon was a blast. The New York City crowds are electrifying and it felt like a 26-mile party. I saw family and many friends along the way. Luckily I had a good friend, Matt Powers, who pulled me through the last 6 miles. That was the most challenging physical effort I've ever endured. Not sure I want to do it again."
Elizabeth and Jim Detmer of Edgewood Road ran the marathon together
and raised over $14,500 for St. Jude's Children's Research Hospital.
Andrea Seiden of Greenacres Avenue helped a disabled man from the Democratic Republic of the Congo run the marathon through Achilles International.
Running the NYC With Freddy by Andrea Seiden

Despite having completed several NYC marathons, I was not confident in my abilities to help someone else cross the finish line -- especially, someone with a disability. But, when Achilles International, an organization dedicated to enabling people with disabilities to participate in mainstream running events, contacted me, it was hard to say no. After a vetting process, I was paired with Freddy Mabika Ntumba from the Democratic Republic of the Congo.
Freddy is a 32 year-old, handsome, quadriplegic man with a full and meaningful life. During our initial conversations, I quickly realized that while he is tethered to a wheelchair and 24-hour care, his spirits and positive nature soar; he continues to embrace life's challenges with gusto and passion. During our 4:30 AM ride to Staten Island, I learned about Freddy as person, not someone who was disabled. He shared much about his life, his motorcycle accident, his girlfriend, family, work, and the wheelchair soccer team that he proudly joined. On the light side, he joked that, "legs can be overrated." And, on a more somber note, he told me about the strides he has made to fight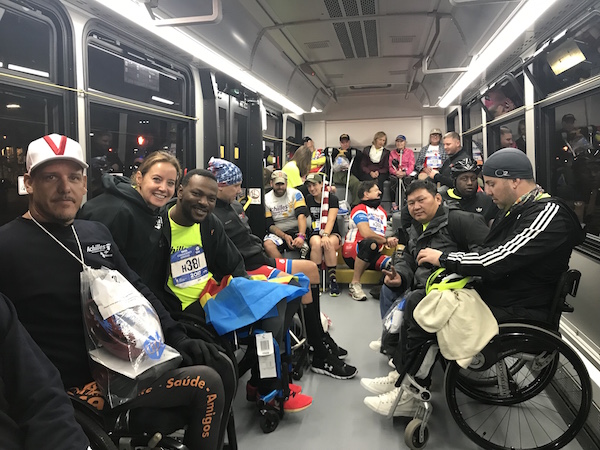 the stigma associated with being paralyzed in Africa. "People actually think that you are cursed." His candor and his easy nature made me feel so comfortable with him.
Nothing could prepare me for sheer joy I experienced during our run together. When I pushed Freddy into the corral of 50,000 athletes in Staten Island, we were overwhelmed by the cheering and well wishes of the scores of runners waiting to start the race. And so were the other Achilles Athletes-- many cried with deep emotion.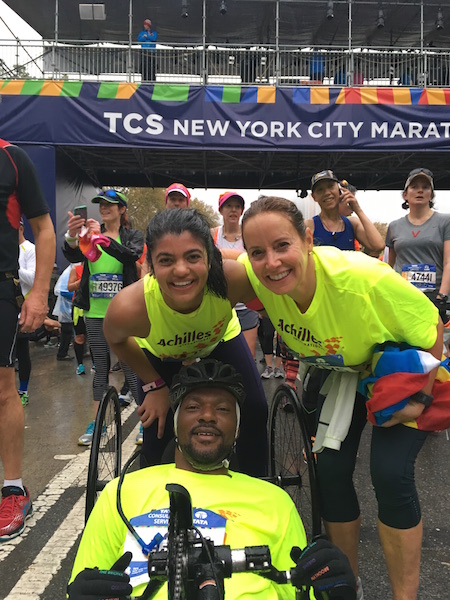 With my co-guide, a young, beautiful and wonderful Pakistani medical student, named Maani, we fed Freddy, gave him water and Gatorade, wiped his face with soaked sponges, adjusted his legs, told him jokes, and pushed him up 5th Avenue when his shoulders froze from exhaustion at the 24-mile mark.
Runners and spectators alike were humbled and inspired by Freddy's willpower to preserve. We could hear the constant drumbeat of encouragement, "Go Achilles," "You got this," which truly propelled all of us to cross the finish line. In times past, I was so self-focused that I counted every passing second, hunkered down with my private play list, and repeated my mantra to finish. I realized that I had missed so much of the race – the spirit of the spectators, the collective energy of the other runners. With Freddy, I enjoyed every moment of the race. There was such power in the day -- that I barely noticed that it took us 6 ½ hours to finish.
When it was all done, Freddy thanked us for helping him to achieve a dream, and I thanked him for a life-changing blessing.
Andrea's son Gregory Seiden, SHS class of '11 ran with "Team for Kids."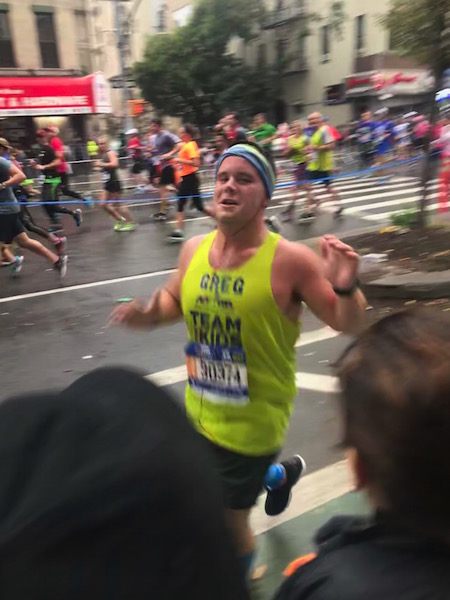 He says, "After finishing the NYC Marathon in 2016, I knew that I wanted to come back and run again. While I told myself I would run again to improve on my time, I gained so much more than just a few minutes off my splits in the process. I ran with Team for Kids, an organization committed to helping NYC youth learn about healthy life practices and the importance of fitness. The time spent training with Team for Kids allowed me to forge friendships, and strengthen my legs ahead of Sunday. As I ran north on First Avenue I was inspired that I was not only feeling strong, but also running for such a great cause. The feeling of pride as crossed the finish line at Tavern on the Green was unparalleled. It was another fantastic race day. I hope to have many more in the years to come."
Margaret Souther, SHS '09 said, "I ran the marathon with Catholic Charities, which raised money that will go towards providing food, education and resources to fellow New Yorkers in need. I was able to raise $4,465, exceeding my original goal by over $1000! What an incredible experience..i'm still looking back at the race and smiling. I loved running through so many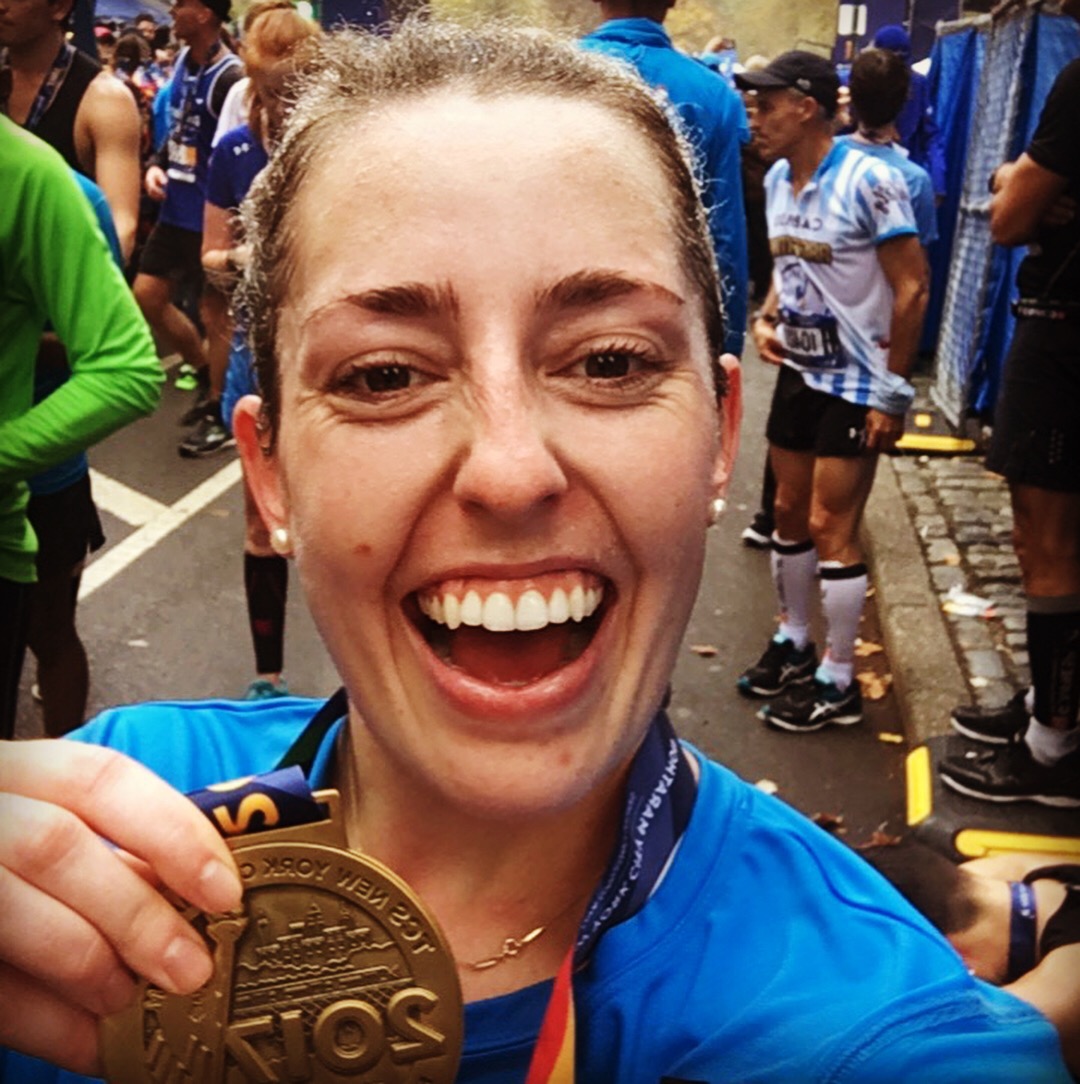 different neighborhoods and feeling the energy from people in all five boroughs. i have to say one of my favorite parts was turning onto first avenue and seeing the sidewalks just packed with people cheering. Definitely got me through the last couple of miles in the race!! Couldn't have done it without the support from my friends and family along the whole way!!!"
Matt Powers and his wife ran as well. He said, "The NYC Marathon is an experience like no other. I found myself at Mile 20, overwhelmed with excitement and ready for the final 6.2 miles. A friend told me Lew Leone was about 5 minutes behind me. Nothing is better than running with a friend like Lew. He caught up to me and we conquered our first marathon finish line TOGETHER. The first 20 were magical, but the last 6.2 were once in a lifetime and a moment I will never forget.
After I crossed the finish, I was then able to wait for my wife (Candice Huffine) to cross the finish line and gave her medal to her! The perfect day."
Did you run on Sunday? Please send your photo and story to scarsdalecomments@gmail.com to share with the community.