Homeowner and Police Use Dogs to Track Madison Road Burglar's Footprints in Snow
Published: Wednesday, 10 February 2016 16:47
Traci Dutton Ludwig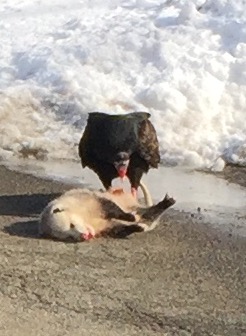 At 6:30 a.m., Feb. 5, a Madison Road woman reported an interrupted burglary at her kitchen window. She said she and her husband heard a thump, saw footprints in the snow by their house and saw their kitchen window ajar. Her husband checked his office, which was next to the kitchen, and noticed that his Macbook Air computer was missing. Her husband left the house to chase after the suspect. He followed the footprints along Madison and Barry roads and Forest and Eastwoods Lanes. Police were dispatched and a hotline was broadcast to New Rochelle and the Westchester County police departments. Westchester County police dispatched a canine unit to attempt tracking the suspect, and the department of public works was instructed to refrain from salting or plowing the roadways in the vicinity of the incident. Patrol brought the man home and investigated the scene. The couple checked their office and noticed their iPad, a backpack and two phone chargers were also missing. In the meantime, the canine unit followed the suspect's scent along the exact set of footprints to a car parked in front of Winchcombe Way in New Rochelle. Police are following up.
Burglaries
A Cohawney Road homeowner reported returning home to find his house burglarized Feb. 4. The master bedroom was heavily tossed, and the homeowners said they needed some time to compile a list of all stolen items. The burglary occurred while the homeowners were visiting their son in Sleepy Hollow between 2:30 and 6:30 p.m.
At 11:30 p.m., Feb. 5, police were dispatched to a Meadow Road burglar alarm. Upon arrival, patrol noticed the front door wide open. They went inside and began checking the house. They saw a basement window screen ripped off and the window pried open. Footprints were seen in the snow outside the window and a recently discarded cigarette butt was found nearby. Patrol called the homeowners who were in the city. They returned and checked their house for possibly missing items. At the time, nothing was reported missing. According to the couple, they left their house at 3:15 p.m. by taxi, in order to take a train into New York City for the night.
Stolen goods
On Feb. 6, a Woods Lane man reported finding a pillowcase on the sidewalk of Heathcote Road. It contained ten bracelets and 11 cents. Police vouchered it and are following up.
Was anything stolen?
On Feb. 1, an employee from the CVS store on Popham Road suspected a man and woman might have stolen merchandise from the CVS store. The employee's suspicion was based on an observation that "it appeared to him that the female party was trying to hide her bag under her coat when she and the male ran out of the store quickly." The employee did not see the couple steal anything. Nor could he identify any missing merchandise from the store. Video footage from security cameras only showed the man and woman entering and exiting the store. There was no evidence of the man and woman stealing anything. The man and woman were described in the incident report as middle-aged and black. The employee said they were each wearing black coats – the woman with a black and white headscarf and the man with sandals. The employee making the report was a 43-year-old white man. Without any evidence of stolen merchandise, the reported suspicion of theft was unfounded.
Internet scams
A Barry Road man reported he was sold stolen gym equipment on Ebay and required a police report to receive a refund from Paypal Feb. 3.
A Parkfield Road man reported being the victim of an online scheme to defraud him Feb. 1.
Assistance
A Garth Road man asked police to help him locate his 80-year-old wife after she "ran away" from him while he was parking their car on Spencer Place Feb. 1. The man said his wife suffers from dementia, and he suggested his wife might have walked home. With the assistance of Eastchester police, the woman was found in the couple's apartment building on Garth Road. She and her husband declined further attention and medical assistance.
On Feb. 2 and Feb. 4, police stood by while a representative of Adult Protective Services attempted to speak with a Quaker Ridge man about some deposits he made into a third party's account. On both occasions, the representative rang the doorbell, but there was no answer at the man's house.
A Boulder Brook Road woman told police she was in a panic because her burglar alarm went off and she was not dressed Feb. 3. She asked patrol to check the exterior of her house for signs of tampering or forced entry. Everything was found to be in good order.
Welfare check, domestic issue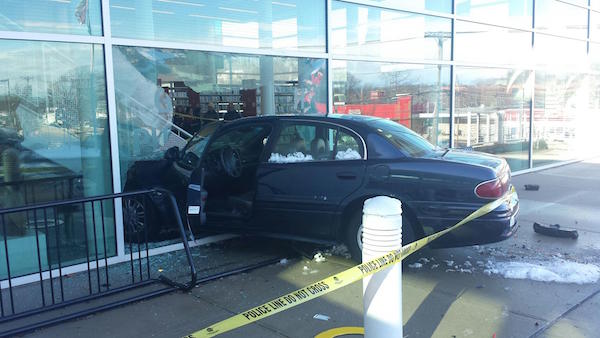 At a mother's request, police checked the welfare of a 17-year-old Tuckahoe girl who was staying a Palmer Avenue house and not answering her cell phone at 2 a.m., Feb. 7. According to the police report, the girl was OK and did not need any assistance. Later, around 5:15 p.m., the mother again called police, stating she was worried about he daughter because she missed a doctor's appointment and needed to take medication. Patrol relayed the mother's concern to the daughter and the daughter's aunt who lives in the Palmer Avenue house. Approximately two hours later, the Palmer Avenue aunt called police, stating the girl's mother was on her property and would not leave. Patrol suggested the mother leave the girl's medication on the doorstep, where it would be retrieved immediately by the Palmer Avenue aunt. In the meantime, police contacted Tuckahoe police and learned there had been a domestic dispute between the mother and daughter the previous night. During that dispute, the mother and daughter grabbed each other. There were no physical injuries or arrests. According to Tuckahoe police, the girl was released to her Palmer Avenue aunt in order to calm the situation and let both the mother and daughter calm down. The mother was advised to contact Tuckahoe police of Child Protective Services for further assistance.
Footprints
Footprints leading to a detached Fairview Road garage led the homeowner to believe a prowler was in her garage at 9:30 a.m., Feb. 5. The footprints went around the garage to the rear of the structure, according to police information. While checking the interior of the garage, patrol noted several Poland Spring water items. The homeowner said she was expecting a delivery and confirmed the items in the garage matched the order placed. Thus, the footprints of a suspected prowler were determined to be only the footprints of a Poland Spring deliveryman.
Too much to drink
MTA police asked for assistance with an intoxicated man on the northbound platform of Scarsdale train station at 11:30 p.m., Feb. 6. He needed to be transported to the hospital. Scarsdale Volunteer Ambulance Corps was notified, and an ambulance responded to the scene.
Where's the car?
A caller asked police to help her find her car parked in the village Feb. 2. She said she parked her car somewhere and was no longer able to find it. Patrol found the car parked on Chase Road.
Students struck
A 12-year-old middle school boy was hit by a car in the lower parking lot of Scarsdale Middle School during dismissal at 2:45 p.m. The boy was sitting on parking lot curbing when he was hit by a 2005 Honda making a right turn around the curb where the boy was sitting. The driver said she did not see the boy sitting there when she turned the corner. Scarsdale Volunteer Ambulance Corps took the boy to the hospital for evaluation and treatment.
An 18-year-old high school boy was struck by a 17-year-old high school girl's 2012 Acura in the rear parking lot of Scarsdale High School at 8:00 a.m., Feb. 2. According to the accident report, the Acura struck the boy's backpack, and the boy fell to the ground. The girl said she did not see the boy because she was looking for a parking spot. The boy was evaluated by the school nurse. He was not taken to the hospital.
Cars and roadways
Police asked drivers parked too close to the intersection of Walworth Avenue and Colvin Road to move their cars Feb. 2. The drivers complied without incident.
Police directed traffic around a disabled car at Fox Meadow and Crane roads Feb. 3.
On Feb. 4, police reported a small pothole on Garden Road to the highway department.
Police removed a low-hanging wire from above a Gilmore Court driveway, secured it and notified the utility company Feb. 5.
A parked car was left with its ignition running on Clarence Road at 5:30 a.m., Feb. 7. The owner, who lived on the street, said he remotely started his car to warm it up before leaving for work. Patrol reminded the owner about vehicle and traffic law and possible parking violations.
Police asked a worker to move his car from grass in front of a Murray Hill Road house Feb. 7. The worker complied with the request.
Eleven car accidents were reported in the village this week.
Dogs, coyotes
Patrol contacted a Gatehouse Road dog owner about numerous complaints regarding her dogs Feb. 1. It was suggested, but not mandated, that she consider turning the dogs over to her husband who no longer lives in the area.
A woman walking her dog on Sage Terrace advised of a coyote in the area Feb. 5. It was gone when police arrived in the area.
Lost and found
A man reported losing a Secure Pass access card in a parking lot Feb. 5. The pass had the man's name and photo printed on it.
A Honda car key was found on Lockwood Road Feb. 6. Police were holding it for safekeeping.
A passerby found a woman's purse in front of 7 Eleven and gave it to police Feb. 7. Police identified and contacted the owner, and she responded to headquarters to retrieve her purse.
Village code
On Feb. 6, police issued a summons to the owner of a car whose alarm was going off and creating unnecessary noise for more than an hour.
Firefighters
Underground electrical service running through an underground Verizon box shorted out and caused arcing on Gatehouse Road Feb. 1. Firefighters stood by for Con Edison.
Con Edison checked a Richbell Road house for possible gas migration Feb. 1. The house was found to be in good order.
Air leaks were detected in a fire sprinkler system on Christie Place Feb. 1.
Firefighters helped a Myrtledale road homeowner shut off water to a disconnected pipe connection Feb. 3.
Power lines fell down after a box truck hit a utility pole on Overhill Road, and the pole snapped Feb. 3. Wires entangled the truck and the pole's transformer was on the ground. Firefighters closed Overhill and Circle roads and stood by for Con Edison. The truck was leaking fluid, but firefighters were unable to determine the source. They blocked nearby storm drains with absorbent material.
Firefighters stood by for Con Edison at the site of a gas leak in a Wayside Lane house Feb. 4. Con Edison meters detected gas in the atmosphere and near a burner unit.
Firefighters removed a communications wire from Lincoln Road Feb. 4.
A woman accidentally got locked out of her Popham Road house Feb. 6. Firefighters gained access to the house and helped her back inside.
In unrelated incidents, firefighters stood by for Con Edison for a reported natural gas odor on Mamaroneck and Sheldrake Roads Feb. 7. They also checked houses on Mamaroneck Road for possible gas migration.
This week, firefighters assisted with two car accidents in the village and on parkways. They responded to two false carbon monoxide alarms and 16 false alarms caused by device malfunction, cleaning product fumes, construction dust, fumes from spray foam insulation, cleaning products, cooking smoke and floor sanding dust.



This police report is sponsored by Scarsdale Security who does more than just security. Contact them about remote video for your home or business. Call 914-722-2200 or visit their website.