Police Report: Scarsdale Mom Arrested for DWI with Child in the Car
Published: Wednesday, 14 June 2017 12:07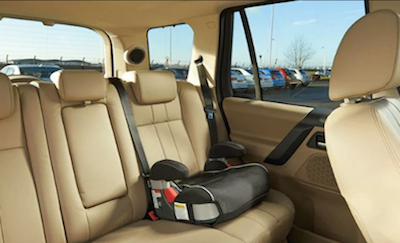 On June 8, police arrested Alison J. Abramson, 42, of Scarsdale, on charges of driving while intoxicated (first offense), leaving the scene of an accident and failure to obey a police officer. Abramson at first did not pull over to the side of Church Lane when police were following her with lights and sirens on. After police got backup, they were able to get Abramson to stop her 2014 GMC. When asked why she didn't pull over, she said she didn't know what to do when being followed by a patrol car with flashing lights and sirens on. Police noticed her breath smelled of alcohol while she was talking. When asked to produce her driver's license, Abramson gave police a medical ID card and a business card for dog grooming services. Then she said she could not find her license. She was travelling with a child in a booster seat. Her car was damaged, as noted by police. While speaking with Abramson at the scene of the traffic stop, police received information that the GMC had been in an accident and that Abramson left the scene of the accident. Abramson denied drinking any alcohol. She failed field sobriety tests. An alco-sensor test indicated a blood alcohol level of .179. Police asked Abramson to make arrangements to have someone pick up her child, so she called the child's live-in nanny. The nanny picked up the child and took the child home. Abramson was arrested and taken to headquarters. She was released, pending a future court appearance.
Trespassing Arrest
On June 8, police arrested Danlis D. Grullon, 26, of Yonkers, on a charge of second-degree trespassing after he was observed in a Chesterfield Road family's garage without permission. The homeowner saw Grullon in the garage wearing a beige coat, dark colored backpack and sandals, and then she called police. Shortly thereafter, the homeowner confronted Grullon by asking him, "What are you doing here?" He replied, "Where is Chesterfield Road?" Grullon then left the garage and was seen walking around the neighborhood, possibly checking out the homeowner's car. Police picked up Grullon and arrested him. He was released on his own recognizance, pending a future court appearance.
Identity Theft
On June 5, a Saxon Woods Road woman reported fraudulent charges on her Discover credit card. Discover card services is following up.

On June 9, a Herkimer Road man reported being the victim of identity theft.
Jogger
A caller reported a man jogging at Scarsdale High School track in his underwear June 8. Patrol observed the man and confirmed he was wearing running shorts – not underwear.
Suspicions
An Edgewood woman told police she thought someone was tapping her phone June
10. Police found no evidence of a wiretap and asked the woman if she wanted to seek treatment in a hospital or talk with someone about her problems. She adamantly refused.
Taxi
Police called a taxi for a woman on Post Road, attempting to walk home to Eastchester from White Plains, after midnight June 9.
Scofflaw
A parking enforcement officer noticed a parked car, with scofflaw violations, on Scarsdale Avenue June 6. The registered owner owed $620 in unpaid parking tickets. The car was towed to the police impound lot.
Bikes
A caller reported kids riding their bikes in he street, giving people the finger and doing wheelies in the street June 11. Patrol spoke with kids, and the kids promised to be more respectful.
Loud Music
A Boulder Brook Road resident complained about a neighbor playing loud music, which was preventing the resident's children from staying focused on final exam studying June 11. Patrol explained that no violations were occurring, but patrol nevertheless advised the neighbor about the resident's complaints. The neighbor agreed to lower the volume of her music.
Post Office
The retail section at the Chase Road post office was not secured with a gate June 11. Patrol notified the postal police who advised an employee. The employee was then en route to address the matter. In the meantime, patrol attempted to secure the metal gate.
Cars and Roadways
A parked Jeep was found running with its lights on June 5 on Chase Road. The driver was found in Chat restaurant. He apologized and told police he must have forgotten to press the car's "stop" button. He turned the car off in patrol's presence.
A car ran out of gas on Popham Road June 5. The driver's brother brought gas for the car, and the car started again. Then, the driver drove the car away.
Potholes were reported on Bypass June 11. Police notified the highway department for repair.
Twelve car accidents were reported in the village this week.
Lost Dog
Police reunited a lost Nelson Road dog with its Nelson Road owner, after the dog was discovered in a neighbor's yard, June 9.
Village Code
Police issued a summons to a man using a leaf blower on Heathcote Road, in violation of village code, June 7.
Patrol issued a summons to people using gas-powered leaf blowers on Hampton and Paddington roads June 8.
Patrol removed deteriorated garage sale signs from utility poles on Weaver Street June 8.
Patrol issued a summons to people using gas-powered leaf blowers on Olmsted and Heathcote roads June 9.
Patrol issued a warning to a Wildwood Road resident regarding noise from a dog June 10.
On June 10, a neighbor complained of noise from a Fairview Road party. Patrol told the hostess, and she agreed to turn down the music.
Lost and Found
An earring was found on the sidewalk of Greenacres Avenue and given to police for safekeeping June 6.
A lost license plate was found on Heathcote Road June 8. Patrol found the owner of the plate, a Willow Lane resident, and returned it to her.
A passerby found an unattended purse on the sidewalk of East Parkway and gave it to police.
Firefighters
Firefighters helped an elderly Carthage Road resident change a smoke alarm battery June 8.
Firefighters helped Con Edison workers check for possible gas migration into a Colby Lane house while Con Edison was addressing a nearby gas leak in the street June 8.
A child accidentally got locked inside a Church Lane bedroom June 8. Before firefighters arrived, the child's grandfather forced open the door with a sledgehammer. The child was uninjured.
Elevated carbon monoxide levels were detected in a Heathcote Road house June 11. Firefighters determined the cause was a backup generator that had just be run for its weekly test. The generator's exhaust drain valve was open, and this caused exhaust to enter the basement. Firefighters ventilated the basement with fans and explained the problem to the resident and the resident's security personnel.
This week, firefighters assisted at two car accidents in the village and on parkways. They responded to 19 false fire alarms caused by device malfunction, construction dust, accidental manual activation, cooking smoke, burnt food, shower steam and candle smoke.
This report covering police and fire department activity from June 5-11has been compiled from official information.



This police report is sponsored by Scarsdale Security who does more than just security. Contact them about remote video for your home or business. Call 914-722-2200 or visit their website.