Edgemont Wrestling Coach Sentenced; Two Arraigned for Mail Theft
Published: Wednesday, 10 October 2018 07:55
Joanne Wallenstein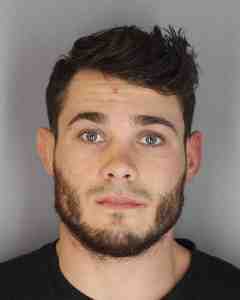 Tyler SickThis in from the Westchester County District Attorney:
Tyler Sick, the former Edgemont wrestling coach has been sentenced to ten years probation following his guilty plea in July to two counts of Rape in the Third Degree, class E felonies, for having sex with a victim under the age of 17. Sick appeared before Westchester County Court Judge Susan Cacace. Among the conditions of his probation, Sick surrendered his teaching license and will have to register as a sex offender. Sick was a teacher in the Bronx.

Assistant District Attorney Mary Clark-DiRusso, Deputy Chief in the Special Prosecutions Division, addressed the court saying the sentence was agreed to at the request of the victim's family.

Sick petitioned the court to allow him to move permanently to North Carolina where he has family. It is now up to the North Carolina state probation authorities as to whether they will accept the transfer of his probation. In the meantime, Sick must remain in Westchester until that decision is made. A Sex Offender Registry Act (SORA) hearing is scheduled for Nov. 27, 2018.
Two Bronx Men Indicted for Mail Theft in Tarrytown

Two Bronx men, Defendants Sean Dash (DOB 02/24/97) and Jade Williams (DOB 05/14/99) were arraigned Thursday October 4 in connection with mail theft in Tarrytown. They were arraigned on the 32-count indictment today before Westchester County Court Judge Barry Warhit. Each man has been charged on the following two felonies:

· Grand Larceny in the 3rd Degree, a class D felony
· Criminal Possession Of Stolen Property in the Third Degree, a class D felony
And the following misdemeanor charges:
· 14 counts of Criminal Possession Of Stolen Property In The Fifth Degree
· 13 counts of Petit Larceny
· 1 count of Attempted Petit Larceny
Jade Williams alone is charged with two vehicular violations.

The indictment alleges on May 18, 2018 at approximately 2:35 a.m., Tarrytown Police observed a man acting suspiciously in front of a mailbox located just blocks from the Post Office. A second man was in a vehicle acting as a lookout. On investigation, police found a "garbage bag" full of assorted mail and a mailbox key in their car. The garbage bag contained 14 separate victims' mail which had been stolen from a second mailbox located directly in front of the Post Office. One victim was the Village of Tarrytown School District which had $44,380.91 worth of checks in the mail. The two were arrested by Tarrytown Police.