Village Installs New Pay by Phone App for Parking and New Parking Enforcement Technology for Police
Published: Tuesday, 25 June 2019 12:18
Joanne Wallenstein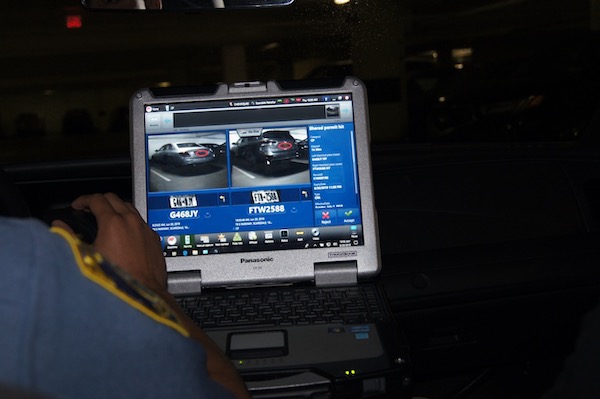 New license plate reader technology installed in Scarsdale police cruiser.Though the installation of new parking enforcement technology in a Scarsdale Police car is welcomed by Scarsdale's parking officers, it may not seem like good news to those who park on Village streets and in Village lots.
The new software allows the driver of the police cruiser to scan cars parked on Village streets and in Village owned lots and store the position of each car at a given time. In the parking lots, if a car does not have a valid permit, or if two cars are using the same permit, the system issues an alert and the parking officer issues a ticket.
Similarly for cars parked in the Village or on Scarsdale streets, the cruiser records times and positions of parked cars, and if the maximum time is reached, the system alerts the officer who can issue a violation.
The maximum time permitted to park in the Village is 90 minutes and the technology immediately warns the officer if a vehicle has been parked too long. In addition, if a driver parks in one spot for 90 minutes and then moves the car to another spot less than 300 feet away, even if the meter is filled, they will be ticketed.
At the same time, the Village has rolled out the use of the parking app PANGO, which allows drivers to use their personal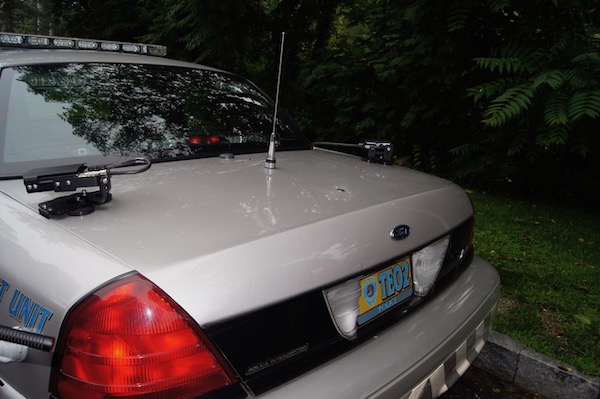 Cameras mounted on both sides of the car allow for scanning of license plates on both sides of the street or garage.devices to pay electronically for parking on Village streets rather than feeding coins into the meters. You can download the app at MY PANGO.com
Though the new license plate reader technology may appear to be punitive, Village administrators believe that better enforcement will free up more parking spaces for those wishing to shop and eat in the Village. In addition, the new technology will allow for digital processing of permits and tickets and should results in lower clerical costs for mailing hard copy permits, printing permits (ink, security paper, pouches), and labor for data entry and envelope stuffing. Savings are estimated at $13,000 per year.
The new technology which was installed by SecureWatch 24 at a cost of $64,000. According to Assistant to the Village Manager Josh Ringel, "We will not be recouping the cost through increased revenues. We actually think that (parking) overtime revenues will decrease as the device will result in more compliance."
Asked for a comment on the new technology, Scarsdale Mayor Marc Samwick said, "The Village is pleased to be implementing two tools to improve parking in the Village Center - the LPR and Pango. We believe these tools will lead to more complaint usage of Village parking, which we expect will create more availability of spaces for residents and Village Center shoppers. We look forward to expected benefits for our local merchants as shoppers find it easier to find parking spaces.
We also expect more efficient use of Parking Enforcement staff time, saving time and money for Village residents.
The Village is working to create clarity of parking regulations as well as providing easier mechanisms for paying for parking. Last week, we implemented a new parking app - Pango - and we encourage residents to download the app and try it next time they visit the Village Center.
We also encourage people parking in the Village Center to be aware of time limits in the specific area in which they are parking and to be aware that meter feeding for time in excess of stated maximum parking times can result in parking violations being issued. The more awareness people have of parking regulations, the better able they are to avoid ticketing.
Residents are encouraged to call or stop by Village Hall with any questions they may have about parking regulations or the new Pango parking app.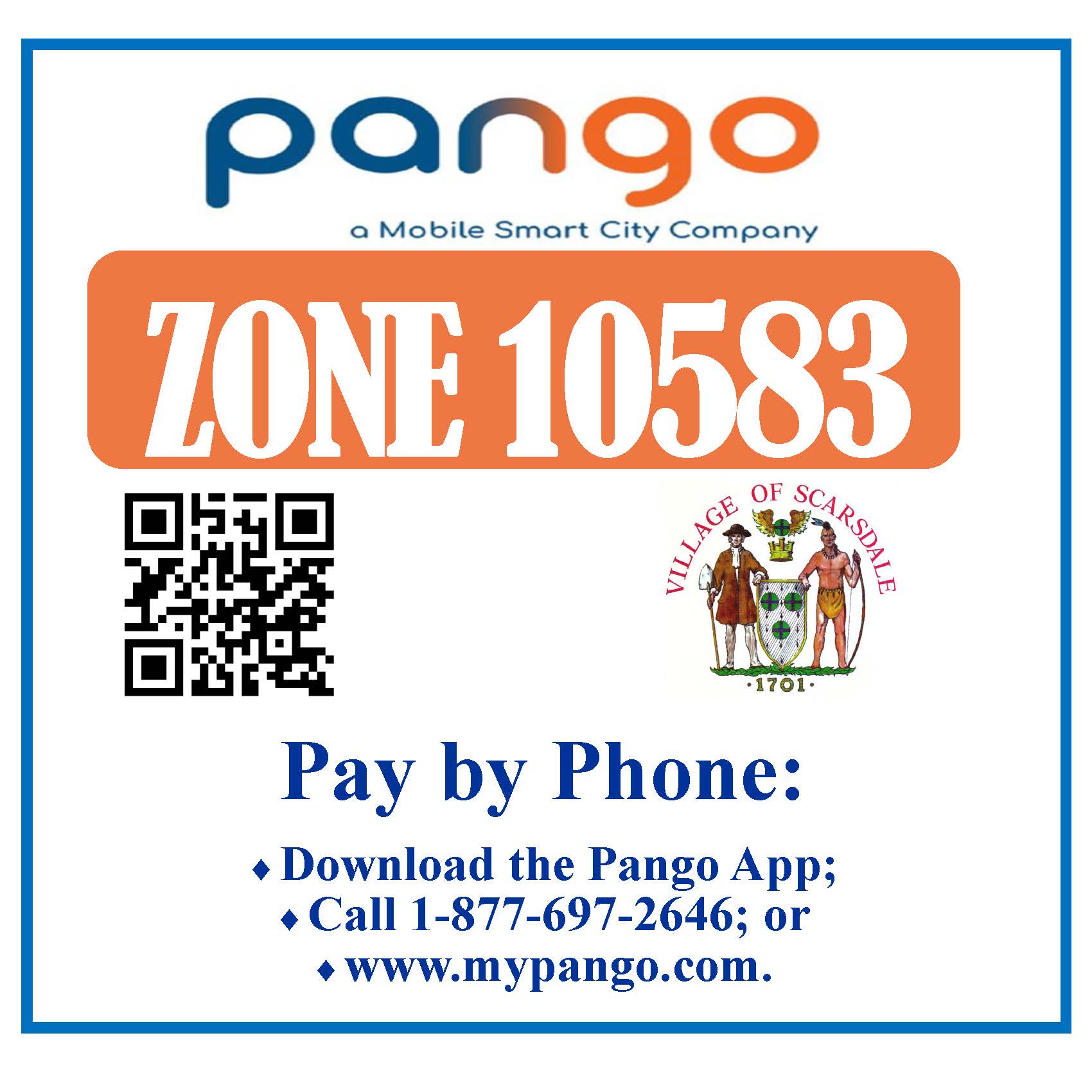 Here's more information about PANGO from Scarsdale Village
The Village of Scarsdale is pleased to announce that Pango, the parking pay by phone app, is finally here! Pango launched in the Village of Scarsdale on Wednesday, June 19, 2019, with 6% of motorists paying for parking through Pango on the first day. This percentage has exceeded expectations.
Parking meters in the Village Center are now furnished with decals and signage informing motorists of their parking zone and the steps to follow to pay by phone. The Village continues to encourage motorists to download the Pango app and set up an account prior to visiting the Village Center. There is also a Pango customer care call center (1-877-697-2646) available to assist motorists should issues arise. It is recommended that motorists program the call center number in their phone for future use.
Pango allows customers to manage their parking experience on the pay by phone app via their mobile phone or on the Pango website http://www.mypango.com. More specifically, customers can make profile changes, add or delete vehicle information and review parking history. The parking app also provides various ways to pay for parking such as Pango Wallet supported by PayPal,
Venmo, and credit card.
Pango is used in a number of communities in Westchester making implementation of Pango a more convenient and efficient parking alternative for residents and Village center patrons not just in Scarsdale but regionally as well.
Click here to view Frequently Asked Questions or visit Scarsdale.com to learn more about Pango in the Village of Scarsdale