Scarsdale Knitting Enthusiast Discovers Little Red Dress Knit in the Shanghai Ghetto During the Holocaust
Published: Monday, 08 February 2021 11:34
Joanne Wallenstein
For years, Greenacres resident and knitter Tanya Singer has been fascinated by the significance of handknit items during the Holocaust, and how they helped women to resist, remember, and renew their lives after the atrocities of World War II.

Her research has uncovered a series of impactful items – including a little red dress knit in the Shanghai Ghetto during the Holocaust. Timed to coincide with the 78th anniversary of the Japanese seizing control of the Shanghai Ghetto in February 1943, Singer is now sharing the story of the dress through her passion project Knitting Hope, which launches online today.

The little red dress is one of many objects knitter, teacher and writer Tanya Singer identified through years of research, the culmination of which is "Knitting Hope" – a project which shares the ways in which knitting helped women to resist, remember and renew their lives after World War II. The piece makes its debut on Modern Daily Knitting on February 8, 2021 in recognition of the 78th anniversary of the Japanese seizing control of the Shanghai Ghetto in February 1943.

"Many aspects of Jewish material culture have been recognized for their sustaining power: art, writing, music, and recipes all played important roles in resistance, remembrance and renewal after the war. It's time to recognize the significance of knitting in our history," Singer said. "I hope to share more stories like Judy's, in collaboration with contemporary knit and crochet designers, in the years to come."

Born in the Shanghai Ghetto after her family fled Germany in 1939, Judy Fleischer Kolb donated her little red dress for the 2009 opening of the Illinois Holocaust Museum & Education Center. Kolb's story is told in detail in the Knitting Hope piece, which invites each of us into the story of Kolb and her family, who were among 20,000+ refugees who fled to Shanghai, the last safe harbor in the world.

As an homage to the endurance of this piece of clothing, the "Knitting Hope" piece will include a link to a contemporary little red dress knitting pattern by designer Melissa Shinsato, available for purchase on the knitting website Ravelry.
Kolb, a former nurse and museum volunteer, uses her dress to urge children to have courage and to "realize their heroes are right in front of them." Kolb continues, "I'm so happy my dress can bring hope to others. I only wish I could share the impact of the little red dress with my family who made my life so special."

To foster community around this inspirational dress, Singer will also host a multi-week Facebook Knit Along series accessible via the "Knitting Hope" page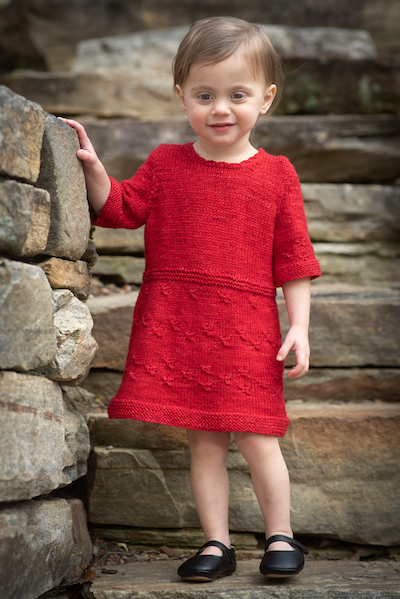 Front view of the modern little red dress; Credit: Gale Zucker.beginning on February 8.
The group, which is comprised of women who have been touched by the moving story, will have the opportunity to meet Kolb, Singer and Shinsato as they knit the dress step-by-step.
Pictured at top: Judy Fleischer Kolb, pictured in the little red dress, with her mother Carla in Shanghai, circa 1940. Photo credit: Illinois Holocaust Museum: in memory of Cantor Leopold Fleisher and his family.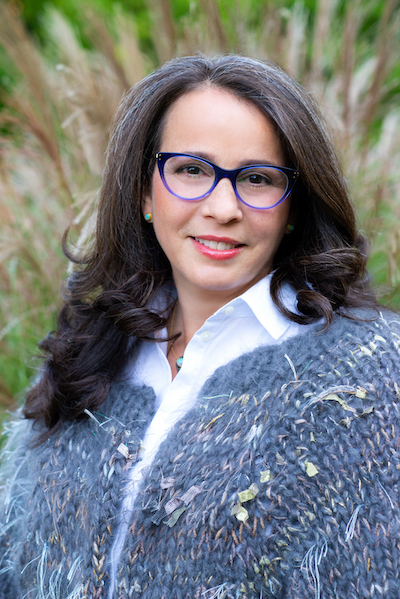 Scarsdale Resident Tanya Singer