Students Offer Reflections on Racial Violence at Community Vigil
Published: Wednesday, 31 March 2021 11:16
Joanne Wallenstein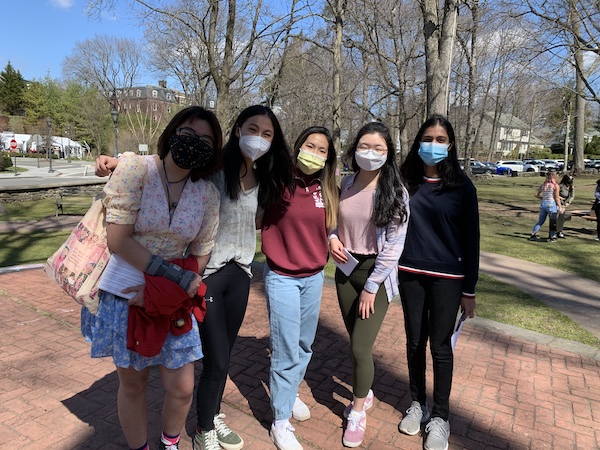 The Vigil Against Hate on Saturday March 27 at Chase Park in Scarsdale was a moment of community unity and solidarity against racial violence. For the speakers, it was both nerve-wracking and inspiring to listen to one another discuss our personal experiences as well as issues at large.
Peter He '23 opened the event with a brief self-introduction and an opportunity for the attendees to reflect upon their reactions when learning about the Atlanta shooting. He urged empathy and for everyone to a stand to condemn racially charged violence and hate crimes. He was also the MC for the vigil, introducing all of the adult speakers.
Karen Lee '21, co-founder of Scarsdale High School's Asian Conscientization and Empowerment (ACE) Club introduced herself as a second-generation Korean American, reflecting upon her mother's influence on her relationship with her identity. She recalled the eight victims of the Atlanta shooting and provided a biography for each of the following: Xiaojie Tan, Hyunjung Grant, Delaina Ashley Yaun, Daoyou Feng, Suncha Kim, Soon Chung Park, Yong Ae Yue, and Paul Andre Michels.
Following the words about the Atlanta shooting, He acknowledged the Colorado shooting victims Denny Stong, Neven Stanisic, Rikki Olds, Tralona Bartkowiak, Police Officer Eric Talley, Suzanne Fountain, Teri Leiker, Kevin Mahoney, Lynn Murray, and Jodi Waters.
Rishika Bansal '22 spoke about the ten victims in Boulder and reflected on how we all need to be upstanders instead of bystanders, actively working to change the ideas in our communities, to stop this discrimination and hate.
Janmariz Deguia '22 broke the silence with her fervent spoken word poem about the Atlanta shooter, who used a 'bad day' as an excuse for murder. Deguia passionately condemned the shooter's cowardice and the absurdity of his excuse. She described how both the intersection of imperialism and racism, and the hypersexualization of Asian women fuel anti-Asian hate today. Deguia explained, "this excuse of 'a bad day' does not justify death nor explain the cause. The cause is white supremacy." See her poem below.
After Linda Toh, Vivian Guo '21, co-founder of Scarsdale's ACE Club, took the stage and expressed her fear for her grandma, who goes on long walks nearly every day. She highlighted the resilience and kind-heartedness of the elderly Asian community who deserves to be treated with humanity. She encouraged the vigil show to take care of the elderly figures in their lives and convey their appreciation.
Last, Olivia Liu '23 spoke about the Model Minority Myth, which stereotypes all Asians as hardworking, complicit, and the ideal minority. Even though it may seem like a positive stereotype, Liu explained its detrimental effects on Asian American's mental health, as they are more likely to suffer from anxiety and depression and less likely to seek help. She emphasized how this monolithic view ignores struggling Asian communities in need of assistance. Simultaneously, it demonizes other minority groups for not being able to 'overcome racism' in a similar manner. The Myth "has been a destructive tool used to perpetuate aversions toward other minorities within Asian communities, dividing us all."
The speakers worked very hard in preparing and rehearsing for the vigil. They conveyed their personal thoughts and experiences in a vulnerable way that touched the community.
Spoken Word Poem by Janmariz Deguia
A message to those who thought this was a good excuse
A bad day is spilling coffee on your carpet, and convincing yourself that cleaning is too much of a hassle so there is left an obscure dark stain and you have no one else to blame but yourself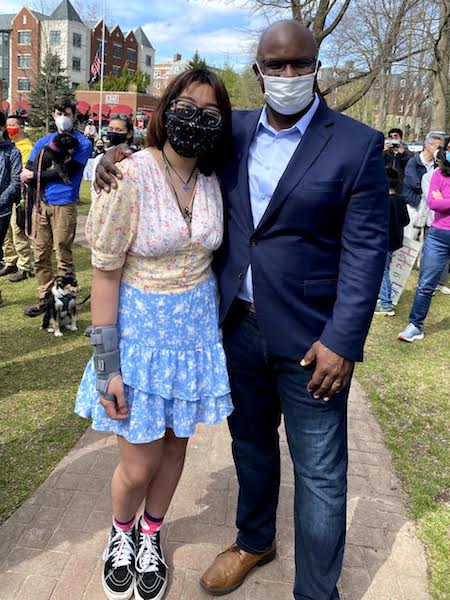 Janmariz Deguia with Congressman Jamaal Bowman
A bad day is tripping over your laces, your words, and your shoes, and feeling the Monday blues remain on a Tuesday
A bad day is learning that you are only desirable as an Asian if you look like the anime girls or Kpop stars and that you are not desirable as a woman, because of your scars.
you are nothing to men unless you look like sports illustrated models. But still coddle the patriarchy for your safety.
A bad day is canceling plans to the city, because you hear news about a Filipino American man being slashed in the face on the subway.
A bad day is while looking up the name of that man, you hear news of yet another Asian elder who was unprovokedly attacked on the 1 train. The train your dad would take if he needed to get downtown.
A bad day is Christian Hall getting shot in the chest while his hands were up,
When he went to the cops for HELP because he was suicidal.
As a mentally ill Asian living in the same county where he was shot, I wonder when the assumptions that I cannot understand or hear their hate will end in a deadly fate for me
A bad day is having to see your mothers face in defeat after you correct her grammar and accent. Little does she know— I need people to understand her, because I need her and the media does not need another statistic.
a woman with a heavy accent who worked at the Gold Spa called 911.
"Repeat the address," the operator said.
"Repeat the address."
"Okay, repeat the address. . . . You need police, fire or ambulance?"
"They have a gun," the caller said, sounding strained, almost breathless.
A bad day is NOT using mental illness and misfortunes of manhood to make this murder manageable to whom this mistreatment might hit close to home due to daily micro-aggressions.
Asian hate did not begin today.
Asian hate is here w/covid-19 pandemic, the violence against our elders, the targeting of our women.
Asian hate was here from imperialism on lands like mine to exclusion acts and discriminatory laws and zoos and internment camps to lock up our people and massacres and murders and riots to exterminate our people.
A bad day is NOT
An excuse to purposely harm anyone on any level in any circumstance,
it is nearly an explanation to a temporary negative attitude.
This excuse of "a bad day" does not justify death or explain the cause.
The cause is white supremacy.
The cause is no penalties to white murderers yet black people being named criminals for the color of their skin. The cause is the media representation and ignorant hesitation to strike up a meaningful conversation.
The cause is disabled people being left out of every situation.
The cause is islanders, being used as an advertisement for land we own but is not truly ours. The cause is white supremacy. The cause is having to come up with MMIP because the phrase "missing and murdered indigenous people'' was too harsh to privileged ears.
The cause is what fuels islamiphobia, anti-semitism, hispanophobia, and hate against anyone other than.
The cause is white supremacy.
The cause is having to adapt in colonized spaces and queer people having not to show their true faces.
The cause is the divide between BIPOC and minorities because they know if we band together,
we can get rid of the cause before they get rid of us. The cause is white supremacy.
Your silence speaks volumes.
And there are no excuses.
This article was contributed by Vivian Guo, Peter He, Karen Lee, Rishika Bansal, Olivia Liu and Janmariz Deguia.