Scarsdale Library Book Discussion: Fake Like Me
Date:
Wednesday, April 21, 2021 7:00 pm - 8:00 pm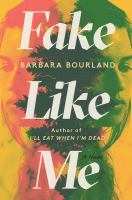 Book Discussion: Fake Like Me by Barbara Bourland
What Really Happened to Carey Logan? After a fire decimates her studio, including the seven billboard-size paintings for her next show, a young, no-name painter is left with an impossible task: recreate her art in three months - or ruin her fledgling career.
Homeless and desperate, she flees to an exclusive retreat in upstate New York famous for its outrageous revelries and glamorous artists. And notorious as the place where brilliant young artist Carey Logan - one of her idols - drowned in the lake.
But when she arrives, the retreat is a ghost of its former self. No one shares their work. No parties light up the deck. No one speaks of Carey, though her death haunts the cabins and the black lake, lurking beneath the surface like a shipwreck. As the young painter works obsessively in Carey's former studio, uncovers strange secrets and starts to fall--hard and fast--for Carey's mysterious boyfriend, it's as if she's taking her place.
But one thought shadows her every move: What really happened to Carey Logan?
Wednesday April 21, 2021 at 7 pm.
You will receive the Zoom link approximately one hour before the start of the discussion.
Register Here:
https://www.scarsdalelibrary.org/events/books-you-may-have-missed-book-club-fake-me-barbara-bourland