Letters from the Affair: A Multi-Media Work about the Dreyfus Affair at Scarsdale Synagogue
Date:
Thursday, May 19, 2022 7:00 pm - 8:00 pm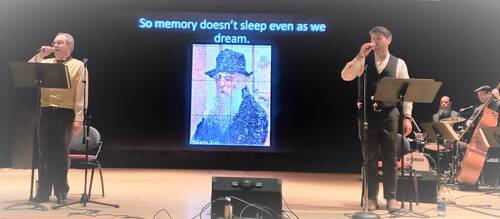 Letters from the Affair, featuring the Afro-Semitic Experience
Thursday, May 19, 2022 • 18 Iyar 5782
7:00 - 8:45 PM
In partnership with Cantor Chanin Becker of Scarsdale Synagogue Temples Tremont & Emanu-El, David Chevan (co-founder of the Afro-Semitic Experience) presents:
Letters from the Affair is a multi-media work that crosses the boundaries between jazz, opera and musical theater to tell a little-known true story about the Dreyfus Affair and how it ended the friendship between the Impressionist artists Edgar Degas and Camille Pissarro. The work traces the relationship of the two artists from before the first impressionist exhibition until Pissarro's death in 1903, using letters written by the artists along with multi-media projections of their paintings, images from newspapers and family photographs. All of the lyrics to the songs in this work are taken directly from letters written by these two artists. The piece will feature two cantors: Cantor Randall Schloss and Cantor Martin Levson. The ensemble is made up of members of the Afro-Semitic Experience.
This work was performed at several venues in London and will be presented on May 22 at the Washington DC Jewish Music Festival.
There is no charge to attend. If you would like to attend this event, please register by emailing Executive Director, Fawn Mendel at fawn@sstte.org.
Please NOTE our COVID Policy: Proof of vaccinateion is required for attendance. Ages 12+ must be vaccinated. Ages 16+ must have received one booster shot. Masks are recommended for your safety. You will be given an opportunity to upload your vaccine card when you register.
Scarsdale Synagogue Temples Tremont & Emanu-El is a reform Jewish synagogue located at 2 Ogden Road, Scarsdale, NY. 10583. 914-725-5175. www.sstte.org