Village Center Strategic Mobility and Placemaking Study
Date:
Tuesday, August 09, 2022 6:00 pm - 7:00 pm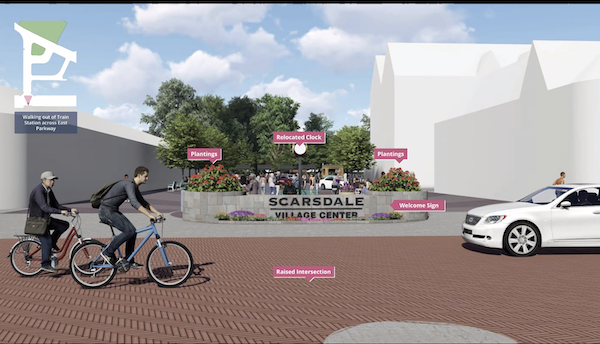 The Village Center Strategic Mobility and Placemaking study will result in changes in the physical environment that will benefit Scarsdale for decades to come – now is your chance to get involved and influence the outcomes.

Join our consultant team, FHI Studios, for the next public workshop being held on Tuesday, August 09 at 6PM. Because it is a hybrid workshop, you may participate by Zoom or in person at Rutherford Hall. The FHI team will present draft planning concepts and solicit your feedback to help further shape and refine their recommendations. Importantly, the concepts were developed through a series of public engagement efforts and your continued participation is critical to our success, so please take time from your busy summer schedule to attend and offer your perspective. One may also submit comments online at any time prior to the study concluding.

As you may already know, the study's primary goals for the Village Center are to increase pedestrian and cyclist safety, provide enhanced access for persons of all ages and abilities, improve traffic flow and circulation, activate public spaces, and incorporate sustainability concepts in the effort.

More information on the study is available on the project website: https://www.scarsdalemobility.com. If you have any specific questions, please contact Greg Cutler, Village Planner at gcutler@scarsdale.com or 914.722.1132.

To access the Zoom meeting, go to https://scarsdale.zoom.us/j/93183703358 or use meeting ID 931 8370 3358 on the Zoom app.