Cooking for Life! The Healing Power of Plants for the Planet and Ourselves
Date:
Tuesday, December 06, 2022 7:00 pm - 9:00 pm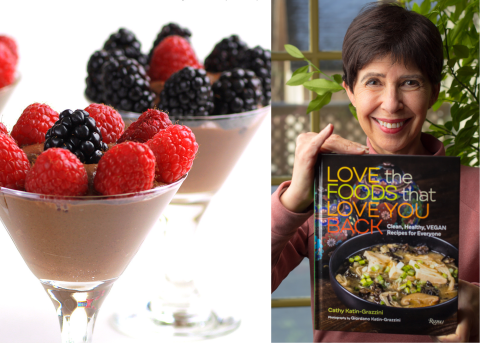 Scarsdale Public Library will be hosting an Author's Talk, cooking demonstration and cookbook signing by Cathy Katin-Grazzini, author, chef, and plant based nutritional expert on December 6 from 7:00 to 9:00 pm.
With her new cookbook, Love the Foods that Love You Back (Rizzoli, 2022), Katin-Grazzini is on a mission not just to stretch everyone's culinary horizons with tempting vegan recipes from all around the world, but also to educate them about the very powerful benefits from a diet centered around eating nutrient-dense plants to lower our individual climate footprint, to safeguard biodiversity, and to bolster our health.
"Plants are rising in popularity, so I want to entice food lovers and excite their imaginations with creative
remakes of traditional favorites as well as new dishes that are delicious, original, and by the way, really
good for us, the planet, and our fellow creatures," says Katin-Grazzini.
With simple recipes for weeknight suppers to celebratory fare for holidays and special dinners, Love the Foods that Love You Back will appeal to foodies everywhere -- cooking newbies and experienced home cooks alike. Gorgeous photography by Giordano Katin-Grazzini brings every dish to life. The cookbook demonstrates how easy it is to cook flavorfully with plants to entice even fussy eaters, and how to build flavor excitement in dishes without resorting to inflammatory additives like animal and processed foods, oils, salt, and sugar.
After her presentation and Q&A with the audience, Cathy will demonstrate how to make her cookbook's Ganache with Berries, with a tasting for all. You can find Cathys cookbook, Love the Foods that Love You Back at the event where Cathy will be signing copies just in time for the holiday season.
Contact: Katie Karkheck, KKARKHECK@wlsmail.org, 914-358-6095