Kids
The 2016 Back to School Guide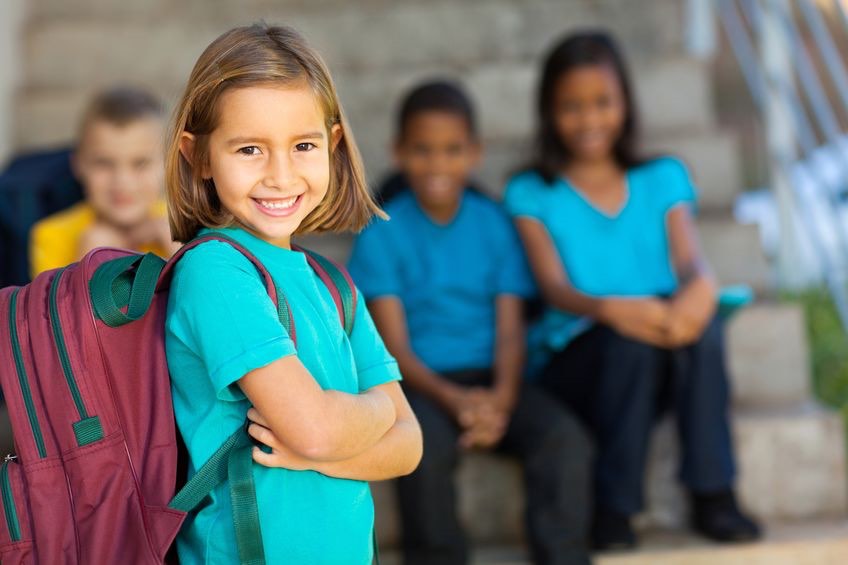 The heat wave has broken – and summer is quickly coming to a close. Some pre-season sports have already begun with the official opening of the Scarsdale Schools on September 6. The race is on to buy a backpack, school supplies, fall clothes and sign up for classes, enrichment, tutoring, college counseling, religious school, afterschool sports and fun. If your child has a fall birthday, you may also be planning a party. Below are just a few of the wonderful places and programs with activities for kids and families within driving distance of Scarsdale.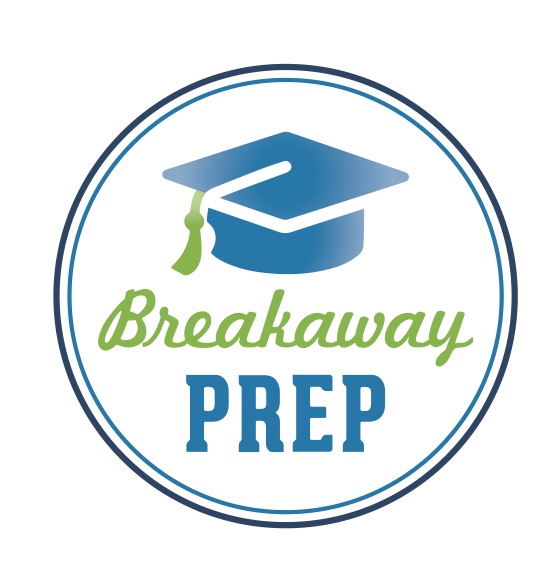 Breakaway Prep is a Westchester-based company that helps high school students with college admissions test preparation (ACT, SAT, PSAT, etc.) and the college application process. We understand that every student, family, and college dream is different. Our approach is to work closely with students to help them explore their testing and college options, stay organized, develop a balanced college list, write powerful essays, and understand each step of the application process. We aim to take some of the mystery and fear out of the process, keeping your family prepared, confident, and excited about applying to college. Please visit our website or call (914) 715-3997 for more information
MathZone Westchester is an after-school math enrichment program started last year by Lian Wang, Ph.D. and Jennifer Liang, Ph.D. We provide an advanced and stimulating program for students who are looking for greater challenges than that offered at school, helping them to reach their full potential in math and related fields. Last year we offered 4th-8th grade classes as well as the math competition class MathCounts, and received encouraging feedback from both students and parents. Starting this Fall we will add two high school classes: 9th grade Geometry and 10th grade Algebra 2, to help the students navigate the difficult transition from middle school to high school math. If you are interested in our program, please visit our website, email us at mathzone2015@gmail.com, or call 914-874-3591.
Backyard Sports Prep Basketball is now accepting registrations for all 3rd-9th graders to participate in our Fall Basketball League. The program takes place at Purchase College on Sundays. For more information click here or call Danny Bernstein at 914-304-4052.
Education at the JCC of Mid-Westchester: Feeding the Minds and Bodies. Pre-school learners all benefit from the full service nursery schools, fitness and sports facilities and professional teaching staff throughout the JCC .... A year round indoor pool, fitness programs, arts programs and Special needs programs.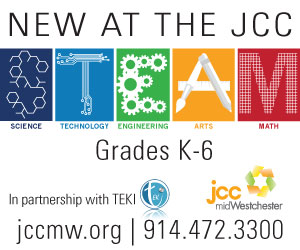 All under one roof! Early drop off late pick up available. The JCC's Summer Art Center (SAC), a one of a kind program that provides a non-competitive, nurturing and flexible environment for all children with a passion for the Arts, continues throughout the year! Classes are all taught by professional artists and teachers and offers high quality instruction in Fine Arts, Dance, Theatre and Music. The Dance School provides extensive programs for pre-schoolers, teens, and adults. The Academic Center offers everything you need to prepare your kids for college entrance. One of the best things about having more than 250 programs for the whole family is that we can offer discounts to our members and patrons. For example, Nursery school families get significant discounts on the fitness packages, camps, and even pre-registration priority for programs that sell out like gymnastics. Contact the JCC for more information or to schedule a tour: 914-472-3300, www.jccmw.org.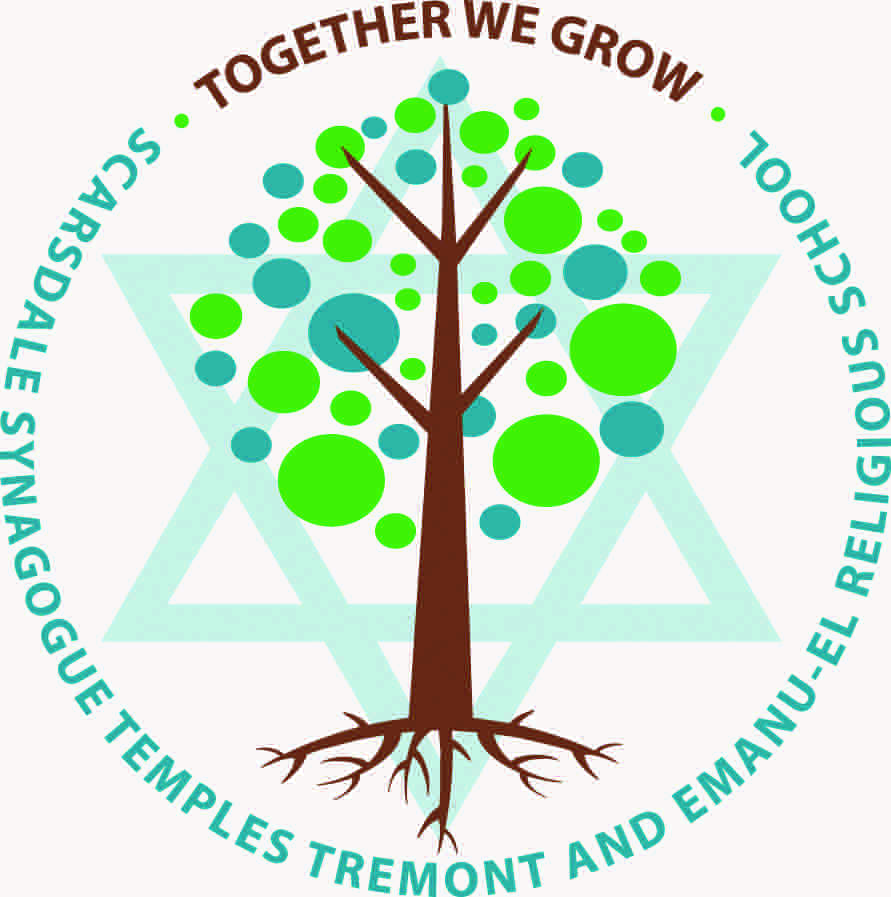 Scarsdale Synagogue Temples Tremont and Emanu-El Religious and Hebrew School welcomes you to join our exciting, innovative, and joyous community. Our program is designed for Pre-K to Grade 12 and each grade has its unique educational focus (i.e. Bible, Life Cycle, Jewish Ethics and Social Action) and will enjoy exploring that theme through dramatic arts. visual art, music and more. Through these themes, we strive to instill a love of Jewish learning and Hebrew and sense of Jewish self among our students and families. Using 21st century technology to teach the relevance of the texts and traditions of Judaism, our programs are engaging, meaningful, and fun for learners of all ages. Our school strongly reflects Scarsdale Synagogue's warm and welcoming approach to creating a Covenant Community of Shared Lives and Real Relationships. In addition, we offer an inclusive program, serving students in 4th-6th Grades who benefit from small class sizes and specialized resources, and accommodating a range of learning and social challenges such as language-based learning disabilities and ADHD. We invite members of the wider Westchester Jewish community, of all ages, to stop by and learn more about our commitment to lifelong Jewish learning. For more information, please contact Rabbi Ilyse Glickman, Director of Congregational Learning, at 914.725.5175 or rabbiglickman@sstte.org. You can also visit their website here.

Sportime Tennis at Harbor Island and Lake Isle: There are many reasons to choose SPORTIME clubs to provide your child's pathway to tennis, which is often called the "sport for a lifetime", or the "sport of opportunity". Our NEW tennis pathways are designed to get kids in the game as early as preschool age, and to progress them through high school, college and beyond. Whether your child is looking for recreational or competitive play, SPORTIME has a fun and effective pathway for him/her.
SPORTIME offers the best tennis programs in Westchester. From TennisWhizz for preschoolers to John McEnroe Tennis Academy for the highest rank junior players. Classes run every day after school and on the weekend. We also offer classes for Adults of all levels, from beginners (2.5 USTA rating) to advanced players (5.0). Adult classes run during the day while kids are in school, at nights, and on the weekends.
SPORTIME offers 16 beautiful indoor/outdoor soft surface tennis courts between our two clubs in lower Westchester. One low-priced membership provides access and member benefits to both facilities at Harbor Island and Lake Isle. Get started today! For more info for Harbor Island, call 914-777-5050 or email gripoll@sportimeny.com and for Lake Isle, call 914-777-5151 or email bgivens@sportimeny.com.
Steffi Nossen School of Dance (White Plains) offers classes for dancers of all abilities in a nurturing environment. Though the discipline and joy of dance, students develop grace and physical fitness, build confidence and poise, and experience the creative process. Our new Dancing Tots (from 12 months) Boys Movement and Musical Theater classes join a full roster of Modern, Ballet, Jazz, Musical Theater, Hip-Hop, Composition, and Moving Wheels and Heels – an adaptive class for dancers with special needs at its main site in White Plains and in Chappaqua. Visit our website for more information, www.steffinossen.org or contact us at info@steffinossen.org or (914) 328-1900.
Westchester Skating Academy is a year-round, twin-rink ice skating Learn to Skate facility offering recreational, hockey, and figure skating for all ages and abilities. WSA programs include public skating, learn-to-skate classes, group events, birthday parties, summer/holiday camps and clinics, adult and youth hockey leagues and instruction, and much more. Visit us online for more information at www.skatewsa.com. Or contact us via email at: skateinfo@skatewsa.com, or (914) 347-8232 for more information.
For the Younger Set:

Congregation Kol Ami: The Early Childhood Program at Kol Ami is dedicated to providing a comprehensive and developmentally appropriate curriculum teaching and modeling Jewish values. We believe that children learn best through experiential play and provide for these rich experiences within warm, accepting, and nurturing surroundings. All of our Head Teachers have Masters Degrees in Early Childhood or N-6 or related educational fields. We offer a wide range of programs for children (from 1 to 5 years old) and their families. Our A Step Ahead! program for Fall 5 year olds provides full day Pre-K learning. For more information, contact: Nan Blank, ECP Director at nanblank@nykolami.org or call her 914-949-4717 x107.
KIDS Base/Little School: Open enrollment for the 2017-2018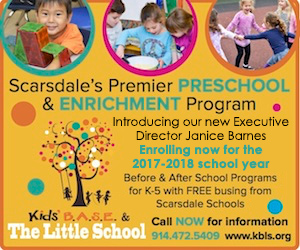 school year begins on October 1st at the Little School. We offer Half-Day Two's program in the morning and in the afternoon; Half-Day and Full Day Three's and Full Day Four's as well as early drop-off at 7:00am and Extended Day Child Care until 6:30pm. We are excited to introduce our new Executive Director, Janice Barnes. Janice comes to us with a wealth of experience in the early childhood field. She has been teaching and supervising in Port Chester, Edgemont, and White Plains for over 25 years. She is also an adjunct professor in the early childhood department at Nyack College.
Our facility includes 8 large classrooms and a newly renovated enclosed playground. We focus on cognitive, linguistic and social-emotional competencies in our efforts to educate the whole child. We strive to make each child's first school experience a positive one that inspires a lifelong love of learning. We are proud to be accredited by the National Association for the Education of Young Children (NAEYC) meeting rigorous standards for health, safety, teacher qualifications, curriculum and ongoing training. We work closely with Scarsdale Schools to ensure that our children are well prepared for kindergarten and future years.
The Little School is located at 307 Mamaroneck Road, Scarsdale in front of the Pool Complex. For further information or to request an application, please call 914-472-5409, email office@kbls.org or visit our website at www.kbls.org.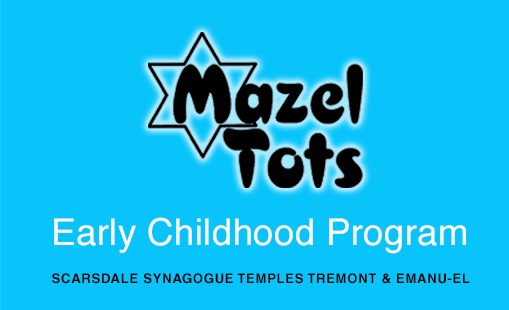 Mazel Tots® at Scarsdale Synagogue provides a warm and stimulating environment, which encourages children's curiosity and helps them to grow socially, emotionally, physically and intellectually. Our warm and nurturing staff will guide the children through a curriculum filled with a variety of child-centered and developmentally appropriate activities that are safe, fun and friendly. The children's spiritual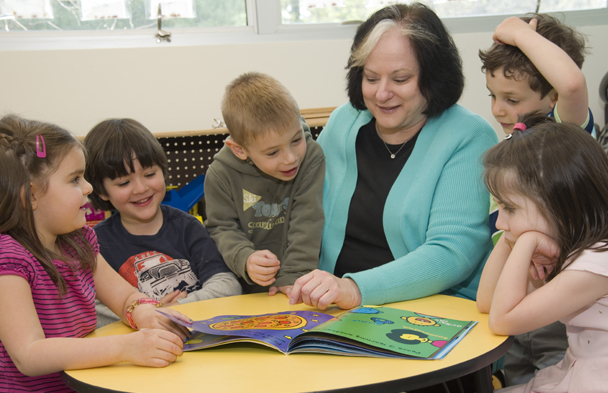 growth will be enriched by the study of Jewish holidays, traditions and family values. We also offer a group of special activities such as sports and games, music, creative movement, sign language, nature, yoga, karate, science, art and more! We have two beautiful new playgrounds and gardens, plus a newly equipped indoor play space featuring ride-on toys, gym equipment, giant blocks, stepping stones and the like! Our Early Childhood Program serves children from 18 months until Kindergarten-bound! We also have afternoon Enrichment Programs and a Parenting Program! For more information please contact Jody Glassman, Early Childhood Program Director at 914-723-3001 or mazeltots@sstte.org. You can also visit our website. Scarsdale Synagogue is located at 2 Ogden Road, Scarsdale, NY 10583. 914.725.5175.
The Scarsdale Congregational Church Nursery School (SCCNS) has long tradition of nurturing the hearts and minds of children in the Scarsdale community for more than 50 years. We are a play-based, non-sectarian preschool whose goal is to promote social development, instill a desire to learn, encourage verbal expression and improve coordination and motor skills. Our safe, diverse and nurturing classrooms are located in a bright, ground-floor building on the grounds of the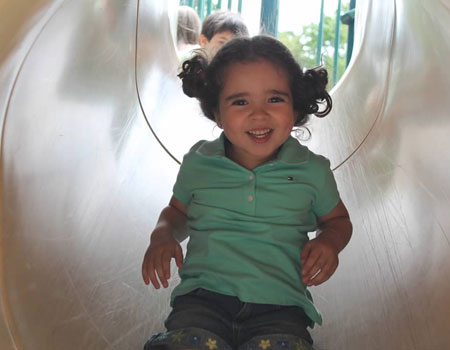 Scarsdale Congregational Church, within walking distance of Scarsdale Village. As we foster young children's growth, we are committed to building a strong sense of community between parents, teachers and children. We have a few spots open for the 2016-2017 school year. Registration for the 2017-2018 school year will begin on October 19th. Open Houses will be held Wednesday, September 28th and Thursday, October 13th from 9:30 a.m. -11:00 a.m. For more information, visit us at www.sccnurseryschool.com. Please contact Melissa DiCostanzo, School Director, 1 Heathcote Road, Scarsdale, NY 10583 by phone at 914-723-2440 or email: sccnschool@gmail.com.
The Early Childhood Center of Westchester Reform Temple is dedicated to guiding, supporting and enriching young children's lives spiritually, intellectually, emotionally, socially and physically. Our warm staff of experienced educators, along with Temple clergy and specialists, work in partnership to implement our academic program. Using developmentally appropriate best practices, and lots of love and support, we prepare our students for the demands of kindergarten readiness. Our pre-school curriculum reflects continuity of content and skills, subsequent growth at each age level, and is responsive to children's interests and individuality in the creation of emergent curriculum. Our LEED certified facility offers beautiful indoor classrooms, play spaces and two age-appropriate outdoor playgrounds, filled with light and surrounded by nature. We encourage children's pride, knowledge and joy of Judaism, as we join together with parents to provide an environment where children love to learn and enjoy celebrating Jewish family life. Classes are offered for ages toddler to four-year-olds, and we offer half day and full day options for older children. For information, and to schedule a visit to our pre-school, please contact ECC Director Sue.tolchin@wrtemple.org or call us at 914 723-5493.
Starlight Starbright Music – right here in Scarsdale -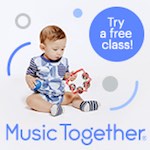 offers the Music Together® program. Music Together is an international early childhood music and movement program for children from birth through age 7—and the grownups who love them®. First offered to the public in 1987, it pioneered the concept of a research-based, developmentally appropriate early childhood music curriculum that strongly emphasizes and facilitates adult involvement. At Starlight Starbright Music, we also offer Uke U., a parent-child beginner ukulele program for children 3 to 6 years of age written by Jackie Freimor in 2013. For more information and to register for class, please visit us at www.slsbmusic.com or call (914) 924-0995. 78 Garth Road, Scarsdale, NY 10583.
Also keep in mind:
Kids Activities/Birthday Parties
Artistree Arts
www.artistreearts.com
114 East Boston Post Rd, Mamaroneck
914-835-2200
info@artistreearts.com
Bach to Rock
www.mamaroneck.b2music.com
130 Mamaroneck Ave. Mamaroneck
914-341-1457
mamaroneck@bachtorock.com
Boulder Brook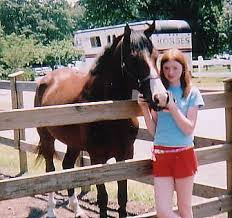 www.boulderbrookequestrian.com
291 Mamaroneck Road, Scarsdale
914-725-3912
boulderbrookeq@gmail.com
Bounce U
www.bounceu.com
150 Clearbrook Road
Elmsford
914-874-5200
Crestwood Music Center
www.crestwoodmusic.com
452 White Plains Rd, Eastchester
914-961-3497
info@crestwoodmusic.com
Dance Cavise
www.dancecavise.com
273 Halstead Ave, Mamaroneck
914-381-5222
joe@dancecavise.com
Funcraft
www.funcraftparties.com
590 Central Park Ave, Scarsdale
914-472-1748
funcraftparties
Great Play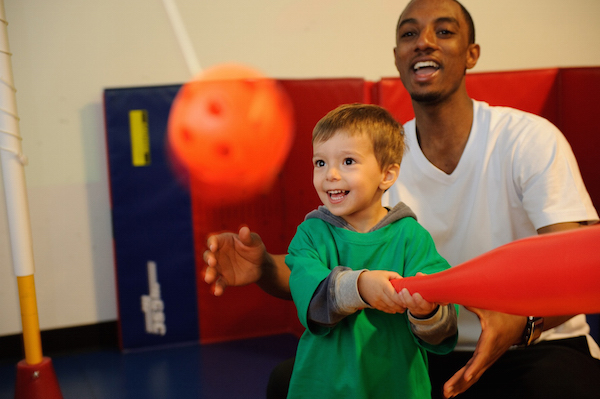 www.greatplay.com/scarsdale
969 Central Park Ave, Scarsdale
914-713-3470
info@scarsdale.greatplay.com
Gymcats
www.gymcats.net
1 Odell Plaza, Yonkers
914-965-7676
info@gymcats.net
Hoff-Barthelson
www.hbms.org
25 School Lane, Scarsdale
914-723-1169
hb@hbms.org
Music Conservatory Westchester
www.musicconservatory.com
216 Central Ave, White Plains
914-761-3900
info@musiced.org
Musical Munchkins
www.musicalmunchkins.com
914-771-7000
info@musicalmunchkins.com
The Playgroup Theater
www.playgroup.org
1 N. Broadway, White Plains
914-946-4433
rachel@playgroup.org
Random Farms Kids' Theater
77 Executive Blvd, Elmsford
914-740-1010
registrationsupport@randomfarms.com
School of Rock
www.schoolofrock.com/mamaroneck
1 Depot Plaza, Mamaroneck
914-777-1500
mamaroneck@schoolofrock.com
Sportime USA
www.sportimeusa.com
Route 9A, Elmsford
914-592-2111
Star Kidz
www.starkidzonline.com
914-921-0006
alyson@starkidzonline.com
Steffi Nossen Dance
www.steffinossen.org
216 Central Ave, White Plains
914-328-1900
shelley@steffinossen.org
Westchester Gymnastics
www.westchestergymnastics.net
5 Skyline Drive, Hawthorne
914-592-2324
tara@westchestergymnastics.net
Westchester Sandbox Theater
www.wstshows.com
931 W. Boston Post Rd, Mamaroneck
914-630-0804
info@wstshows.com
Young at Art
www.youngatartworkshop.com
1088 Central park Ave, Scarsdale
914-723-9229
info@youngatartworkshop.com
Tutors
Advantage Testing
www.advantagetesting.com
350 Theodore Fremd Ave, Rye
914-921-6700
westchester@advantagetesting.com
Bespoke
www.bespokeeducation.com
1 Bridge Street, Irvington
914-231-7309
Eye Level
www.eyelevelscarsdale.com
62 Garth Rd, Scarsdale
914-713-3965
scarsdale@myeyelevel.com
Kumon
www.kumon.com/scarsdale-east
1477 Weaver St, Scarsdale
914-980-7916
kosakunakamura51@ikumon.com
TutorPro
www.thetutorpro.com
35 Kingsbury Road New Rochelle
914-834-2053
nyc@thetutorpro.com
Meal Delivery Services
Organic Pharmer
www.organicpharmer.com
28 Garth Road, Scarsdale
914-481-4300
Plated
www.plated.com
delivery services only
855-525-2399
help@plated.com
Temra's Table
www.temrastable.com
914-723-7776
temrastable@gmail.com