Ribbon Cutting Ceremony at Greenacres Elementary School on Friday January 22 at 9 am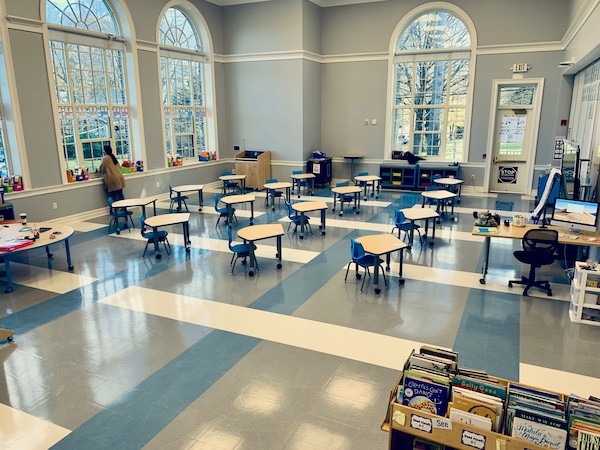 The Board of Education and Administration of the Scarsdale Public Schools announce a Ribbon-Cutting Ceremony for the newly expanded and renovated Greenacres Elementary School on Friday, January 22 at 9:00 a.m.
Due to pandemic restrictions, attendance at this event is limited and by invitation only. However, the event will be live-streamed on SPS-TV and Facebook beginning at 9:00 a.m. The program of the ceremony can be found here.
As a complement to the Ceremony, the District will be sending out links Friday morning so that community members may view a video tour of, and interview about, the process and new spaces.
The expansion and major renovation of Greenacres Elementary School is the result of many years of work by the Board of Education, administrators, faculty, parents, and community members who served on various committees related to the project over the past six years. The fruit of their labor is evident in the larger and more flexible classroom spaces, multipurpose rooms, bright hallways, renovated library, new cafeteria, updated playgrounds, and so much more.
The project includes eight new 800 square foot classrooms space for fourth and fifth grades. There is also a beautiful, new Learning Commons and Multipurpose Room. Originally designed to be flexible and highly- configurable spaces, the Learning Commons and Multipurpose Room have both been adapted for use as socially-distant Kindergarten classroom spaces since November.
The renovation also allowed for the school to be completely reconfigured into a more effective and organized learning environment. Now, services like occupational, physical, and speech therapy have dedicated spaces, each in the same hallway. Art and music classrooms have also been relocated and clustered together.
Perhaps the crowning jewel of the project is the new Library. The bright and airy space is whimsical and inviting. It's also closely integrated with a new Maker Space and a renovated and upgraded Computer Lab.
The school was also renovated for ADA compliance, including repairing doors for greater accessibility. An accessible ramp was also constructed to enable students of all abilities to access the upper playground, which was also outfitted with new and accessible equipment.
The renovation and expansion also addressed many structural issues, including new heating boilers and burners, classroom ventilation systems, roofing and gutters, and fire/security upgrades. Work was also performed on the building's fire alarm and electrical systems. Renovated bathrooms and new drinking fountains were also included in this project.
"The new school is absolutely beautiful and is a testament to the dedication of the Scarsdale community to its schools and its children," said Superintendent Dr. Thomas Hagerman. "We are thrilled with the new building and how well it is already performing."
Greenacres Principal Sharon Hill echoed Dr. Hagerman's sentiments.
"It's not just a new building, it's a functional building," added Ms. Hill. "It makes such a difference to our children to have services all together, to have their classes in the same area. We are grateful."
Because of pandemic-related construction delays, a ribbon-cutting ceremony in the fall was postponed. Friday's ribbon-cutting ceremony will be an outdoor event. No one will be permitted inside the school at this time. The festivities will be broadcast live on Facebook and SPS-TV, and a video tour of the new school will be available.