The Arts Play a Foundational Role in Scarsdale Education
Thursday, 30 September 2021 09:21
Last Updated: Thursday, 30 September 2021 12:34
Published: Thursday, 30 September 2021 09:21
Joanne Wallenstein
Hits: 576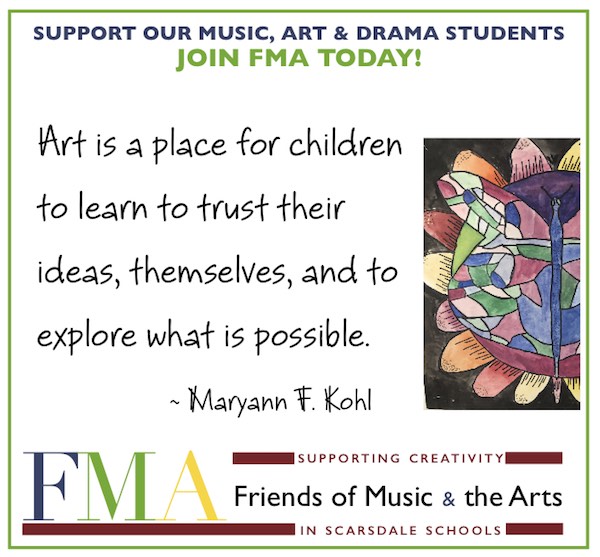 Join Friends of Music and the Arts in Scarsdale Supporting Creativity
Did you know that over 1300 students in Scarsdale Schools K-12 participate in instrumental music? That's over 25% of students! (and doesn't even include our singers.) And did you know that Scarsdale High School offers about 30 unique art classes, ranging from printmaking to computer animation to art history? And offers nearly as many performing arts classes in drama and music, such as improv, jazz and wind ensemble? Impressive!
Scarsdale's outstanding arts program from K-12 is one of the crown jewels of a Scarsdale education. It provides opportunities for students to connect, find self-expression, and cultivate well-being. Children are back in school now and are also back together in their school music ensembles, art studios and drama productions.
From ancient times, the arts have been understood as a critical element in healthy human development. Today, the world will need our children to be deep and critical thinkers in order to tackle the complex problems of the future. Creative thinking starts with arts education and is more important now than ever.
FMA - The Friends of Music and Arts is the nonprofit parent booster group for visual and performing arts in Scarsdale schools. We are supporting creativity! Our mission is grounded in our profound value for the arts, but our efforts are concrete and require resources.
For example, FMA connected and supported our student artists and musicians in new and exciting ways last year in response to the challenges of the COVID-19 pandemic. From producing a student talent video to launching Practice Partners, FMA's new student-to-student music mentorship program, FMA introduced creative initiatives to meet students' needs and build community.
In addition to bringing back Practice Partners later this fall, FMA is planning to return to our core initiatives, such as providing SHS concert receptions, student awards, and grants for gifts to each school. FMA also offers gently used, cleaned SHS concert dresses at a steep discount through the Encore Dress Program. FMA hopes to pursue many other program ideas and relies on parent volunteers and family donations.
FMA has launched a membership drive and encourages parents and residents to join or renew your membership for the school year. renew your FMA membership for the school year Membership starts as low as $35 and all gifts are gratefully welcome. As an added perk, FMA members can also save on instrument rentals and purchases, art supplies and dancewear from our local business partners.
FMA is pleased to announce this year's slate of leaders below. More volunteers are needed! If you'd like to get involved with our activities, click here to volunteer, or contact us at fmascarsdale@gmail.com
The 2021-22 FMA Executive Team
Laura Gelblum President
Sherry Hsu, Diane Greenwald, Suzie Hahn Vice Presidents
Meghana Mehta & Cindy Yau Co-Treasurers
FMA relies on family donations… and our students rely on us. Thank you in advance for supporting the FMA mission to serve Scarsdale music, art and drama students.
Submitted by Laura Gelblum and Diane Greenwald on behalf of FMA