Four Named Eagle Scouts at Eagle Court of Honor
Thursday, 26 May 2022 09:38
Last Updated: Thursday, 26 May 2022 11:33
Published: Thursday, 26 May 2022 09:38
Midori Im
Hits: 685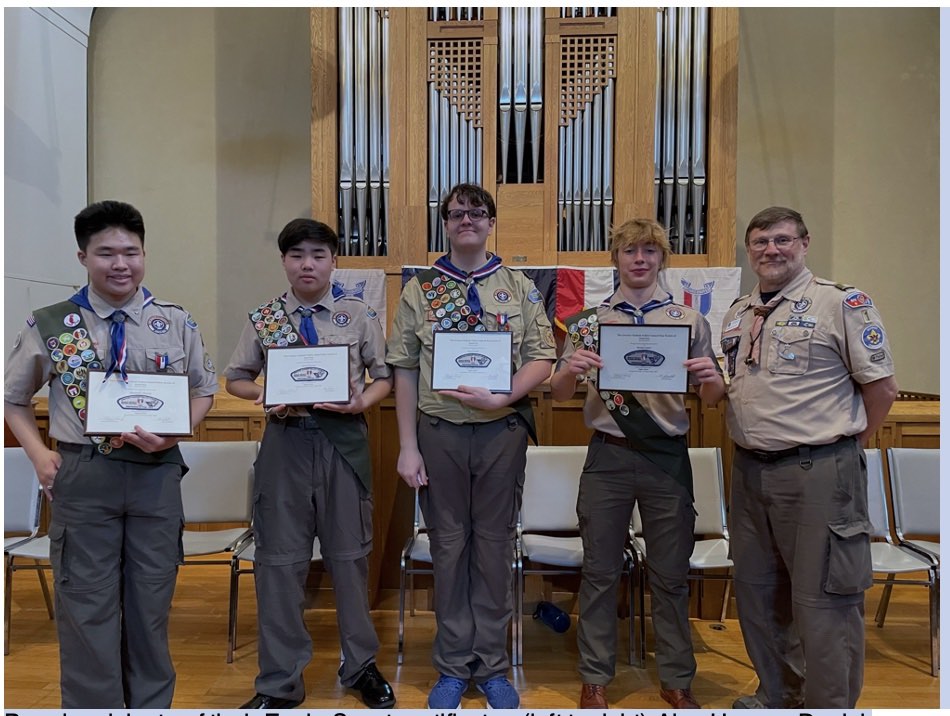 Proud recipients of their Eagle Scout certificates (left to right) Alex Hwang, Daniel Hwang, Daniel Kolb, Wesley Coker. Mark Schivley (far right) presented these on behalf of Boy Scouts of America. Photo courtesy of Hyun Hwang.Hitchcock Church was the setting for the Scarsdale Boy Scout Troop 4's Eagle Court of Honor on Sunday May 15, 2022. Emceed by Scoutmaster Emeritus Kevin McCarthy, the event celebrated the achievements culminating in the Eagle Scout rank of four young men: Daniel Hwang, Alexander Hwang, Wesley Coker and Daniel Kolb. Only about one in 10 scouts attain this rank, the highest in scouting. Furthermore, eighth grader Daniel Hwang, a student at Scarsdale Middle School, may well be the youngest Eagle Scout in Troop 4's history.
In the presence of the scouts' family and friends, Mark Schivley, Algonquin District Chairman of the BSA Greater Hudson Valley Council, formally welcomed the scouts to the ranks of Eagle Scout. County Executive George Latimer and New York Assemblymember Amy Paulin congratulated the scouts and their families and presented the young men with commendations. In addition formal citations were given from the Mayor of Scarsdale, Jane Veron. Reverend Katherine Pater of Hitchcock delivered the invocation and benediction.
The Eagle Scout project, a community service effort led, organized and executed by the Eagle candidate, is one of the most challenging requirements. The boys had received help from family friends and scouts to have their projects come to fruition. Daniel Hwang's project centered around the repair and completion of a terraced garden at Hitchcock. There had been an unfinished, abandoned terraced garden in the rear of the church's property which, with the expansion of the Bronx River Trailway, had gone from a dark corner with little pedestrian traffic to part of a busy walking and jogging route for the community. Daniel's project resulted in a garden of flowers and plants for the church community and users of the Bronx River Trailway to enjoy.
While in the troop Daniel has served as Den Chief and Chaplain Aide, as well as being recently elected to the position of Assistant Senior Patrol Leader. Outside of scouting, Daniel's passion is baseball. He competes year-round as an outfielder for HEAT baseball in Ardsley. Daniel also enjoys singing and was a NYSMAA All-County voice selection in 2020. Daniel regularly volunteers with Midnight Run and Westhab, which provide food, clothing, and other essential items to the homeless in New York City and Yonkers. A high adventure lover, Daniel canoed more than 114 kilometers in northern Ontario a few years ago and is looking forward to biking and camping along the Pacific Coast this coming summer. Daniel's other hobbies include golf, squash, and skiing.
Keeping it all in the family, Daniel's older brother Alex also was formally recognized as an Eagle Scout on the 15th. Alex, a junior at Scarsdale High School, similarly began his scouting journey with Pack 440. As a member of Troop 4 Scarsdale, Alex has served as Troop Historian and Assistant Senior Patrol Leader. Alex has a strong interest in scientific research and has co-authored an academic journal article on asymptomatic pediatric Covid-19 patients in the metro-NYC area. He is also studying genes and biological pathways for various neurological disorders as a research assistant in the Icahn School of Medicine at Mt. Sinai. Additionally, Alex is active in Model UN and volunteers with Midnight Run.

For his Eagle project Alexander built three outdoor benches for Hitchcock. Permanent outdoor seating was in short supply and was in particular need by the older congregants when attending outdoor events or awaiting transportation.

A Manhattan transplant, Wesley Coker also started scouting at a very tender age. When he moved to Westchester and joined Troop 4, he enjoyed the campouts, community service events and earning merit badges. Now at 15, Wesley plays varsity football and junior varsity basketball at Edgemont High School. He is also a budding entrepreneur with a flourishing sneaker reselling business.

Wesley's eagle project was the rebuilding of a 40-yard segment of a severely eroded and unsafe trail in the woods at Edgemont High School that is used by students daily to get to and from school. The work included clearing an adjacent stream of debris and moving stones to assist with rerouting the water flow, re-grading the trail with dirt and gravel to build a turnpike and eliminate puddling, forming short barrier walls of stone, and removing existing degraded wood stairs and replacing them with rock steps. The project cost just under a thousand dollars and took approximately 110 man-hours of physical labor with the assistance of scouts, friends, and family.

Daniel Kolb, a senior at Scarsdale High School, also has been in scouting for most of his life. Daniel has held several positions in the troop, including Den Chief, Assistant Patrol Leader, Patrol Leader, Senior Patrol Leader and Junior Assistant Scoutmaster.
Daniel participated in a BSA High Adventure camp with other Troop 4 members at SeaBase in Florida, where they learned about sailing and snorkeling. For his senior option, Daniel is taking an intensive training course to become a certified Emergency Medical Technician. Daniel is headed to Colby College in the fall where he plans to study biology, with an emphasis on genetics, and also history. His hobbies include scuba, skiing, travel, gaming and reading.

For his Eagle project, Daniel designed and built an 8' x 8' outdoor enclosure for the enrichment of the animals of the Scarsdale Weinberg Nature Center. Animals of the nature center are put in the enclosure during the day and put back indoors in cages at night. The project has been well received by humans and animals alike.

Three of the four Eagle Scouts began their scouting journey with Scarsdale Cub Scout Pack 440. Both Pack 440 and Troop 4 have Hitchcock as their chartering organization, and they are open to people of any faith. More information is available at scarsdalepack440.com and https://scarsdale4.mytroop.us/home.