Last Chance: Cast Your Mail In Ballot For CNC Candidates for Receipt by November 10
Wednesday, 04 November 2020 07:59
Last Updated: Thursday, 05 November 2020 07:20
Published: Wednesday, 04 November 2020 07:59
Joanne Wallenstein
Hits: 1646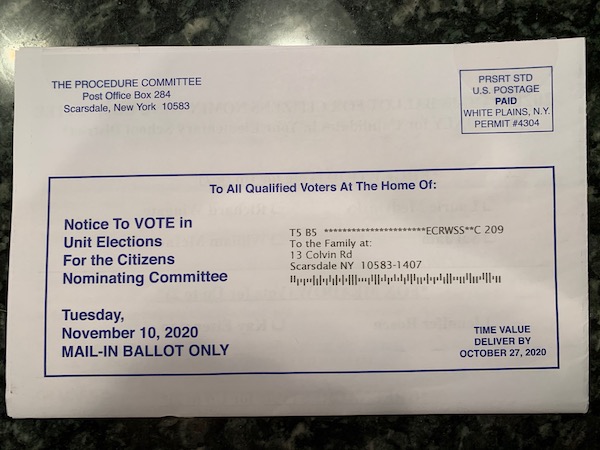 (Updated November 5, 2020) The deadline to vote for your neighborhood representatives in the annual Citizens Nominating Committee election is this coming Tuesday, November 10. Mail-in ballots should be mailed as soon as possible to the Procedure Committee's P.O. Box 284, Scarsdale NY 10583. There is no in-person voting this year. Ballots must be received at the Chase Road Post Office before 5 PM on Tuesday. To ensure timely receipt of your ballot, please allow ample time for postal delivery. A ballot with instructions was included in the Election Brochure mailed to all voters, or you can download a ballot on the Procedure Committee website at www.scarsdaleprocedurecommittee.org
The Procedure Committee of the Scarsdale Citizens Non-Partisan Party presented their slate of candidates for the Citizens Nominating Committee. Fifteen residents have volunteered to run as the elected representatives from each elementary school area. Those who are elected will join current CNC members to meet with non-partisan candidates for the village offices of Mayor and Village Trustee. The 30 elected members of the CNC will then nominate candidates to represent the Non-Partisan party's slate in the village election, which will take place in March 2021.
According to Procedure Committee Chair Madelaine Eppenstein, an election brochure was mailed to each Scarsdale household last week. This year, the election is by mail-in ballot by November 10, 2020. Eppenstein explained, "The CNC election procedure for voting only by mail-in ballot is straightforward. The Procedure Committee, which administers the CNC election, follows the typical instructions that you will find, for example, on the November 3 general election mail-in ballot. The instructions ensure security of the ballot, voter anonymity and integrity of the process. A copy of the ballot with step by step instruction were included in the CNC Election Brochure that was mailed to all Scarsdale voters last week. It hasn't varied over recent years. The Non-Partisan Resolution, which governs the administration of the non-partisan system, already provides for mail-in voting."
You need to complete your ballot and mail it for receipt by November 10, 2020. Additional ballots can be downloaded here. Each ballot needs to be mailed in a separate envelope.
Below are the candidates whose names will appear on the CNC ballot. The full list, along with biographies of each candidate, will appear in the brochure mailed to all residents prior to the election.
Edgewood

Sital Jain
William McInerney
Laurie Medvinsky
Richard Wingate
Fox Meadow
Kay Eisenman
Jennifer Rosen
Greenacres

Jeff Blatt
Mary Pat Jones
Jared Stern
Scott Weiss
Heathcote

Lynn Badain
Han Zhou

Quaker Ridge

Rob Tepper
Matthew Zik
Here is the list of the candidates and current CNC members from each of the five neighborhoods.

For further information, contact: Madelaine Eppenstein, Chair at meppenstein@eppenstein.com.