Scarsdale Greets New Mayor and Elects Three Village Trustees
Wednesday, 17 March 2021 09:37
Last Updated: Thursday, 18 March 2021 13:22
Published: Wednesday, 17 March 2021 09:37
Joanne Wallenstein
Hits: 957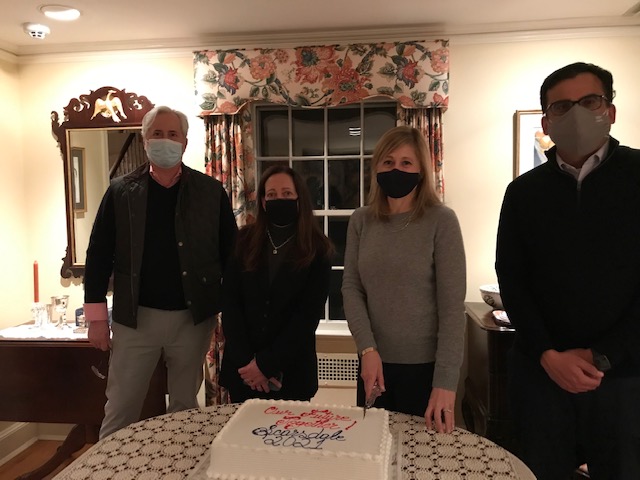 Jonathan Lewis, Karen Brew, Jane Veron and Sameer Ahuja were elected to serve on March 16, 2021A total of 423 residents cast their votes for a new Mayor of Scarsdale and three Village Trustees in the March 16, 2021 Village election. In a sign of the times almost a third of the votes were cast by absentee ballot as people preferred not to vote in person due to the pandemic.
The tallying of the votes when the polls closed at 9 pm was subdued, as the candidates ran uncontested and the outcome was assured. Unlike past years when independent candidates challenged the Non-Partisan Party Slate, this year there was unanimous support for the four people who had been vetted and selected by Scarsdale's Citizen's Nominating Committee.
Last year the election was put off from March 2020 to September 2020 due to the COVID crisis. A slate from the Voter's Choice Party challenged the SCNPP slate and a total of 1,921 votes were cast with the SCNPP slate winning 2:1.
Scarsdale will now be led by Mayor Jane Veron, a former two-term Village Trustee and community volunteer with a lengthy record of service to Scarsdale. Her team will include Jonathan Lewis, who was elected for a second term with newcomers to the Board Sameer Ahuja and Karen Brew along with current Board members Justin Arest, Lena Crandall and Randy Whitestone. Mayor Marc Samwick, Seth Ross and Rochelle Waldman will complete their terms of service.
The vote count, tallied and announced by Village Clerk Donna Conkling at the Scarsdale Congregational Church was as follows:
Mayor Jane Veron: 406
Village Trustee Sameer Ahuja 398
Trustee Karen Brew: 393
Trustee Jonathan Lewis: 394
Due to COVID restrictions, the traditional celebration at the Scarsdale Woman's Club could not be held, but candidates did get to cut the cake at the home of former Mayor Jon Mark.
The Board has much work ahead including balancing the Village budget, repairing the Scarsdale Pool, revitalizing Scarsdale's business district and perhaps making another attempt to repair the Freightway Garage or redevelop the site.
Here are comments from the newly elected Board members:
Mayor Jane Veron
I am honored to serve our community. I am deeply committed to making Scarsdale a wonderful place to live, and I feel exceedingly lucky to get to work with this extraordinary Board and our dedicated Village staff. Together, we will continue to fortify the strong foundation of our community, and we will create a vision for Scarsdale that honors our past and builds for our future.
Village Trustee Sameer Ahuja
I am so excited to serve the Scarsdale community and work with such a wonderful group of Trustees, Village Staff and volunteers. Scarsdale is a special place for my family and I and I look forward to help to make Scarsdale the best it can be.
Village Trustee Karen Brew
I am honored to have been nominated by the CNC and now to be elected with this wonderful group. I am excited to be joining this team and want to do the work and give back. I enjoy living here and want to make Scarsdale a place that everyone continues to enjoy.
Village Trustee Jonathan Lewis
"I am very grateful to the Citizens Nominating Committee for nominating me, and honored that the voters of Scarsdale turned out in such strong numbers during a pandemic to support the entire slate. I am honored to be given the chance to serve a second term as Village Trustee, and looking forward to working with Jane, Karen, and Sameer. I will miss working with Marc, Seth, and Rochelle, but know we can count on their guidance in the months ahead."
Lewis added, "The turnout in this uncontested election was similar to the turnout in 2019. Given the pandemic, I felt that was a strong outcome."