Village Board Passes Limitations on the Use of Gas Leaf Blowers at Final Meeting
Thursday, 25 March 2021 13:24
Last Updated: Thursday, 25 March 2021 13:34
Published: Thursday, 25 March 2021 13:24
Sammy Silberberg
Hits: 1786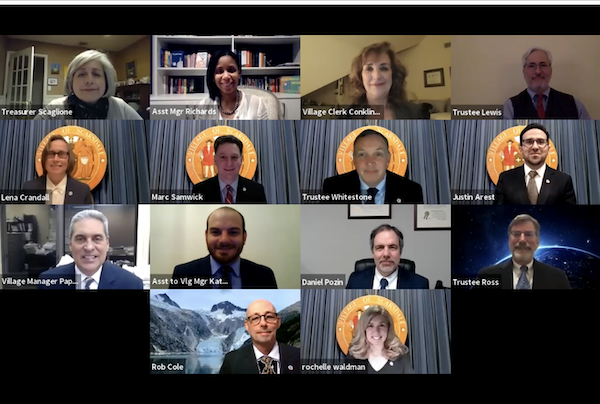 On Tuesday, March 23rd, Village Mayor Marc Samwick hosted his last Board of Trustees meeting as the Mayor of Scarsdale. For Trustees Rochelle Waldman and Seth Ross, this meeting also marked their last, as their terms as trustees come to an end this month. In his opening remarks, Mayor Samwick spoke about the senseless killing of eight people in Atlanta and the horrific hate crimes against the Asian American and Pacific Islander community. As a village, Scarsdale seeks "to build a community that is just, fair, welcoming and inclusive, where dignity is maintained. We value and celebrate our community's cultural commonalities and differences while strongly rejecting bias towards any group." Mayor Samwick encouraged residents to attend the Vigil in Chase Park this Saturday, March 27th from 1-3 pm to honor the victims of this horrifying and deadly attack. Click here to read his statement.
Mayor Samwick went on to congratulate newly elected incoming Mayor Jane Veron who is an "exemplary volunteer and leader" and said that "we are in outstanding hands with Jane at the helm and I could not personally select a more qualified and proven leader than Jane to be our next Mayor." He then addressed the entire Board and highlighted the best qualities of each trustee. Speaking to the two retiring members, Mayor Samwick told Trustee Ross that his "smart, balanced, and open-minded approach to Village government is the embodiment of the ideal that has long been sought when selecting trustees" and that he will miss Ross' "deeply thoughtful, ethical, and logical approach to addressing the issues that will face the Village in the future." To Trustee Waldman, he said that she comes to "every meeting fully prepared with intellectual curiosity, an open and critical mind, and a constructive attitude. You regularly sought common-sense solutions that fit our community, without a preset agenda. Personally, I could always count on you to provide me with honest, balanced and highly valued insights and counsel. Your focus on listening, consensus-building and understanding of the role and responsibilities of a Trustee are ideals that future Village Board members we be well-served to emulate." The Mayor had wonderful and thoughtful things to say about each Trustee, and he closed his remarks by saying:
Now, the thought of leaving Village elected service is a mixed blessing, mixed in having much more time to my family and myself knowing that I gave myself fully to the service of the Village we love and yet never being able to do as much as I would have liked. And, the blessing of knowing that I will have more time to share with my beautiful wife.
Thank you for giving me the opportunity to serve. It has been my honor and a great privilege to serve such an esteemed community. Thank you.
Next, each trustee had the opportunity to address and thank each other for their work over this term.
In his farewell remarks, Trustee Seth Ross said that it was "bittersweet to leave the Board" and that his time spent as a trustee was "uniquely satisfying… It's been a pleasure and I will treasure the memories." He had particularly kind words for Mayor Samwick, whom he said, "always accepts responsibility and never seeks credit when things turn out well even if [he] is the moving force."
Trustee Waldman also said her goodbyes and thanked Mayor Samwick for making her "experience as a trustee as meaningful as it has been." She had thoughtful things to say about each of the trustees and thanked Village Manager Pappalardo and Village Staff Rob, Ingrid, Donna, and Ann for their hard work and dedication over the past few years.
Speaking about the mayor, Trustee Arest stated that although "we don't agree on everything, we have the same best interests for the village at heart" and that his "steadfast leadership during the pandemic carried the community through one of our darkest times." Trustee Lewis added that "tonight we say farewell to three great public servants…. These are the type of unique public servants you hope to serve with. They are non-complaining, have hopeful attitudes, are problem solvers, and [they prioritize] the implementation of actionable policy." Trustee Crandall announced that the Board all chipped in, as a goodbye gift for the three retiring members, for gift certificates to one of Scarsdale's "many great restaurants so that you can spend your free time dining the 'dale."
Covid-19 Update – County Executive George Latimer:
Westchester County Executive George Latimer joined the meeting to provide an update on the state of COVID-19 in Westchester. He announced that we are on the backside of the second bell curve; There was a rise in cases in fall 2020, it peaked around the holidays and New Years in December and January, and we are now on the backside of the slope. He hopes that the combination of effective vaccine distribution and the warm weather will help the county continue to improve going into the summer.
There are currently 5,319 active COVID-19 cases in the county; this is compared to the 6,264 cases we had at this time one month ago, and the 11,000+ cases we had two months ago. As of March 23rd, there were 256 hospitalizations, which is far better than the 389 we had one month ago, and the 584 we had two months ago. Thus far in Westchester, we have seen cases of the U.K. COVID variant, but no cases of the Brazilian or South African variants. In terms of fatalities, Westchester has lost almost 2,200 residents. While the percentage of fatalities is decreasing, each loss is deeply felt and mourned by the community.
Concerning vaccinations, the Westchester County Center vaccination site located in White Plains has vaccinated well over 125,000 people. Combined, the four major vaccination locations in Westchester have vaccinated almost 200,000 people. So far, 15% of Westchester residents are fully vaccinated, and an additional 15% have received one vaccine dose. Every New Yorker will be eligible to receive the vaccine on May 1, 2021, and Latimer expects that by the end of spring, any resident who wants a vaccine will have one.
Trustee Crandall pushed Latimer for more information about how to vaccinate homebound residents who for various reasons are unable to make it to vaccination sites. Latimer directed any resident who falls into the homebound category to call his Deputy Director of Operation Emily Saltzman who will arrange for vaccines to come to these individuals' homes. She can be reached directly at 914-995-2912.
Public Hearing – Proposed Amendment to Gas-Powered Leaf Blower Regulations
Next came the most highly anticipated event of the evening – the public hearing on gas-powered leaf blowers. Many residents attended this Board meeting so they would have an opportunity to speak their mind about this issue. In total, the Board heard from 44 people on this topic and all but four were in favor of the proposal.
The Village's current regulations limit the use of gas-powered blowers from June 1st through September 30th, but after hearing complaints about the noise from many residents, the Village asked the Conservation Advisory Council to put together a report on this issue. The report was completed in December 2020, and as a result of the report and input from the community, the Village drafted a proposed law that will prohibit the use of these blowers from May 1st -September 30th 2021, and during leaf season, the blowers will be allowed only Monday through Friday. Additionally, the draft dictates that they cannot be used on holidays. Starting in February 2022, the blowers can only be used from October 1st through December 31st. Electric leaf blowers can be used at any time. This draft law is designed to slowly begin to phase out the use of gas-powered blowers. Many town members urged the Board to follow the model of many neighboring towns and outlaw the blowers completely.
Dozens of residents spoke out in favor of this proposal, and many urged the Board to go even further and ban the use of these blowers entirely. Resident William Stern stated that "this era has taught us to trust the science [and the science has shown that] gas-powered blowers are dangerous to health and hearing, and they cause great discomfort with their nose levels." Kelly Sperling details these health concerns and said that they "reduce the quality of life and penetrates houses so you can't escape the noise by going inside. [They] lead to permanent hearing loss, emissions of carbon monoxide, more air and ozone pollutants, dangerous particulate matter and smog, increased risk of asthma attacks, cancer, dementia, and dizziness."
Resident William Roberts, who is a physician and high school biology teacher, spoke about the chronic headaches, hearing loss, higher blood pressure, buildup of particulate matter, and various central nervous system issues that are associated with the use of these blowers.
Many residents also spoke to the issues related to enforcing these laws. Often when gas blowers are being used against code, the police do not arrive at the scene soon enough to enforce the law with the landscaping company. Residents, including Kristen Lewis, noted that this is not a good use of time for the police to be involved in these civil matters. She stated that it is the Village Board's responsibility to develop effective enforcement mechanisms without involving the police. The current proposal does designate one person in the administration to be in charge of enforcing this matter, and Ms. Lewis said she hopes this person is given a substantial amount of power and resources to properly enforce the ban.
Resident Marc Greenwald expressed his support both for the proposed legislation and the process by which it came about. He said that when he began to work from home and was disturbed by the noise of the blowers, he reached out to Conservation Advisory Council members and expressed his concerns. He said that he is "pleased the process worked in this excellent way… they developed a report and brought it to the trustees… it is a sign of a healthy community that we have volunteers that work at all these levels." He also spoke to the issue of enforcement and stated that homeowners need to take responsibility for the machinery used on their property and that if landscapers need to charge more for the use of electric equipment, it is homeowners who need to accept this additional financial responsibility. Some speakers, including Daniel Hunt, urged Scarsdale to adopt the most restrictive ban possible and suggested that homeowners, and not landscapers, should be the ones fined for infractions. Others also supported the idea of homeowners internalizing the additional costs that come with new electric equipment and batteries.
Many residents echoed these sentiments and stated that the noise and environmental pollution of these blowers interfered with their ability to work from home, ride bikes, go on runs, study, play and record music, and allow their children to play in the yard.
Darlene LeFrancois Haber made a particularly emotional plea in support of the ban by stating that "as an essential healthcare worker, I can't breathe at work because of COVID and I can't breathe at home [because of these blowers]".
Two younger residents, Henry Libow and Kristen (both in the 3rd grade) also spoke in favor of the proposal. Henry "supports the change because the leaf blowers pollute everything, including animals, which is a waste of the earth." Additionally, his friend Kristen added that the blowers "plague the next generation of people and kids (and cause) lots of gas in the house across from me that is hurting my breath."
Almost every resident who spoke in favor of the legislation voiced their support for electrical equipment instead. David Fenigstein stated that "battery technology is proven and is ready for this transition. Batteries are safe and safer than internal combustion engines. They require much less maintenance and will be much cheaper over time."
Joel Morse hit on a key point when he highlighted the need for "a partnership between homeowners and landscapers." He said that the key will be in providing landscapers with blowers that can plug into the electrical sockets outside of the home without batteries and declared his support for the proposal.
The four people who spoke out against the legislation were all landscaping industry professionals. Mike, a representative from the New York State Landscaping Association, was infuriated by the proposed law. He accused the legislation of discrimination and said that "when you have a business with 25 homes a day, where are you going to get all these batteries, where do you charge them? You're taking a tool that we use to make our living away from us… do we ban all gas-powered cars? Should we all get Teslas? Does Scarsdale have electric trucks to plow the snow? Where does it end?" Furthermore, he stated that "the technology is not there. There is a time and place for electric, but you can't do it yet… you're looking to restrict us from working…. What happens if there is bad weather? I have 100 customers in Scarsdale, and they are the first to complain if we aren't there because of bad weather with wet leaves or pouring rain." He also declared that Scarsdale may be putting itself in a position for a possible class action or discrimination of trade lawsuit.
Wayne, another landscaper, expressed his dismay and confusion over how the work will get done without these blowers. "Scarsdale has huge trees and stuff is dropping 24/7. How are you going to do this? Are you going to take a rake?" He warned that the town might look very different based on the amount of debris that will not get cleaned. He also pointed out that this could be dangerous in the case of a natural disaster like Hurricane Sandy. Village Manager Pappalardo responded to this concern by clarifying a provision in the code that the village manager can waive the ban in the event of a storm to clean the village and make it safe.
The other two landscapers who spoke out were Larry Wilson and Michael Galaxy, both of whom pointed out this hypocrisy of the legislation, which allows the schools, the village, and golf courses, to use gas-blowers, but not landscapers. They also stated that some of the information in the CAS report is misleading and pointed out several logistical and practical issues with using batteries to operate equipment. They also questioned many of the allegations raised by Scarsdale residents that the blowers are worse sources of pollutants and particulate matter than other things.
After hearing this lively commentary from 40 supporters and 4 opponents of the legislation, the Board voted. The proposal passed unanimously with no dissenting votes. Trustee Arest, addressing some concerns about the pace of the ban stated that the Board "tried to make this more incremental because we understood the impact on landscaping. I did not appreciate the threat of a lawsuit and we would not vote for something if we thought there was something illegal about it. Plenty of [other towns] have taken similar actions… I am proud of this board and this is an incredible first step."