Bar Mitzvah Boy Raises $10K for the Scarsdale Fire Department
Monday, 20 December 2021 11:15
Last Updated: Monday, 03 January 2022 12:08
Published: Monday, 20 December 2021 11:15
Joanne Wallenstein
Hits: 1927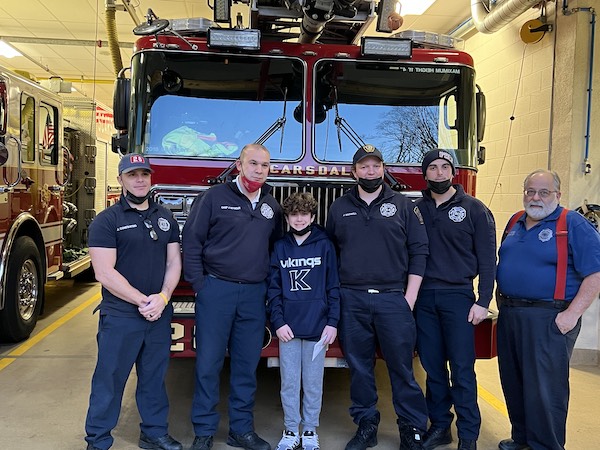 A young Scarsdale man decided to pay it forward after the Scarsdale Fire Department took heroic efforts to save his Heathcote home after a tragic fire. Earlier this year, the family had undertaken a major renovation of the house and the last step was the refinishing of the wood floors. But before the job could be completed, fire broke out in the garage where the contractors had been storing equipment and supplies. It spread quickly throughout the house, causing severe fire, smoke and water damage. Fortunately no one was home at the time. However, the house was uninhabitable due to the damage, so the family has been living nearby in a rental since July and likely won't be able to move back in until the end of next year.
At the time, 13 year-old Sam Meltz was studying and preparing for his Bar Mitzvah to be held on September 11, 2021, the 20th anniversary of 9/11. As part of Sam's Mitzvah project, he decided to do something to recognize the dedication and contributions of the Scarsdale Fire Department. He visited the Fire Department and spent time with Chief Seymour to learn more about the work that firemen do and their personal experiences on 9/11. He then made a GoFundMe page in support of the SFD and raised $10,000 for the Scarsdale Fire Department. The funds are intended to be used for the purchase of equipment and training to assist in the safety of the firefighters and the Scarsdale community.
According to his parents, Sam is a very active and social 13-year-old who is in 7th grader at the King School in Stamford. He enjoys playing soccer, football, basketball, tennis and watching professional sports as well. His favorite team is the New England Patriots.