Mindfulness: De-stress with a Forest Bath
Wednesday, 31 July 2019 22:46
Last Updated: Wednesday, 31 July 2019 22:53
Published: Wednesday, 31 July 2019 22:46
Wendy MacMillan
Hits: 2488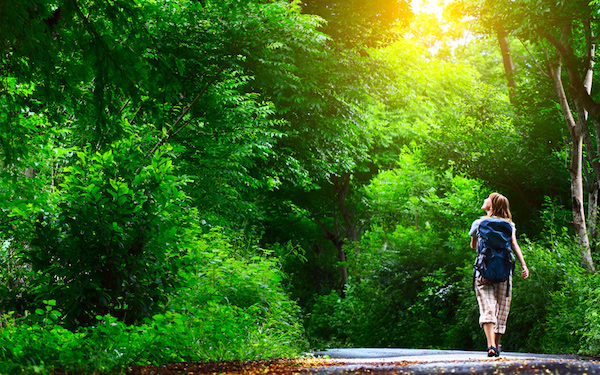 Many of us Scarsdalians live a fast paced lifestyle that can often leaves us trying to find ways to de-stress and deal with anxiety. To help find a sense of calm, maybe you've tried yoga, meditation, mindfulness, or even practiced gratitude, but have you ever tried forest bathing? Don't break out the bath bubbles just yet! While a cool swim in the middle of the woods does seem like it would be relaxing, you don't have to jump in a lake to practice forest bathing. Rather, forest bathing is simply a practice of disconnecting from technology and using all of your senses to bathe in the atmosphere of nature. Sounds easy right? And it is! No need for a strenuous hike up Bear Mountain to start alleviating stress, you can simply find a quiet spot to sit comfortably and tune in to the wondrous sights, sounds, and feelings of nature. Listen the crickets chirping, feel the wind against your skin, watch the trees sway in the breeze and start feeling the healing effects of a forest bath.
Not quite convinced that a forest bath will leave you feeling footloose and fancy free? Well, forest bathing as a practice to ease stress and other harmful side effects of modern day living, was first made popular in Japan in the early 1980's. After much research, Japanese scientists found the healing effects of spending quality time in nature to be so powerful that they launched a national program to encourage Shinrin-yoku or forest bathing across their nation. Additionally, according to shinrin-yoku.org, Shinrin-yoku has also "become a cornerstone of preventive health care and healing in Japanese medicine". As stated by Dr. Qing Li, author of Forest Bathing; How Trees Can Help You Find Health and Happiness, some of the healing effects of spending time in a forest include:
-reduced stress, anxiety, and anger levels
-a strengthened immune system
-improved cardiovascular and metabolic health
-improved overall well-being
So the next time you're feeling stressed out about an approaching deadline, or your kids are anxious about an upcoming test, or you simply need a break from all the screen time, grab your loved ones and head to the forest for some Shinrin-yoku. Below are a few of my family's favorite places to de-stress:
-Hart's Brook Park and Preserve
156 Ridge Rd, Hartsdale, NY 10530
-Cranberry Lake Preserve
1609 Old Orchard St, West Harrison, NY 10604
-Rockefeller State Park Preserve
125 Phelps Way, Pleasantville, NY 10570
Wendy MacMillan is a former teacher and a proud mom of two children. While her background is in psychology and education, Wendy was recently trained in mindfulness at Mindfulschools.org. She has long been passionate about wellness, and as an active member of the Scarsdale PTA, Wendy helped to bring mindfulness to her children's elementary school. In addition, Wendy helped establish and is an acting member of the school's Wellness Committee. For more information about mindfulness check out this site: mindfulschools.org or Watch the video of Jon Kabat-Zinn explaining what mindfulness is ... or contact Wendy MacMillan at wendymacmillan@gmail.com.