The Dining Tent is Back in the Village!
Wednesday, 24 March 2021 21:57
Last Updated: Wednesday, 24 March 2021 21:57
Published: Wednesday, 24 March 2021 21:57
Joanne Wallenstein
Hits: 616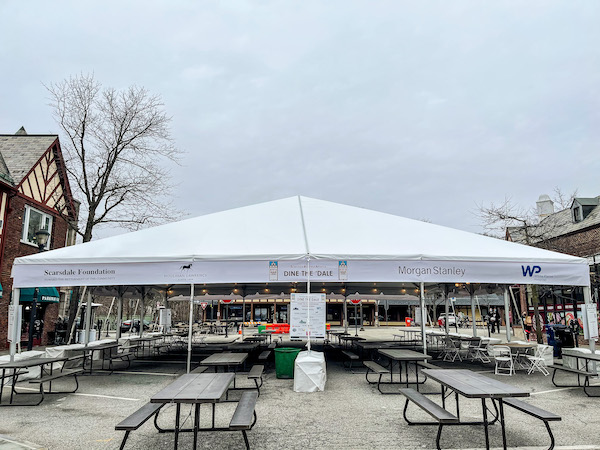 (See below for a note from the Scarsdale Business Alliance about the return on the dining tent in Scarsdale Village.)
Scarsdale diners, hunkered down at home for the winter, now have something to celebrate. Scarsdale Business Alliance (SBA) is thrilled to announce the re-opening of its Dine the 'Dale outdoor dining space, located in Scarsdale Village on Spencer Place between Harwood Court and East Parkway.
Are you ready to see friends and neighbors again, while dining on some of your favorite Scarsdale restaurants' best dishes? Take a break from cooking and come dine in Scarsdale Village, either under the 2500 square foot tent located on Spencer Place or in the adjacent uncovered area.
Last year this initiative was a huge success, creating a safe destination for multi-generational community members to gather, dine and socialize, while bringing vitality to our downtown center and supporting local businesses.
Scarsdale restaurants are so excited to welcome their customers back to the Village. Scarsdale diners can take a seat at one of the safely-spaced picnic tables to enjoy table service from some establishments, delivery from others, or take-out from any of Scarsdale's dining establishments. Alcohol table service in the tent area is available from Yeomiji, and alcohol delivery service is also available from Popojito, Scarsdale Metro and Westchester Burger Co. Just scan the QR codes located on signage throughout the tent to access menus and order food.
Enthusiasm for the large outdoor food space has been growing, as both restaurant owners and residents have anticipated its opening this week. Of course, to ensure everyone's safety, diners will have to follow social distancing and safety guidelines, including wearing a mask when not seated.
The Dine the 'Dale tent adds to the outdoor dining areas already offered by some of Scarsdale's favorite restaurants. Be sure to take advantage of this opportunity to eat out while supporting our Village center restaurants and local businesses. As Scarsdale continues to fully reopen, this initiative is just another step towards bringing our residents together while still staying safely apart.
The SBA is extremely grateful to Scarsdale Improvement Corp., the lead sponsor of this initiative. Presenting sponsors include Houlihan Lawrence, Morgan Stanley, Scarsdale Foundation and White Plains Hospital. Platinum sponsors include Advocate Brokerage Corp., Chubb, Julia B. Fee Sotheby's International Realty, Spencer East Realty and Wilson & Son Jewelers. Silver sponsors include Clean Design, Eye Gallery, I Am More Scarsdale, Korth & Shannahan, Partyline, Scarsdale Security, The Simon and Lerner Team at Houlihan Lawrence, Vintology Wine & Spirits and Zachys. The SBA is also grateful to all of the community members who have donated to the tent area.
The tent will remain up through August, with the possibility of being extended through November, similar to last year. In addition to being a safe place to gather and dine, the SBA hopes to offer programming during the late afternoon and evenings from local businesses, non-profit organizations and service providers.
The SBA is a non-profit organization, dedicated to supporting the Village of Scarsdale and its local businesses. The SBA works with local merchants, government, property owners, real estate corporations, community members and other local groups to help make Scarsdale a thriving village.
Please consider supporting the SBA as we continue to reimagine outdoor usage of space, making our Village center a destination and supporting our local merchants.