Scarsdale Public Library Receives Award for Furthering Employment for the Disabled
Thursday, 21 October 2021 07:43
Last Updated: Thursday, 21 October 2021 07:46
Published: Thursday, 21 October 2021 07:43
Joanne Wallenstein
Hits: 486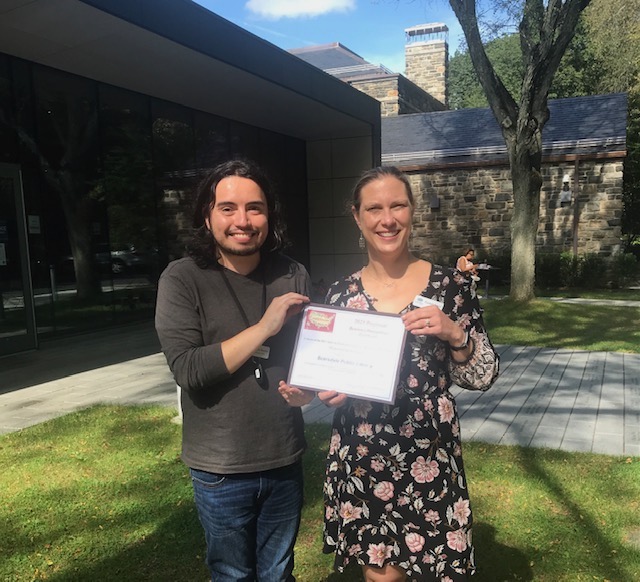 Marcus Renna with Library Director Elizabeth BermelIn honor of the 2021 National Disability Employment Awareness Month theme, "Powered by Inclusion," the Scarsdale Public Library was selected to receive a regional award honoring their contribution in furthering employment opportunities for individuals with disabilities. SPL was nominated by ACCESS-VR, a member of the Westchester Employment Network, a consortium of agencies who work together to promote the employment of people with disabilities. Each year, they recognize select businesses that have incorporated the talent of persons with disabilities by making them part of our workforce.
As part of her testimonial, Library Director Elizabeth Bermel said, "One of the Library's goals is inclusivity and access for people of all backgrounds and abilities, and we strive to achieve this in our employment practices as well as our programs and services."
Marcus Renna, Library Clerk, stated, "Working at the Scarsdale Public Library has been a truly wonderful experience. You are given equal opportunity as everybody else in the workforce, and can't help but want to continue to learn and grow. You are taught the same methods and skills as everybody else and are never made to feel different or less than."
"Marcus' love of learning, friendly, approachable demeanor and willingness to assist in any way possible makes him an outstanding employee. Marcus has played a key role as we reinvent ourselves in our newly renovated building and new ways of serving the public."
The Scarsdale Public Library was recognized at a virtual awards event on Friday, October 8th.