Con Edison Provides Timeline on Installation of Gas Main in Greenacres
Wednesday, 15 December 2021 21:13
Last Updated: Wednesday, 15 December 2021 21:20
Published: Wednesday, 15 December 2021 21:13
Joanne Wallenstein
Hits: 1011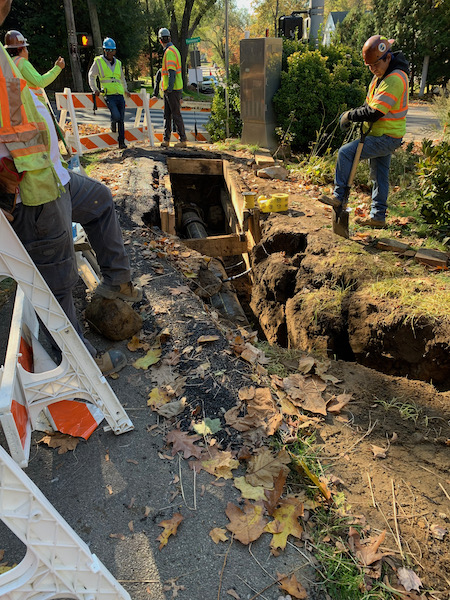 Just how long will Con Edison be working on Walworth Avenue in Greenacres? That's what many residents who live and travel along one of Scarsdale's primary routes want to know. The utility has been working on just one segment of the road, from Fenimore to Greenacres Avenue since the summer. That segment, which many use to access Hartsdale and the train station, was closed on weekdays, causing detours, traffic and aggravation.
Now, the first portion has been completed, the road has been repaved and the utility will install the next portion of a 6 foot wide gas transmission line on Walworth from Greenacres Avenue to Colvin Road.
Residents are hopeful that this portion will be speedier.
Currently there is a moratorium for any new gas service in Westchester. We asked Con Edison if the presence of this new line traversing Scarsdale would change that policy for residents. The answer was "no." According to the spokesperson, the moratorium will remain in place and no new gas service will be available to Scarsdale residents or businesses, despite the considerable inconvenience caused by the disruption of our streets. How about compensating those who are impacted with a price break on electric and gas? That does not appear to be in the offing either.
State Assemblymember Amy Paulin questioned a Con Edison spokesperson about the timeline for the remainder of the work and here is what she shared with us on December 15, 2021:
"Con Edison and our contractor Network Infrastructure will be installing two new gas lines down Walworth Ave between Greenacres Ave and Brayton Road. This is a continuation of the work completed over the past months from Fenimore Road. The purpose of these mains will be to upgrade and sustain the reliability of our gas service in both Scarsdale and Westchester County. Work on both new installations will take place simultaneously and is planned to be completed by March 31st, 2022. This will also include final site restoration as seen on our first phase of the project between Fenimore Road and Greenacres Avenue.

While we work, we'll need to store supplies and equipment along the road in some areas. We also may need to excavate on resident sidewalks, driveways or lawn areas. If a customer's property is affected, we will restore it. During the work, we may need to interrupt gas service temporarily to transfer household services to our new main . We will notify customers in advance if their service will be affected. We will need access our customers' homes to restore gas service, and we will work with all residents to accommodate their schedule and minimize any interruptions. No interruptions will take place without customer consent and knowledge.

Temporary road closures will also be expected during working hours Monday to Friday 8am – 5pm. We will work closely with all residents in our work zone and ensure residents have complete access in and out of the work site throughout the day. Detours will also be set around our work zone.

We recognize that this important work may cause inconveniences to our customers and the community. We are committed to working closely with our customers to minimize any such inconveniences, and thank them for their patience."