Two from SHS Honored for their Work with Local Immigrants
Saturday, 30 November 2019 17:40
Last Updated: Saturday, 30 November 2019 17:53
Published: Saturday, 30 November 2019 17:40
Joanne Wallenstein
Hits: 4949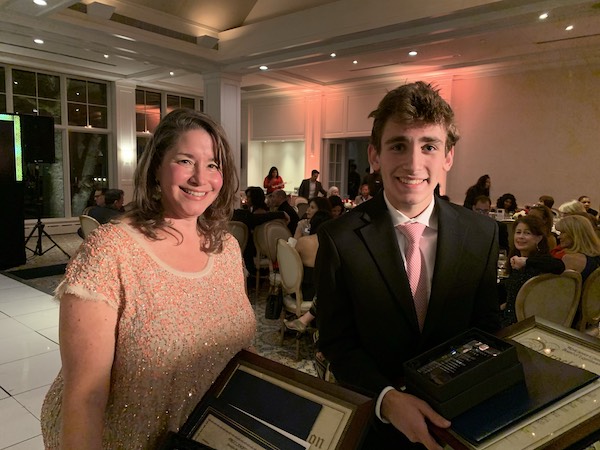 Two with roots in Scarsdale were honored for their work helping immigrants get established in Westchester at the Community Resource Center Gala at Beach Point in Mamaroneck on Thursday night November 21. Jacob Faierman, an exceptional Scarsdale High School senior, and Jennifer Rosenzweig, a compassionate SHS teacher, were thanked by the CRC whose mission is "to promote the cultural, economic, educational and professional integration of immigrants to the already established larger community and to advocate for those in need…. (they) aim to provide the tools to prepare new immigrant families to become self-sufficient and active members of the community."
Jacob Faierman met SHS English teacher Stephen Mounkhall in ninth grade and has since pursued independent study projects under Mounkhall's direction, exploring all genres of writing, including poetry, short stories, creative writing and satire. During his sophomore year, Faierman wrote a play and the following summer he worked for "Make the Road New York," an organization that assists immigrants with legal issues. His job was to interview the immigrants, hear their stories and help them complete naturalization papers. He asked questions and learned the moving stories of their lives.
When he returned to school for junior year he wanted to find undocumented immigrants in Westchester and interview them to get out their stories. Faierman said that his grandparents immigrated to this county from Argentina and Uruguay and taught him the value of listening to the stories of others.
He started to visit the Community Resource Center in Mamaroneck and to converse with the people in an evening English class taught by SHS teacher Jennifer Rosenzweig. He was able to use his Spanish to communicate and conducted short interviews with dozens of immigrants. From those he selected six people who were the most committed and willing to share their stories. He eventually culled down and translated many hours of interviews into six stories which he published in a book titled "Voices in the Shadows, Stories of Undocumented Immigrants in America" that is available on Amazon. Due to the immigrants' difficult legal status, no real names are used.
For her part, Jennifer Rosenzweig explained why she became involved at the CRC. She said, "After the last election I wanted to do something to help immigrants. I started teaching weekly ESL classes there late in the fall of 2016, and I even though teach evening classes after a full day of work, I always leave with more energy than I arrived with. My students are an inspiration to me--they are full of good humor and a deep desire to learn and improve their English skills. My class is considered "intermediate" and the goal is for students to "graduate" from my class to take the accredited class offered by BOCES at the Center. I am always filled with a mixture of pride and sadness when a student I have been working with over the months is able to pass the test to move to the next level. I am so grateful for the opportunity to work closely with this community...I very much believe the oft-repeated sentiment that those who have the lowest opinion of immigrants are those people who do not know immigrants. I cannot imagine anyone spending time in my classes or at the Community Resource Center who is not moved by these people and their stories."
English teacher Stephen Mounkhall, who supervised Faierman's independent study projects, said he had previously worked with talented student writers, but "this was the first time I had someone with a mission. He (Jacob) tried not to make it political." Jacob's mission was to "put out there what they (the immigrants) have to say."
Mounkhall was moved by the reception Faierman received from his classmates. 50 students showed up to a recent reading at the Scarsdale High School Library. Mounkhall noted that despite his achievements, Faierman remains very humble. Looking at the book, another student said to Faierman, "I can't believe you wrote a book," to which Faierman replied, "You could too!"
Faierman was also honored by the Rotary Club of Larchmont and received commendations from Congressman Eliot Engel, County Executive George Latimer and State Senator Shelley Mayer. Faierman shared the following final essay from his book with us. Read below …and if you would like to purchase your own copy of the book, click here.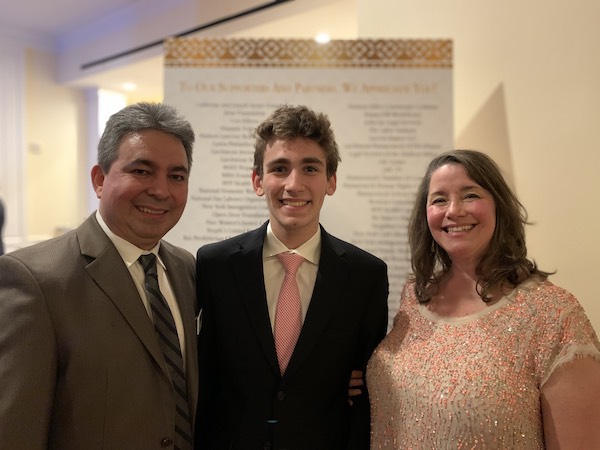 Marco Bohorquez, who runs the volunteer program at CRC with Faierman and Rosenzweig
From Voices in the Shadows: Stories of Undocumented Immigrants in America:
Hope can drive people halfway across the world to a land where they are not welcomed by all. Most people in the United States notice immigrants' presence in society, either through news broadcasts or by seeing them on the street. Not many, however, listen to their struggles and experiences. These stories exemplify the burdensome nature of a journey to the United States. Some faced the pinnacle of their struggles in their home country. Others realized the most challenging realities on the journey to America. Some confronted the greatest difficulties while in the United States, the very country they aspired to reside in. Perhaps the immigrants' featured in this book have yet to encounter their most overwhelming experiences. The beautiful facet of these stories is that they all share in a common theme: none of them are done being written.
The United States is at a turning point. Immigrants are at the forefront of national politics and local debate, but for all the chaotic screams on our television screens, in our newspapers, and on our social media, not many listen to the very people fueling the discussion. Instead, people who claim to be experts on the issue simultaneously spew judgment and propose policy solutions. Their opinions may well be valid, but in order to be truly be informed, one must listen to the actual fears, hopes, and day-to-day struggles these people face. There are millions of undocumented immigrants in the United States, yet in the mainstream, their voices are in the shadows, silenced by government intimidation.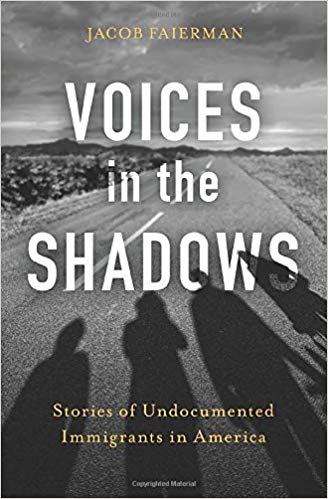 These stories have not only changed my perspective on how we should approach the immigration debate, but they have also shifted my views on the struggles of these people. Undocumented immigrants choose to travel to America for a variety of reasons, but they all come in search of a better life. Those interviewed in this book were economic immigrants, asylum seekers, political dissidents, and dreamers. The common thread in this diverse group of people from different home countries, genders, ages, and financial backgrounds was a willingness to persevere and a deep love of family. The same reasons that brought my grandparents from Argentina fifty years ago are the reasons immigrants continue to journey to the United States today. People rarely realize these brilliant facets of undocumented immigrants in America, and debates surrounding immigration should always keep their humanity and their voices in mind.
Before embarking on this literary endeavor, I had never had the opportunity to converse with an undocumented immigrant. Despite their pivotal role in our culture, most citizens have never spoken to these wonderful people. I was surprised to find so many volunteers with such vibrant stories living within my small community. Many conveyed their appreciation for what I was doing, and I am truly grateful for the stories they shared with me. Their journeys will always stay with me, and I hope I am not the last native-born citizen they share their experiences with. Their voices are an integral step toward a more understanding society.