COVID Update: Positive Rate Continues to Rise in Westchester
Monday, 23 November 2020 15:37
Last Updated: Monday, 23 November 2020 16:34
Published: Monday, 23 November 2020 15:37
Joanne Wallenstein
Hits: 3439

Chart courtesy of the Scarsdale SchoolsIt's getting more difficult each day to track what's open, what's closed and how you should adapt. As the number of cases rises, new restrictions have been put in place in an effort to reverse these disturbing trends.

Here's an update from Monday November 23, 2020 of local information to keep in mind.

Infection Rate

County Executive George Latimer said we are seeing "a continuing and serious rise in infections." As of Monday 11-23 there were 4,808 active cases in the county in comparison to 3,515 last week. On Sunday November 22, the infection rate rose to 5% for the county with 421 positive cases. Last week the positive rate fluctuated between 3.8% and 4.2%. 168 are in the hospital with COVID as compared to 138 last week and the number of deaths from COVID in Westchester has reached 1,500.
As of November 23, the county map showed 36 active cases in Scarsdale, an all time high.
Yellow and Orange Zones
As a consequence of these rising rates of infection, the state has designated five communities in Westchester as "yellow zones," and one as "orange."
These zones include part or all of:

-New Rochelle
-Ossining
-Peekskill
-Tarrytown-Sleepy Hollow
-Yonkers
-Port Chester and part of Rye Brook was designated an orange zone.
County Executive George Latimer assured the public that these communities have not been shut down and there are no travel restrictions. Latimer said, "it is not like going from East Berlin to West Berlin."
Instead restrictions have been implemented to curb the spread of the virus. The county is conducting calls with officials and business leaders in each of those zones to discuss testing, the distribution of PPE, messaging and communications. The county has already delivered some PPE to these zones and will continue to assist.
Take a look at the chart at top to see what restrictions apply in yellow, orange and red zones.
National Guard at Area Airports
In other news, Governor Cuomo has called on the National Guard to appear at New York airports to help collect forms from inbound passengers. These forms indicate that passengers have recently tested negative for COVID before entering the state. See the County Executive's daily report here: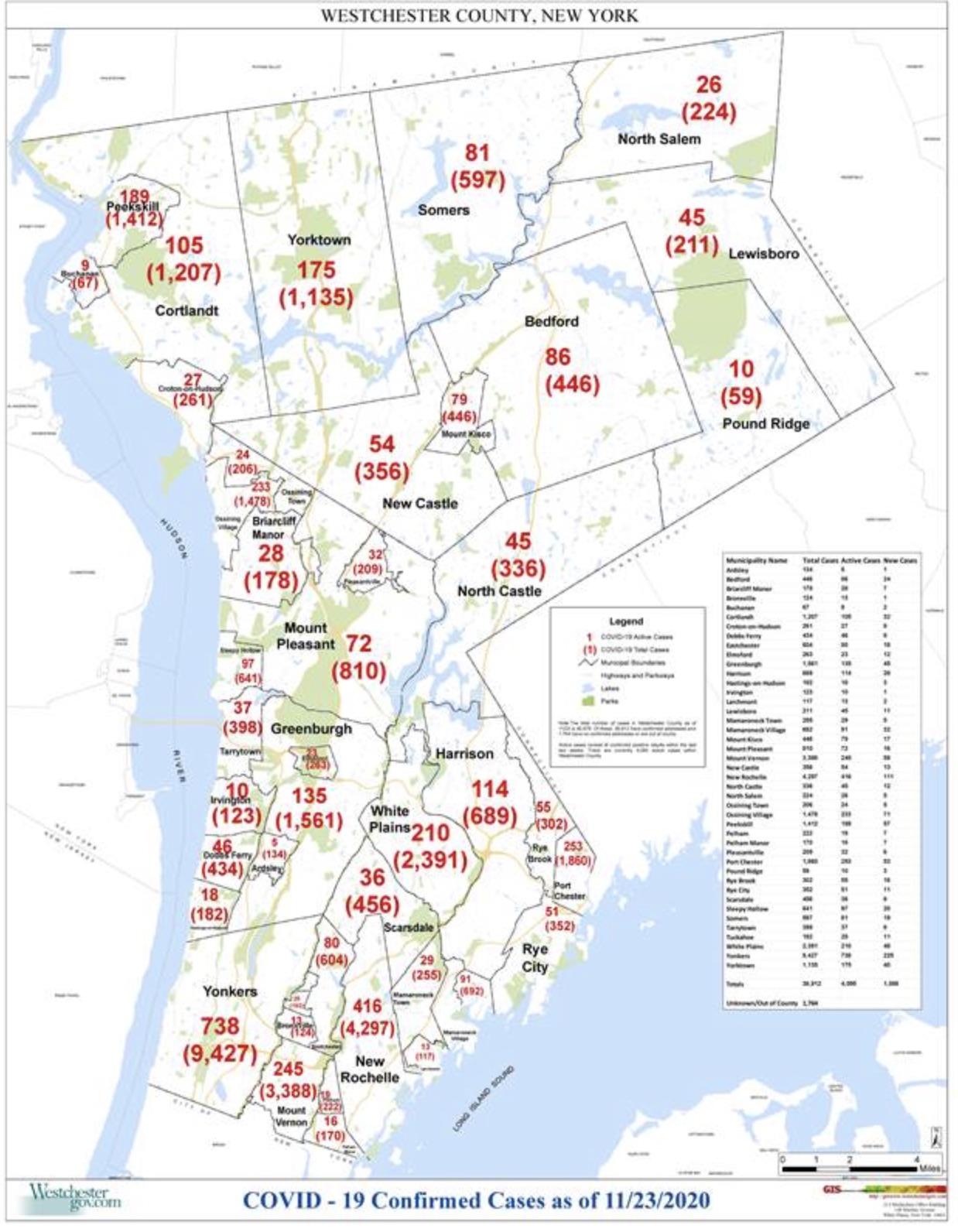 SHS Girls Soccer Final on Vimeo
The Scarsdale Girls Varsity A Soccer Team will play in the regional final today and you can watch online. Scarsdale will host the Section 1 Regional Championship Final Girls' Soccer Game, featuring the Scarsdale Raiders vs. Rye High School. The game will be broadcast at 4:30 PM at the following link: https://vimeo.com/event/464943/embed

In compliance with NYS Department of Health, and Section One Rules, only two spectators per home athlete are allowed. All others will be turned away.
Scarsdale Village Hall is Closed
Village Hall will be closed until December 1 due to a positive diagnosis and contact tracing. Staff members are maintaining precautionary self-quarantines at home while continuing to provide needed services remotely by phone and email. In-person services are not available from the Water Billing Department, Village Clerk's Office, or Village Treasurer's Office until the end of November. Business in these departments is being conducted remotely by phone and email, as listed below, until the offices are reopened:
• Water Department: 914.722.1138, water@scarsdale.com
• Village Clerk's Office: 914.722.1175, clerk@scarsdale.com
• Village Treasurer's Office: 914.722.1170, treasurer@scarsdale.com
Schools: Positive cases at Edgewood, Greenacres and Heathcote Elementary Schools
The district advised of two positive cases among staff members at Heathcote School on Thursday November 19 and another case of a staff member at Greenacres School on Sunday November 22. Heathcote School went all virtual on Friday November 20 but was able to reopen on Monday November 23. Greenacres didn't miss a beat and was open for hybrid learning on Monday November 23 after the district followed their Confirmed Case Protocol. On Monday November 23, another positive staffer was identified at Edgewood Elementary School, however in person learning will continue on Tuesday November 24.