Students Reflect on the Re-Opening of Scarsdale High School
Tuesday, 09 March 2021 08:02
Last Updated: Tuesday, 13 April 2021 15:50
Published: Tuesday, 09 March 2021 08:02
Sydney Piccoli
Hits: 1424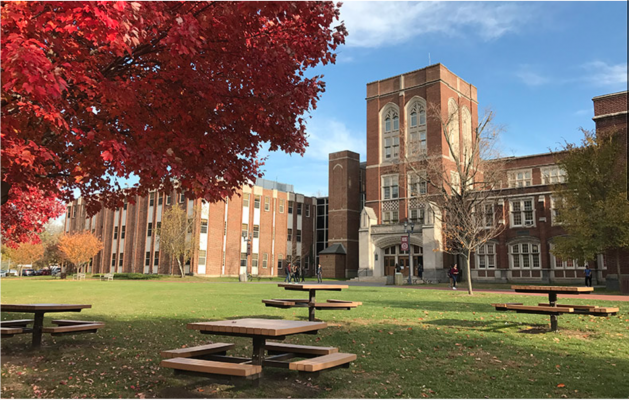 Recently, the Scarsdale High School administration announced that starting March 8th students will spend an extended amount of time learning in-person. Instead of going in only during Monday and Thursday mornings for four hours at a time, students in Cohort A will now remain in school for an additional three hours. Similarly, students in Cohort B will spend Tuesday and Friday afternoons in Scarsdale High School as well as the previously scheduled mornings.
More in-person schools will follow suit as on Sunday March 7, the district announced that Scarsdale High School is slated to open to full, in-person learning on April 19th. Although details are not known about the April schedule, it has already produced much conversation among the Scarsdale High School student body. "At first, I had been dreading the April 19th schedule because I thought each day would seem a lot longer. However, after my first full day of school on March 8th I realized how energizing being around all of my friends was. Lunch is something I'm really glad I get to spend with them now. Classes... have mostly been the same experience. Even though they are shorter, they feel similar to fifty minute class periods, but being in the school has made them less draining and easier to get through," remarked Emily Wang, a Scarsdale High School sophomore who is learning hybrid. "We do not know a lot yet about the new schedule, but from what I can tell it seems like school is finally beginning to return to normal. I am definitely excited because it indicates that we have finally gotten to the other side of the pandemic... I am also worried that going back to five full days will be a big adjustment to make," added Charlotte Davis, a Scarsdale High School junior who has selected the hybrid model.
The administration plans to maintain the standard of six feet between student desks and a classroom capacity of approximately 50% of normal occupancy. All periods will be reduced to forty minutes except period 10, which is currently period 5, being 25 minutes. Students will be permitted to leave the campus during free periods assuming they properly follow safety protocols. Last, the new schedule will include designated school lunch periods during which students and teachers can dine either inside or outside the school. As far as inside dining, students will be confined to their lunch seats by polycarbonate barriers, will record their lunchroom and seat number on a Google form daily and maintain six feet of distance from one other — the last guideline applying to outdoor seating as well.
As to why this course of action is being taken, the administration explained, "We are making this change to increase the time students are in the school building, as we know that the in-person educational experience benefits learning and mental health. There is no evidence that the virus has been transmitted in classrooms with appropriate physical distancing and mask-wearing. Revised protocols were implemented in January which does not require students or teachers in such classrooms to quarantine." Other factors contributing to the administration's decision include the decrease of positive case percentages and cases per 100k in Westchester County as well as the increased availability of vaccines for educators and the wider community.
In addition to health metrics demonstrating extremely low in-school spread, the administration believes more in-person school time will enhance academic experiences and social/emotional health and mitigate the difficulties of remote and hybrid educational models.

What effect, if any, will the new schedule have on whether students choose to attend in-person school or remain virtual?
The new schedule has convinced many previous all-virtual students to once again enter the halls of Scarsdale High School while several remain unaffected by the news. "After the schedule change, I made my decision to go back in person based on a few reasons. The biggest reason was the fact that spending a full day in school is a step towards normalcy and returning to life pre-COVID which is very exciting. Another factor was I just could not fathom the idea of staring at my computer screen for the entire day," reflected SHS junior Anna Forest. Conversely, "the new schedule does not impact my decision at all. I choose to stay away from school predominantly because of the health risks, but I've also become accustomed to the home-learning routine and I quite like it," added SHS junior Lydia Jin who has chosen to remain all-virtual. "My decision to return to in-person school with the April schedule, however, depends on what happens in the next few weeks. My family and I would only feel safe risking exposure if the majority of students get vaccinated, and we're not quite there yet, so I anticipate staying virtual for the rest of the school year," added Jin.
In February, Principal Bonamo alongside the Scarsdale High School government sent out a video urging students to attend in-person school, which could have played a role in the shifting dynamics of school attendance. Although no specific conclusion can be drawn, it is clear that the new schedule has persuaded a decent amount of previous all virtual students to return to the building. "From walking around today and talking to teachers...early feedback indicates more students are coming to school," mentioned Bonamo, reflecting on the March 8th school day. It is also evident that students will continue to have the choice to either attend in-person or virtual school depending on their personal preference.
Another consideration is how the new schedule will affect the student population aside from which mode of learning they select. A major incentive to enacting the new schedule is the potential positive effect it could have on student mental health. "I think the change may be difficult at first because students are so used to the hybrid schedule and returning to full days may initially be tiring. With time, I think this will have extremely positive mental health effects because we will be able to interact with our peers all day instead of being isolated in our rooms," mentioned Forest. With the new schedule, in-person students will spend more time in classrooms conversing with peers and teachers alike; as in-person interactions have been proven to alleviate feelings of social isolation, which are most prevalent in today's society, the new schedule could easily improve student mental health.
For virtual students who have extenuating circumstances and are unable to attend in-person school, the new schedule poses several worries. At the start of the school year, the minority of the student body was learning solely from home, which meant teachers were focusing more of their attention and energy on those in the classroom rather than on the computer screen. However, as the year progressed, more and more students became attracted to the flexibility and ease of virtual-learning. Rather than attend school for only a small portion of the day, students wanted to enjoy the benefits of online learning including a familiar environment and more time to focus on one's health. With the population of virtual students increasing, teachers were forced to adapt their mode of learning to equally engage in-person and virtual students.
As the new schedule incentivizes students to come to school, those who remain all-virtual are scared that their teachers will once again solely focus on those physically in the classroom. "At the start of the year when I was the only all-virtual student in most of my classes, several teachers were not very accommodating, and sometimes they would even forget to start the Zoom call. I hope that by now most teachers know how to make virtual learning efficient, but I still worry that they won't pay much attention to me anymore," remarked Jin.
As it's now a year since the COVID-19 pandemic shut down Scarsdale High School, a widespread notion is that students feel as though their lives have become rather monotonous and consumed with routine. Having a new schedule introduced just in time for spring may very well provide high school students with something to look forward to and a break an otherwise mundane routine. More in-person school could mean a taste of pre-COVID times and a glimmer of hope in a time when we need it the most.