Police Report: Police Catch Shoplifters Fleeing Boniface Circle Store
Wednesday, 17 July 2019 13:23
Last Updated: Thursday, 18 July 2019 12:25
Published: Wednesday, 17 July 2019 13:23
Traci Dutton Ludwig
Hits: 3140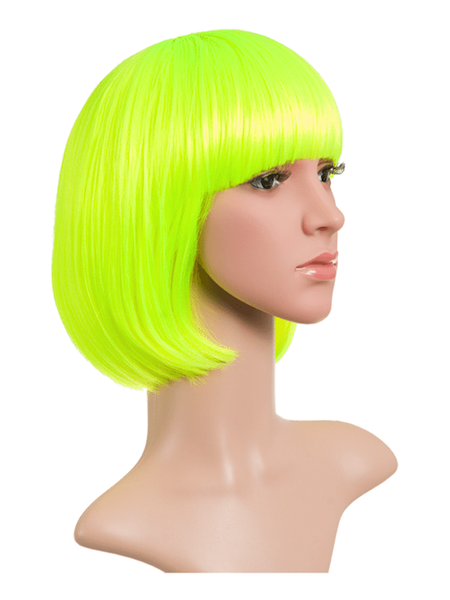 Police were called to a Boniface Circle store on a report of shoplifting in progress July 10. Employees who reported the matter stated two slim, dark-skinned women wearing wigs were taking merchandise and placing them beneath their skirts. When police entered the store, the suspects left, dropping some items in the hallway lobby of the Harwood Building. The suspects were observed going up in an elevator, and police began to search the building. Police located the suspects in the third floor stairwell. The suspects dropped the stolen merchandise and ran down the stairs and through an exit onto Chase Road. Police stopped the suspects on Chase Road in front of their car. In the midst of fleeing, the suspects had discarded all of the stolen items, and one suspect had removed her wig and changes from a purple dress to pair of black leggings and a white T-shirt in an attempt to change her appearance. The manager of the Boniface Store was satisfied that all of the stolen property had been returned and did not wish to pursue charges. One of the suspects had an active arrest warrant out of New York City for petit larceny. NYPD was notified but stated it did not want to pick up the suspect and execute the arrest warrant. Both suspects were advised they were no longer welcome in the store and were released. The total amount of stolen items, which were recovered, was $877.86.
DWI arrest
At 6:37 a.m., July 11, a parks and recreation employee reported a suspicious young man in a parked car at Supply Field July 12. The man was with a young woman and they were observed by witnesses to be "acting erratically" and had reportedly pulled into the parking lot and asked the employee for help. Police arrived on scene and the man – Christian Castillo, 21, of Stamford – said he was drunk and had parked his car so he did not have to drive. He also told police his license was suspended. While speaking with Castillo, police detected a strong odor of alcohol on his breath. Castillo agreed to an alco-sensor pre-screening test, which indicated the presence of alcohol on his breath. At headquarters, a Datamaster test measured Castillo's blood alcohol at .16. A computer check of Castillo's pedigree information indicated that Castillo had a suspended driver's license in New York State, and it also revealed an active warrant from West Virginia with no extradition (in-state pickup only). Upon searching Castillo's car, police found marijuana and THC oil cartridges. Castillo was charged with driving while intoxicated (first offense), operation of a motor vehicle with a blood alcohol content of .08 of one percent of alcohol or more (first offense), criminal possession of a controlled substance, third-degree aggravated unlicensed operation of a motor vehicle, operation of a motor vehicle by an unlicensed driver and unlawful possession of marijuana. Castillo was released on $200 cash bail and issued an appearance ticket for Scarsdale Village Justice Court on July 17.
Restriction violation arrest
On July 12, Police noticed a driver not wearing a seatbelt at Mamaroneck and Post roads. Patrol circled around and conducted a traffic stop. The driver – Nagazaki Iturriaga, 36, of Scarsdale – presented police a passport and told officers that he did not have a driver's license. The license had been revoked and had active suspensions for failure to pay a driver responsibility test, driving while ability impaired by alcohol, refusal to submit to a chemical test and failure to answer a summons. A further check revealed that an ignition interlock device restriction had been placed on Iturriaga's license. Iturriaga was driving his girlfriend's car, which was not equipped with a device. This meant Iturriaga was in violation of the restriction. Iturriaga was placed under arrested and charged with circumventing an interlock device, operation of a motor vehicle by an unlicensed driver, second-degree unlicensed operation of a motor vehicle and a seat belt violation. Police notified the Westchester County probations department since Iturriaga was on probation. Iturriaga was released on $100 cash bail and issued an appearance ticket for Scarsdale Village Justice Court on July 17.
Arrest on warrant
On July 9, a caller reported two male solicitors, attempting to sell window and roof repairs, on Potter Road. Police went to the scene and saw two men wearing fluorescent vests in a car. Police spoke with them, and the men stated they had been soliciting in the area. They presented a valid permit. However, police pointed out they were soliciting outside of the permitted time period. Upon checking the men's IDs, police discovered one of the men – Steven Elliot Garner, 30, of Staten Island – had an active bench warrant out of Orange County. The warrant was for aggravated unlicensed operation of a motor vehicle. Dispatch notified the Orange County Sheriff's office, and that agency wished to extradite Garner. Scarsdale police held Garner until Orange County police picked him up.
Bail jumping arrest
On July 10, police processed the arrest of Erika Mollin, 45, of Scarsdale, on a charge of third-degree bail jumping on one charge of criminal possession of a controlled substance and various vehicle and traffic charges. Mollin was being held at Westchester County Jail on various charges from other jurisdictions. Scarsdale police picked her up and brought her to headquarters and Scarsdale Village Justice Court for arraignment. She was ordered to pay $1 bail and was transported back to Westchester County Jail.
Stolen
On July 9, a Ridgecrest East woman reported approximately $500 cash and various items had been stolen from her house sometime between July 3-8. The stolen items included five credit cards, two car keys, three rings, three tie clips, one pair of cufflinks, a gold pocket watch with a chain, a Tiffany watch, 60 assorted coins, a fine leather pouch and a blue nylon bag. Police are following up.

On July 10, a Popham Road store manager reported a customer put a box of razor blades into her bag without paying for it July 10. Police confronted the 22-year-old Yonkers woman outside the store. She admitted to placing a box of Skintimate razor blades into her bag and gave them to police. The store manager agreed to refrain from pressing charges as long as the woman paid for the razor blades and agreed to never return to the store. The total cost of the razor blades was $8.90. Police stood by while the woman paid for the razor blades.

On July 12, a Palmer Avenue woman reported her son's $900 trumpet was stolen from Heathcote School on June 6.
ID theft
On July 8, a Griffen Avenue resident reported her credit card had been fraudulently used to purchase goods totaling approximately $140.

On July 9, a Cooper Road man reported that unauthorized accounts had been fraudulently applied for in his name. He learned of the attempts after receiving calls and letters from the credit card departments of Chase Bank and Bank of America. The man told the bank representatives that he had not applied for either card. Additionally, the post office is conducting an investigation into an unknown individual who attempted to divert mail from the man's address to another address. The man believes the incidents are related.

On July 13, an Old Lyme Road man reported money had been stolen from his TD Bank account through multiple fraudulent debits totaling $10,300. A pending fraudulent purchase in the amount of $1,700 was also detected. According to TD bank employees, a person presented an ID in the man's name and made the withdrawals at two banks in New Jersey.
Car break-in
On July 14, a Carman Road woman reported someone entered two parked cars in her driveway the previous night and tossed the interiors. She did not believe anything had been stolen from the cars. Additionally, a birdbath had been moved from behind the woman's house and repositioned in front of one of the cars.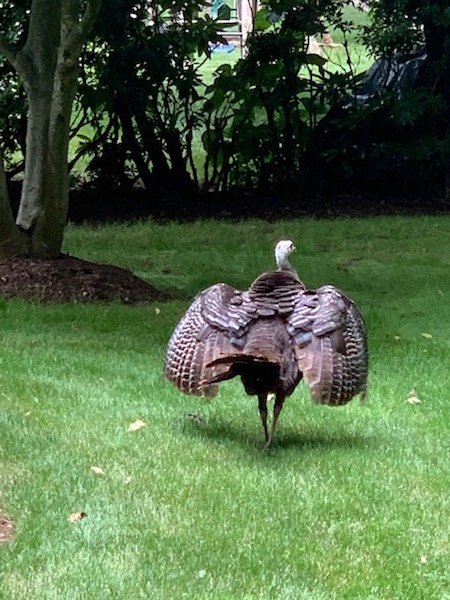 Tom the Turkey seen in a yard on Tompkins RdMystery solved
A Richbell Road resident believed six chairs, a lamp and a TV had been stolen from her house sometime in the past. On July 9, she consulted with police who examined her house and found some of the missing items near the locations where the resident had last seen them. The resident called her housekeeper regarding the remaining items still purported to be missing, and the housekeeper said she had never seen those items. The resident told police that "the mystery had been solved" and police services were no longer needed.
Welfare check
On July 11, police checked the welfare of a woman visiting a Richbell Close from China. She was OK.
Cell phone
A woman accidentally dropped her cell phone down into a sewer grate on Boniface Circle July 11.
Road rage
A 28-year-old Eastchester driver came to headquarters and reported that someone in another car ran him off the road, on Post Road and Boulevard, and proceeded to spray him with a fire extinguisher July 10. A 24-year-old female passenger, from Thornwood, also got sprayed by the fire extinguisher. The driver of the other car who allegedly engaged in the aggressive behavior was a 46-year-old Brooklyn man. Police interviewed all parties, and no one wished to pursue criminal charges.
Cars and roadways
A woman in a black Jeep was staring at a man who had parked his car in a parking space "where she liked to park" in the Wilgrin parking lot July 5. The man refused to move and the woman's actions were making his feel uncomfortable. On July 8, the man reported the incident to police for documentation purposes.

A truck driver knocked down a sign at the northbound entrance to the Hutchinson River Parkway on Weaver Street and the Hutchinson River Parkway July 8.

Police issued parking summonses to the driver of a moving truck parking across two driveways and in front of a fire hydrant July 9.

Police put caution tape on a fallen cable wire on Scarsdale Avenue and notified the cable company for repair July 9.

Police notified the water department about a water leak on Griffen Avenue July 9.

Police helped a pedestrian cross Weaver Street July 10 and 13.

Police issued summonses to the drivers of a truck illegally parked on Christie Place and a car partially blocking a driveway on Brewster Road July 10.

The highway department removed a fallen tree from Bypass July 11.

Police helped a pedestrian cross Weaver Street July 11.

Police closed a section of Post Road while a large truck maneuvered its way out of a driveway July 11. Police noticed the truck left indentations in the roadway and notified the highway department.

On July 12, police notified the highway department about a deer carcass by the side of Mamaroneck Road. Highway workers removed it.

The driver of an illegally parked car on Freightway Road received a summons from police July 12.

The water department was notified about a water main break on Fayette Road July 13.

Eight car accidents were reported in the village this week.
Village code violations
Police issued summonses to landscapers using gas-powered leaf blowers on Lincoln Road July 8, Morris Lane and Popham Road July 9, Church Lane and Post Road July 10 and Ogden Road and Walworth Avenue July 12.
Animals
On July 11, police gave trappers' contact information to a Whig Road resident who complained of two raccoons near a basement window well.

Police issued a summons to the owner of a dog on Brambach Road due to repeated noise complaints about the dog's loud barking, which police also observed.
Lost and found
A Quaker Ridge resident reported losing a set of car and house keys somewhere in the village July 14.
Firefighters
This week firefighters responded to 17 calls. Details of some incidents are listed below.

Firefighters assisted a Morris Lane daughter get back inside her house after she was accidentally locked out July 8.

Firefighters stood by for Con Edison at the site of a water leak near a gas connection on Wakefield Road July 8.

On July 9, firefighters assisted at a car accident at Post and Mamaroneck roads.

Firefighters were called to a group home on Post Road on a report of an extinguished fire near the house July 9. There, firefighters found a smoldering pile of cardboard, the remains of a folding cot and a mirror. The fire caused discoloration to the exterior stucco of the house. No source of ignition was found. Firefighters confirmed there was no extension of the fire into the structure of the house, and they hosed down the area.

On July 13, firefighters mitigated a leak in a Brewster Road house and shut down electrical connections to fixtures that were affected by the dripping water.
This report covering police and fire department activity from July 8-14 has been compiled from official information.

This police report is sponsored by Scarsdale Security who does more than just security. Contact them about remote video for your home or business. Call 914-722-2200 or visit their website.