Police Report: Political Signs Stolen from Yards Prior to Election
Wednesday, 04 November 2020 12:19
Last Updated: Wednesday, 04 November 2020 17:02
Published: Wednesday, 04 November 2020 12:19
Traci Dutton Ludwig
Hits: 1144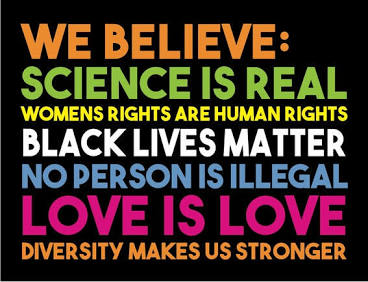 Stolen signs: On Oct. 27, an Old Orchard Lane resident reported that someone stole two political signs from his yard. The signs were for the Biden/Harris campaign, and the resident said he had purchased them.
On Oct. 28, a Church Lane woman reported two Black Lives Matter signs had been stolen from her yard.
On Oct. 31, a Stonehouse Road woman reported that she saw a woman walk onto her lawn and remove a Trump/Pence sign from her yard. The suspect was described as a woman in her 20s with light-colored hair, wearing a blue jacket. The suspect was reported to have placed the sign into the back of a newer-model black pickup truck and then leave the area by bicycle with another young woman. Police went to the packing lot where the pickup truck was last observed, but it was no longer there. The Stonehouse Road woman said she wished to press charges against the woman who stole her political sign, if police were able to find the woman.
Identity theft
On Oct. 26, a Huntington Avenue woman reported her Social Security number and name had been used by a person to obtain a fraudulent Small Business Administration loan in her name. The SBA was alerted.
On Oct. 27, a Meadow Road woman reported that someone used her identifying information to attempt to open a fraudulent Citibank credit card in the woman's name.
On Oct. 29, a Richelieu Road woman reported that someone attempted to change the password on her online banking account without her permission.
Property sale
Police were called to investigate a possible property sale, being conducted out of the back of a BMW with NJ license plates, at Fox Meadow and Paddington roads Oct. 31. After speaking with the driver, police learned that resident had purchased sneakers online, and the driver was delivering them.
Suspicious call
A Brite Avenue man received a voicemail in which the caller stated he was a Covid-19 contact tracer Oct. 26. In the voicemail, the caller alleged that one of his customer's tested positive for Covid-19, and the Brite Avenue man's business should be closed. Follow-up with both the Westchester County department of health and the New York State department of health indicated no record of the alert. Therefore, the man was allowed to continue open operation of his business.
Civil matter
On Oct. 27, police were called to intervene in a dispute that two Harvest Drive neighbors were having over trees and plants on the property line. Police advised them to cease direct and indirect communication over the matter and to seek to handle it through the proper Village offices or civil court.
On Oct. 29, a Meadow Road woman reported she was having an ongoing issue with a Bradford Road neighbor who kept "bothering workers" on her property. Police interview determined that neither party actually crossed the property line and stepped onto the other person's property. Police informed the woman that it was a civil matter and not a police matter because no crime had been committed. Police advised the parties to cease direct and indirect communication over the matter and to seek to handle it through the proper Village offices or civil court.
Cars and roadways
On Oct. 27, a driver ran out of gas at Post and Burgess roads. Police stood by and directed traffic while the driver waited for a tow service provider to arrive on scene and provide gasoline for refilling.
A car was parked in obstruction of a Putnam Road driveway, and police asked the driver to move it Oct. 27.
On Oct. 27, police straightened a metal identification rod attached to a fire hydrant on Hampton Road, after a passerby complained that the rod had fallen down and was obstructing pedestrians' safety when walking on the sidewalk.
On Oct. 28, a witness reported seeing a white pickup truck with a empty trailer back into a street sign at the intersection of Garden and Oxford roads. The street sign fell over, and a passenger of the truck picked it up and removed it from the roadway.

Police moved a large pile of brush to the side of Heathcote Road and removed a trashcan from Fenimore Road to eliminate roadway obstructions Oct. 28.

A caller reported that his car was struck by a white pickup truck on Heathcote Road, which then left the scene, Oct. 30.
Police stood by until a disabled car was removed from Post Road by a tow Oct. 31.
A driver got out of her car at the intersection of Post and Heathcote roads to check if something was wrong with her driver's side tire Oct. 31. When she tried to get back in her car, she realized she was locked out of her car, and the engine was running. Another driver called police for her, as a courtesy. Police called a tow truck company to help her unlock her car door and get back in the car to drive it away.
A Brite Avenue resident reported an unknown car was parked in her driveway Nov. 1. Police spoke with the driver, and the driver said he had accidentally arrived at the wrong address to perform scheduled work. He checked for the correct address and left the resident's driveway.
People checking in kids for Scarsdale Little League on Mamaroneck Road placed a card table in the street Nov. 1. Police asked the people to move the table to the sidewalk.
On Nov. 1, Greenburgh police asked Scarsdale police to help locate the registered owner of a car involved in a hit-and-run accident in their jurisdiction. Police went to the house of the registered owner and observed recent damage to the car parked in the driveway. A language barrier prevented police from speaking with the elderly registered owner. Police spoke with the registered owner's son by phone, and he said he would convey the message to his mother and assist her with contacting Greenburgh police.
A driver got a flat tire on Post Road Nov. 1. Police helped the driver move her rental car to the Village Hall parking lot to safely wait for a tow. Four hours later, the driver called police again to say she was still waiting for the tow truck. Eventually, the tow arrived, and the driver took a taxi to the rental car location.
Three car accidents were reported in the Village this week.
Noise complaints
On Oct. 27, a Crane Road homeowner complained about an unknown loud noise coming from an unknown source. Upon arrival, patrol could hear a leaf blower in use on a neighboring property. The homeowner insisted that the sound was not that of a leaf blower, so patrol circled the block and took a photo of landscapers working, to show the homeowner. Patrol advised the homeowner that leaf blowers and construction equipment are allowed to be used during the day and that the noise was not a village code violation.
A complaint of noise from a youth gathering on Garden Road was received on Oct. 30. Police went to the house, and a resident said a group of friends had just left.

After neighbors complained of noise, police advised a Tompkins Road homeowner to lower the volume of music in the backyard Oct. 31. The homeowner told police that he would tell his daughter and her friends to do so.
On November 4, the day after the election kept many up until the wee hours, Scarsdale10583 received the following from a distressed Fox Meadow reader. She said, "According to the Village noise ordinance no machines, such as leaf blowers, may be used before 8AM or after 9PM on weekdays. I was awakened at 7:30 this morning by one which continued for almost an hour."
Dog
A caller found a dog on Clarence Road Oct. 27. Police provided the caller with contact information for New Rochelle Humane Society.
Lost and found
On Oct. 30, a Hanover Road man reported he lost his wallet and driver's license. Police issued him an official form in order to request a replacement license.
Firefighters
On Oct. 27, firefighters assisted with a car accident on the Hutchinson River Parkway.
On Oct. 30, firefighters assisted with a rollover car accident on the Hutchinson River Parkway.
On Nov. 1, Brewster Road homeowners reported smoke coming from their fireplace. Firefighters examined the fireplace and observed it to be functionally normally. They advised the homeowners to call again for any future concerns.
On Nov. 1, firefighters assisted with a car accident at Mamaroneck and Stratton roads.
This report covering police and fire department activity from Oct. 26 – Nov. 1 has been compiled from official information.

This police report is sponsored by Scarsdale Security who does more than just security. Contact them about remote video for your home or business. Call 914-722-2200 or visit their websiteThis police report is sponsored by Scarsdale Security who does more than just security. Contact them about remote video for your home or business. Call 914-722-2200 or visit their website.