Police Report: Honda Stolen from Commuter Lot, Man Falls at Construction Site
Wednesday, 03 February 2021 13:06
Last Updated: Thursday, 04 February 2021 08:41
Published: Wednesday, 03 February 2021 13:06
Traci Dutton Ludwig
Hits: 959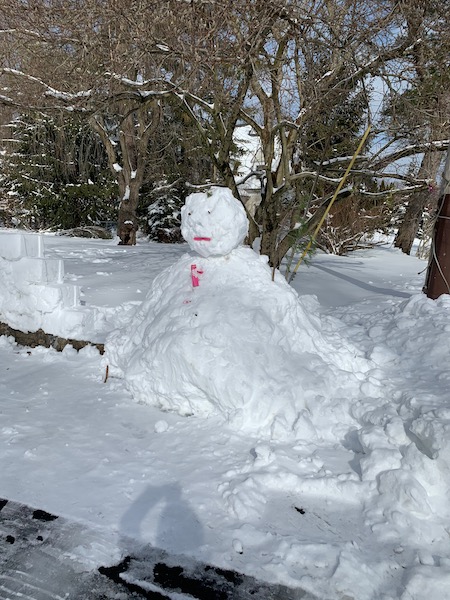 Stolen car: On Jan. 28, a caller, from Stamford, CT reported she could not locate her 2019 Honda CRV, which she had parked in the commuter lot on Scarsdale Avenue earlier that morning. Police determined the $23,000 car had been stolen. They are following up
Stolen packages
On Jan. 28, a Nelson Road resident reported that a package containing $32 worth of greeting cards had been dropped off at her house by a friend on Jan. 16 and had apparently gotten stolen. Police advised her to arrange for friends to drop off packages at the rear of the house and notify her by phone when they are dropping them off.
On Jan. 28, a River Road resident reported she never received a package from Amazon that had supposedly been delivered on Jan. 19.

On Jan. 29, a Bradford Road resident reported a package containing masks had been delivered and removed her property.
Scams
On Jan. 26, a Palmer Avenue business owner reported that a caller alleging to be a Con Edison employee told her that her electric bill was overdue and she needed to remit payment immediately in order to prevent her power from being turned off. As soon as the caller requested payment to be made with Bitcoin, the business owner knew the call was a scam.
On Jan. 27, a Dickel Road resident reported being the victim of an Internet scam. She said she was attempting to purchase a Cavapoo dog online and paid a person $750, via Zelle, for the dog. The person said there were some problems with processing the payment; yet the dog was supposed to be sent by airline to the resident. The resident became suspicious and told the person she changed her mind and no longer wanted the dog. She asked for a refund. At that point, all communication stopped. She did further research and realized the site might have been a scam.
Identity theft
On Jan. 25, a Haverford Ave. woman reported that someone used her personal information to apply for a fraudulent Home Depot credit card at a Bronx store. Approximately $8,000 was charged to the account. She informed the creditor and closed the account.
On Jan. 25, a Village resident came to headquarters to report that she received a notice of lien and a sale document for a car she does not own. Police advised her to contact the DMV to first verify that the documents were not sent in error, before following up.
On Jan. 25, a Springdale Road resident reported that someone fraudulently filed for unemployment benefits in her name.
On Jan. 25, a Bradford Road resident also reported that someone fraudulently filed for unemployment benefits in his name.
On Jan. 27, a South Church Lane resident reported that someone fraudulently filed for unemployment benefits in her name.
On Jan. 28, a Rock Creek Lane resident reported fraudulent activity on her bank account. According to her bank, an unknown person initiated two fraudulent wire transfers in the combined amount of $5,360. The bank is following up.
On Jan. 28, a Harvest Drive resident reported that someone fraudulently filed for unemployment benefits in his name.
On Jan. 28, a Leatherstocking Lane resident reported receiving a letter from the NYS Dept. of Labor, showing his Social Security number and stating that funds were being deducted from his bank account. He felt this letter might have something to do with previous identity theft.
On Jan. 29, a Rugby Lane resident reported that someone fraudulently filed for unemployment benefits in his name.
On Jan. 29, a Heathcote Road resident reported that someone fraudulently filed for unemployment benefits in her name.
On Jan. 30, an Elm Road resident reported someone opened a fraudulent Bank of America account in his name. The account was flagged and closed by the bank.
On Jan. 31, a Tunstall Road resident reported that someone fraudulently filed for unemployment benefits in his name.
Domestic matters
Police were called to investigate a "loud argument" on Hutchinson Avenue Jan. 26. On scene, the partied said they had just had a verbal disagreement, but it was nothing more than that.
Greenacres sisters reported they were arguing over their mother's health care Jan. 30. Police advised them to seek a peaceful resolution to their disagreement.
An Edgewood woman reported her ex-husband showed up at her house unannounced, and she did not want him there Jan. 30. He then left. She wished to document the incident.
Harassment
On Jan. 29, an Ogden Road resident reported being harassed while walking home from the train station. The resident said a dark SUV pulled up next to him and drove alongside him, with a few youths inside the vehicle shouting obscenities through the open windows. After the incident, the SUV drove away on Fox Meadow Road.
A driver reported a group of youth in a black Honda Pilot threw an ice ball out the window at the driver's car. The driver provided police with license plate information for follow-up.
Suspicious email
An Ogden Road religious organization reported that a suspicious email had been sent to the organization's account Jan. 30.
Danger
A caller reported kids playing on or near the pond on Olmsted Road Jan. 29. Police went to the scene and saw two kids with bikes near the pond. Police told the kids to stay off the pond and not engage in risky behavior.
On Jan. 31, police were called about kids playing on the ice on the Olmsted Road pond. Police observed the kids on the ice upon arrival and told them to get off the pond immediately. Police cautioned the kids about the dangers of playing on a frozen pond and the risk of ice breaking and falling into icy water, which could cause a serious or fatal injury.
Later that day, on Jan. 31, police were informed about a "family" on the ice on the Olmsted Road pond. Police cautioned the family about the dangers of playing on a frozen pond, and the family left the immediate area.
Ladder
An Elm Road resident reported he was not home but observed security surveillance of a man placing a ladder against his house unexpectedly Jan. 27. Police arrived on scene and interviewed the man on the ladder. He was an employee of a gutter cleaning company. He reported the resident has a contract with the company, and was there to perform regular services. He said the company does not usually make appointments prior to coming out for contract service, but he would nevertheless leave and make an appointment to return at a convenient time for resident.
Black bag
A caller reported a suspicious black bag at Secor and Sycamore roads Jan. 28. A close look revealed the bag to be a pizza delivery bag with an "old pizza" it. It was discarded as trash.
Water
A Rock Creek Lane resident requested assistance with leaking water in her house while her children were home alone Jan. 28. While police were on scene, the resident returned home and turned off the water supply pipe. She was advised to contact a plumber.
ATVs
A caller reported ATVs driving around a frozen Boulevard field Jan. 27. They were gone on arrival, but police saw visible tire tracks in the snow. Due to frozen conditions, the ground did not appear damaged.
Alarm
An alarm noise on Carthage Road was found to be caused by a beeping smoke detector that had been thrown away in a pile of cardboard boxes Jan. 28. Police were able to silence it.
Bicycle
On Jan. 25, a caller reported that a red and white bicycle has been lying along a Boulevard playground railing "for a few days." Police observed the bicycle and will monitor it.
Scofflaw
On Jan. 25, police encountered a black Subaru with scofflaw status at Crane and Popham roads. Patrol consulted with Village Justice Court and learned that the registered owner, from Connecticut, had three outstanding tickets totaling $360. Police towed the car to the impound lot.
Cars and roadways
On Jan. 25, police directed traffic around a disabled pick-up truck at Mamaroneck and Saxon Woods roads while the driver waited for a tow.
Police assisted Westchester County Police by controlling traffic around an area impacted by spilled refrigerant coolant following an accident on the Hutchinson River Parkway involved a commercial tractor trailer striking the Weaver Street Bridge Jan. 26.
On Jan. 26, a witness observed a driver lose control of a car at Drake and Heathcote roads and drive into the traffic island. The car was gone by the time police arrived, but tire tracks showed exactly what the witness described.
On Jan. 27, police facilitated an exchange of information after a delivery driver backed into a front yard fence of a Post Road house.
A man seen walking near a Bronx River Parkway overpass was interviewed by police after a caller was concerned about his safety Jan. 27. The man said he was late for a meeting and using a sidewalk near the overpass to reach his destination. There was no cause for concern.
On Jan. 27, police assisted a Post Road driver with a flat tire.

On Jan. 28, police removed a discarded Christmas tree from Heathcote Road's traffic lane. The tree was out for sanitation pickup.
Police contacted on-call highway department personnel about a Lyons Road manhole that was filling with water and possible sewage Jan. 28.
Police provided traffic control while a driver had his car's battery jumped on Heathcote Road and Weaver Street Jan. 30.
A Rock Creek Lane garage door opened on its own, according to a homeowner, Jan. 30. Police checked the house and did not find anything suspicious.
Animals
A Hillview Drive resident reported that an alleged "wolf" was sighted in his backyard before the animal walked into the street Jan. 27. It was gone before police arrived and could determine what kind of animal it was – possibly a coyote.
A Donellan Road woman reported being bitten by a small dog while out walking on Greenacres Avenue and Colvin Road Jan. 27. She did not notice the bite until the dog and owner walked away. She refused medical attention.
On Jan. 29, a Post Road resident reported a dead deer in her driveway. She requested assistance removing it "so other animals wouldn't eat it." Police referred the call to the highway department for assistance.

A caller reported seeing a Pitt bull running in the area of Dunham Road Jan. 30. It was not described as aggressive. Police went to the area and only saw a dog playing with a child inside a yard with an electric fence. It was not clear if this was the dog the caller reported.
Village code
On Jan. 25, a Walworth Avenue resident reported that his neighbor often puts recyclables out before the designated pick-up time, and "the recyclables blow into his yard." Police went to the scene and investigated. Police saw numerous cardboard boxes, with address label attached, blowing into the street. Police issued the owner a Village code violation summons.
A Post Road resident reported an "ongoing incident" with her neighbor Jan. 26. The resident accused the neighbor of playing loud music and installing a light that shines into her property. When police arrived on scene, no music was playing, and the light was off.
After a resident complained about a 7-Eleven delivery truck waking him up at 3:15 a.m., police issued a summons to the delivery driver for making a delivery outside of permissible hours.

Lost and found
On Dec. 27, a Bell Road resident found a wallet on a walking path adjacent to the Bronx River Parkway. Police identified the owner through ID information in the wallet and spoke to the owner's mother. The property was returned to its owner.
On Jan. 28, a Montrose Road resident reported that two license plates sent to her by the DMV in November have not yet been received. She needed documentation for proper follow-up.
Firefighters

On Jan. 26, firefighters assisted at a car accident at Weaver Street and Quaker Ridge Road. Firefighters disconnected battery cables, stabilized the scene and stood by for a tow.

On Feb. 26, a 40-year-old man fell from the first floor to the basement in a Village house that was under construction. The fall was estimated to be about 10 feet, and the man landed on concrete ground, where he possibly sustained a head injury. When firefighters arrived, the man was already in the care of Scarsdale Volunteer Ambulance Corps.

On Jan. 28, a dimmer switch in a Brewster Road house was emitting heat and a burning odor. Firefighters disconnected that switch and advised the homeowner to call an electrician.

On Jan. 30, firefighters assisted with a three-vehicle accident involving cars and a tractor-trailer. Firefighters assisted Scarsdale Volunteer Ambulance Corps transport patients into an ambulance, and they assisted with clean up. One driver was taken to Westchester Medical Center for treatment.

An outdoor gas odor was reported in the area of Kent and Ogden roads Jan. 30. Upon arrival, firefighters found a Con Edison excavation site with a steel plate on top. Con Edison was dispatched to the scene to address the situation.

On Jan. 31, a water leak was detected in an unoccupied Cushman Road house. A contractor revealed that the water service fitting detached while personnel were attempting to operate the valve. The water department was notified, and the contractor left the site and returned with a replacement fitting.
This report covering public safety activity from Jan. 25-31 has been compiled from official information.

This police report is sponsored by Scarsdale Security who does more than just security. Contact them about remote video for your home or business. Call 914-722-2200 or visit their website.