Sudden Storm Takes A Toll on Scarsdale Plus More Car Thefts
Wednesday, 25 May 2022 11:28
Last Updated: Thursday, 26 May 2022 09:21
Published: Wednesday, 25 May 2022 11:28
Traci Dutton Ludwig
Hits: 1676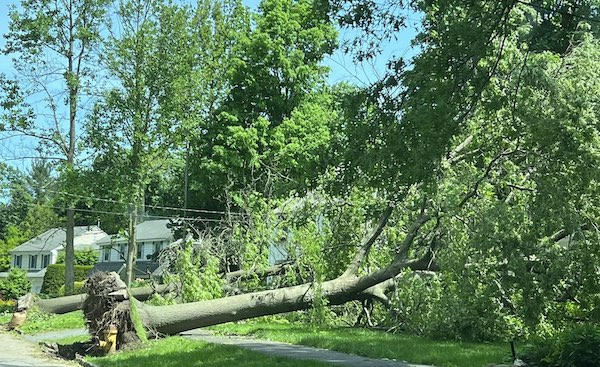 A fierce storm hit Scarsdale late Sunday evening May 22, 2022 and took its toll on trees, homes and powerlines. Strong winds took down trees and branches and caused a telephone pole to snap at the intersection of Mamaroneck Road and Lenox Place. Trees fell on homes on Montrose Road and Hutchinson Avenue.
Police began receiving calls at 9 pm and tens of callers continued to report dangerous conditions until 11 pm.
According to Village Manager Rob Cole, the storm left 275 residents without power and closed the following streets:
* Post Rd (Farley to Kingston Roads)
* Lenox Place (at Mamaroneck Road)
* Heathcote Road (Morris to Sherbrooke Road)
* Palmer (Secor to Bansom Roads)
* Carthage Road (at Heathcote Road)
* Brookby Road
* Saxon Woods Road (at Crawford)
* White Road (by the Eastchester border)

Stolen cars
A white 2022 BMW X7, valued at $117,000, was stolen from an Eton Road driveway May 17. The car had been left unlocked with the keys inside.
A person walked into headquarters and reported two cars had been stolen from her driveway May 17. One was a gray 2019 Acura RDX and the other was a black 2008 Lexus RX30. On May 20, at 3:30 a.m., White Plains police reported a stolen car, the Acura, had been located in White Plains.
On May 18, a Park Road resident reported his 2022 black Volvo, valued at $40,000, was stolen from the Secor Road after he had left it there overnight after walking home from a party at 2 a.m. When he returned the next day to pick up the car, he realized it was no longer there. The car was later recovered by Westchester County police.
While on patrol, a Scarsdale police officer found himself behind a car that had been reported stolen a few nights ago. Police followed the car undetected while notifying headquarters. Then, on Rock Creek Lane, the car increased its speed and fled, escaping police on the Hutchinson River Parkway.
Car break-ins
On May 16, a Paddington Road woman reported that someone entered her car overnight, rummaged through it and removed a bag of change. Her dog was barking unusually during the night and she believes it might have been when the car was entered.
On May 16, a Drake Road resident reported his cars were entered overnight, but nothing was taken. Video footage showed the perpetrators wearing masks and hoods.
On May 16, a Madison Road resident reported his car was entered overnight, but nothing was taken.
A parked car was blocking a Burgess Road driveway May 19. Police asked the driver to move the car.
On May 20, a Graham Road resident reported a car in her driveway had been entered. She was at an airport and said she'd report more details after she returned home.
Approximately six dollars was stolen from a parked car in a Lawrence Road driveway May 20.
On May 20, a Graham Road resident reported his car was entered but nothing was taken.

On May 20, a Donellan Road resident reported her video surveillance camera captured someone walking up the driveway in black pants, a black hoodie and reflective sneakers. The person ostensibly attempted to enter a parked car, since a neighbor's car was rummaged through during the same time.
Identity theft
The owner of a Kensington Road house stated that a website posted fraudulent information about house, fraudulently indicating it was the location of a 12-step drug rehab program.
Scam
On May 16, a resident received calls from someone alleging to be an IRS officer, requesting a payment of $10,000. Police advised it was a scam.
Criminal mischief
On May 20, a Boulevard resident reported his house had been egged at 2 a.m., May 19. Video footage captured a group of kids exiting a parked car and throwing eggs at the house. They then got back in the car and drove off.
Civil matter
An Olmsted Road woman reported she was in litigation with a party known to her family, and she believed the party was stalking her. She said she believed the person drove onto her street and looked at her through his closed car window. She later discovered an issue with one of her car's fuel tanks and wondered if he caused the issue. Police advised to wait for further information from her mechanic.
Dispute
On May 19, a Bell Road resident told police he was uncomfortable with his mother's boyfriend being at their house, due to a verbal argument over the resident having friends over. Police helped mediate the dispute.
Neighbors
A Fox Meadow Road man reported he was disturbed by his neighbor's lacrosse balls coming into his yard May 21. The neighbor said he would set up his lacrosse net differently in order to avoid errant balls.
Help
A man said he had walked from Mamaroneck and was looking for the train station at 2:30 a.m., May 19. Police provided him with a courtesy ride to the station.
Storm damage
A Hutchinson Avenue resident reported a tree fell and struck the house May 22.
A tree fell and struck a house on Montrose Road May 22. The roof of the master bedroom was impacted, but no one was injured. The tree also knocked down power lines. Firefighters helped evacuate the resident and notified the building department.
A tree fell on Sycamore Road May 22.
A tree fell on Mamaroneck Road May 22.
A large branch fell from a private tree on Quentin Road May 22.
A large tree fell on Weaver Street near Quaker Ridge Road May 22.
A tree fell on Saxon Woods Road May 22.
A tree fell on Secor Road, blocking Marjory Lane, May 22.
Branches and fallen wires were reported on Carthage Lane May 22.
Police closed one lane of Bypass due to a downed tree May 22.
Large trees fell on Mamaroneck Road blocking traffic lanes May 22.
A telephone pole snapped on Mamaroneck Road and Lenox Place, pulling down primary wires May 22.
Additional fallen trees were reported on Brookby and Wynmor roads and on Palmer Avenue May 22.
A fallen tree knocked down wires on Carthage Road May 22.
Police closed Wynmor Road because of a fallen tree May 22.
A fallen tree on Heathcote Road was blocking a fire hydrant May 22.
A fallen tree struck primary wires at Brewster and Farley roads May 22. Con Edison was notified.
A large tree fell on wires at Lincoln and Carthage roads May 22. Police blocked off the area with tape.
On May 22, firefighters stood by for Con Edison at the site of dangerous fallen wires and to ensure public safety.
Firefighters shut off utilities at a Sycamore Road house to protect the house from damage due to a split tree near the house and utilities May 23.
Cars and roadways
Police notified Verizon about a fallen wire on Paddington Road May 16.
A driver called police to say he was in a truck approaching a low bridge at 12:30 a.m., May 14. He could not provide his specific location. Police transferred the call to Westchester County police.
An empty, broken suitcase was left on Brewster Road May 17. Police asked the sanitation department to pick up the suitcase.
Police removed small fallen branches from Sheldrake Road and taped off an area around a large limb, pending removal by the highway department.
On May 19, police helped a driver whose car ran out of gas on Popham Road while a passerby offered to get gasoline for the car.
On May 21, police stood by a burning wire to prevent partygoers from getting too close to it on Ferncliff Road.
Police replaced a loose manhole cover on Reynal Crossing May 23.
One car accident was officially reported in the Village this week.
Animals
A coyote was reported on Hillandale Close May 16.
A dog got loose and ended up in a neighbor's yard on Dolma Road May 16. Police leashed it and returned it to its owner. The owner was issued a warning.
On May 18, a Claremont Road woman found a loose dog in White Plains. She brought it home, and police transported it to its owner.
In the interest of public safety, police shot a sick raccoon in a Crane Road parking lot.
A caller reported a dog was inside a parked Tesla on East Parkway and was concerned about the dog's safety May 20. Police checked on the dog and noticed the car was in "dog mode" and the air conditioning was on.
A dead dog was reported on Post Road May 22. When police got to the scene, they observed the animal was actually a dead opossum. The highway department was informed for pickup.
Village code
Police issued a summons to a landscaper for using a gas-powered leaf blower in violation of Village code May 18.
A neighbor complained of loud teens in a Normandy Lane backyard May 18. Police told the parents to make sure the kids stayed quiet.
Police advised a Mamaroneck Road facility that neighbors had complained about loud music being played at the site May 19.
On May 21, police advised Franklin Road workers they were not permitted to start work until 10 a.m. on Saturdays.
Police advised a Drake Road resident to turn down music volume after neighbors complained of noise May 21.
Lost and found
A passerby found a lock-picking car on a Lockwood Road property and gave it to the homeowner May 16. Police disposed of it.
Firefighters
On May 16, an employee at a Mamaroneck Road kitchen used an extinguisher to put out a kitchen flat top grill grease fire before firefighters arrived. Firefighters shut gas supply to the grill and notified the health department.
Firefighters assisted with cleanup after a car accident on the Hutchinson River Parkway May 16.
An odor in a Fox Meadow Road house was possibly related to an overcharged sump pump battery due to the fact that firefighters could not find another cause May 17.
Firefighters stood by for Con Edison at the site of elevated gas levels caused by a leak on Walworth Avenue May 20.
Power washing equipment being used near a fresh air intake into a Hanover Road utility room caused elevated carbon monoxide levels in the house May 20.
Firefighters shut off the equipment and moved it away from the house, as the ventilated the house to restore air quality.
Secondary service wires were arcing and burning between Drake Road and an event facility where a wedding was taking place May 22. The wedding event had lost power, and firefighters provided exterior and interior lighting as a courtesy. They stood by to make sure all guests were safe and awaited Con Edison.
Firefighters informed the water department about a water leak in a Saxon Woods Road basement May 22.
This report covering police and fire department activity from May 16-22 has been compiled from official information.



This police report is sponsored by Scarsdale Security who does more than just security. Contact them about remote video for your home or business. Call 914-722-2200 or visit their website.