Lecture on the Italian Renaissance at Scarsdale Adult School
Monday, 01 November 2010 16:11
Last Updated: Monday, 01 November 2010 16:22
Published: Monday, 01 November 2010 16:11
Hits: 2954
Linda Wolk-Simon, Curator in the Department of Drawings and Prints at the Metropolitan Museum of Art will give a lecture titled
Masterpieces of Italian Renaissance Art from Masaccio to Michelangelo,
for the Scarsdale Adult School, Monday, November 15th from 7:30 – 9 pm at Scarsdale High School.
This lecture will survey some of the greatest artistic masterpieces of the Italian Renaissance, from Masaccio's ground-breaking frescoes in the Brancacci Chapel in Florence with their radically realistic depiction of space, light, anatomy, and human emotion; to Donatello's David, the first monumental bronze sculpture created since antiquity; to Boticelli's Primavera and Birth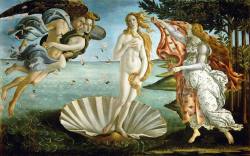 of Venus, redolent with allusions to the poetry cultivated in the intellectual circle of Lorenzo de'Medici; to Raphael Michelangelo's iconic frescoes in the Vatican Stanze and the Sistine Chapel. The cost of the lecture is $35.
In addition, Mimi Beaven will teach a cooking class on finger food for parties, picnics, or light meals, on two Wednesdays starting November 10 from 10 -12:30. Students will learn to prepare foods for cocktail parties, picnics, packed lunches and barbeques including gougeres, pesto palmiers and crostini with a myriad of toppings.
Beaven tracks her passion for feeding people back to childhood experiences trimming haricots verts during long summer days at her grandfather's restaurant in Lyon, France. Later she enjoyed a career in London restaurants and in food television production. Today she is involved in growing, selecting and preparing local seasonal produce. Her focus is on the simplicity of good food. The cost is $125.
Artist and teacher Sheila Fane will teach Introduction to Printmaking where students will learn the printmaking process from start to finish, including techniques for lifting the print by hand, or with a press, onto paper or fabric. The class will be held five Tuesdays starting November 9th from 12:30 – 2:30. The cost is $125 plus a $20 materials fee payable to the teacher.
To register or learn more about all the exciting Scarsdale Adult School offerings, visit www.ScarsdaleAdultSchool.org . Catalogs are available at Village Hall and the Scarsdale Public Library. Questions, call 723-2325.