These Boots Are Made for Walking
Monday, 22 November 2010 12:31
Last Updated: Monday, 22 November 2010 13:15
Published: Monday, 22 November 2010 12:31
Hits: 3261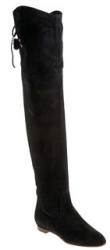 Although not unique to the fashion statement of the season, this year's "in your face" style accessory is a pair, or a few pair, of good-looking boots. Many of us are thrilled that a shopping endeavor can be focused on our pedicured limbs – for most of us, the easiest part of our bodies to dress! Yet, even within this seemingly simple shopping task, the menu is broad and quality and price points abound.
So, after having gazed at the boots through store windows and on your friends' legs, it is time (if you have not already done so) to purchase at least one pair of boots - quickly. Inventory at many stores is already depleted and sales are rampant. I am sure that all of you have boots lined up in your closet – the ones you pull out each year and then, half way through winter, realize it is not worth buying a new pair, thereby delaying the purchase yet another season. This year's rage is the over the knee cuff boot – an attractive quality as it hides many less desirable characteristics of our legs – yet sometimes less comfortable and, often only wearable with jeggings or skin tight pants (a discomfort all on its own.) A dress length can determine whether or not it can handle a cuff at the top of the boot.
For those women whose lower legs will not cooperate with this present style, and who feel that their legs look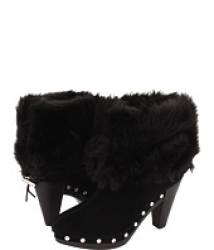 broader rather than leaner in a tall boot, consider wearing shorter booties under straight leg pants, with a 2 – 4 inch heel, or sporting turn of the century retro lace up or cuffed booties with skirts.
Needless to say, since the boots will be worn for many hours of the day, be sure you do not purchase an uncomfortable foot fashion and beware of heels that are too high. A three-inch heel will still supply the long and lean look and a small platform under the toe box will afford appreciated comfort. Beyond your purse (the subject for another day,) your boots will confirm that you have some fashion sense, and, that you have modernized your closet's outfits for the next five months.
Although you may be able to boot shop on your own, personal stylists from Mon Amie are available for helpful advice on how to coordinate boots and shoes into your wardrobe, along with consultations on event styles and ready to wear. Mon Amie exists to be sure that you are not pressured into any purchase by salespeople who, by virtue of their positions, push their store's wares. As Mon Amie is not married to any inventory, the client's best look is our only motivation and, we try to insure that our clients do not spend unwisely. By virtue of its name, Mon Amie allows you to shop with a " girlfriend" – the most loyal kind who has your best presentation as her foremost priority.
Written by Peggy Marx, Mon Amie, Personal Shopper/Stylist, Monamie17@gmail.com