A Unique Dining Experience at Unico Food and Drinks
Sunday, 22 April 2018 13:37
Last Updated: Monday, 23 April 2018 20:11
Published: Sunday, 22 April 2018 13:37
Judie Dweck
Hits: 9097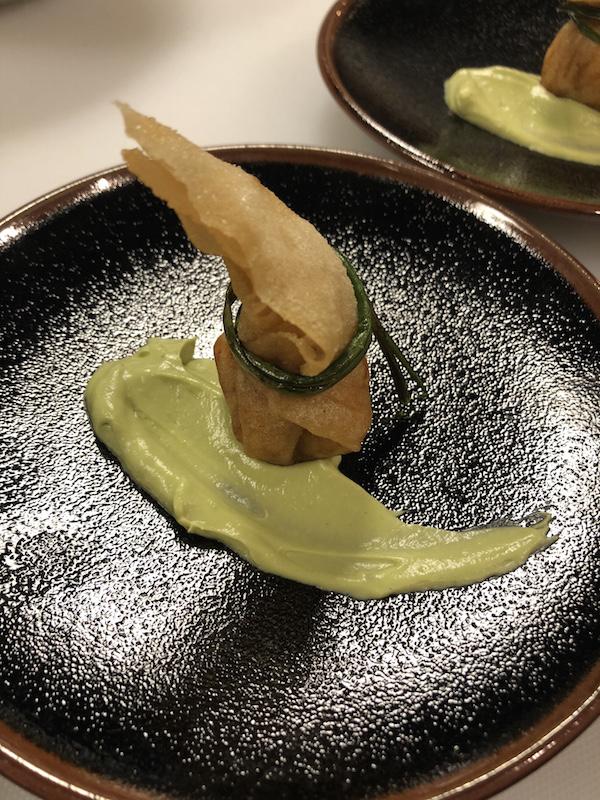 Beggar's Purse with Avocado CreamAs you enter the cozy, new Unico in Hartsdale, your eye focuses on the impressive mural to your left. The blue striped wall embellished with fleur de lys designs surrounds a grand painted lion with chef's jacket in place, welcoming you with a glass of wine in hand. This lion may be "The king of the jungle", but it is the talented owner- chef Brian Sernatinger who is "king of the kitchen" at this delightful new dining spot. He can be seen busy in his open kitchen preparing his unique dishes and his charming wife Deya is attending to the 40 seat dining room. Chef Sernatinger explained that," Unico is more than just a restaurant. We create unique flavors and a unique experience because everyone is unique." Unico means "like no other."

The space is simply decorated with banquettes, free standing tables and several seats at the bar. A tin ceiling, a metal ship sculpture and an open kitchen complete this comfortable setting.

Chef Sernatinger studied psychology at college where he often cooked for his friends. He went on to study at The French Culinary Institute and then worked at the prestigious Gramercy Tavern with Danny Meyer and at Craft with Tom Colicchio. He broadened his experience by working in Europe and returned to the states where he worked as a private chef. His teachers were his mentors who taught him to, "work with your hands and steal with your eyes. At Unico, we offer top quality ingredients, consistency and a comfortable environment. A chef must be a giving person. We spend our working hours making people we don't know, happy... A chef must be a leader who is both driven and focused on the task at hand. He or she needs to multitask. Besides cooking, he is a teacher who must train his staff. "With these qualities Chef Brian moved on to Tulum in Mexico where he opened his own restaurant which is considered one of the best fine dining spots in Tulum.

A very special multicourse tasting menu was prepared for me which included selections from the glorious inventive menu. Several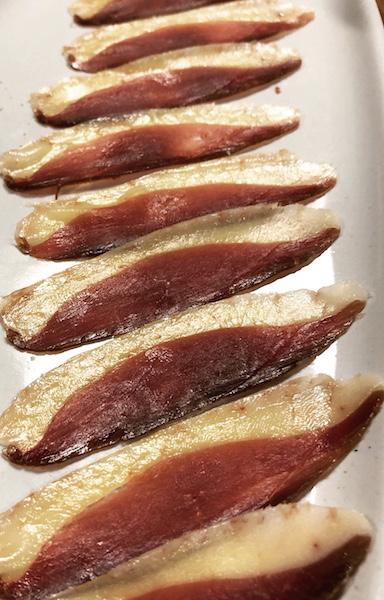 House cured duck ham with pickled mustard seedsstrips of house cured duck ham with a jam like accompaniment of pickled mustard seeds was both sweet and savory and awakened our taste buds for the treats to follow. A small bowl of blue crab salad cleansed our palate. The fresh crabmeat was combined with shredded jicama, tarragon, pickled carrots in tiny dice, and just enough Aleppo pepper to add a bit of spice. It was most refreshing. Crisp nuggets filled with goat cheese and a touch of fresh rosemary were crusted and fried and drizzled with a bit of local honey- very good indeed. Next we savored a mid-east flavor in spiced lamb meatballs with a julienne of chayote, tomato, pistachios and fresh mint leaves. A dish called drunken tiger arrived with head and shell intact jumbo tiger shrimp. They were flambéed with brandy, garlic, butter and fresh parsley. A tangle of fried potato strings were a perfect foil for these tasty shrimp. Skate, a fish we do not see on many menus arrived as crisp tidbits of skate wing with salsa brava, a tahini based sauce.

Just as I thought it couldn't get any better, a plate of plump Prince Edward Island mussels arrived. They were prepared in the Thai style. Imagine lemongrass, garlic, cilantro, coconut milk and peanuts combined in a fragrant sauce. Placed over the steamed mussels on the half shell, and all I can say is WOW. Mussels are also offered in a classic white wine sauce or as angry mussels in a spicy chili sauce.

Seared tuna with arugula and avocado cream painted onto the plate was paired with rounds of sautéed plantains for yet another fine combination of ingredients. For the pasta lover, I suggest the duck confit agnolotti. Cooked al dente, these delicate pillows of pasta were filled with the duck mixture flavored with Marsala and thyme and topped with shitake mushrooms. Braised beef cheeks arrived with the flavor of a cabernet reduction permeating the beef, which certainly needed no knife. Freshly mashed potatoes, roasted broccoli and Jerusalem artichoke bits shared he plate. Future visits may include the vegetable lasagna with whipped ricotta, zucchini, roasted tomatoes, carrots, basil pesto and parmigiana reggiano. There is no pasta in this lasagna. Other future choices may be purple basil pappardelle, bronzini or duck breast each prepared in Unico's unique way. We couldn't manage the house made cheesecake or chocolate lava cake with homemade ice cream, but I certainly will try them on my next visit.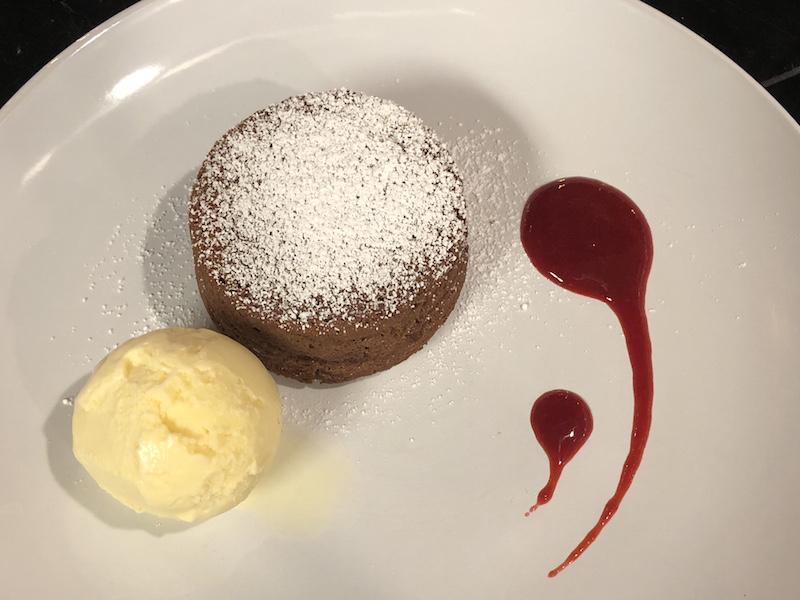 Chocolate lava cake with homemade ice creamA variety of international wines are offered as well as unique cocktails. Very popular is the Mayan Margarita with the addition of jalapeno and a Mexican liquor considered The Mayan Elixer of the Gods.

To sum it up, beautifully seasoned international inspired dishes, combining the finest of ingredients in artistic simple presentations describe a meal at Unico. It felt as though I had taken a worldwide culinary journey enjoying the varied flavors of Mexico, The Mediterranean, The Mid East and Asia and I can't wait to return.

Unico Food and Drinks
10 North Central Avenue
Hartsdale, NY
914-607-3363

Unico's Classic Mussels (Appetizers for 2)

2 pounds mussels
2 scallions, sliced
10 cloves garlic, diced
¼ cup diced onions or leeks
2 Tbsps. unsalted butter
5 ounces dry white wine
2 ounces heavy cream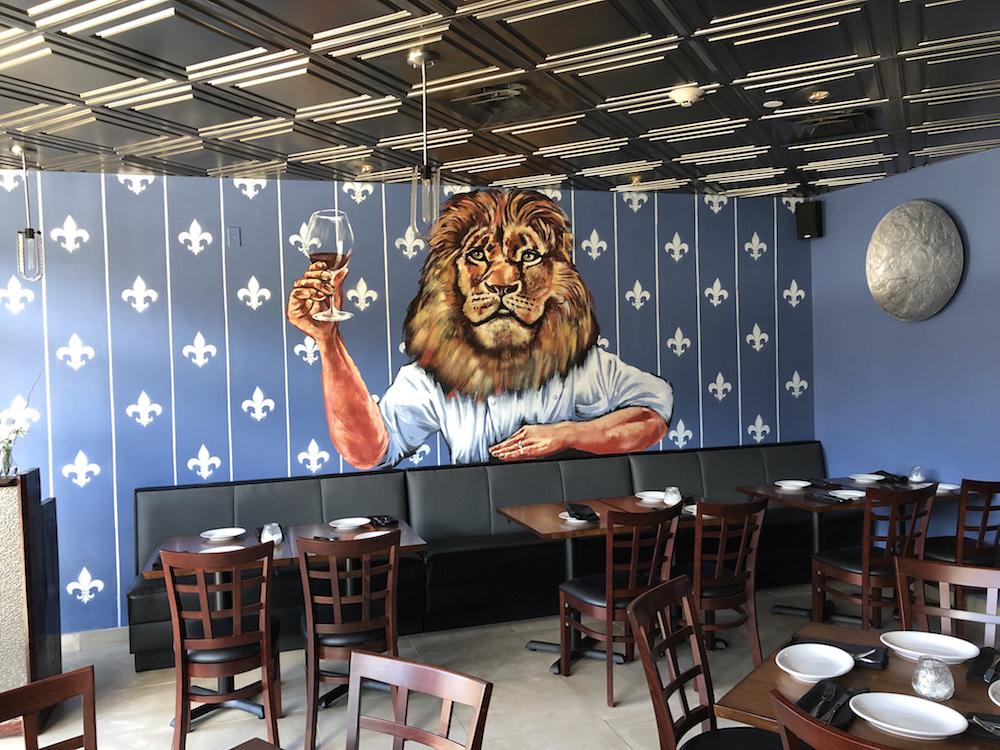 Fresh chopped parsley
Fresh chopped basil
Toasted bread slices
1/8 tsp. salt
Generous grinding of black pepper

Clean mussels in cold salted water removing any beards they may have. Discard any mussels that are open and do not close when tapped against the counter. Melt butter in a pot big enough to hold the mussels. Add the scallions, garlic and onions or leeks and some of the herbs. Cook over low heat for about 2 minutes or until the onion and garlic have softened. Season with a small amount of salt, about 1/8 teaspoon and plenty of ground black pepper. Add the wine and the cream and then the mussels. Turn the heat to medium high and cover the pot. Let the mussels steam until they are all open or about 1 or 2 minutes. Stir once during cooking. When finished add the remaining herbs. Serve with toasted bread and enjoy.